Revised and Updated on 26 Aug 2014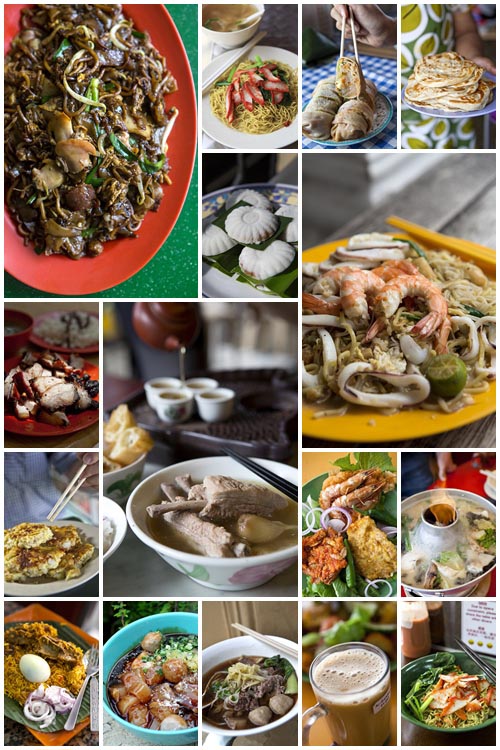 I have been asked on many occasions by overseas visitors for suggestions on what to eat when they visit Singapore. After writing this blog for the last eight years and having published two books, I feel that I am ready to pen some thoughts on 10 things that any visitor coming to Singapore must eat.
The final push was when I visited the US to deliver my lecture on the History of Singapore's Hawker Food. I was partly there on a food trip and needed a resource that would enable me to capture the gastronomic heart of Boston, Chicago and Ann Arbour, but it was really hard to find what I want. So I am writing this article with us culinary discoverers in mind. I hope I have created a literary Amuse Bouche to whet your appetite for Singapore's rich Hawker Heritage.
Now writing such an article is not an easy task as I am bound to leave out some foods which many Singaporeans would feel is important. So please forgive me if I left out your favourite Singapore dish. I will have to leave it to the sequel "The next Top 10 Things to Eat in Singapore" to cover that.
In selecting the Top Ten, my criteria is to include foods that are both unique to, and have originated in Singapore. Dishes born out of the crucible of Malay, Indian and Chinese cultures, first being peddled along the streets and subsequently being sold at the Hawker Centres. The love of these Hawker Foods gives definition to the Singaporean that goes beyond national and political boundaries. So when you eat these foods, you are ingesting a part of our history and for that moment at least, you might get the gist of what it means to be Singaporean.
In the selection of stalls, I will suggest a few stalls for each Hawker dish. Some will be my personal favorite, while others are chosen so that they are easier to access and more convenient for the weary traveler. Each of these stalls will be linked to a blog post where you can obtain all the pertinent details as well as some background history of the hawkers and what makes their food special.
So without further delay let's start with the first Uber Hawker Dish!
1. Hokkien Mee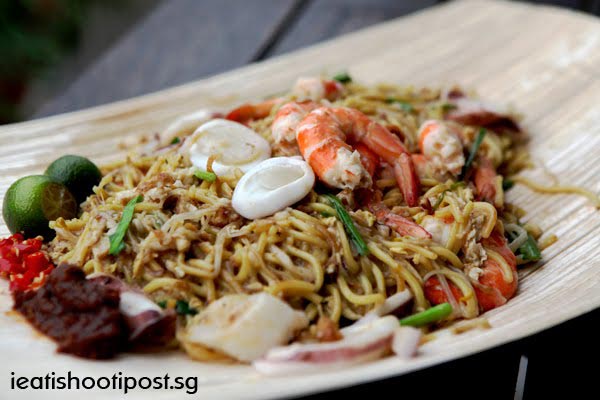 I start with Hokkien Mee not just because it is the dish I miss the most when I am overseas, but also because this is only found right here in Singapore. The reason I say this is because Singapore and Malaysia have a shared heritage as we were all part of British Malaya once. So, a lot of our hawker foods can also be found across the causeway. There are variations of Chicken Rice and Laksa that can be found in Malaysia or even Thailand, but our style of Fried Hokkien Mee can only be found in this tiny red dot on the World Map.
There are many stories about the origins of the dish, but its association with the Rochor area is quite certain as the dish was once referred to as Rochor Mee. If you go to Malaysia and simply ask for Hokkien Mee, you might either be served with a fried black version or even a soup version. The reason is simple. Hokkien Mee actually refers to the thick yellow noodles that originated from the Fujian province in China. So there are many different ways of preparing it. In Singapore, if you say Fried Hokkien Mee, it is quite clear as the same Noodles served in soup is referred to as Prawn Mee.
There are generally two variations of the dish. The wet and gooey type, which uses a combination of yellow noodles and thick bee hoon (rice vermicelli) and the dry type which uses the same noodles but with thin bee hoon. My pick for the best wet and gooey type is Geylang Lor 29 Hokkien Mee which is located in a newly refurbished coffeeshop along East Coast Road. This place still uses a charcoal stove to fry their Hokkien Mee which is quite rare nowadays. Many Wok Masters still regard the charcoal stove as the best way to heat a wok as the radiant heat ensures that the whole wok is evenly hot. With a gas stove, the bottom of the wok typically gets hotter than the sides.
If you are after the dry type, then Nam Sing Hokkien Mee at Old Airport Road Food Centre is one of the most popular in Singapore. Old Airport Road is a convenient place to go on a culinary odyssey too as this massive food centre houses many famous hawker stalls in Singapore. To read about them please click on my "Old Airport Road Food Centre" label.
For more Hokkien Mee Stories, please click here.
2. Char Kway Teow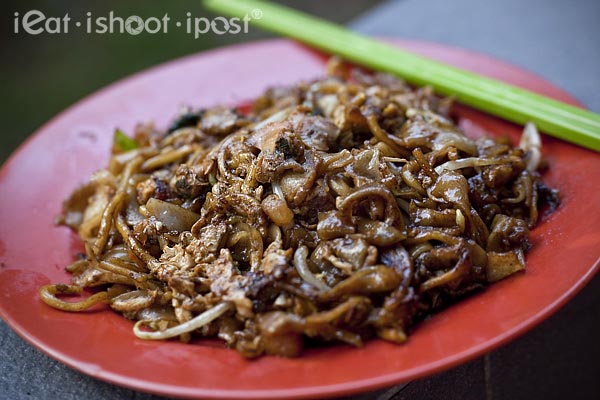 The two major Chinese dialect groups in Singapore are the Hokkiens followed by the Teochews (of which I am one). So since we started with a Hokkien dish, let's follow up with the Teochew dish of Char (fried) Kway Teow (Flat Rice Noodles). There is a local saying that goes "Teochew Kway Teow, Hokkien Mee", which essentially means that Kway Teow is the traditional staple of the Teochews while Hokkien Noodles is staple of the Hokkiens.
Variations of Char Kway Teow can be found around the South East Asian region. Penang has its Penang Char Kway Teow and the Thais have their Pad See Eu (Many Thais are Teochews btw). What makes the Singapore version distinct is that Char Kway Teow isn't just Char Kway Teow but actually Char Kway Teow Mee because it is only in Singapore that both Teochew Kway Teow and Hokkien Noodles are used in the dish. This makes it a bit more complicated to fry since you have to contend with a noodle made from rice and one that is made from wheat! Only a true Wok Master will be able to fry the Hokkien Noodles thoroughly enough that it loses its "Kee" (lye water) smell while at the same time not over frying the Kway Teow such that it maintains a luscious,lively texture.
One of the most popular Char Kway Teow is Hillstreet Char Kway Teow. This Uncle's mastery of the wok has made him Singapore's Ambassador of Char Kway Teow! I am not kidding! The Singapore government has sent him on overseas missions to bring the flavours of home to our Singaporean diaspora! His stall is, however, a bit of a hike as you would have to get there by Taxi or by getting off at Bedok MRT and connecting on bus. Unfortunately, the uncle has since retired after suffering a fall but the good news is that the wok ladle has since been passed onto his son who has taken over the stall!
A great stall that is nearer to town would be Outram Park Char Kway Teow, located at Hong Lim Food Centre which is within walking distance of Chinatown MRT. Hong Lim Food Centre is yet another veritable treasure trove of famous Hawker stalls and you can plan your trip there by reading my "Hong Lim Food Centre" postsl.
For more Char Kway Teow stories, please click here.
3. Chicken Rice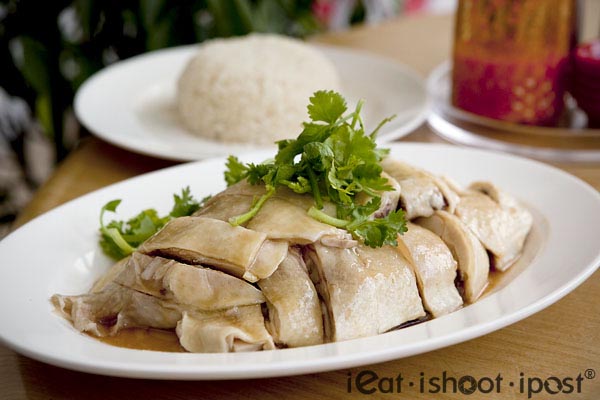 This dish of Hainanese origin is probably the most famous and popular Hawker Dish in Singapore. Although it can be found in Thailand and Malaysia as well, one cannot dispute that Singapore has the most Chicken Rice stalls per capita in the world.
Although it has Hainanese roots, our version of Chicken Rice cannot be found on Hainan island in China. It was a traditional Hainanese dish before it was transformed and popularized by the legendary Swee Kee chicken rice stall which used to be located along Middle Road. This area of Singapore was where the Hainanese congregated and subsequently, quite a few Chicken Rice stalls in Singapore can be found here. If you wish to experience what the traditional Hainanese Chicken Rice tastes like, then a visit to Yet Con along Purvis St is essential. Most of the Chicken Rice in Singapore has evolved by combining the Cantonese version of the dish. However, at Yet Con, time has stood still since the 1940s and the old man you see behind the counter has actually been a knee biter at the restaurant when it was new!
Another variation of Chicken Rice that many a tourist may have overlooked are Chicken Rice balls. It is said that in the past, handfuls of Chicken Rice are molded into balls and carried as picnic food when the family head to the mountains to pay respects to their ancestral graves. There aren't many stalls left that makes rice balls, but if you are really interested, you should visit Hainanese Chicken Rice Balls along Jalan Besar. This stall is just on the other side of Little India and is worth visiting if you are in the area.
However, if you wish to try the modern Singapore version, then the current favourite is Tian Tian Chicken Rice at Maxwell Road Food Centre. With the modern version of Chicken Rice, the chicken is first poached and then quickly dunked in ice cold water so that there is a layer of jelly just beneath the skin of the chicken. This means that the slice of chicken you are about to eat is slippery, lively and lubricatingly luscious! If you have come from a culture where chicken is usually roasted, poached chicken might take a little bit of getting used to but I am confident you will be won over. Maxwell Road Food Centre is conveniently located downtown and houses many of Singapore's famous hawker stalls, so do check my blog label "Maxwell FC" if you are planning a trip there.
Click here to read my other Chicken Rice posts.
4. Crabs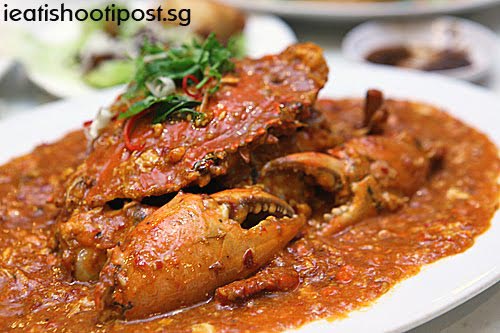 You cannot leave Singapore without tasting our Crabs. I am not just talking about Chilli Crabs, I am talking about Crabs from all round the world cooked in a myriad of ways! The favorite crab here is still the giant Sri Lankan Crab, but if you head to a seafood restaurant nowadays, you might come face to face with the Giant "Predator" like Tasmanian King Crab, Dungeness Crab, Blue Swimmer or Alaskan King Crab. You can pick any of these and ask for them to be cooked in 10 different styles! The most famous style is the ever popular Chilli Crab which is the de facto National Dish of Singapore. But among Singaporeans, Black Pepper Crabs, Crab Bee Hoon and Salted Egg Crabs are all the rage.
You can of course head to the very popular (and touristy) East Coast Seafood Centre which houses brand names like Jumbo, No Signboard and Red House. They are all pretty good and you will get a good view of our busy shipping lanes. But since you have read this far, I know that you are the type of traveler who is looking for that special hole-in-the-wall kind of discovery that you can quickly post on facebook to make your friends back home all go "Hey where is that?" rather than "Yeah, been there, done that!", right?
So for Chilli Crabs, why not go straight to the lady who first started the whole chilli crab craze back in the 50's? Roland Restaurant might not be situated next to the sea, but it is close enough such that things rust if they don't get cleaned regularly. Its location itself is a throwback to the 80's when the government were building palatial sized restaurants atop multi-storey car parks. Many of these restaurants have since disappeared and Roland is one of the few remaining.
This is the only place in Singapore that sells Chilli Crab in its original form. (Click to read about how Chilli Crabs came to be). What's the difference, you ask? Well, the modern style has the addition of eggs in the gravy and tends to be heavier and spicier. The original Chilli Crab is milder so that you can appreciate the natural sweetness of the crabs. Roland sells both versions here and they are both excellent so I suggest you order one of each so that you can conduct a unrandomised, unblinded, controlled trial.
Should something happen to Chilli Crabs, Black Pepper Crabs will need to step in to wear the crown. You can find this dish in almost every Seafood restaurant but my favourite is Eng Seng Restaurant. However, be forewarned, you will have to book at lunchtime to reserve your crab, then come around 5pm to start lining up for a seat. The placde closes by about 9pm and they are a restaurant where no one ever tips for good service! (Actually tipping is not necessary in Singapore, but you get what I mean) But the fact that hordes of Singaporeans gather there to suffer abuse is testament to just how yummy their Black Pepper Crabs really are!
Crab Bee Hoon is also another Singapore favourite. Here the crab is first blanched in hot oil, then braised in a stock with rice vermicelli until it the vermicelli is infused with that wonderful crustacean flavour. The originator of the dish is Chef Danny of Sin Huat Seafood Restaurant in Geylang. This man is what psychiatrists would term "Anal retentive". He does everything himself. He imports his own seafood, comes ti take your orders and then goes to the kitchen to personally prepare your dishes. Many Singaporeans baulk at the fact that he charges restaurant prices (or sometimes higher) for his food which is served in an old run down coffeeshop, but there is no mistaking the quality of his dishes! He has the only tank of live scallops I have ever seen in Singapore! (The scallops with pepper sauce are also worth ordering!).
If your doctor has given you the good news that your cholesterol levels are wonderfully low, and you have an urge to Crab out, then head for Chin Huat live Seafood over at Sunset Way (20mins from town). They do Chilli Crabs, Black Pepper Crabs, Crab Bee Hoon and Salted Egg Crabs quite well and you get to choose from a cornucopia of clawed crustaceans! But the dish that I go for here is the Giant Sri Lankan Crab in Golden sauce. If you enjoy savoury dishes that are a little on the sweet and creamy side, then you will find yourself mopping up all the sauce with your piece of fried bread just like I do every time I visit!
Read more about Crab dishes here.
5. Bak Kut Teh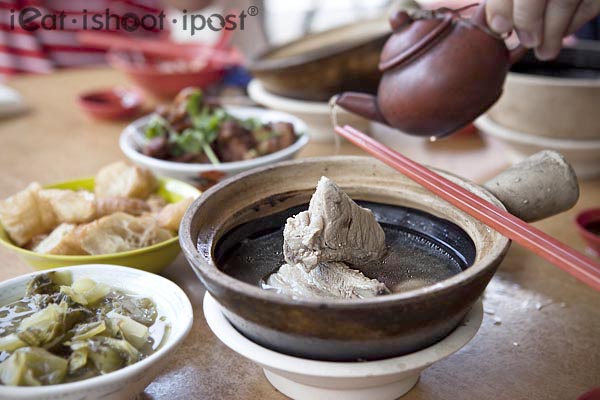 Bak Kut Teh is a dish of contention between Singapore and Malaysia. In my research, I am convinced that the evidence so far pins the origin of the term "Bak Kut Teh" to the Clarke Quay area. Bak Kut Teh means "Pork Bone Tea" and refers to a bowl of Pork Bone Consomme accompanied by Chinese Tea. The Teochew and Hokkien stevedores often drank Bak Kut Teh in the mornings in order to have sufficient energy to haul goods off the sampans along Clarke Quay and after they finish their bowl of soup, Chinese Tea is poured into the same bowl and drunk to cleanse the palate.
So since this is a dish born out of the docks, what better place to eat it then at the docks! My favourite place for Bak Kut Teh is at Outram Park Ya Hua located at the Port of Singapore Authority, near Tanjong Pagar. This is near the CBD area and is opened almost 24 hours a day. When you go, make sure you tell them you want to brew a pot of tea as well and order some You Char Kway (fried doughsticks) to dunk in the soup. Either Oolong or Pu Erh Tea is great with Bak Kut Teh. If you are unfamiliar with the Tea Ceremony, simply ask the waiter to help you. If the owner, Mr Frankie Gwee is there, he would be more than happy to help you with the Tea Ceremony and also chat with you about Bak Kut Teh!
Perhaps the most (in)famous Bak Kut Teh place is Ng Ah Sio along Rangoon Road. This place has just recently undergone refurbishment and is a very comfortable place to have your Bak Kut Teh. It gain infamy a few years ago for turning away Donald Tsang when he wanted a bowl of Bak Kut Teh after closing time! (Donald Tsang subsequently went to Outram Park Ya Hua where he was welcomed with open arms.) However, the place has since been sold and though it is still in its original location, a lot of the old charm and taste is lost. However, just a little further down the street is Founder's Bak Kut Teh which is still a family run business. They use only fresh pork to cook their Bak Kut Teh and still retains a very authentic and artisanal feel and the air conditioned restaurant is a very comfortable place to sip tea and drink your pork bone soup!
Read about more Bak Kut Teh stalls and the history of Bak Kut Teh here.
6 Fish Head Curry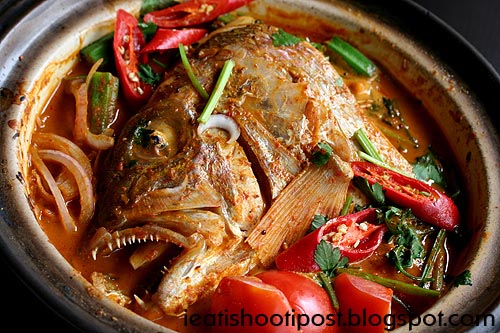 Fish Head Curry was the brainchild of a man named Gomez who migrated to Singapore from South India in the 50's and started an Indian Curry stall in the Selegie area. When he noticed that the Chinese loved to eat fish heads, he started cooking fish heads in his Southern Indian Curry sauce and created yet another Singapore icon!
There are generally two types of Fish Head Curry. The Indian type, which is spicier and heavier, and the Chinese/Perankan type. A few years after Gomez started the Fish Head Curry craze, Mr Hoong Ah Kong, followed suit and founded Soon Heng restauarant which for many years was a favourite place for Chinese style Fish Head Curry. Unfortunately, Soon Heng closed its doors permanently very recently which ended a significant chapter of the Fish Head Curry story.
My pick for the Indian style Fish Head Curry is a bit off the tourist trail and gives you a chance to visit a more remote part of Singapore. Karu's Banana Leaf Restaurant is testament that Singaporeans will travel anywhere for good food. Now, I might make it sound as if this place is hours away, but that is not possible in Singapore. The fact is that you can get almost anywhere in Singapore within an hour…. when there is no traffic jam and you have a car….or can get a taxi immediately. I like the Fish Head here because they manage to retain the succulence of the tender meat in the fish head by not overcooking it. If you are adverse to looking at something in the eye while eating it, then Fish Head Curry might not be for you. But I guarantee that if you ate this in the dark without knowing what it was, you would be in gastronomic heaven! Always remember that learning to eat Fish Head is very important as it is a sure fire way to get a HEAD in life! (Drum: badoom tsss!)
For Chinese style Fish Head Curry, a popular pick would be Ocean Fish Head curry which has branches in Toa Payoh as well as Amoy Street in the CBD area. The fish heads here are very fresh and they use the wild caught Ang Goli (Red Snapper) to cook their curry which is a unique blend of Nonya, Chinese and Indian styles.
Read more about Fish Head Curry here.
7. Laksa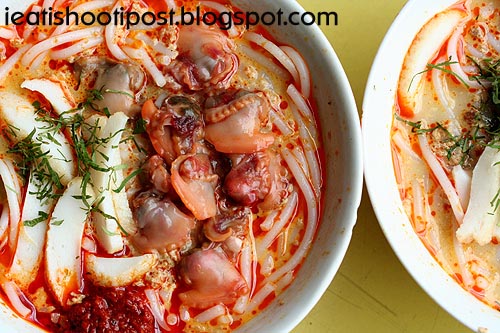 Laksa is, without a doubt, one of the tastiest things on earth and certainly one of the tastiest dishes Singapore has to offer. In Singapore, Laksa refers to thick rice vermicelli served with a curry gravy made from spices for fragrance, chilli for heat, coconut milk for that creamy rich mouth feel and tiny dried prawns for that umami kick.
The Curry Laksa was once only enjoyed by wealthy Peranakans (Straits Chinese) at home. When WWII struck, some of these Peranakan ladies — Nonyas as they are called, came out to the streets to sell some of their food in order to make a living.1 It was popularized in the 50's along the Joo Chiat area by a man called Janggut. He subsequently founded the dish we call Katong Laksa, which is classically eaten which just a soup spoon. The hottest area for Katong Laksa is the junction of Ceylon and East Coast Road where you find several stalls selling the same dish. Janggut used to sell his famous Marine Parade Laksa here before their shop space was taken over by other Laksa hawker. The most popular of the few stalls here is 328 Laksa which is pretty good. However, if you wish to experience Janggut's legacy, you should head for few stalls which are still run by his direct family members!
A few years after Janggut started selling his Laksa, another stall started up nearby in the now defunct Roxy Cinema. Roxy Laksa is now located at East Coast Lagoon Food Centre and the 2nd generation owner (Mike) is still passionately serving traditional style Katong Laksa. When you are eating Laksa, rub your soup spoon against the bottom of the bowl. It should feel a little gritty, like grains of fine sand. That is the residue from the dried prawns and your guarantee that each mouthful of gravy will put you on a umami high! East Coast Lagoon Food Village is one of my favourite Food Centres as it is by the sea and also houses a lot of great eats!
Traditionally, the Laksa gravy is slow cooked in an aluminum pot over a charcoal fire, but stalls still doing this are rarer than a sterile panda. If you really want to experience Laksa cooked over charcoal, then you have to head to the Flea Market area of Sungei Road for Sungei Road Laksa. (You can pick up some interesting antiques along the streets nearby at the same time!) This place is quite near town and also has many rustic hawker stalls in the area. If you planning to visit, then do also explore some of the other nearby stalls by reading my "Jalan Besar" posts.
Read about other stalls at East Coast Lagoon Villagehere.
Read about other Laksa Stalls here.
8. Satay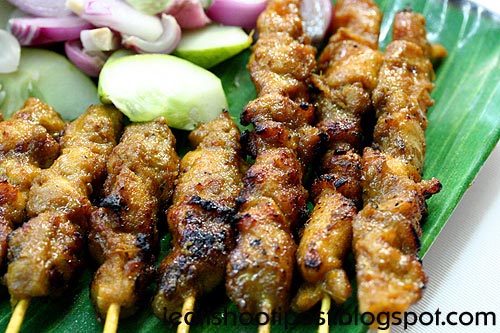 East Coast Lagoon Food Centre happens to house one of the few Satay Clubs in Singapore! Basically a Satay "Club" is where you can find many stalls selling satay. These clubs often sell the Malay version of the dish. Satay is probably one of the most famous South East Asian dish known overseas. However, many might be more familiar with the Thai version rather than the Malay version which has a spicier, sweeter marinade. The peanut sauce is also much more robust and spicy. Haron 30 Satay is the most popular stall there, but I suggest you just walk along the Satay stalls and allow yourself to be seduced by the most succulent skewers being grilled over the charcoal fire. It's more fun that way and you will get to interact with the Satay sellers all trying to get you to buy from their stalls. Most of them a pretty decent, so you will end up with a good meal.
The Chinese also have a variation of Satay and this version is seldom seen overseas. Five spice powder is added to the marinade and the gravy often has a dollop of pineapple puree added to it. My favourite stall is Chuan Kee Satay over at Old Airport Road Food Centre, but just be warned that there might be a 45 minute wait for your satay if you go during peak hours. Kwong Satay over at Geylang Lor 29 also does a pretty good Chinese style satay and you can check to see if you can order their special large sized Belly Pork satay as well.
Read about other Satay stalls here.
9. Kopi and Kaya Toast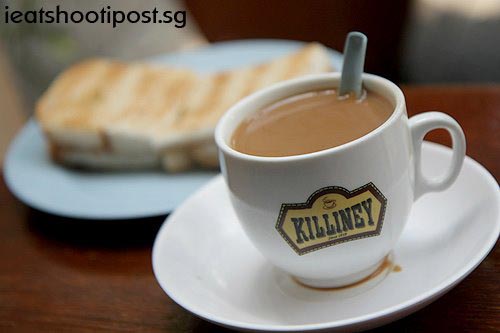 For a typical Singaporean breakfast, it doesn't get better than a cup of Kopi with Kaya Toast and two soft boiled eggs drizzled with dark soy sauce!
The Kopi and Kaya Toast culture originated from the Hainanese cooks who used to work for the British as cookboys. This was where they learnt to make coffee and toast. When they left their service, some of them came out to introduce this "Western" food to other locals. Since they couldn't afford the more aromatic and expensive Arabica beans, they got hold of the full bodied Robusta and roasted it with butter, sugar and corn. Thus was born our very own "Kopi" which is usually served with condensed milk. Aromatic, strong and full bodied with little acidity and a tinge of peppery spice, the majority of Singaporeans still prefer a cup of Kopi over cappuccino anytime!
The Kopi Culture experienced a Renaissance in the 90's and nowadays you can find many places in shopping centres selling traditional kopi. However, if you want something special then you have to visit what is listed by the Singapore book of records as the oldest coffeeshop in Singapore, viz the original Killiney Kopitiam at Killiney Road. Somehow the Kopi here is still better than the other branches across the island. Their kaya is made fresh daily and their toast is still grilled over a charcoal fire.
The other household name that you have to visit is Ya Kun Kaya Toast, but not just any branch, you have to visit their main shop at Far East Square. Here, the eggs are still done by family members the same way their late father used to do them and they come quite close a 62 degree Sous Vide egg. The toast here is also grilled over a charcoal fire, then each slice is halved and filled with kaya and slices of cold butter. The contrast of brittle toast, cold butter and sweet kaya is one of the most memorable Singaporean culinary memories you can bring home. While at Far East Square, do check out one of Singapore's oldest surviving hawker stall, Hock Lam Beef Noodle which turned 100 this year as well as a few other heritage stalls along the same row! Far East Square is centrally located in the CBD area and provide heritage foods in modern and comfortable surroundings.
Click here to read about the other stalls at Far East Square.
Click here to read more about Kopi and Kaya Toast.
10. Nasi Padang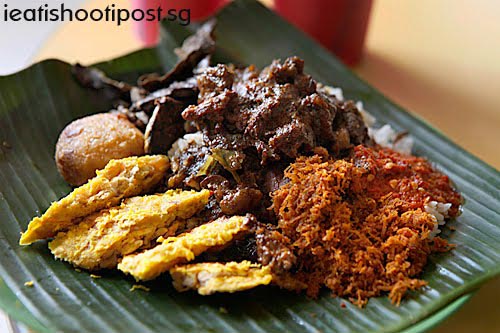 Selecting this last recommendation is difficult. There are still so many great local dishes to cover! However, I felt that I must add Nasi Padang as it is an uber Malay dish and you will not fully appreciate our culture without having gained some knowledge about the food of its indigenous people. Indonesia and Malaysia are vast countries and hence to speak of one Malay/Indonesian cuisine does not really do it justice. When we speak of Nasi Padang in Singapore, it really is a very loose term to describe a meal that has a variety of (mostly) spicy dishes eaten with rice. And just as the Europeans love their cream sauces, a lot of these dishes are given that irresistible kokumi (the proposed 6th taste) by the addition of coconut cream. Nasi Padang, strictly speaking, is the style of rice and curries that originated from the Padang region of Indonesia, but we have adapted it and made it into a Singaporean favourite.
The reason I pick Nasi Padang is so that I can introduce you to two stalls that are located in Geylang Serai Food Centre. This place houses the most number of Malay hawker stalls in Singapore and should definitely be on your list of places to visit. In the market next door, you will be able to find a lots of local produce as well as the local herbs and spices that power the rempah (spice mix) that form the base of Malay style cooking.
There are two stalls that have perpetual queues for their Nasi Padang. Hajjah Mona Nasi Padang and Sinar Pagi Nasi Padang. Both have slightly different dishes reflecting the different regional styles. Remember to try the Nasi Rawon at Hajjah Mona, this dish uses an ingredient called Buah Keluak which is a nut that must be buried in volcanic ash in order to render it non-poisonous. Buah Keluak has an earthy, bitter, almost chocolatey flavour that will slowly grow on you and become quite addictive. This is especially so in Nasi Rawon where it is mashed up and cooked in Beef Fat!
I can't help but to tell you that my favourite Geylang (Hamid's) Nasi Briyani is found in in this Food Centre too! Nasi Briyani is a dish of Indian origin and shouldn't even be mentioned under this heading, but it is so good that you shouldn't miss it when you are there. And oh, please let me slip one more recommendation in. After your wonderful meal, hop across the road to the Haig Road Food Centre for some seriously good Putu Piring. The Putu Piring is the Malay take on the Indian Putu Mayyam (String Hoppers) and it is basically steamed rice cakes with a filling of hot, oozing Gula Melaka! Putu Piring, situated in a coffeeshop just across the road from the Food Centre, does the best version of it in Singapore!
Read about more Nasi Padang stalls here.
Read about other stalls at Geylang Serai Food Centre here.
Conclusion
I could go on and on about Singapore's Hawker cuisine, but I must stop here since I promised to tell you only the Top Ten Things to eat in Singapore. I hope that this short gastronmic tour will give you bird's eye view of Singapore's rich culinary heritage and help you in your planning of the ultimate Singaporean food trip!
If you want to learn more about Singapore's Hawker Food Heritage, do remember to pick up my book, "The End of Char Kway Teow" from any of the local bookstores. My latest book Only The Best is in its second print run and lists all the best hawker food stalls which I have visited since I started blogging. It is now also available at all good bookstores!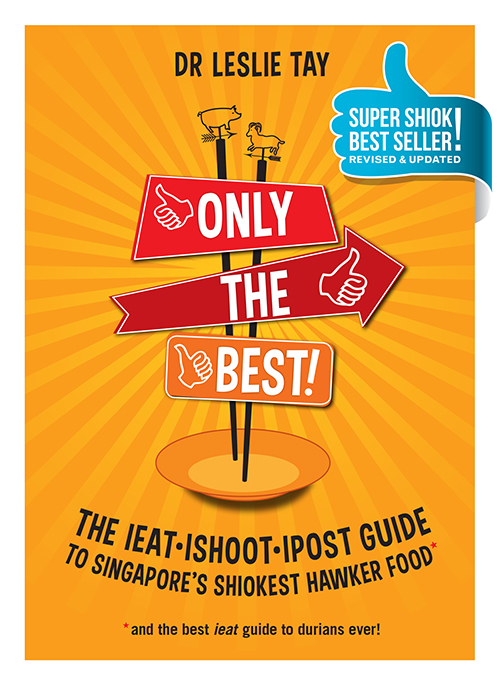 If you want to read more stories online on this Blog, may I suggest you start with the "The Really Must Try List" which lists the stalls which I feel are a 2 cuts above the rest. A
I hope you enjoy your visit to Singapore and I leave you with my motto: "Never Waste Your Calories on Yucky Food!"
References:
1. Wartime Kitchen: Food and Eating in Singapore 1942-1950, Wong Hong Suen, 2009, 1st Edn.
2. The End of Char Kway Teow, Leslie Tay, Epigram Books, 2010.
3. Only the Best, Dr Leslie Tay, Epigram Books, 2014
To read the author's profile, please click here.