This restaurant was previously known as "Founder"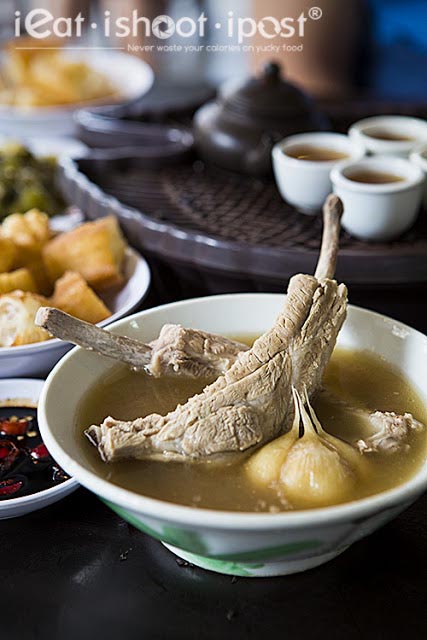 There has been a lot of talk about preserving our hawker heritage recently. The main worry is about the lack of younger Singaporeans wanting to enter the hawker profession. This is certainly a big concern for certain dishes like Char Kway Teow. The problem lies in simple, basic economics. If you can sell a dish for $6-$8 and Singaporeans can recognize its value and happily pay for it, then the dish will survive and thrive. But if Singaporeans continue to complain when the young Hokkien Mee man increases the price of his plate of Hokkien Mee from $3 to $3.50, then he might find that he would be better off converting his stall to selling pasta where people are happily paying $6 for a plate of carbonara at the same hawker centre. Similarly, it really makes no sense to me when people complain that the cup of kopi has gone up from $1.30 to $1.50 when they are happily paying $5 to drink a cup of coffee from a cafe. It is no wonder that all our young people end up pulling coffee out of an expresso machine rather than filtering it through a sock.
The good news is that dishes like Prawn Mee and Bak Kut Teh have somehow been able to break out of the "Cheap Hawker Food" paradigm and so that we have places selling jumbo prawn mee for $12 while there are still others selling a bowl of normal prawn mee at $3. The option to choose between the two is a good thing and if it can happen with other dishes like Char Kway Teow and Carrot Cake, then the future of these dishes can also be assured.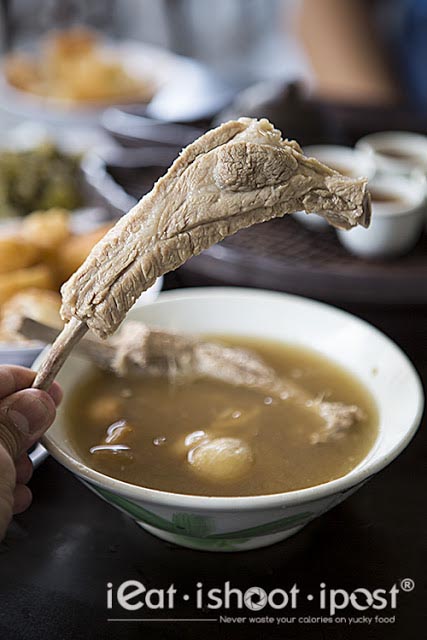 Bak Kut Teh is another dish which is thriving. This is largely because Bak Kut Teh has always been considered a "luxury" hawker dish even in the good old days. As a result, there are many Bak Kut Teh restaurants in Singapore and there are more young hawkers who are willing to take over their parents' legacy. This form of succession planning is vitally important to the preservation of the soul of the restaurant. We have seen this with Song Fa and Rong Chen Bak Kut Teh and today we feature the next generation of the very popular Founder Bak Kut Teh.
Those of you who have visited Founder at Balestier will no doubt remember all the photos of celebrities posted on the wall of the restaurant. Indeed, it is one of the most popular places for Bak Kut Teh and for many years, the original owner had refused to open another branch because he wanted to maintain the standard of his Bak Kut Teh. However, due to the persistence of his 2nd daughter, he finally relented and gave his blessings for Chui Chui, who had grown up helping him at the restaurant, to open a branch of her own.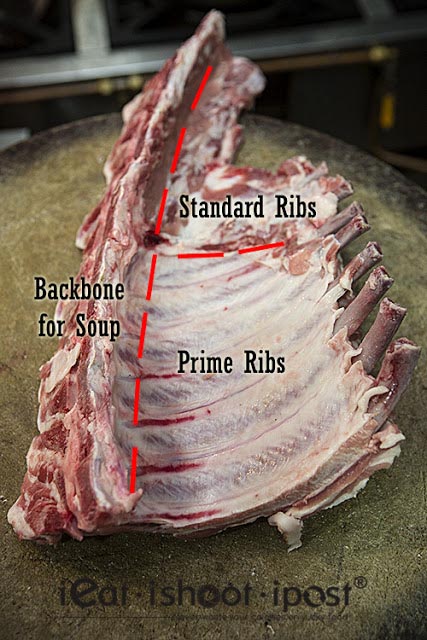 The secret to the quality of Founder Bak Kut Teh is in the insistence of its founder, Mr Chua Chwee Whatt in only using fresh pork to make his Bak Kut Teh. Mr Chua had previously been a pig farmer in Punggol and went into the Bak Kut Teh business when the government decided to stop pig farming in Singapore. He had learnt how to cook Bak Kut Teh himself instead of picking up the skills from a master, which is why he named his stall, Founder Bak Kut Teh. So, from the very founding of Founder, he has been using only the best fresh pork he can get his hands on.
The tradition continues under the management of Chui Chui who very graciously showed me the cuts of pork that they use at the restaurant. They are all fresh Indonesian pork and come in big slabs which include the rib cage and the back bone. They section off the backbones which they will specially cook for many hours in order to make the soup. The smaller rib bones are chopped up for their normal Bak Kut Teh while the prized prime ribs are sectioned off for their Prime Rib Bak Kut Teh. Each pig only yields around 12 to 14 prime ribs which is why these are so highly valued by Bak Kut Teh connoiseurs.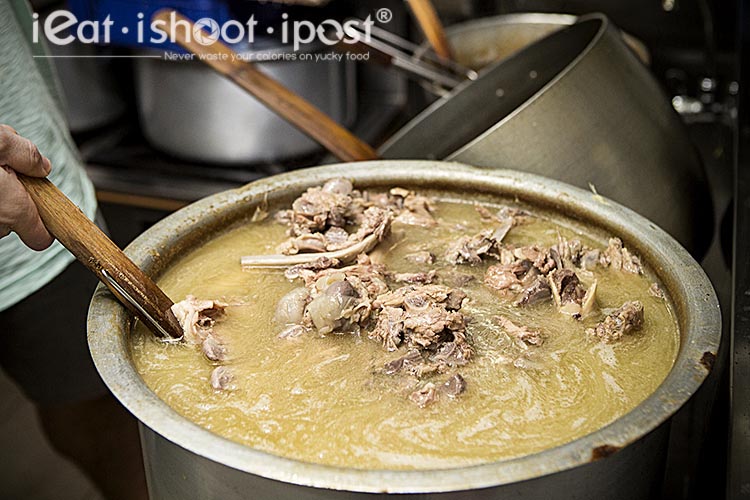 The big difference between Singapore style Bak Kut Teh and Malaysian Style Bak Kut Teh is in the herbs used in the Malaysian Style Bak Kut Teh. Most of the Japanese that I have spoken to prefer the Singapore style soup because of its zen like simplicity. You can actually taste the natural pork flavour in the soup whereas in the Malaysian style Bak Kut Teh, it is the flavour of the herbs that dominate. I have eaten Malaysian style Bak Kut Teh on numerous occasions and I have also noticed that it is hard to get whole prime ribs in Malaysia. Whenever I ask for prime ribs, I usually get chopped up pieces of meat. I have never been able to get the whole prime rib like what you can find here at Founder.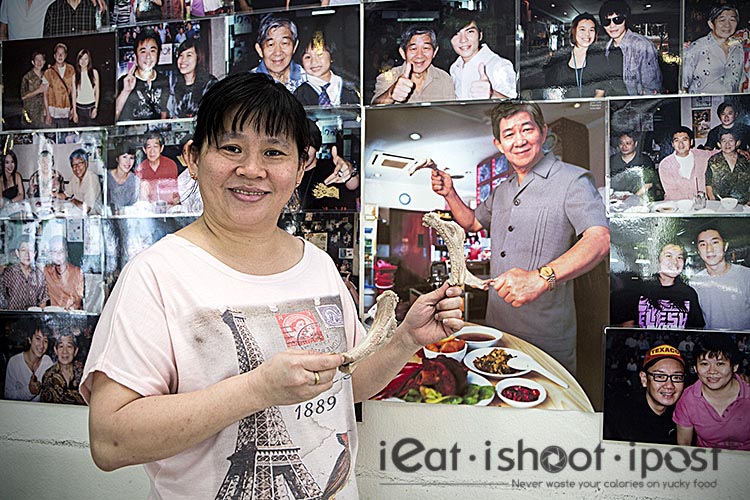 The Founder tradition is alive and well here at the Rangoon road branch. The soup has a wonderful peppery blast and a natural porky sweetness and the ribs are cooked till tender, but still springy to the bite. The great thing about the Rangoon road branch is that it is still easy to get a seat and there is an air con section as well as an al fresco section. Parking is also easy as there is a public carpark at the end of Rangoon Lane. The side dishes like the peanuts and chye buay could have been better though and the dark soy sauce just did not complement the pork as well as I would have liked. The pre-requisite tea sets and kettle trolleys are also available, so that you can have your formal tea ceremony before partaking of the pork rib soup. Remember that Bak Kut Teh is all about drinking Pork Rib Soup with Chinese Tea, so do order a nice Bu Zhi Xiang (不知香) to complement your soup, or else you would only be enjoying Bak Kut (Pork Rib) and not Bak Kut Teh! (Pork Rib Tea). The Bak Kut Teh tea ceremony is a major part of our culinary heritage, so make sure you get the authentic Bak Kut Teh experience the next time you partake of Bak Kut Teh! 4.5/5
Read about the Bak Kut Teh Teas and how to perform the Tea Ceremony here.
Conclusion
This is a very nice and comfortable place for enjoying Bak Kut Teh and the 2nd generation owner has managed to keep the soul of Founder Bak Kut Teh very much alive. Rest assured, our Bak Kut Teh culture is in good hands for at least another one or two generations.