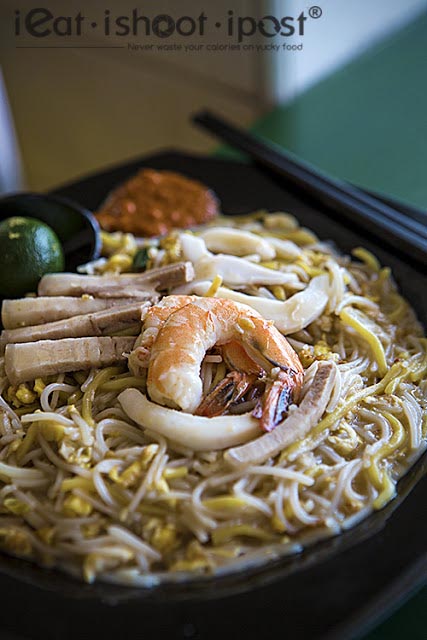 Foodies all over Singapore are keenly aware of the lack of new generation hawkers to take over from the old hawker masters. I am glad that some of our Gen Y Singaporeans are taking the initiative to try to save our hawker heritage. Two such projects have been under taken by NTU students last year. One is www.tastesofyesteryear.com and then there is also youthhawkerprise.com. However, it is one thing to talk about saving our hawker traditions but quite another to actually do it. In order words, although it is good for our well meaning NTU students to come up with websites and all, but its quite another to actually get young Singaporeans to start whacking the wok.
So when I got an email from a young aspiring hokkien mee hawker one day telling me about his new stall, I was quite keen to see just how passionate this 24 year old hawker really is. But I had to test the water first. So I asked him what makes his Hokkien Mee so good. This was his email reply:
1. Lard fried crispy and fresh every morning
2. Prawns from Thailand (cost is high but no other basic prawn can match it's taste)
3. Soup stock cooked with light condiment for a minimum of 3hr to ensure a strong flavor
4. Lastly I still choose to fried only up to 6 serving per wok, this is to ensure that the noodle are evenly fried till fragrant.
It was a good answer, so I made my way down to his stall.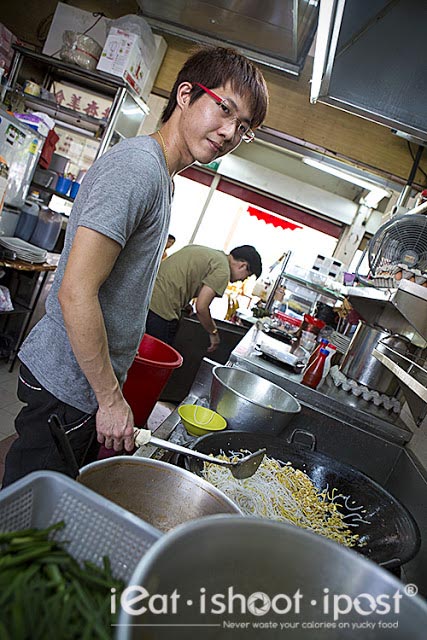 If you like the wet gooey type of Hokkien Mee with thick bee hoon, then this plate of Hokkien Mee will appeal to you. I must admit that my first plate wasn't fried as well as I liked but the stock was very good. It was more like a plate of pasta rather than fried Hokkien Mee. For me, the big difference is that in Hokkien Mee, the noodles need to be well fried till there are enough charred bits so that when the final stock is added and the noodles are braised, there is that nice smokey, caramelized flavour and the gravy turns greyish brown in colour. Terrence had to admit that he could do better and so he fried another plate for me and this 2nd plate turned out to be excellent. I told him that if he could fry every plate of Hokkien Mee like the 2nd one he did, then he would one day be recognized as a Hawker Master. 4.25/5
I like the way his wokking space is set up like one of those in a restaurant kitchen where he can turn on the tap over the wok and give it a good wash after every round of frying. He does keep to his style of frying only a maximum of six plates at a time, so that ensures that the Hokkien Mee is actually fried first before it is braised. The other thing I like is that each plate will come with sotong, prawns and most importantly, strips of pork belly which a lot of hawkers have omitted nowadays. The lard is crunchy and fresh and makes a huge difference to the taste of the Hokkien Mee. I think he is trying to keep to tradition as best as he can. I suggested that he should go all the way and bring in the Opeh leaves as well to make it really authentic.
Conclusion
The problem with any hawker or any food establishment is consistency. The hawker masters know how to deliver food that is consistently good. Even when there is a long snaking queue, they will still make sure that the plate of Hokkien Mee or Kway Teow is fried to what it should be, rather than to succumb to the pressure of the crowd and start cutting corners. If Xiao Di can consistently fry his Hokkien Mee like the 2nd plate I had, then I am certain that he will be recognized as one of our Hawker Masters one day. Whatever it is, we need to keep encouraging these young aspiring hawkers so that we will all have great hawker food in the future. So, do go down and give his Hokkien Mee a try and let us know your opinion!