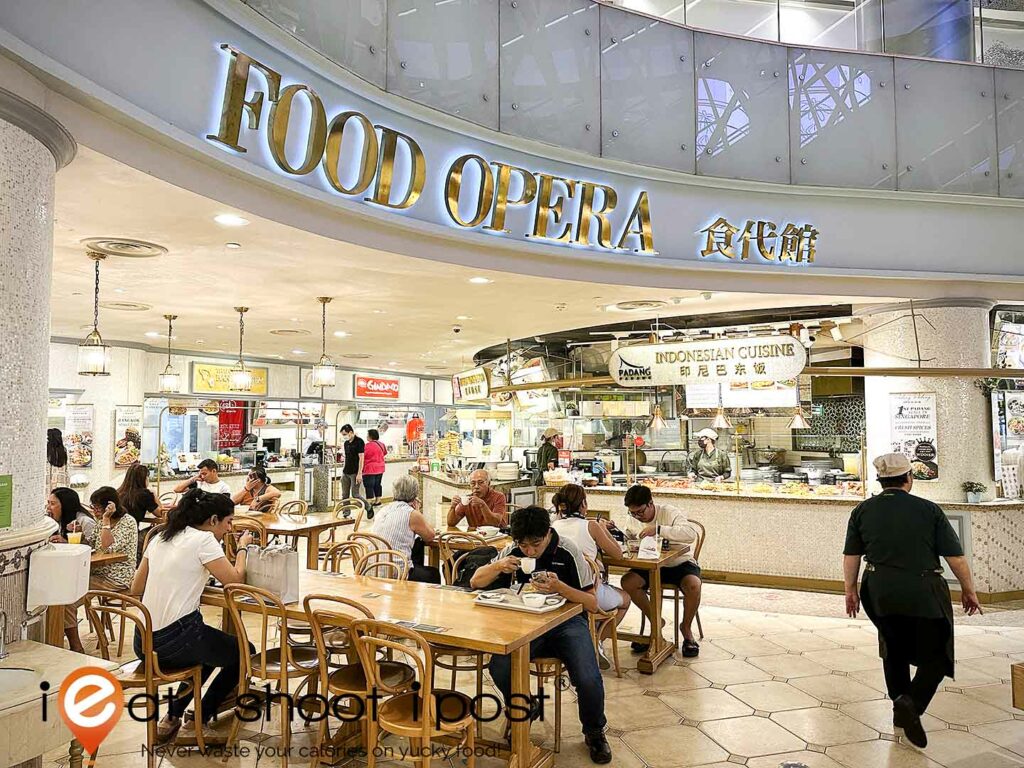 Food Republic is celebrating its 18th anniversary with a special treat: $1.80 meals! Since opening its first food court at Wisma Atria in 2005, the brand has revolutionized the food court experience by introducing heritage hawker brands within an engaging thematic dining environment. We visited Food Opera at ION, one of their busiest food courts, to look at some of their latest offerings as well as the enduring brands that have consistently delighted patrons over the years.
New Eateries
Gindaco Takoyaki
It's hard not to love Takoyaki—these little balls of deliciousness are so easy to eat, making them appealing to anyone seeking a quick and tasty snack. Gindaco proudly claims to be Japan's number one premium takoyaki, boldly stating so on their signboard. It's no empty boast, as they indeed hold the title of the most popular takoyaki franchise in Japan, boasting 400 stores across the country!
Watching them prepare takoyaki is quite mesmerising. Not just the part where they pour the batter into the moulds or add the tiny pieces of octopus or even when they get shaped into balls using skewers. The truly captivating part is when the machine delicately jiggles the bite-sized spheres, slowly rotating them to achieve an even crispness and a golden-brown exterior. If you've ever been to Osaka, you'd see takoyaki stands at every street corner! In Singapore, they are usually found at the pasar malams, which is why it is good that Gindaco has set up a stall here at the Food Opera where it is easily available throughout the day!
The takoyaki tastes very much like the ones we've tried in Osaka. However, I must say that the crust appears to be even more crisp and light than the ones we've had before. If you visit during the promotion, you can purchase a tray of 6 for just $1.80 and try them for yourself!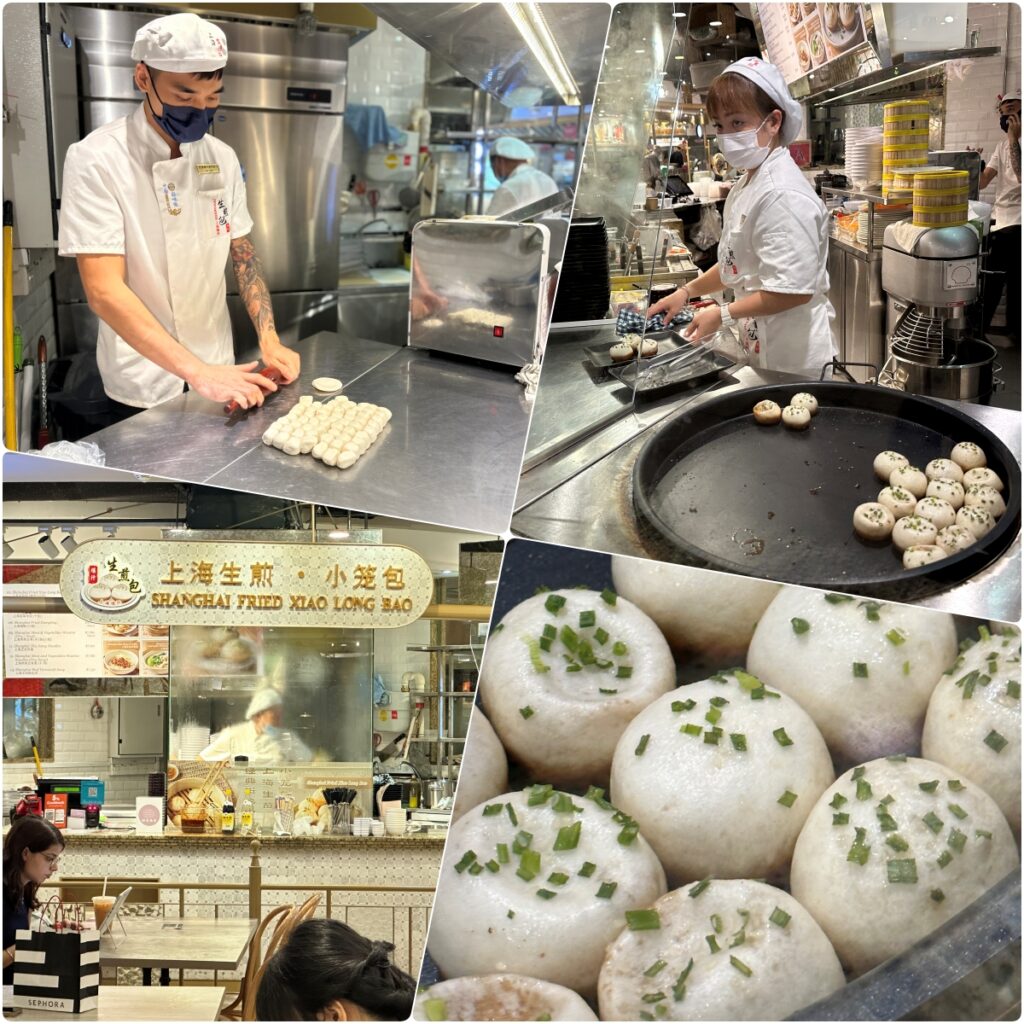 Shanghai Fried Xiao Long Bao
Sheng Jian Bao is one of those delights that would make me stop in my tracks. I adore our local bak pau, but these take it up a notch with that extra layer of crispy crust at the bottom! Whenever I come across them, I can't resist buying them. Perhaps it's also because they're not as readily available in Singapore, unlike their more popular cousin, the Xiao Long Bao.
The name 'Shanghai Fried Xiao Long Bao' might initially seem misleading, as they aren't really 'fried Xiao Long Bao.' I believe the owner, Chef Jiang, is simply combining the names 'Shanghai Sheng Jian Bao' and 'Xiao Long Bao.' together to form the name of the stall. Chef Jiang had worked as a dim sum chef at Crystal Jade and Paradise for over two decades before deciding to open his own stall selling Sheng Jian Bao at the Smith Street food center. They soon caught the attention of the folks at Food Republic, who proposed that they open an outlet at Food Opera.
The Sheng Jian Bao is excellent and is best enjoyed fresh. Traditionally, they are fried in large batches, making them a bit more challenging to prepare to order, compared to Xiao Long Bao, where each basket can be freshly steamed when needed.
If you visit during the promotion, you can purchase a basket of 6 Xiao Long Bao (U.P. $7) for just $1.80!
Song Fa Kway Chap
Song Fa, which has been a household name in Bak Kut Teh for years now, has decided to diversify into kway chap as well and has just collaborated with Food Republic to open their 2nd outlet at Food Opera. Actually, it is more of a spinoff than a diversification, since Bak Kut Teh stalls do sometimes offer braised dishes as well. This is quite understandable as both Bak Kut Teh and Kway Chap are popular Teochew dishes.
What makes Song Fa's version of Kway Chap unique is the option of having your kway in a peppery Bak Kut Teh broth! Over at ION, they are set up as a mini-restaurant and have their own dedicated seating areas. This mini-restaurant concept is also one of those unique features of Food Republic food courts which allows consumers to have more dining options.
Old Favourites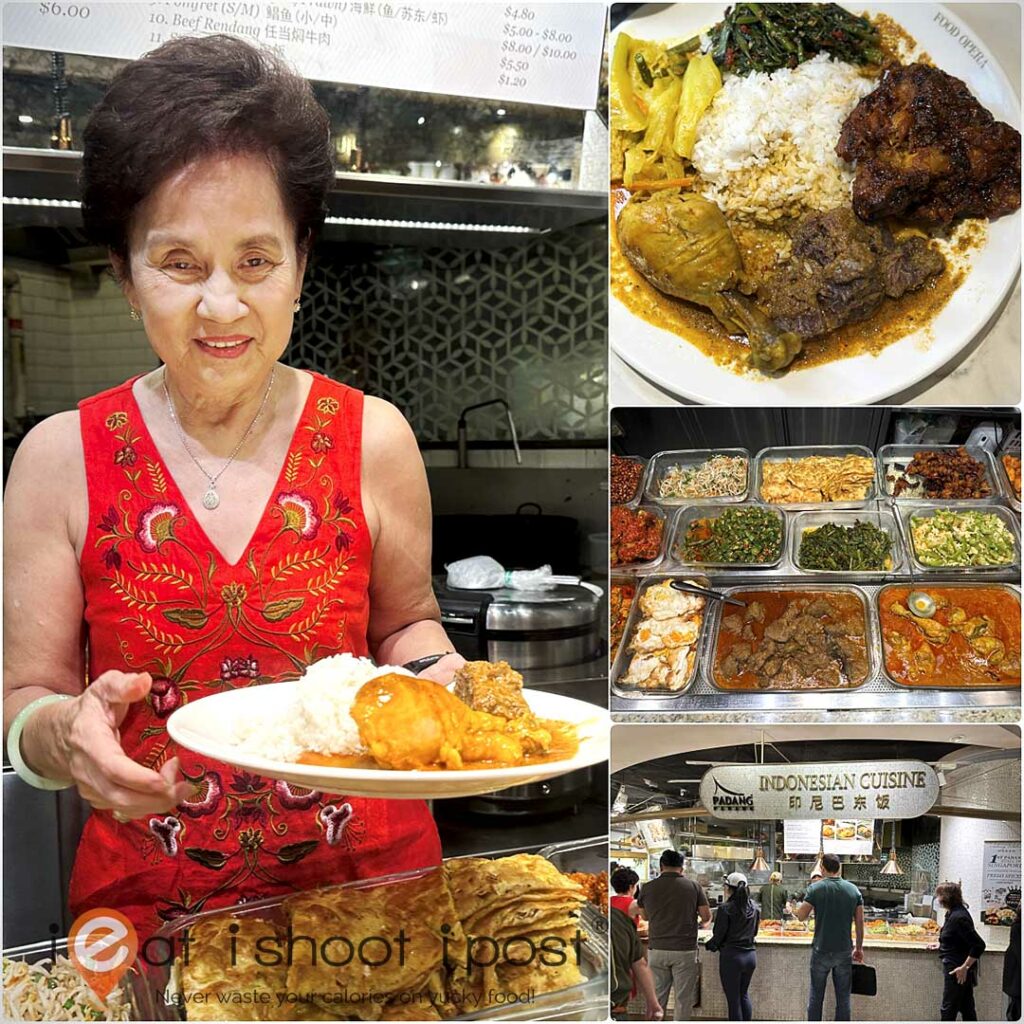 Padang Padang Indonesian Cuisine
I must admit that this is my first time trying the food at Padang Padang, which is a shame because I found their curries to be quite exceptional! I particularly enjoyed their Beef Rendang. Not only is the gravy addictive, but they also slow-cook the beef shin for over four hours, resulting in a tender texture that is easily cut with a fork!
Padang Padang made its debut at Food Opera fourteen years ago and was one of its pioneer tenants. Since then, they have expanded to a total of four outlets in Food Republic food courts.
Owner Ms. Silin Wahyuningsih (picture above) shared with us that they import spices from Indonesia thrice a week and they also prepare their own rempah in order to serve dishes food that you'd expect at an Indonesian home. Their Ayam Kari and Ikan Assam Pedas are also well worth the calories! I am just missing my Ayam Opor and Bergedil which I always order when I eat Nasi Padang.
Thye Hong Singapore Fried Prawn Noodles
Thye Hong is one of the pioneer hawkers at the very first Food Republic @Wisma Atria. Since then, the image of a man (or woman) wearing a straw hat while frying Hokkien Mee has become synonymous with the Food Republic food court. Thye Hong started as a single stall at Newton Hawker centre in the 70s. They were already a household name when BreadTalk Group approached them to open a branch at their new food court concept. The rest, as they say, is history.
What distinguishes Thye Hong's Hokkien Mee from the rest is the use of thick rice noodles, lots of gravy, and prawns that have not been deshelled. When I spoke to the owner years ago, he explained to me that the shell is where the flavour is, which is why he keeps the shell on!
18th Anniversary $1.80 specials meal deals
Flash this article or video to redeem a $1.80 deal at these participating stalls in Food Opera ION Orchard on 18 October 2023 (limited to the first 50 redemptions).
1. Gindaco – Original Takoyaki (U.P. $6.80 / 6 pcs)
2. Shanghai Fried Xiao Long Bao – Xiao Long Bao (U.P. $7 / 6 pcs)
3. Thye Hong Singapore Fried Prawn Noodles – Fried Carrot Cake (S) (U.P. $6.80)
This is written in partnership with Food Republic.