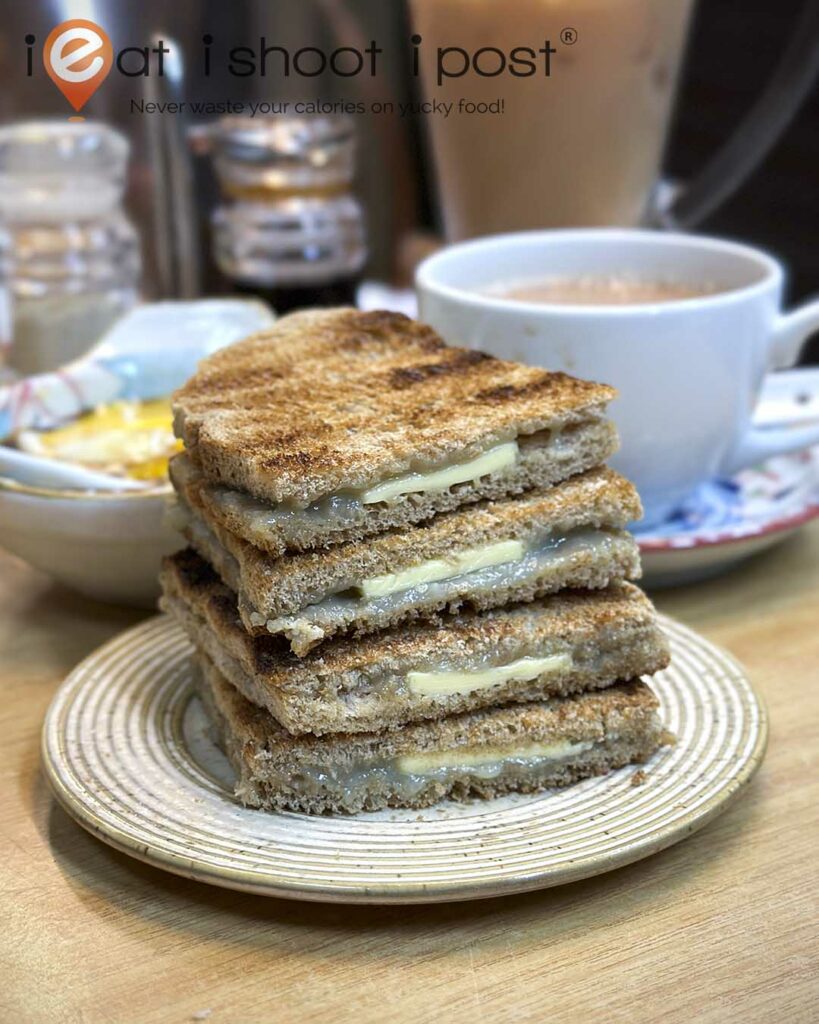 From Hokkien Mee to Local Breakfast
Remember Prawnography? They just re-opened their eatery at Balestier Plaza which shuttered during covid. Bao Er and Jeremy are now stationed at the new eatery and I visited their place when they first opened to have my Hokkien Mee fix. I tried their kaya toast after that and gave my feedback that kaya toast has become such a commodity that no one really takes it seriously anymore. There are not many places that still bother to make their own kaya and toast their bread properly. I shared my kaya recipe with Jeremy and told him that it is actually very easy to do and the kaya would taste so much better than the ones they procure from the factory.
Jeremy took my suggestion quite seriously and by the end of the week, he had started making kaya using fresh coconut milk and even bought a new grill to toast the bread!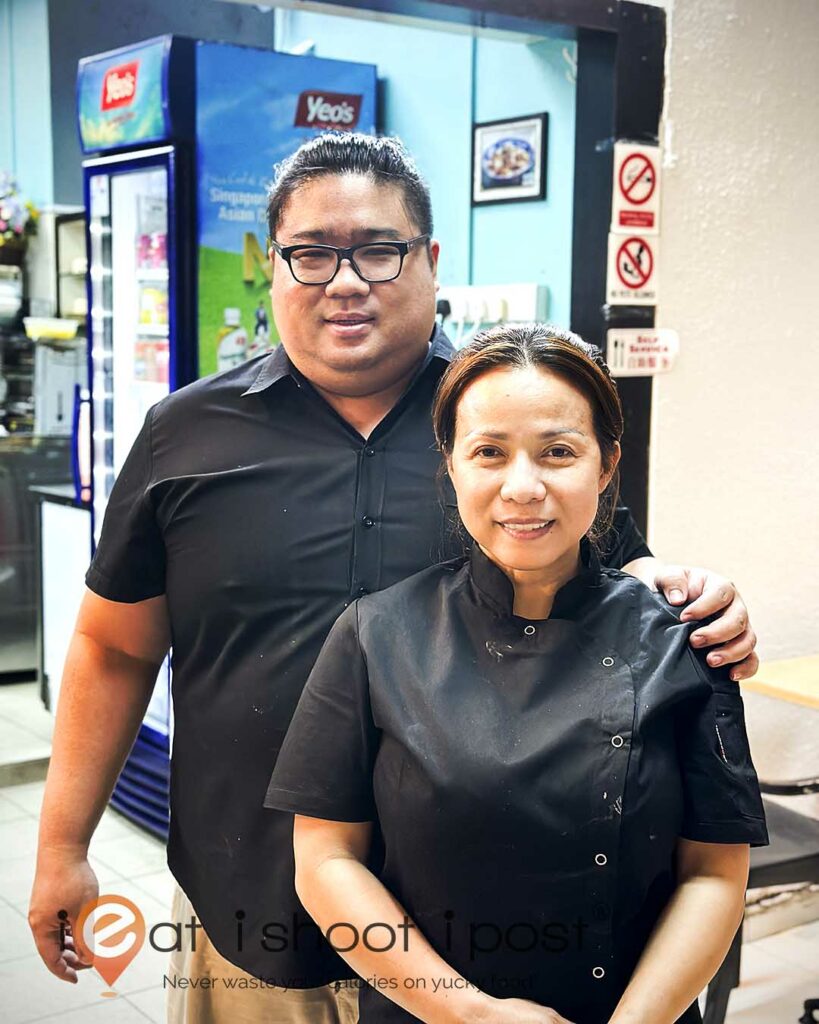 Housemade Kaya Toast using Fresh Coconut Milk
So, if you are looking for some old-school artisan kaya toast, you now know where to find it! It is amazing how fresh coconut milk makes such a difference to the homemade kaya! Bao Er has also been perfecting her toasting technique to produce a toast that is light and crunchy and they are currently working on getting the perfect ratio of butter:kaya:toast! The only thing that is missing is the charcoal smoke which is unfortunately not possible since the cafe is located in a shopping centre! Despite that, this is one of the best kaya toast available in Singapore! 4.5/5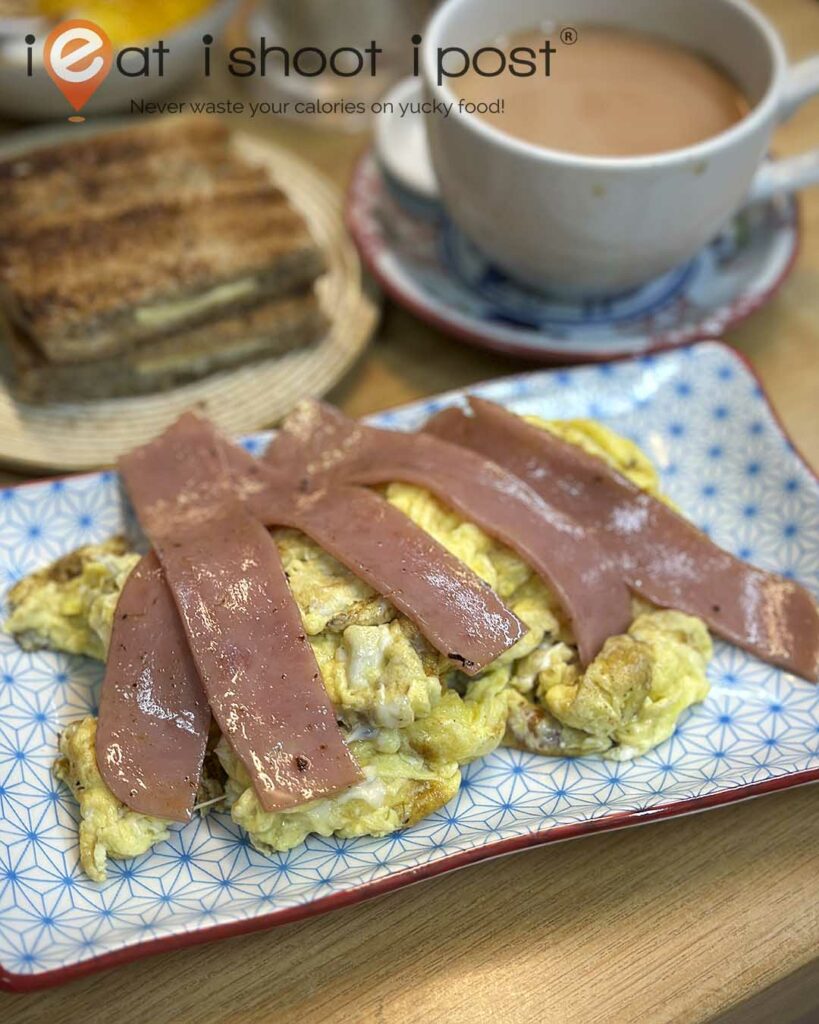 Fried eggs and Ham
Since I now have a place to go for good kaya toast. I thought it would be nice to have something savoury to go with it. In a typical Hong Kong cha chaan teng, you could easily just order simple fried eggs and ham. To me, ham and eggs, a cup of milk tea, and kaya toast would make the perfect start to the day so I requested it. I like the fact that their eggs are fried at high heat so that it is infused with wok hei! Fried eggs might be simple, but when done with a wok over high heat, it is very shiok! 4.25/5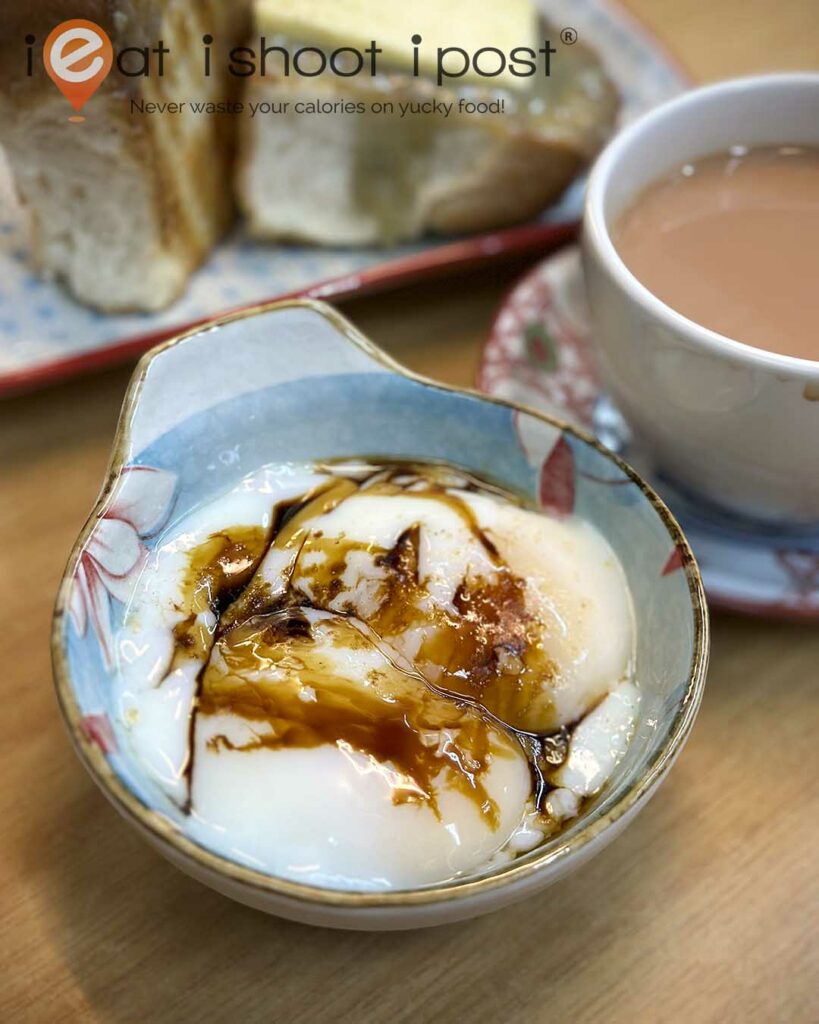 Perfect Soft-Boiled Eggs
Soft-boiled eggs used to take so much skill to do in coffee shops, but nowadays, thanks to Sous Vide technology, it is very easy to get perfect soft-boiled eggs. A lot of places are now using Sous Vide machines to make perfect eggs with cloudy whites and runny yolks! All you need to do is to set the temperature to 62°C and leave them in the water for 45 mins! The eggs here are perfectly cooked and drizzled with dark soy sauce and white pepper, making for the perfect dipping sauce for the kaya toast! It's too bad, they are not using really good farm fresh eggs, but then again, this is a little hole-in-the-wall eatery in a musky old shopping centre. 4.25/5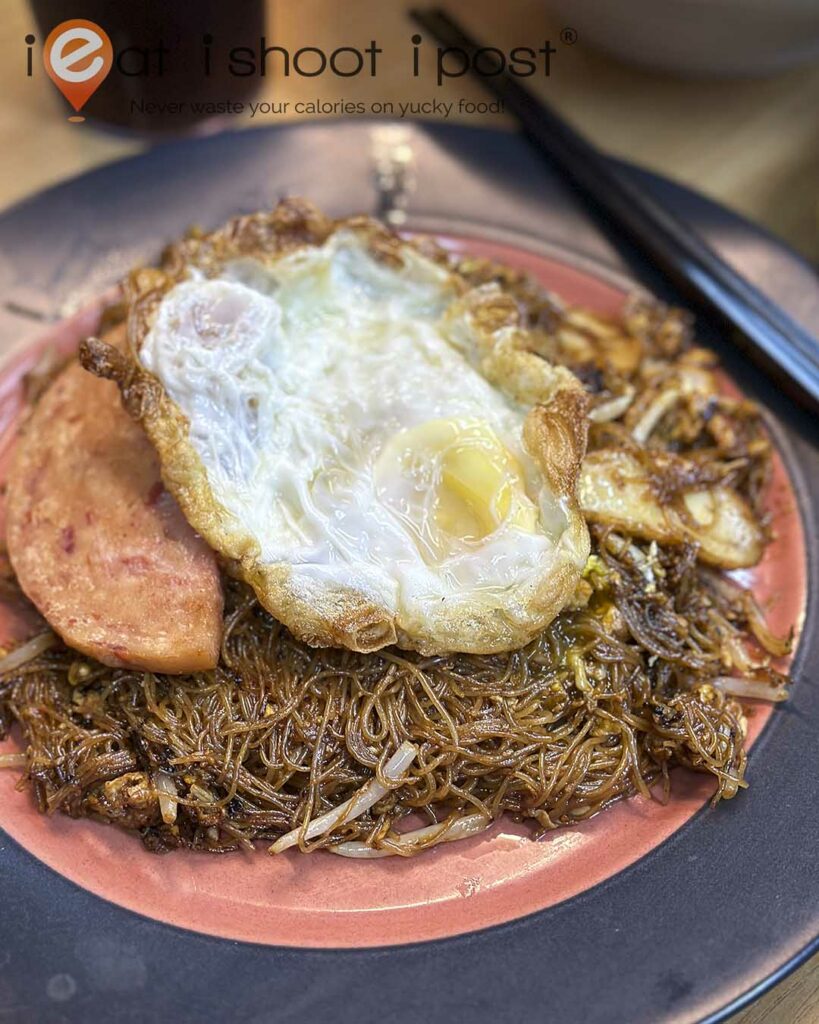 Wok Hei Economic Beehoon
Beehoon is such a popular breakfast item but I don't know of anywhere that you can find one which is fried to order. I guess if it was fried ala minute to infuse it with wok hei, you can't really call it economic bee hoon anymore — maybe it should be called "business bee hoon"? But $4.50 for a plate of bee hoon with luncheon meat and fried egg isn't too "uneconomical", is it? 4.25/5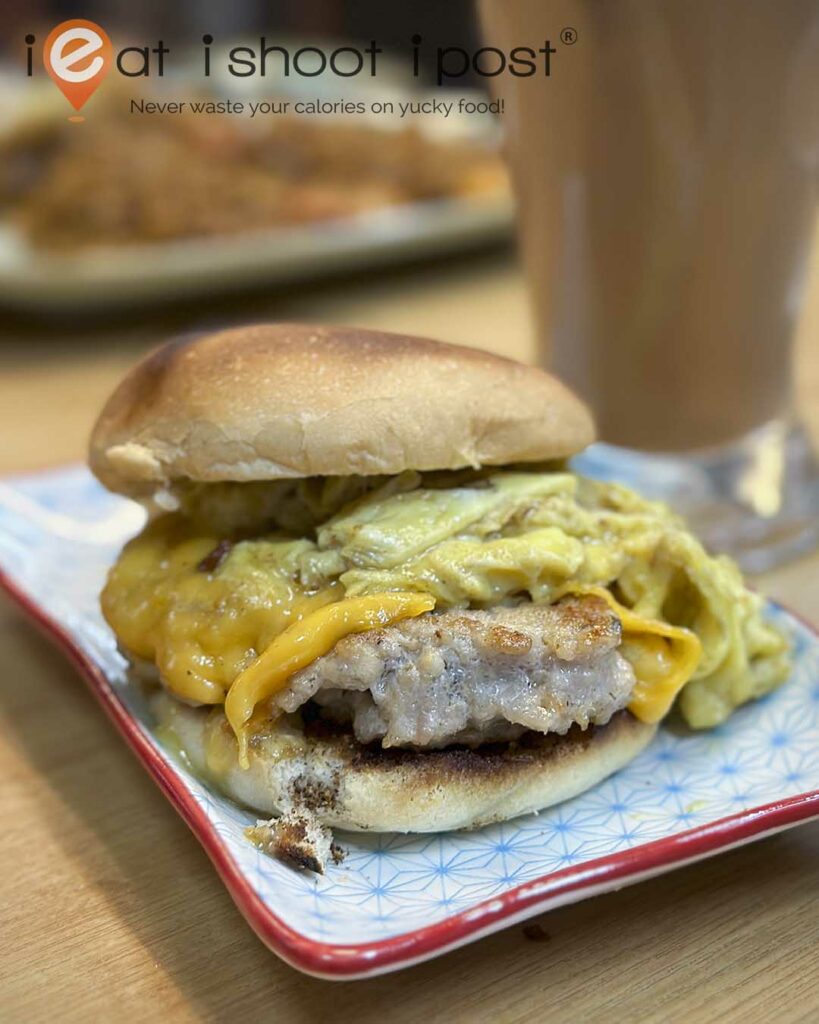 Chicken Sausage and Egg Burger
Jeremy also took my chicken sausage recipe and created his copycat sausage and egg sandwich! The sausage is made from chicken thigh meat and nicely seasoned (ownself say ownself) and really tasty and the wok-fried eggs gave the sandwich a flavour you won't find at McD's! It is a pity the buns are not of the buttery brioche variety but again, this is a hole-in-the-wall …. blah blah blah……. 4.25/5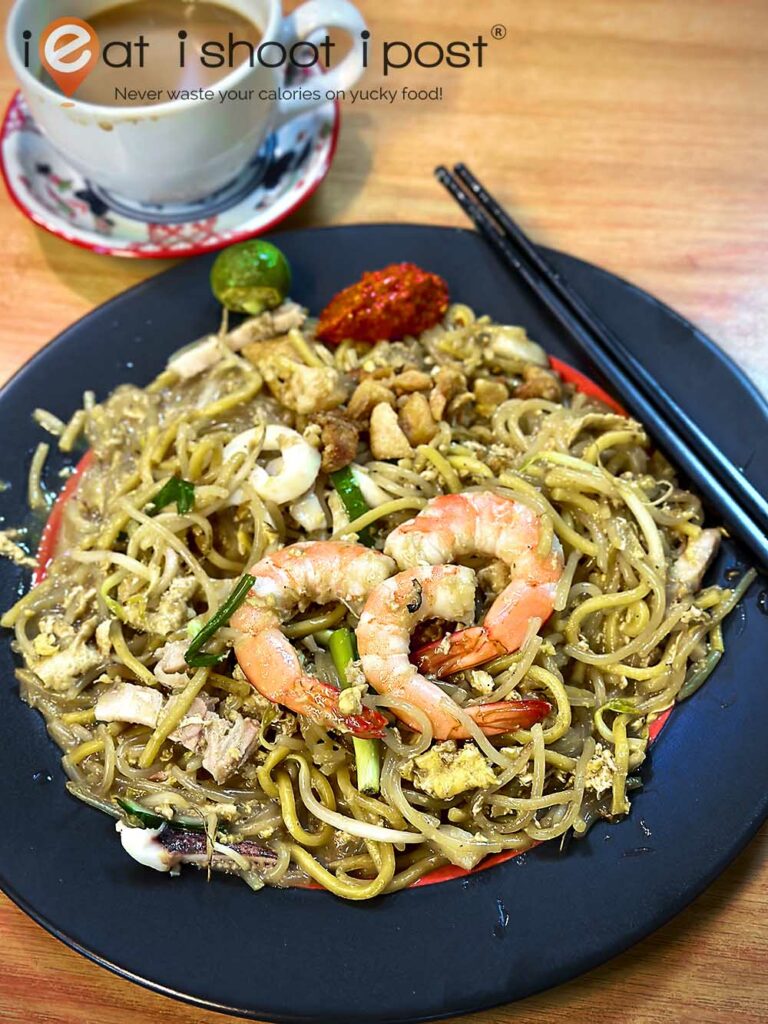 For lunch, the cafe is serving their usual fried Hokkien Mee, prawn mee soup and other wok fried items which I have already written about previously, so do check out my previous post for the lunch offerings!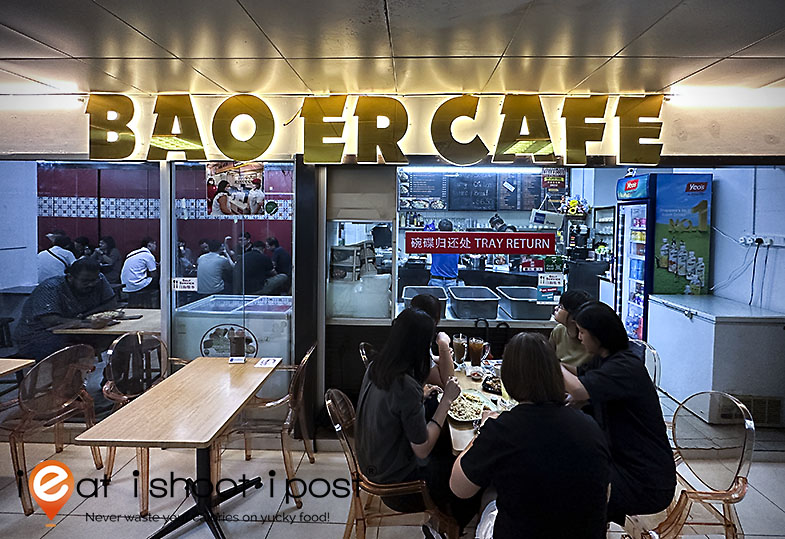 Conclusion
Finally found a cafe that is taking the traditional Singapore breakfast seriously! Here is where you can find kaya made with fresh coconut milk, wok hei bee hoon with luncheon meat and eggs, and even order fried eggs and ham! Granted that the old shopping centre is a little musky but I think it has got its own particular charm! Don't forget they are still serving their fried Hokkien Mee and Prawn mee soup for lunch and dinner!