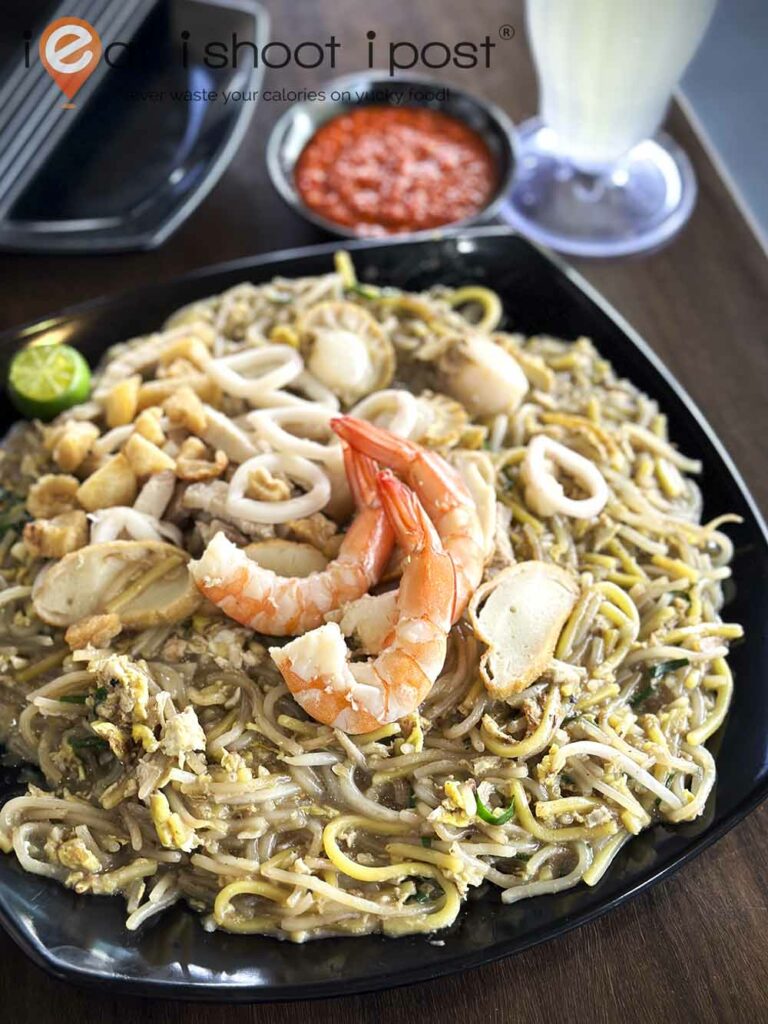 The future of Singapore's hawker food lies in eateries like these which are able to sell better quality food at higher prices. Somehow, when you are at a hawker center, you'd be reticent to pay more than $5 for a plate of Hokkien Mee, but if you are in a standalone eatery, $8 seems reasonable.
However, when you compare a $5 plate at the hawker center, with the $8 plate here at Prawnography, it isn't quite the same thing. For that extra $3, you are getting a whole lot more ingredients and the flavor is elevated because they use the prawn noodle soup broth to fry the noodles!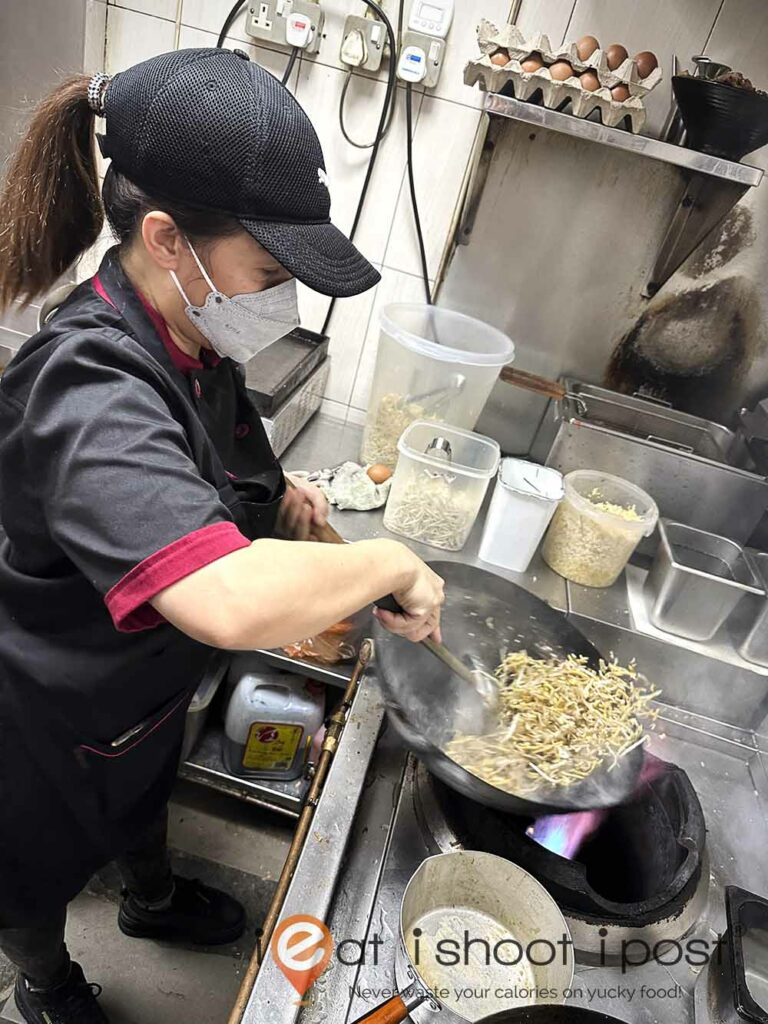 I was very pleasantly surprised by the Hokkien Mee here. I didn't think much of it at first when I saw the photos online and especially since they don't specialize in Hokkien Mee. But that all changed after the first bite. There are several things that set their Hokkien Mee apart.
First and most significantly, it's the wok hei that is achieved using a Cantonese style wok. Whereas the traditional way of frying Hokkien Mee is with a large Chinese wok, they use a smaller wok with a handle where they can toss the Hokkien Mee in the air where it mingles with the smoke.
Secondly, they use the same prawn broth which is also used for their prawn mee soup to braise the noodles. This results in a gravy which is very flavourful. I usually eschew the sambal chilli when I eat Hokkien Mee, but theirs is perfectly blended to enhance the flavour of the noodles! 4.25/5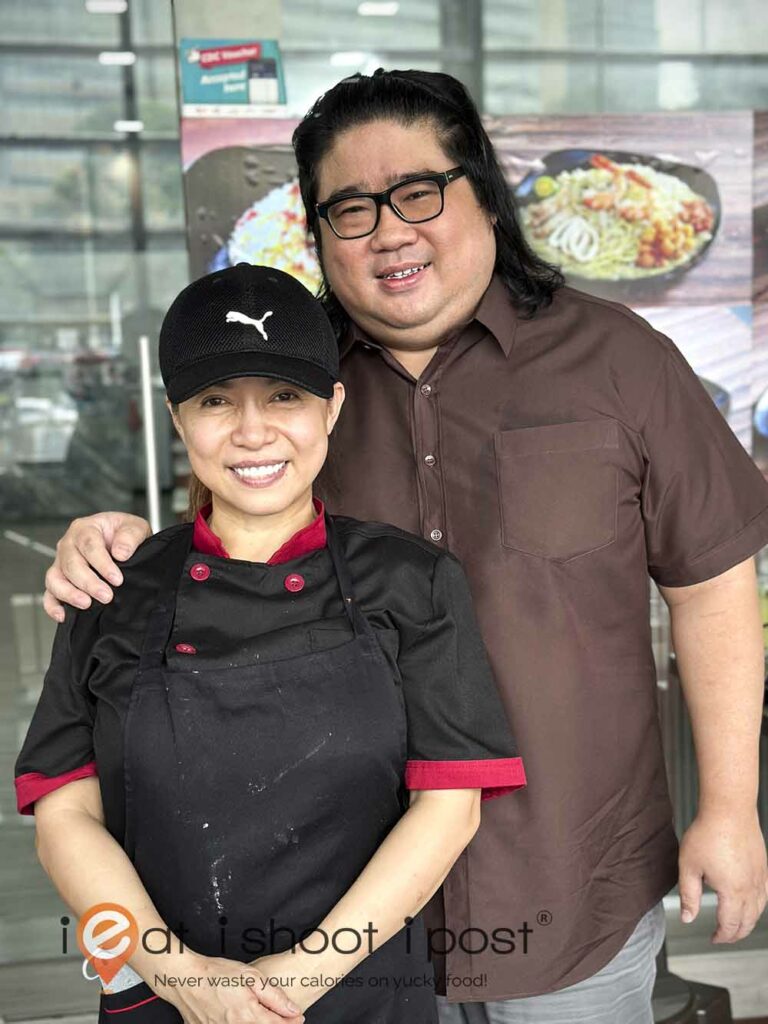 The couple behind the eatery is Jeremy Tan and his Vietnamese-born wife, Bao Er. Their logo can be quite confusing since it is Jeremy's face but the name is the wife's. They inherited the recipes from Jeremy's uncle, (God bless his soul) who used to be a Peranakan Chef. Bao Er picked up her cooking skills only when they opened their first eatery at Balestier Plaza. I must say that she has a good palate and she's quick to pick up the necessary cooking skills!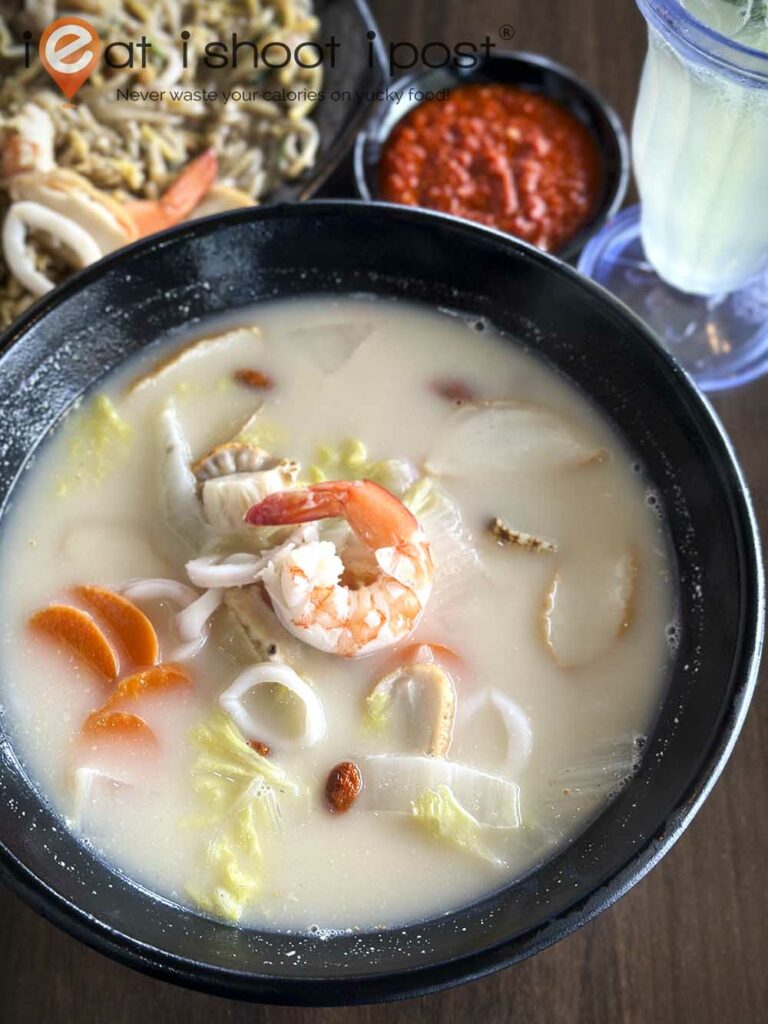 Their special dish of the day was a herbal seafood soup which is a milky soup with Chinese herbs and tastes very similar to an XO fish head beehoon soup. It was actually quite delicious and worth trying if you are after something soupy. 4/5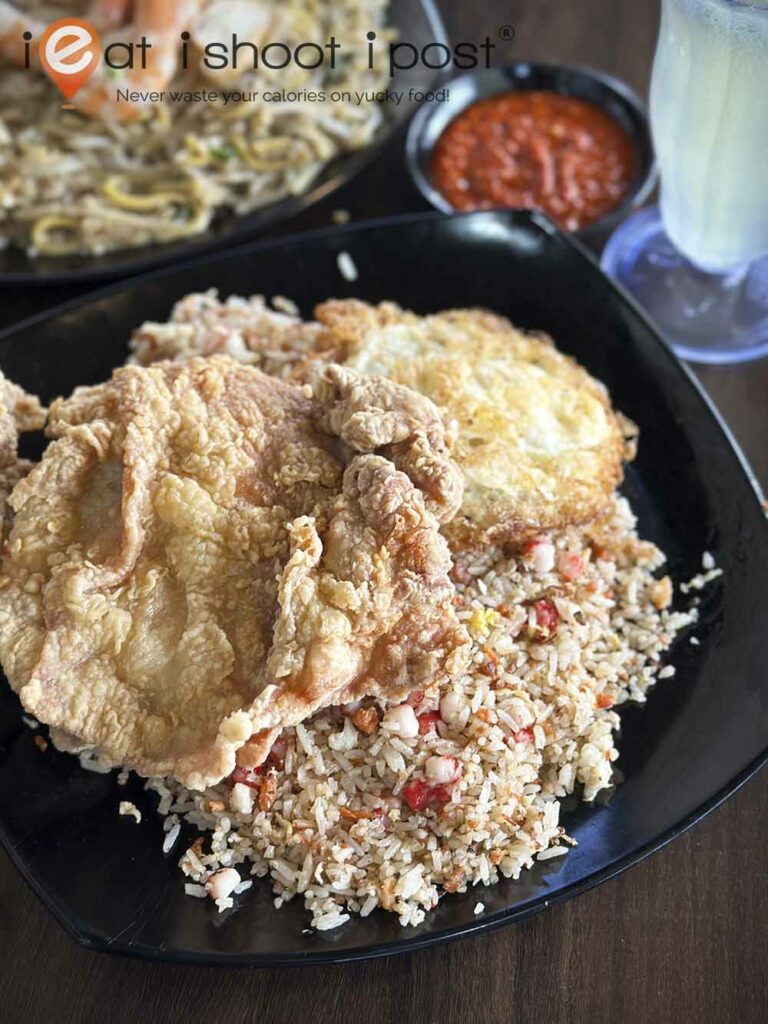 Their fried rice is ok but lacks wok hei. 3.5/5 They have two types of fried chicken. The Har Cheong fried chicken thigh is better and I can recommend it if you are looking for extra protein to go with your Hokkien Fried Noodles. 4/5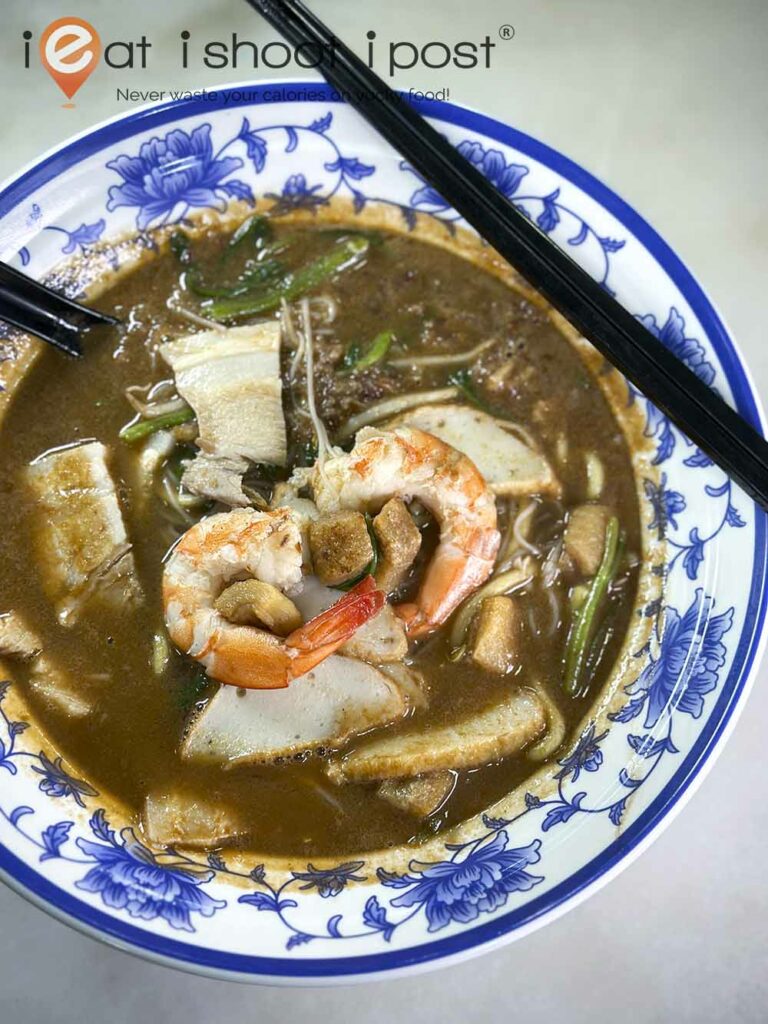 Their other signature dish is the prawn mee soup which is also quite popular. The soup was good but didn't hit the crescendo for us. It might be because we tasted a new batch of soup which didn't quite have enough time for the flavours to concentrate. As prawn mee aficionados would know, prawn mee soup always tastes better towards the end of the service when the soup has had more time to boil down! 3.75/5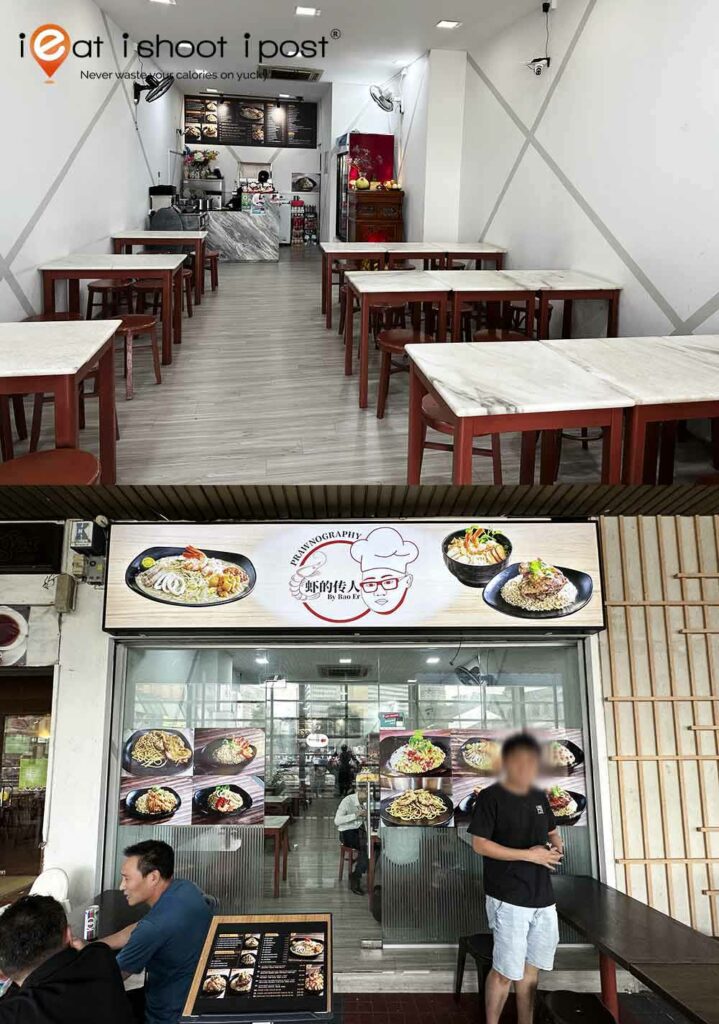 Conclusion
Comfortable eatery to enjoy a plate of Fried Hokkien Mee with wok hei and prawn noodle soup if you are after something a little lighter!