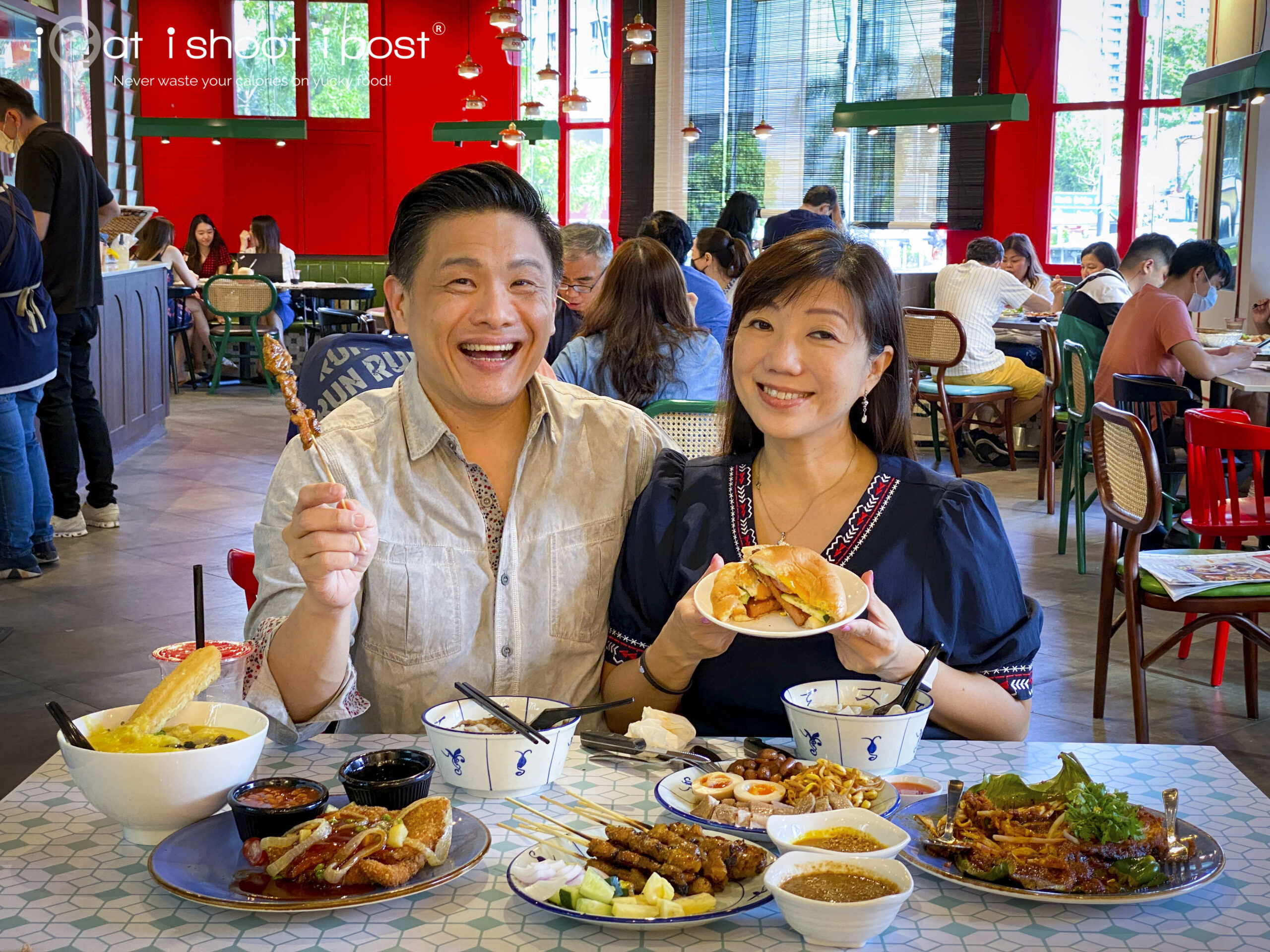 By @FeiEats
Growing up half-Hainanese, I always knew that my maternal dialect group is a minority amongst the Chinese community in Singapore. Hardly anyone is able to speak the dialect and in the older days, even the Hainanese hawkers would speak either Cantonese or Hakka.  Only later did I learn from mom (who learnt from her parents) that the early Hainanese immigrants were often bullied by the other groups who have arrived earlier and have established themselves here.
With all the good jobs taken, early Hainanese immigrants found work mainly as cooks on British ships and households.  In fact, my own maternal grandfather was a cook on one of these ships!
The Hainanese contribution to local cuisine
The Hainanese community in Singapore might be small, but this one dialect group's influence on the local culinary scene cannot be overstated. It was from the Hainanese that we have Kopi and Kaya Toast , Hainanese Chicken Rice, Hainanese Curry Rice, Hainanese Pork Satay, Hainanese Pork Chop and some say, even Laksa.  The latter being a subject of considerable debate.
I suppose creating a cafe around Hainanese inspired dishes was bound to happen at some point in time.  And happen it did, in "The Hainan Story" which opened at Hillion Mall 2020. It was so well received that we now have a sequel….. "The Hainan Story: Chapter One" at Hotel Boss.
Chapter One: The Evolving Singapore Culinary Story
After taking in the bright, vibrant and instagrammable surroundings, you'd probably take a look at the menu and wonder if dishes like Kway Chap, BBQ Stingray and bubble tea really have Hainanese roots?
Like how the Hainanese took the pork schnitzel and made it into the Hainanese pork chop, this "Hainanese Story" is simply a representation of the wider Singapore story.  Having started with a selection of classic Hainanese dishes, the owners of The Hainan Story decided to expand the menu to include some other Singaporean favorites. 
This eatery really feels like the Singapore version of a Cha Chaan Teng – a comfortable place where you can get all of your favourite things to eat.  They have over 40 items on their menu from 6 different brands and the best thing is that you can satiate your hunger 24 x 7. You can get a little dizzy looking through the entire menu so allow us to highlight a couple of dishes here.
Hainanese Pork Satay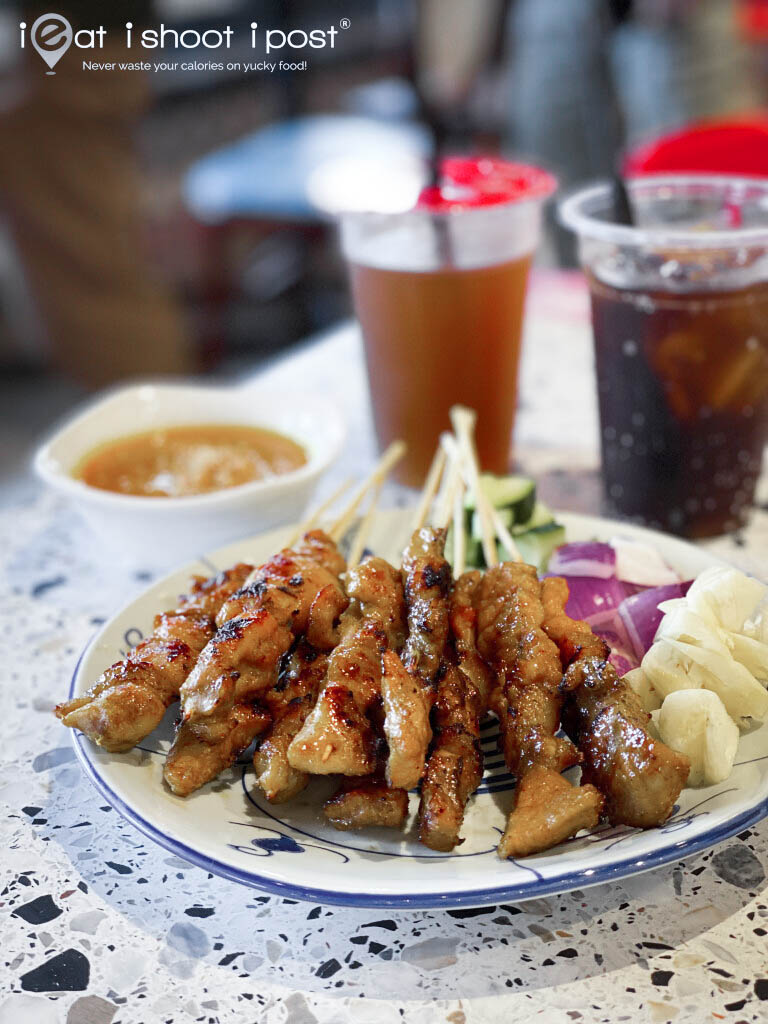 We were most excited to sample their Hainanese Pork Satay having been on a pork satay trail of late.  The pork is well marinated, tender and includes that slice of pork fat which is delicious.  It is grilled over an electric grill, so it does lack that smokey charcoal aroma, but it was still delicious. The satay is served in a Yuan Yang peanut and pineapple mixed sauce.  The flavour of the pineapple sauce reminds me of the curry that you get in your Assam fish head. While it is nice, we're glad that they also offer the traditional peanut satay sauce. Rating 4.25/5
Uncle Robert Western & BBQ | BBQ Sambal Stingray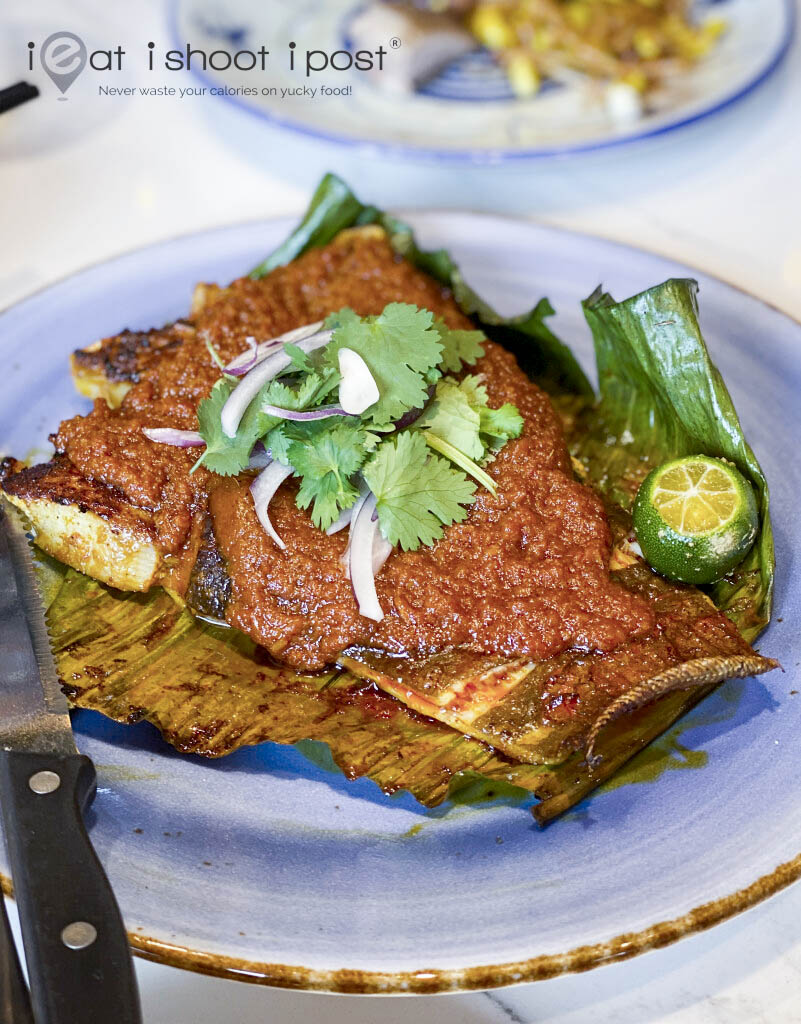 If I'm not wrong, BBQ sambal stingray started gaining popularity in the early-90s. We'll always remember how the push-cart hawker who only sold BBQ sambal stingray outside the coffee shop (below my block in Teban Gardens) in the evenings become so successful that he finally took over the zi char stall inside the coffee shop!
Chef Austen Ong's father-in-law's rendition of this dish is very competent. The sambal is smokey and fragrant and the 200g stingray is well BBQ'ed with the requisite charred bits on the edges while the meat still flakey and juicy! Rating 4/5
Whole Street White Kway Chap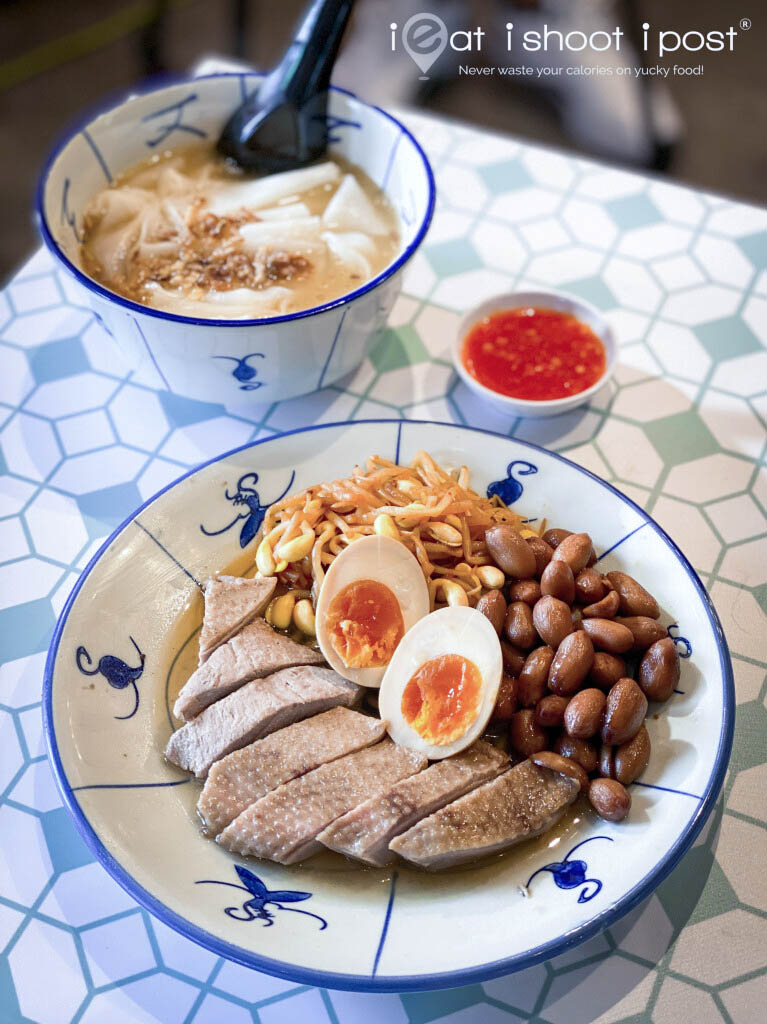 With the supper crowd in mind, the owners decided to introduce kway chap into the menu.  Instead of the usual dark kway chap broth, theirs is a white version made of pork and chicken stock. They offer 4 different sets, each comes with a bowl of kway chap and with a different main meat. The Hainanese white braised duck set we had was surprisingly good.  The duck meat was tender and tasty. Rating 4/5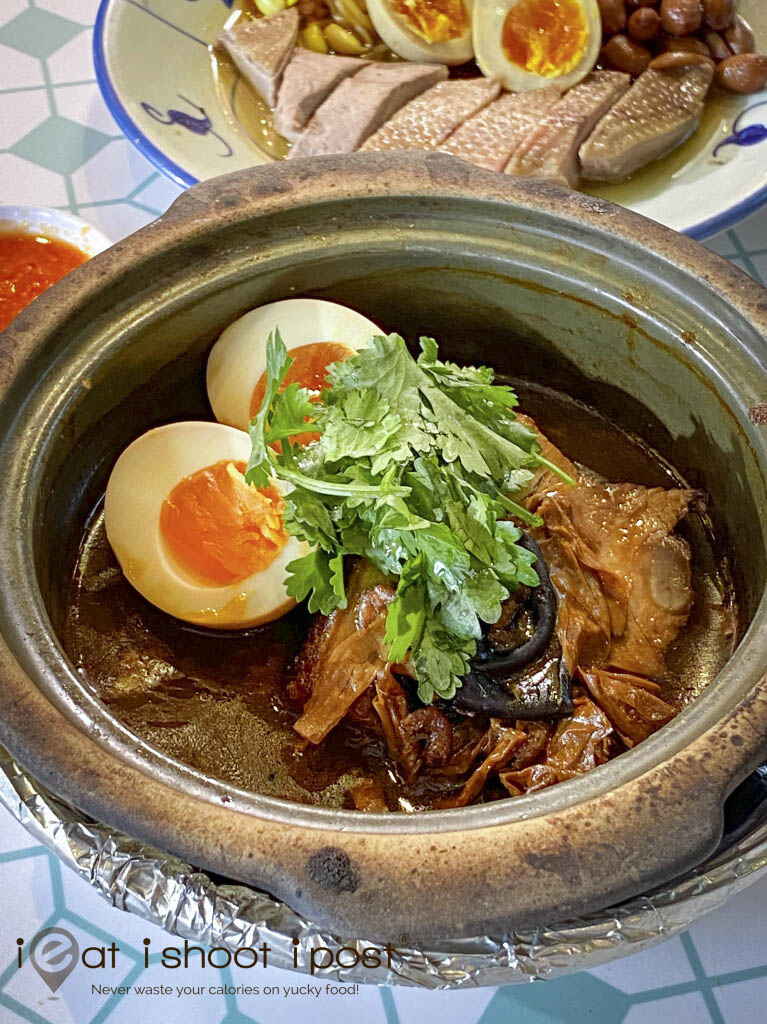 The other set you could have is the claypot braised pork belly set.  Together with the black fungus and bean curd skin, the pork belly stew that has been braised till fork tender does have that distinct Hainanese flavour with the use of slivers of cuttlefish in the gravy.  Rating 4/5
The only improvement for the kway chap  is the kway itself.  The rice noodle is not springy and lacks bite and does not have the slippery and smooth texture that I look for in my kway chap.  Rating 3/5
Bagel Luncheon Meat and Egg Burger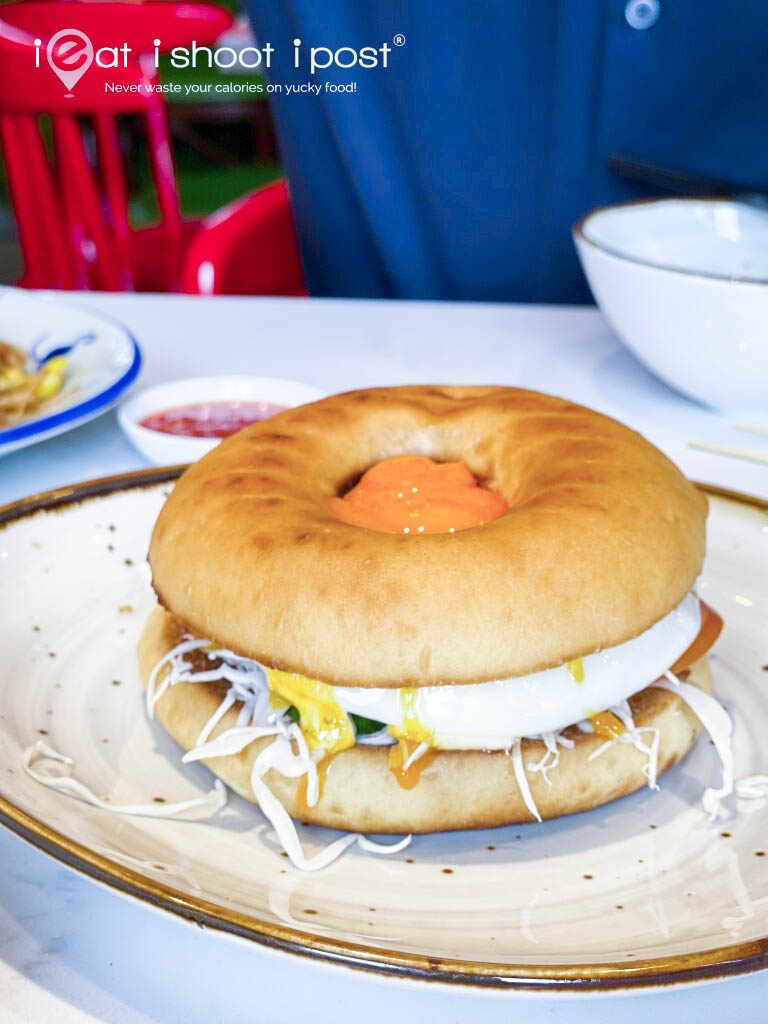 For the breakfast crowd, you have your bagel luncheon meat and egg burger.  This is basically your Luncheon meat and egg sandwich that is served with a thick slice of luncheon meat and sunny-side egg between two halves of a steamed donut shaped sweet bread that looks like a bagel.  If you know the hubs, you'll know that luncheon meat and egg sandwich is one of his favourite things to eat! We're glad that they took his advice to steam versus pan fry the "bagel" bun.  The only thing that felt out of place is the layer of coleslaw in the "burger".  Rating: 4/5
Hainanese Laksa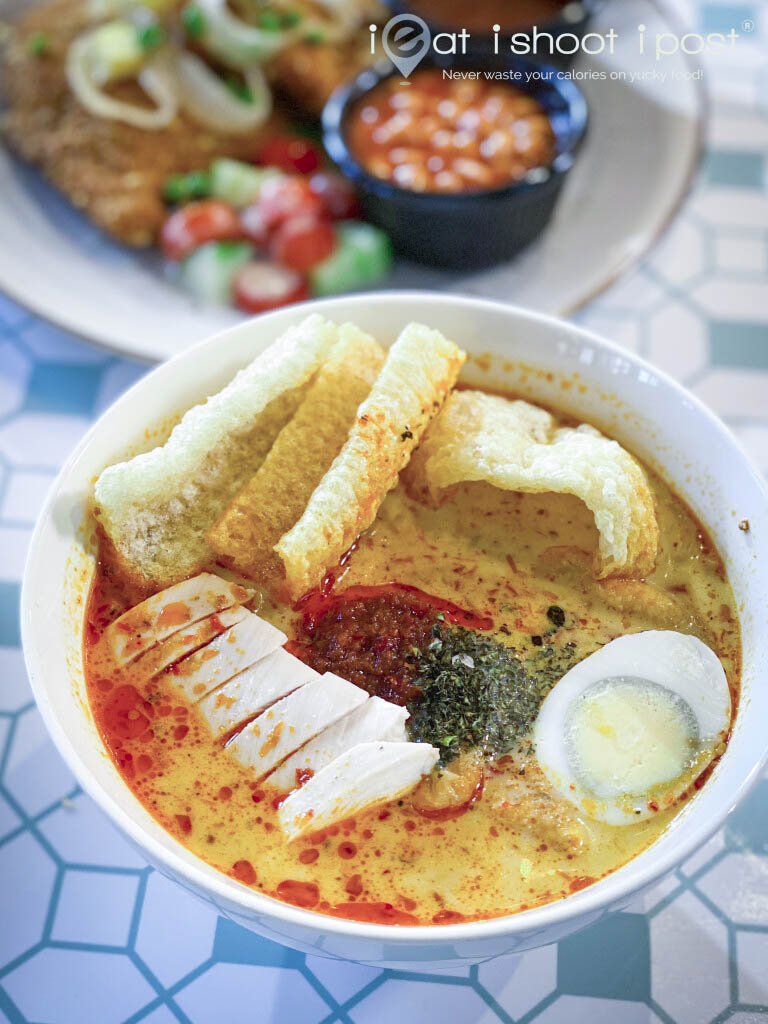 So what makes a Peranakan shrimp-based curry noodles Hainanese? Quite simply – the addition of steamed or boiled chicken breast meat.  My theory of how this came about is that the chicken breast, being the drier part of the chicken would have likely been leftovers from the previous day's Chicken rice. Some inventive Hainanese housewife decided to repurpose the breast meat as the key protein for the Laksa dish the next day!  At least, that's how mom used to do it!
I have no complaints for Hainan Story's laksa.  In fact, I like the fact that they added dried pig's skin to the dish.  It it the perfect conduit for soaking up the yummy spicy and coconut milky laksa broth. Rating: 4/5
Jin Jin Golden Porridge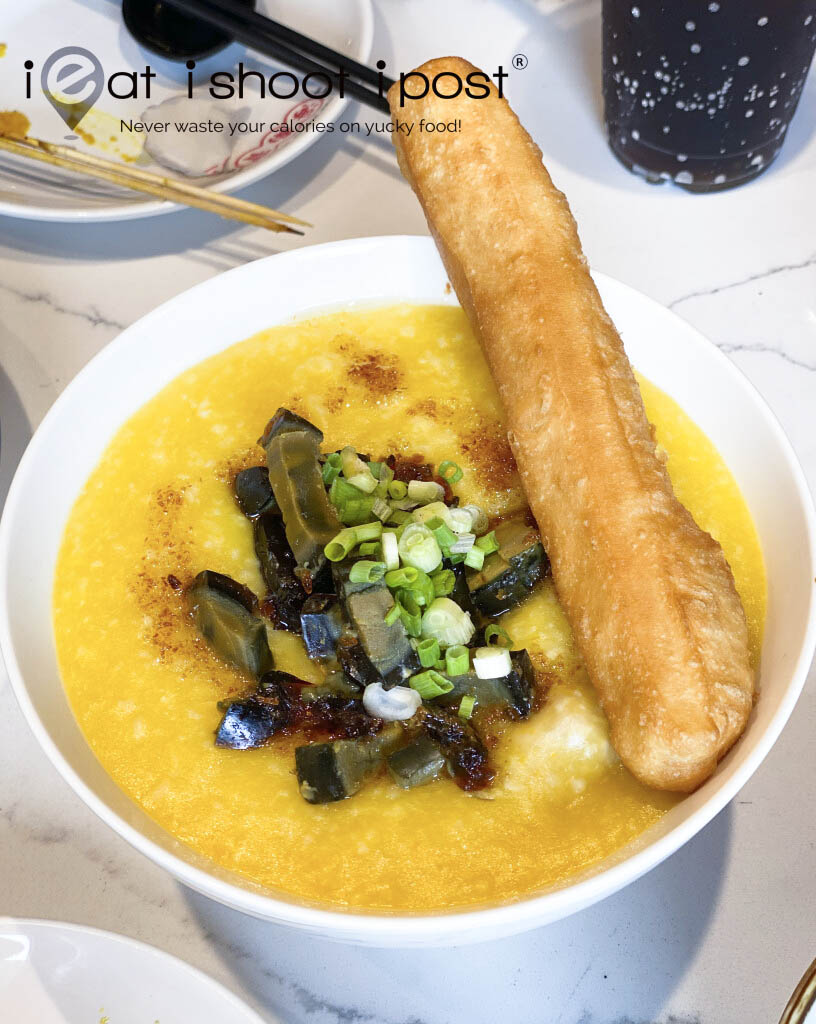 You'll not find Ah Chiang's porridge here like how you can at Hainan Story Hillion Mall.  What you have is a sweet pumpkin infused porridge served with a thick youtiao.  The pork meat ball trio egg pumpkin porridge that we had was competent,  The pork ball could have been more springy but the pumpkin porridge was velvety smooth.  Just remember to ask for pepper to further flavour your porridge. Rating: 3.5/5
Hainanese Pork Chop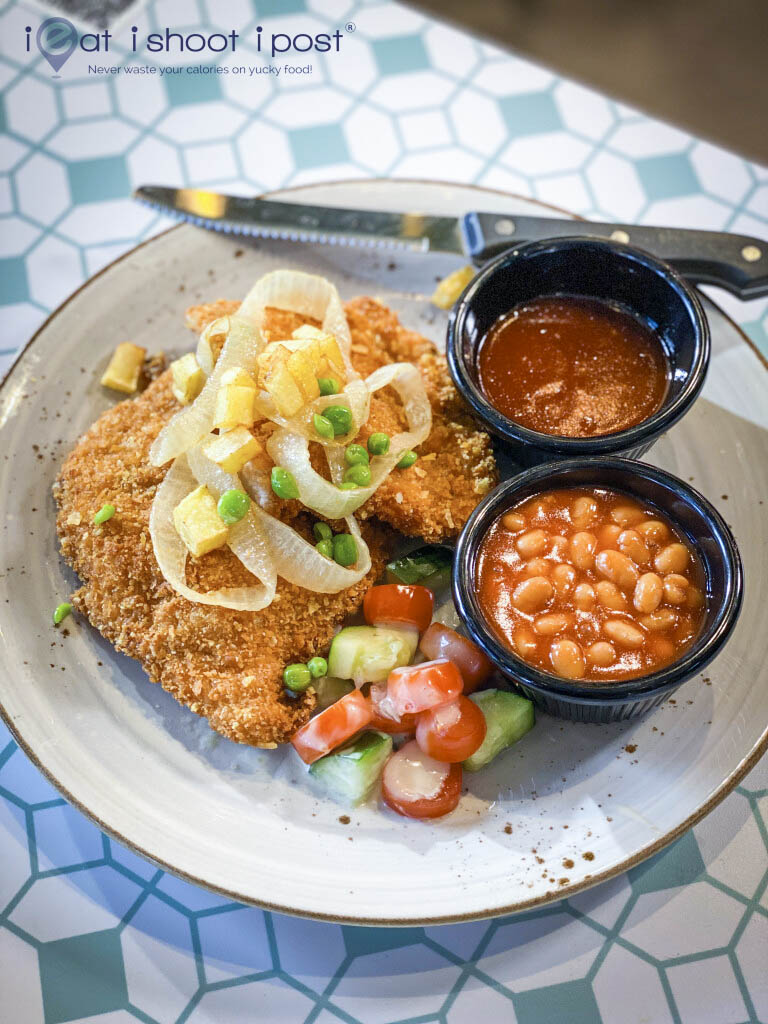 The Hainanese pork chop is now served with a tomato-based sauce, unlike the version we had at The Hainan Story Hillion Mall where we felt the Rojak sauce did not quite work.  The pork is fried with a "potato chips" crumb batter which gives it extra "pang"ness.  We just wished it came with thick cut fries as a default. Rating: 3.8/5
Chef Pang's Swiss Rolls and Cakes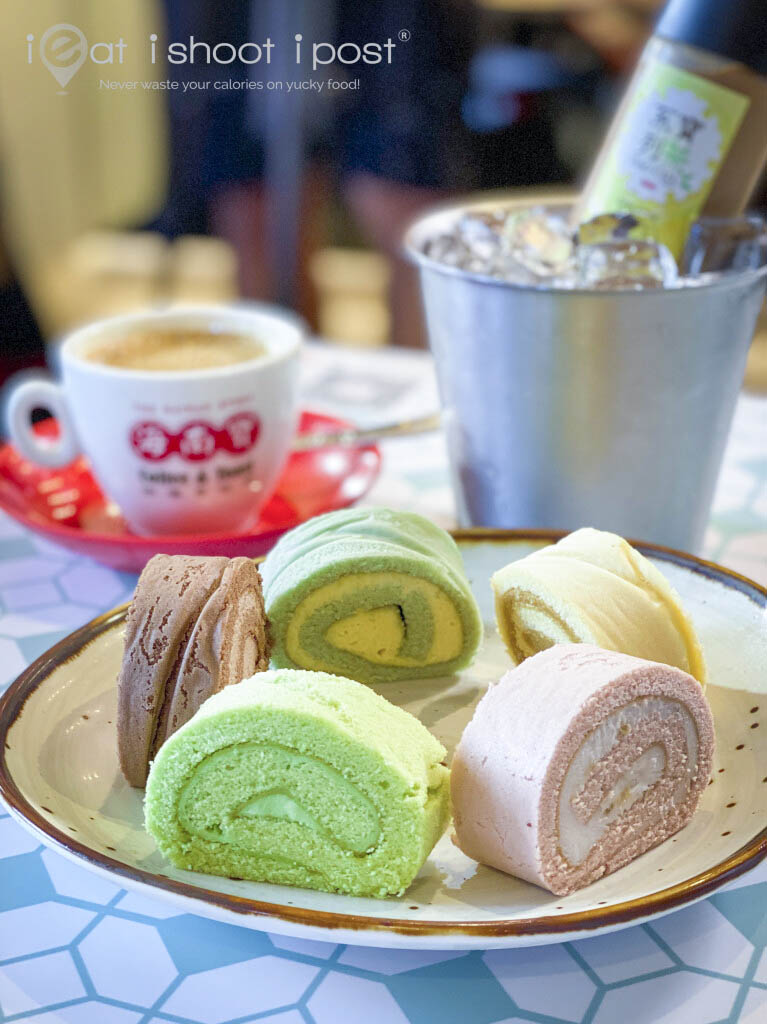 One of the highlights of The Hainan Story Chapter One is their swiss rolls. These are swiss rolls specially created by Chef Pang of the now defunct patisserie cafe Antoinette. This will be the closest you can get to experiencing Chef Pang's pastry artistry.
He has created a range of beautiful pastel coloured swiss rolls with popular flavours like Coconut Pandan, Yam Orh Nee, Sea Salt Gula Melaka, Belgium Chocolate and MSW Durian!  The rolls are often sold out and they even have a signboard outside the restaurant showing the flavours that are still available.
Apart from swiss rolls, Chef Pang also offers a range of butter cakes and cookies. The butter cake flavours are Kopi Guyou, Teh Tarik, Banana and Rum & Raisin.
Kopi and Toast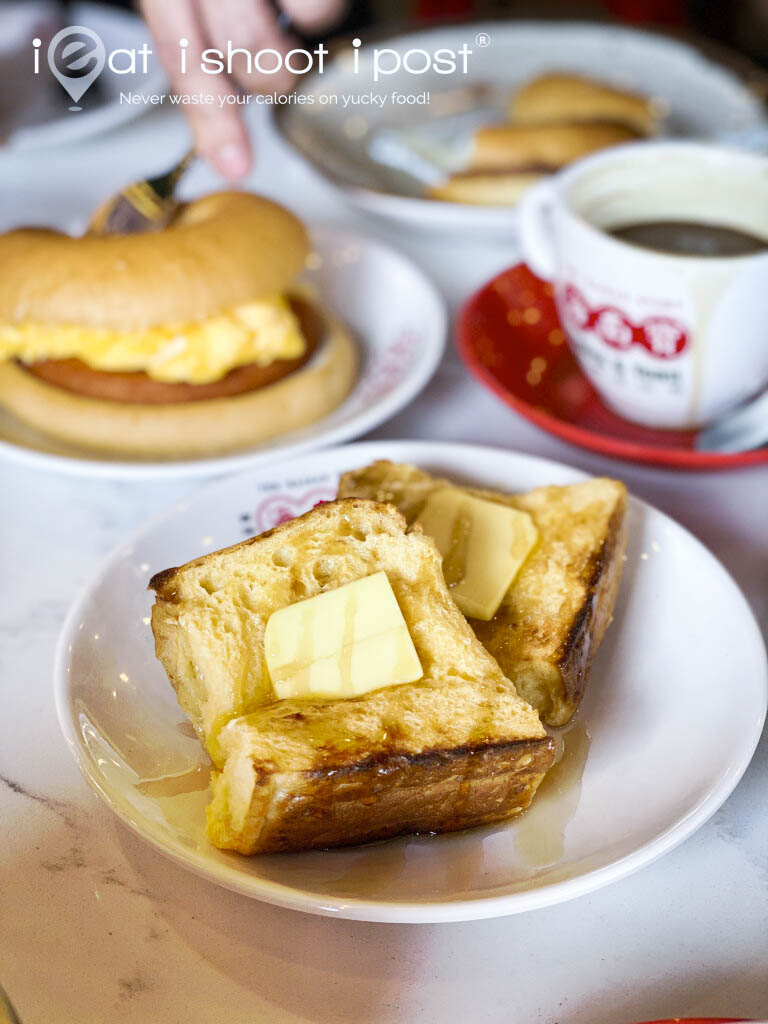 One of the things that will bring me back to Hainan Story is their super soft buns! After toasting, the outside is crisp and inside still  pillowy soft, fluffy and sweet.  Rating: 4.5/5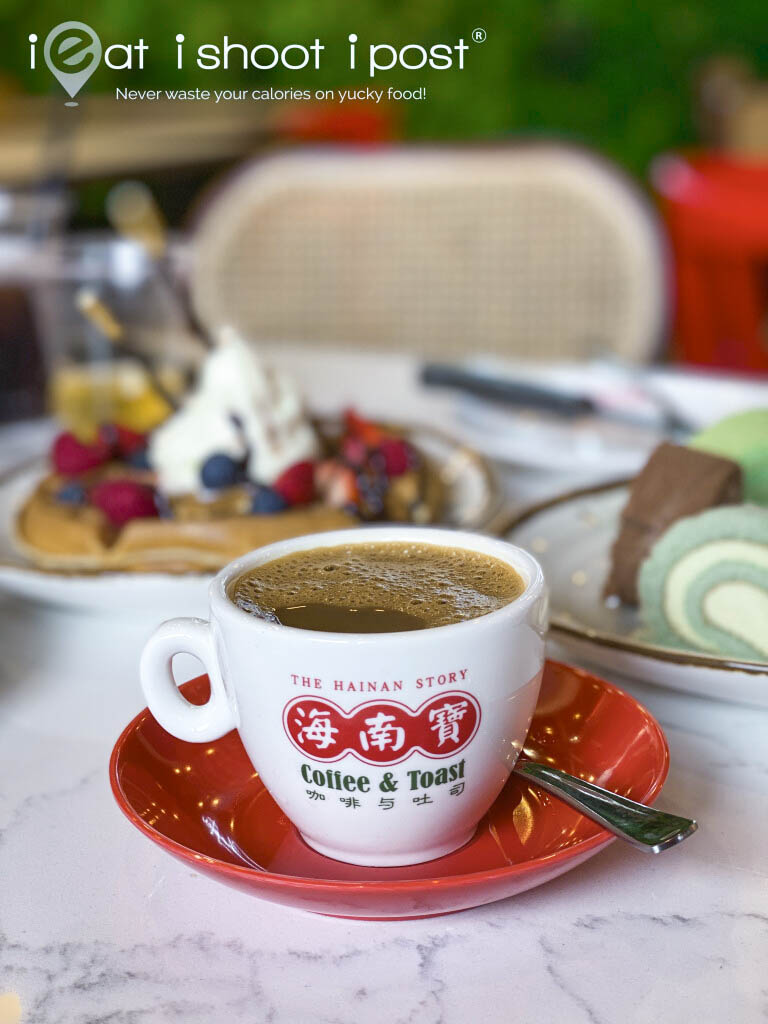 One notable thing to mention about their Kopi (or Gobi as pronounced in Hainanese) is that you don't have to worry which barrister is on shift when you visit.  They have a special coffee machine that will brew the perfect cup of Kopi at the press of a button. Rating: 4/5
The Hainan Story Hillion Mall
Check out our previous vlog on The Hainan Story at Hillion Mall.
The Hainan Story Chapter One also serve dishes from Wee Nam Kee chicken rice and Newspaper Curry Rice. Check out Hainan Story extensive menu here.
Conclusion
We hope to see more cafes like The Hainan Story sprouting around Singapore; a place where you can sit in a nice air-con environment and order from an extensive menu of all our favourite Singapore food. Best of all, it is available 24/7.  This is indeed our Singapore version of the  Cha Chaan Teng.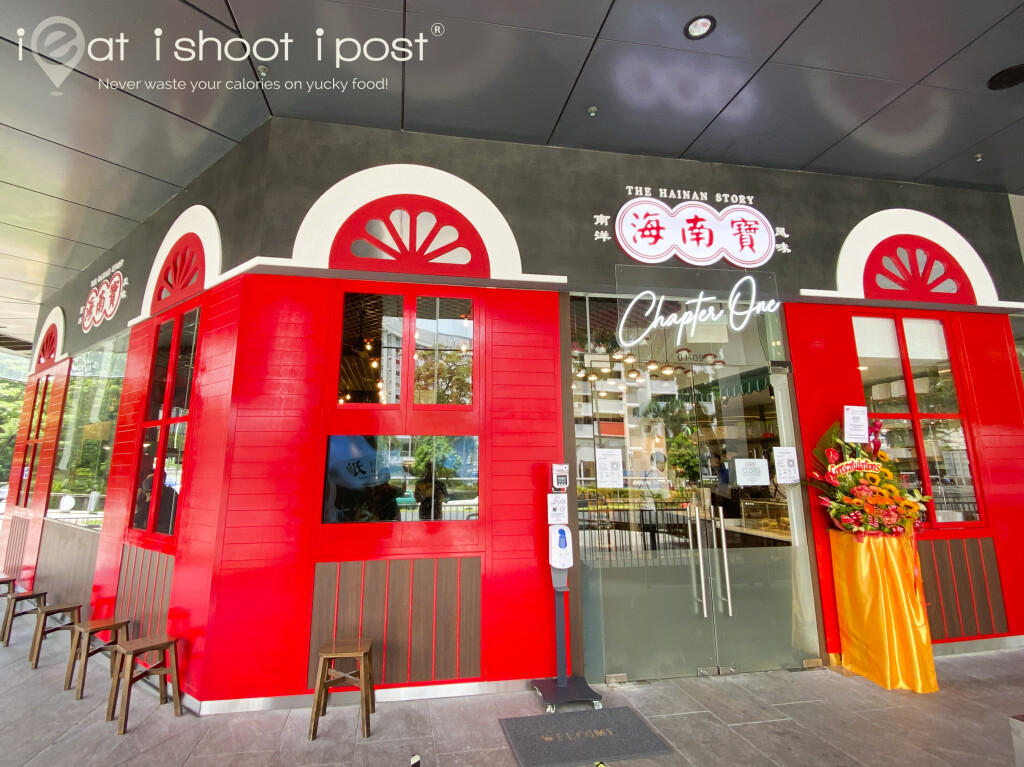 Note that all items are available throughout the day with exception of items from Wee Nam Kee Chicken Rice which operates between 7am – 10pm daily.
Sep 2022 update:
The Hainan Story Chapter Two: JEWEL Changi Airport
The Hainan Story continues with Chapter Two at Jewel Changi Airport, at B2 at the Vortex. They have added the Hainan Bakery section and extended the menu to include Lor Mee and Hainanese Chicken Rice Porridge.
The Hainan Story Chapter Two (Jewel Changi Airport)
78 Airport Boulevard, B2-201/202, Singapore 819666
8am – 10pm daily
Disclosure: this was a media tasting and vlogs were produced in partnership with The Hainan Story. Opinions shared are purely of our own.