This restaurant is no longer in operations.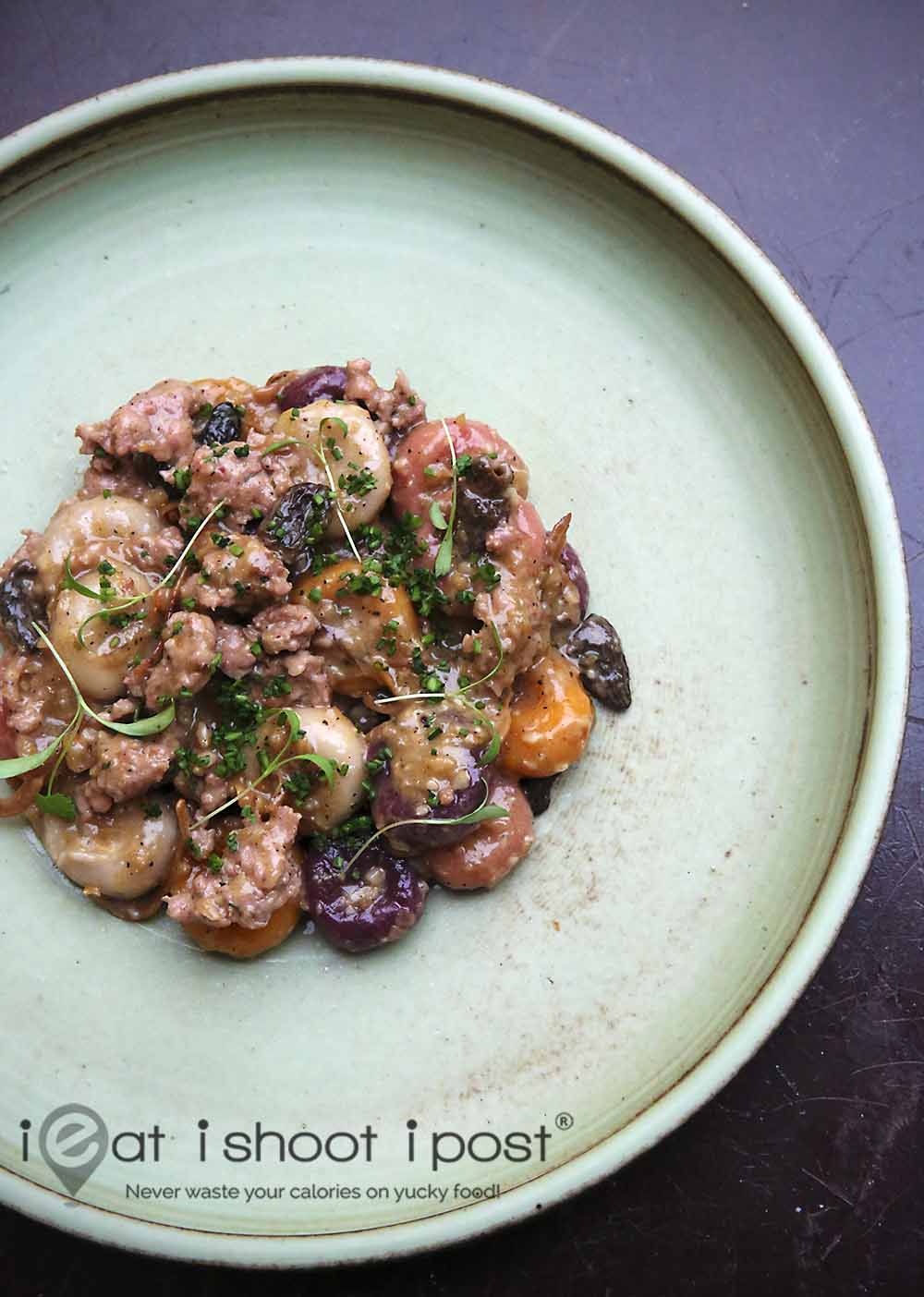 I have been a strong advocate for local cafes adopting more Singaporean flavours rather than serving the kind of stuff you can get in cafes all round the world.  The way I see it, any tourist would want to experience something that is unique to our island, don't you think?
I was glad to learn that Chef Pang of Antoinette had made the bold decision to incorporate some of our heritage flavours into his wildly popular Parisian patisserie cafe.   Not many chefs can pull off a fusion dish, but as Chef Han of Labyrinth has shown us, if it is done well, it can be good enough to win a Michelin Star.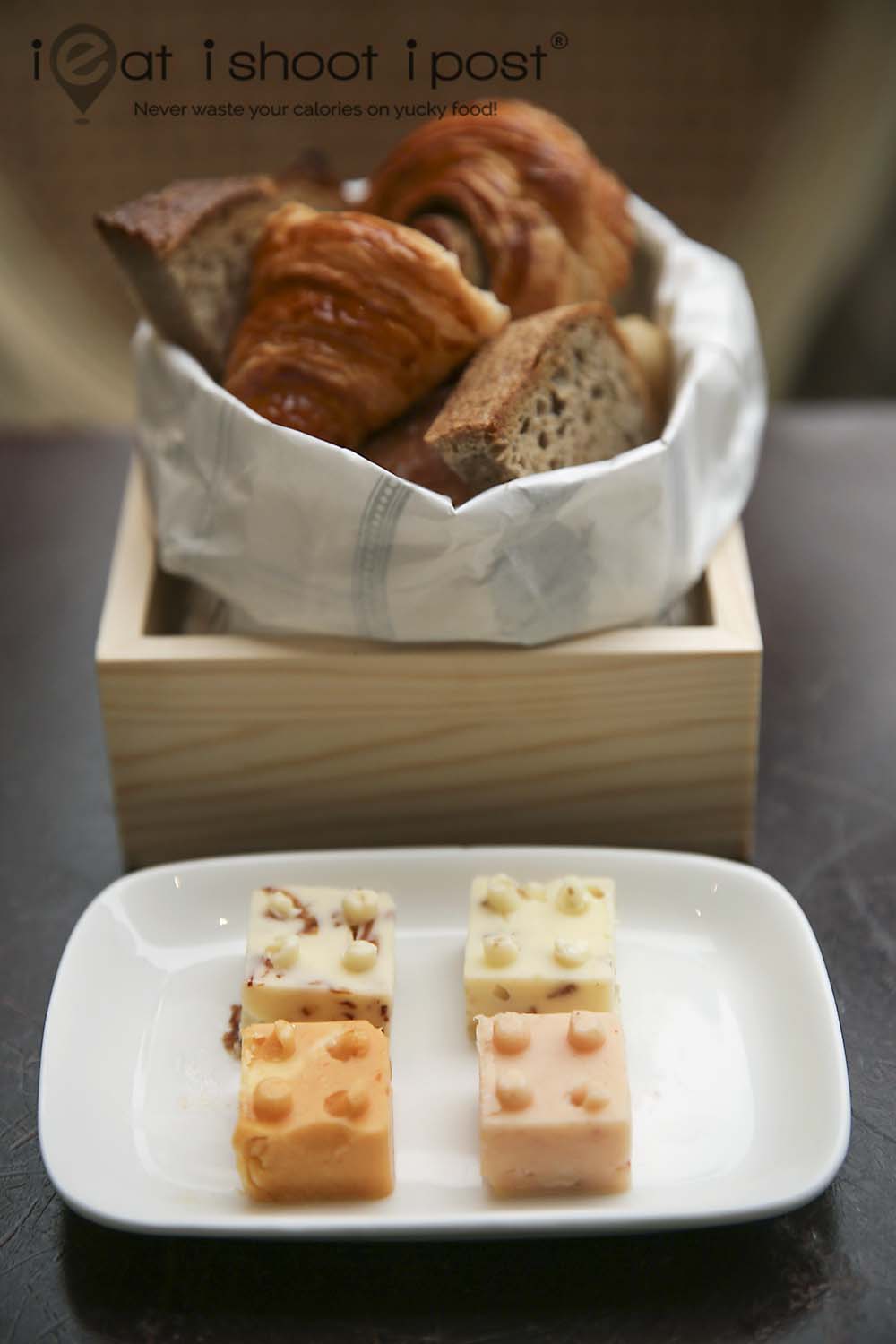 What I like about Chef Pang's approach is that he has been able to come up with a few new twists on mod-Sin cuisine.  There was nothing in his menu with laksa or rendang in it, which, I am sure you would agree, has been done to death.
Instead, he has leveraged on his Hakka heritage to come up with things like his Hakka gnocci which I really enjoyed.  Based on the Hakka suan pan zi, Chef Pang makes his "abacus seeds" by hand, from a dough made from mashed yam and tapioca flour.  He combines these delightfully chewy gnocci with a sauce made with ground pork, dried shrimps, cuttlefish and brings it altogether with foie gras cream.  It works very well and the flavours are well balanced and packed with umami!  4.5/5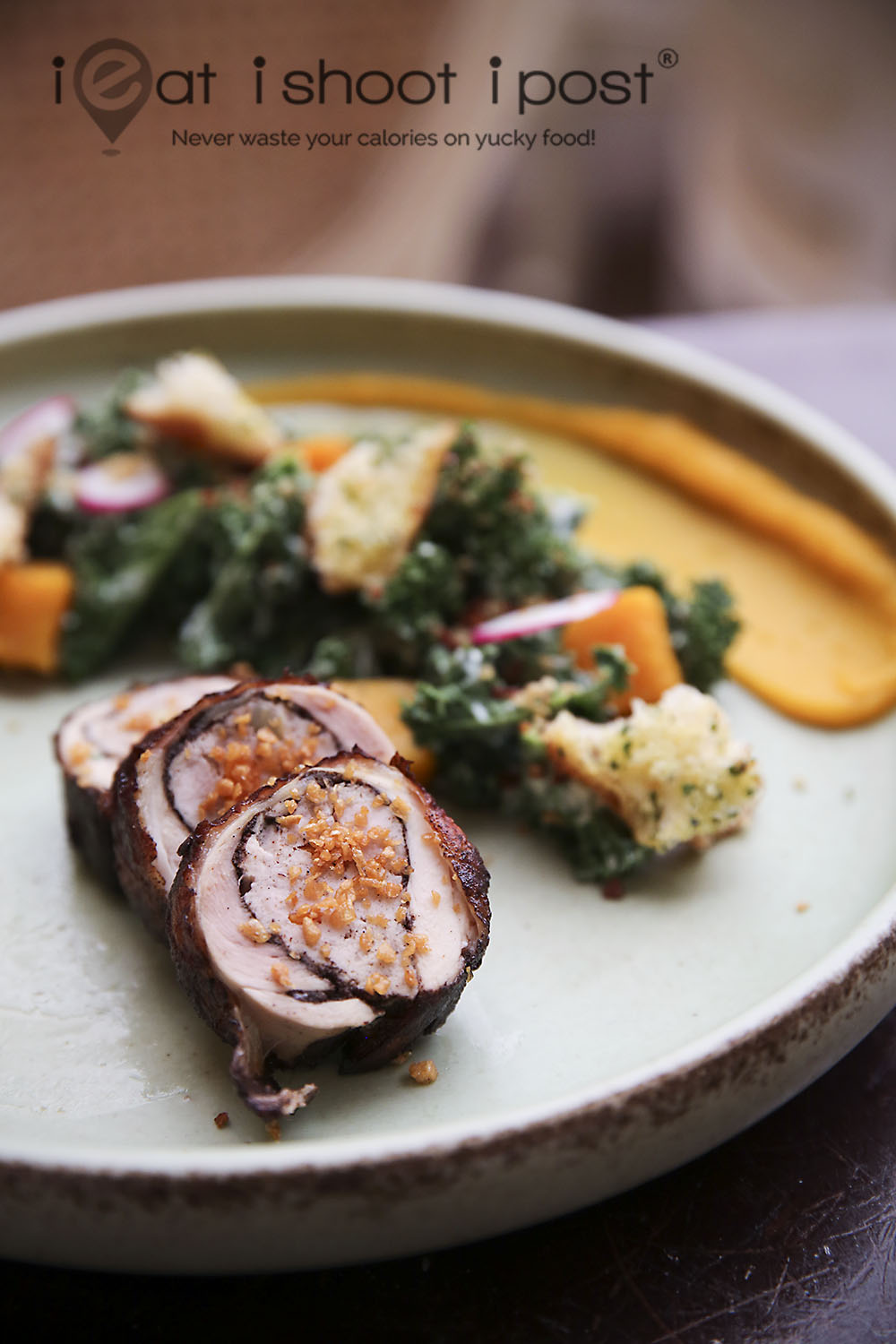 Another local flavour profile that Chef Pang has incorporated into his dishes is the flavour of the Chinese five spice mix.  That's the savoury sweet flavour you get when you bite into a hum chim peng.  Chef Pang has added this flavour to puff pastry and fashioned it into an escargot which worked surprisingly well.  You can order it as part of the bread basket ($5) which comes with four different butters: Chye poh (preserved radish), rempah, fried shallots and nam yu (red fermented bean curd).  Well worth ordering as a side dish. 4.25/5
The five spice flavour is also used in the chicken roulade which is part of the Kale Caesar salad and it tastes like a refined version of the roast chicken you find at the chicken rice shops.  The Caesar salad is flavoured with salted fish which actually makes quite a nice substitute for anchovies.  I found the Kale a little too fibrous and would have preferred romaine lettuce.  4/5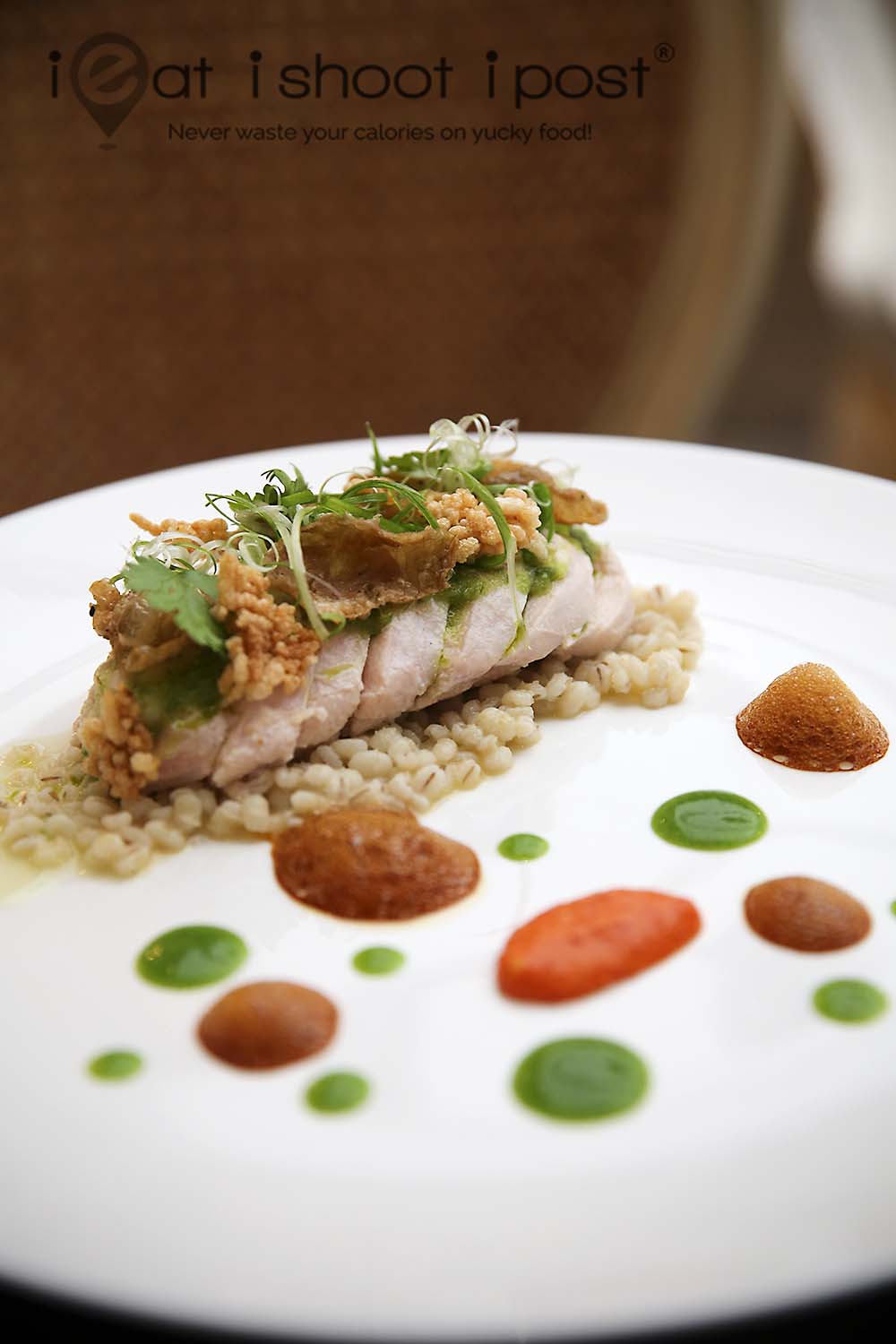 His chicken rice is done very nicely.  The breast meat was cooked sous vide at 65°C and was tender and juicy.  Instead of rice, Chef used a barley risotto.  It was nice but the barley didn't quite have that nutty flavour I was looking for.  The chicken skin was deep fried to a crisp and placed on top. I have come across various renditions of chicken rice before and Chef's is one of the better ones.  However, I still felt it didn't quite capture some of the aspects of chicken rice which I really enjoy.  The slippery jelly like texture of the chicken skin which I look forward to whenever I eat chicken rice is missing, as well as the robust ginger and scallion flavour.  4/5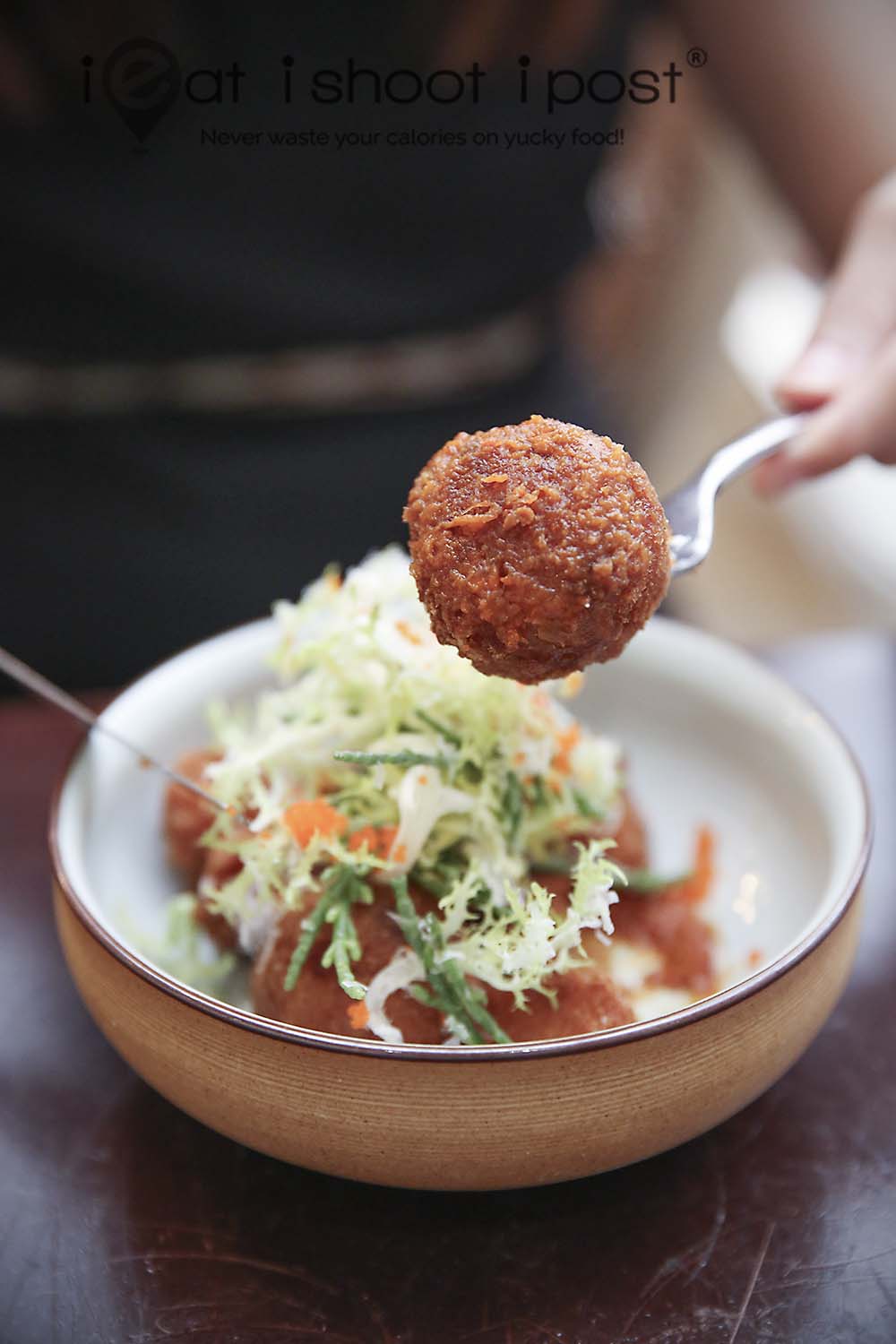 The dish I didn't like was the chilli crab arancini which tasted more like hae bee hiam. (dried prawn sambal)  The deep fried rice balls with chilli crab filling just didn't remind me of chilli crab at all. Nasi Lemak arancini might be a more apt name of it.  3/5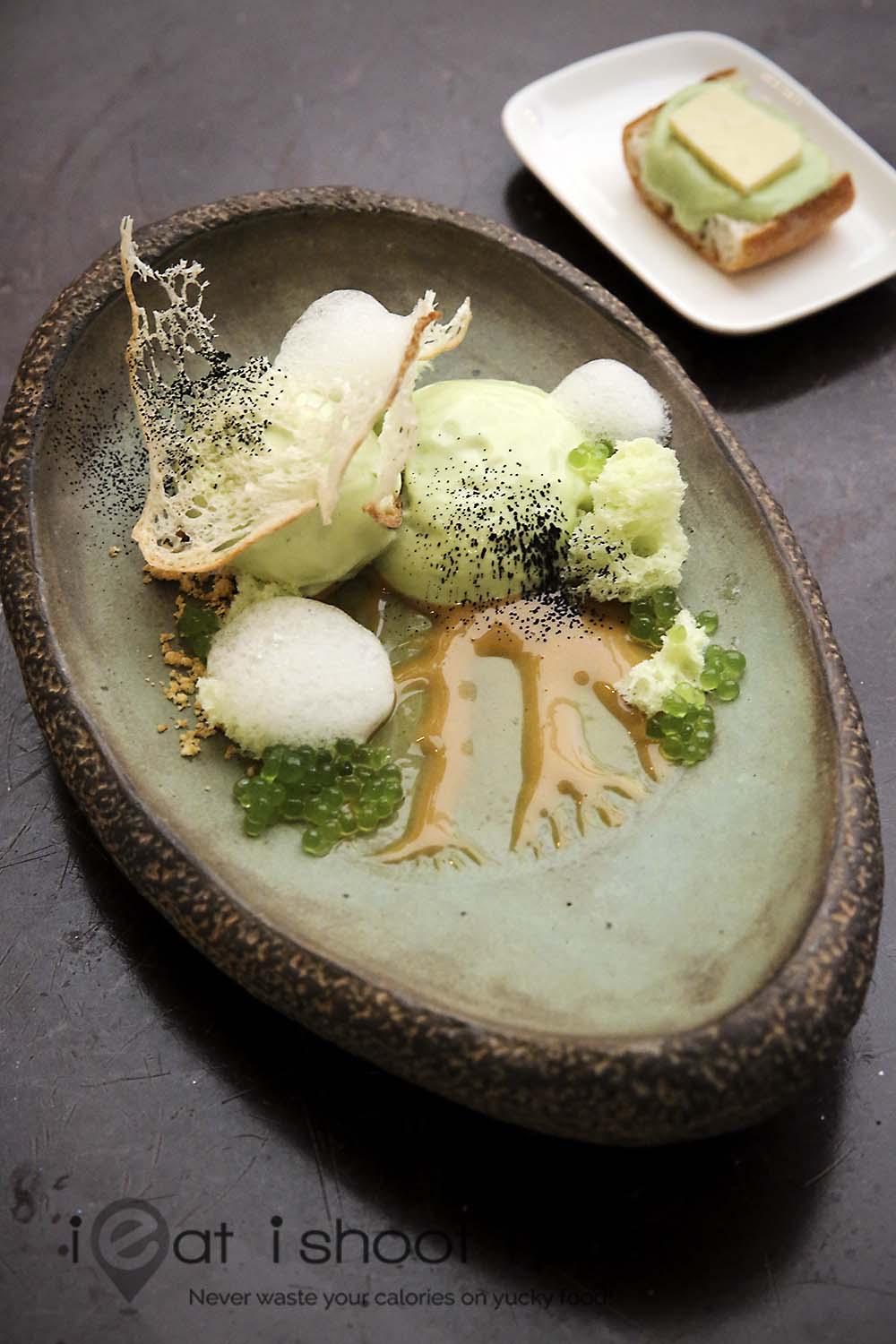 Pastries are certainly Chef Pang's forte.  His delightful pandan dessert pays rightful homage to the prince of local flavours.  Here the flavours of pandan are presented in different textures, from the chewy pandan infused sago beads, to the creamy and airy mousse and spongey texture of cake.  The pandan flavour is paired with its usually accomplice, gula melaka to which salt has been added, transforming it into our local rendition of salted caramel. 4.25/5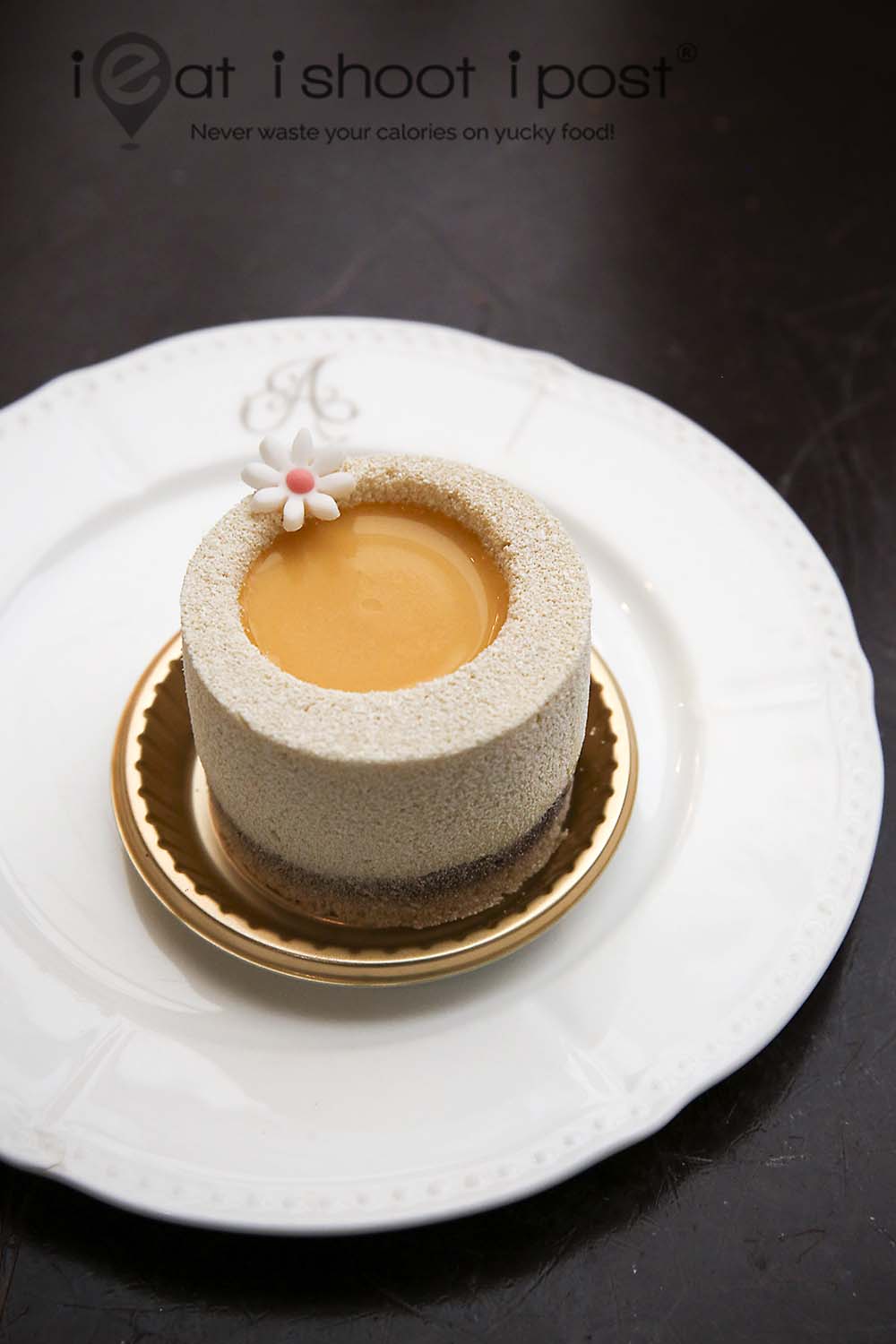 My favourite pastry is the Petite Orient which brings together a lotus paste mousse, coconut cake, salted peanut sesame praline and salted egg creameux.  The mooncake inspired flavours come together in a more refined form that is light on the palate and a perfect accompaniment to afternoon tea!  4.5/5
Conclusion
Chef Pang has done an admirable job of infusing local flavours to his Parisian style cafe, transforming part of the menu into a showcase for Singapore heritage flavours!
Disclosure
This was a media tasting.  That means the food was provided without obligations and no fees were paid for this write-up.