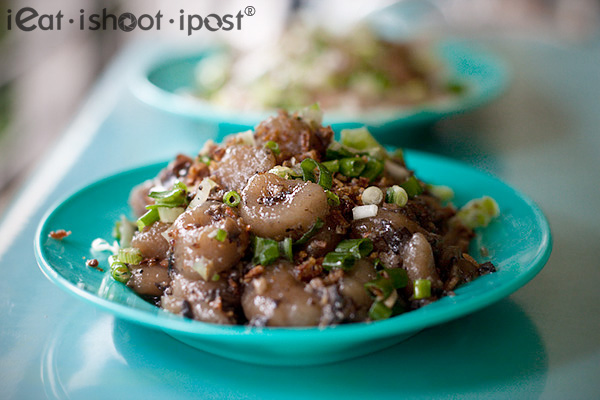 Review and photos by Joao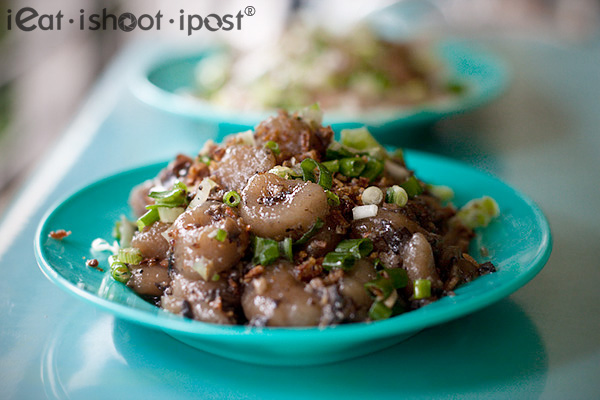 Suan Pan Zi (Abacus Beads)
Remember that channel 8 drama from 1997,The Guest People(客家之歌)? The story revolved around four childhood friends of Hakka descent and their struggles as they moved from Fujian to Nanyang, but a large part of the show focused on Hakka culture. The earlier part of the series was set in China, and featured these large impressive mushroom-like communal-housing structures known as tulou (土楼). As a young boy, that was my first introduction to the Hakka people, and that image of tulou buildings has always popped into my head whenever the subject of the Hakka people was discussed. That is, until recently when I discovered the joys of Suan Pan Zi (算盘子 lit. Abacus Beads).
Suan pan zi, a dish that's usually associated with Chinese New Year, is so named because of its individual dumplings' resemblance to the beads on counting frames. (Abacus) It is one of the few hawker foods that is, without a doubt, of Hakka origin. For some reason, it just hasn't received the mainstream acceptance of other starchy hawker foods like ubiquitous carrot cake or heavily-franchised chwee kueh. This is a dish that's quite difficult to find outside of home kitchens — offhand I can name you four or five stalls that sell this, and some of them aren't even located in hawker centres.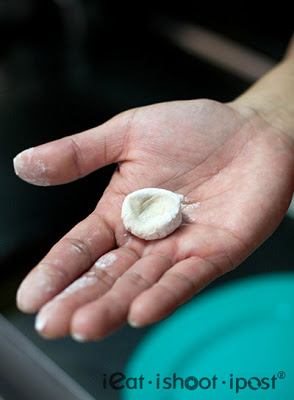 A raw "Abacus Bead" dumpling
One good example of this dish can be found at the Food Opera foodcourt in Orchard Ion. The round yam "gnocchi" that the dish is named for are just resilient enough that they yield to your teeth without sticking and give you the satisfaction of the chew. Crunchy black fungus strips provide texture contrast and dried mushroom slices and hei bi supply an umami flavour kick to complete the experience. The only problem with the Food Opera version is that, like every other food item sold there, it is ridiculously overpriced for what is essentially glorified hawker fare. The good news is that the Food Opera stall is an offshoot of the Mei Zhen Hakka Delicacies stall in Shunfu Road Hawker Centre, where the prices are a lot more sane ($3.50/$5/$6) and the suan pan zi is just as delicious. 4/5
So what makes a good plate of suan pan zi? Apparently it's the texture of the abacus beads that separates then wheat from the chaff. The individual dumplings need to be slightly bouncy, but not sticky and definitely not overly chewy. I once tried some pretty nasty frozen supermarket suan pan zi that had the texture of dried craft glue when cooked — one of the worst things I've ever eaten in my life. Good suan pan zi requires a special handmade dough made of steamed yam, rice flour, and water, the precise portions of which are integral to attaining that pleasing texture. The yam has to be mashed and steamed, and the resulting mess needs to be kneaded with rice flour (a painstaking procedure) to form just enough gluten to give the dough its trademark bite. If that sounds like a lot of work just for one dish, it's because it is.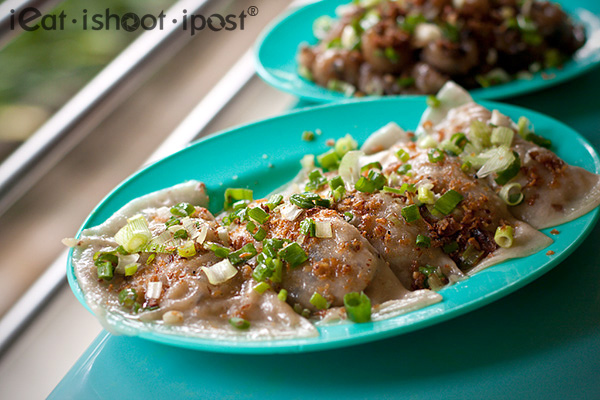 Hakka Soon Kueh
Fortunately, as I found out, the resulting dough has other uses, which makes the arduous kneading process a bit more worthwhile. Mei Zhen Hakka Delicacies also serves a mean Soon Kueh that utilises this dough. Now I know soon kueh isn't Hakka in origin, but Mei Zhen's is a bit different. You still get the same clean-tasting savory turnip and black fungus filling that you'd find in other good soon kuehs but what distinguishes Mei Zhen's soon kueh is the excellent skin — it's so chewy! Yes, the skin is made from the same yam dough, now rolled thin. The end product is a soon kueh quite unlike any other I've ever eaten. You'd be remiss in not trying it at least once. 4.5/5
Conclusion
The suan pan zi and soon kueh at Mei Zhen Hakka Delicacies represent an oft-ignored portion of our Singaporean culinary heritage, and it's hard to fathom why. These dishes can more than hold their own against other starchy breakfast favorites with their clean simple flavours that hearken back to cleaner simpler times. If you're in the Lakeview area one morning and you're keen to try something different I recommend checking out this stall.