This restaurant is closed


Beijing Roast Duck $88
Paradise Pavilion: Beijing Roast Duck 101 – ieatishootipost
Don't you feel sometimes that life is more than just a series of random events happening just by pure coincidence? Well, at least for me, I have always felt that there is an invisible hand guiding me onto the next subject to write about.
Recently I have been doing my own research into roasting chicken at home when I came across Heston Blumenthal's search for the perfect Peking Duck. Heston is one of my favourite TV chefs. He is the owner of "The Fat Duck" restaurant which is consistently rated as one of the top two restaurants in the world. The thing that sets Heston apart from the other chefs is that he is more like a culinary alchemist who employs a lot of science in his cooking techniques which is something I find quite fascinating. My wife complains that her kitchen has become my kitchen as it is now filled with all sorts of gadgets. For instance, my range of thermometers include a handheld infrared one, oven thermometer, instant read digital thermometer and another instant read thermometer with an extension so that you can monitor the temperature of your meat throughout the roasting cycle.
In order to start researching for his perfect Beijing Roast Duck recipe, Heston flew to Beijing to eat at two of the most famous Roast Duck restaurants. Unlike how we eat Beijing Roast Duck in Singapore, when you eat Roast Duck in Beijing, the whole meal is centred on the Duck. So every part of the duck is prepared as one part of the course. The other big difference is that unlike how we eat just the skin with a thin egg crepe and then use the meat of the duck to fry in noodles (Hong Kong Style*), in Beijing, the traditional way is to serve just the skin of the breast first, followed by the skin and meat wrapped in a thick chewy pancake.
Watching the bronzed ducks roasting in the wood oven really made me wonder when I will ever get a chance to fly to Beijing to dine at the famous Quan Ju De Roast Duck Restaurant. This restaurant which was established in 1864 during the Qing Dynasty, is probably the most famous Roast Duck restaurant in Beijing and is attributed to bringing Peking Duck to the masses in China and around the world. And they were also the first to introduce the technique of hanging the ducks in a wood fired oven. The other restaurant that I would also visit is Da Dong which is also featured in Heston's video. According to most readers, Da Dong is more consistent and caters for the modern crowd, so the duck is less fatty and the skin is shatteringly crisp.

Roasting Peking Duck at Paradise Pavilion
As it so happens, I got invited to the recently opened Paradise Pavilion restaurant within the same week and even though I wasn't dining at Quan Ju De, this is probably the next best thing. Paradise Pavilion is quite serious about serving up the best Beijing Roast Duck in Singapore, so much so that they have two chefs from Quan Ju De roasting the ducks. They even constructed the wood fired ovens and import apple wood from China to ensure authenticity.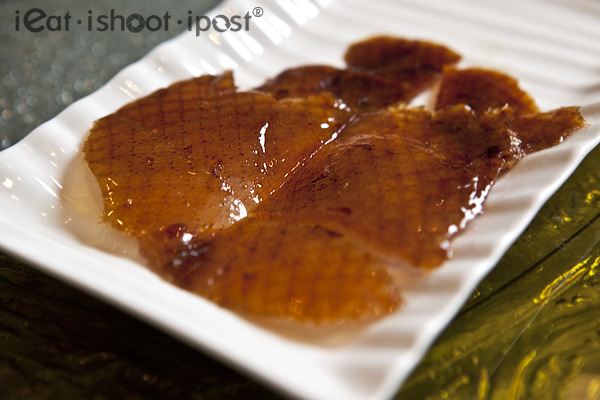 First course: Duck Breast Skin dipped in sugar
To ensure the best Beijing Roast Duck experience, the ducks only start roasting when you place your order, so you have to be prepared for a 50 minute wait. But what you will be rewarded with is a steaming hot duck that is carved on your table. There was not much time for me to take a proper photo since we were supposed to eat the prized skin that was just sliced off the breast of the duck immediately. Dipped in a bit of sugar, the crispy skin simply melted atop the rendered fat.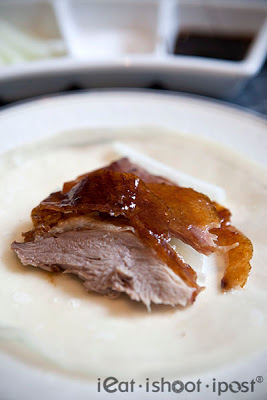 Next, we were served slices of the duck meat together with the skin and here is where you do your own duck wrap. When I was living in Australia, we used to buy a roast duck from the Hong Kong Roast and made our own flour pancakes. (They are like tortillas) Then we would slice the whole duck up and wrapped it with shallots, cucumber and "Roast Duck" sauce which comes in those bottles. This way of eating roast duck is so much better than just eating the skin with the thin and dry egg crepes. I did not know at that stage that that was how Beijing Roast Duck was served in Beijing!
It's not easy to achieve the perfect bronzed crisp skinned roast duck and in Heston's video, he even admitted defeat and settled for an alternative way of roasting just the skin. Traditionally the duck is not even seasoned. The skin is separated from the meat by blowing air into the duck and then a mixture of malt sugar is brushed on and the duck is left to dry for 24 hours. When you order you Roast Duck, it is roasted for 50 mins and carved right at your table.
Conclusion
I can't tell you how the Beijing Roast Duck at Paradise Pavillion compares with the ones in Beijing. I am told that everything from the apple wood to the chefs to the oven is exactly the same as the ones at Quan Ju De, but because of AVA restrictions, they were not able to import the ducks from China. I heard from some of our fanpage members that the ducks in China are far too fatty. If that is the case, then the ones served here would be pretty good since whatever subdermal fat there is has been mostly rendered, so it is actually not too fatty. I can tell you though that I much prefer eating Beijing Roast Duck this way then the Hong Kong style of eating it. It's so good that I wouldn't mind just having the Roast Duck and nothing else. In fact, I think the next time I will just come with a friend and have a Beijing Roast Duck between the two of us! 4.5/5
*Note: According to our reader HK epicurus, this should correctly be termed modern style as eating the meat with pancake is also common in Hong Kong.
This review was part of a media tasting event