Updated 4th Sep 2014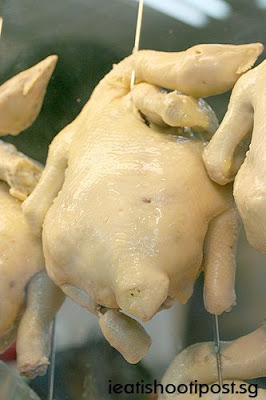 I remember eating at Wee Nam Kee when I was still a kid. That was when they were still at Toa Payoh Lorong 4. I did not remember the taste of the chicken rice though. It was the psychedellic tables that I remember distinctly. The old premises used to have these green and yellow tables which look like they are covered with specks of gold dust. I wonder if there are any readers out there who know what I am talking about?
Anyway Wee Nam Kee moved to the Novena locale for many years now. I remember in the past they used to market their chicken rice as one that is made with no garlic. I am not sure whether it is the case nowadays. However, they have been around since the days of Swee Kee, and being a Heritage Hawker, it has to appear on this blog sooner or later.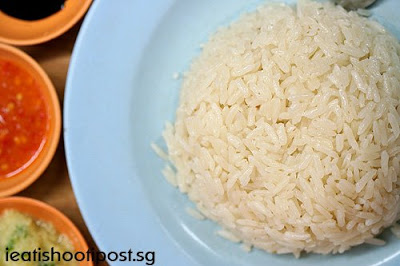 I acutally like the rice here although our seasoned makankaki, smart commented in the forum recently that it tasted bland. My experience was quite different. I would say the rice tasted quite rustic and has enough flavour without being over oily. Consistency in the quality of the rice is a problem that many chicken rice stalls are faced with. This was a similar problem with Yeo Keng Nam which I blogged recently. 4.25/5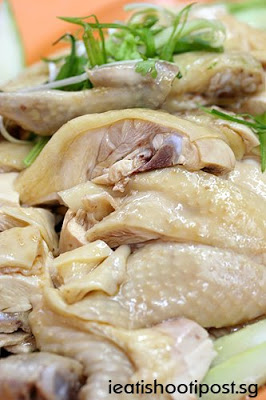 Although the chicken at Wee Nam Kee is the tender Non-Kampung type, they aren't Battery Hens who need to be concerned about going on a diet. Still tender and juicy, but nowhere as voluptuous as the ones from Xin Ji over at Margaret Drive. Still it is good for those who enjoy tender chicken but are concerned the increasing convexity of their waistline. 4.25/5
Conclusion
Being such a well known name, it is a wonder that Wee Nam Kee has not gone the route of expanding like many other Chicken Rice stalls. That really puts it in no-man's land unfortunately. For a stand-alone stall with such a long legacy, one would have expected it to have done much better than the chain stalls by providing a superlative chicken rice experience.
Update: 4 Sep 2014
I was mistaken about the gold dust tables.  That was Lee Nam Kee which was located at Toa Payoh Lor 4.  Lee Nam Kee went on to open another branch at Novena which was also called Lee Nam Kee.  Later, the partnership split up and the stall was sold to the other partner who subsequently named it WEE Nam Kee.
The stall has moved to United Square, 101 Thomson Road, #01-08.  They have 3 other stalls around the island. Details available at their facebook page.