This stall is closed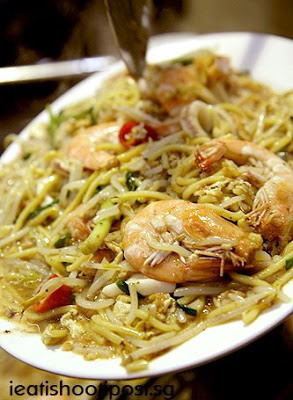 Hokkien Mee special big plate $10
One thing that I have observed about most of the Famous Hawkers around is the fact that they are famous not just because their food is good, but it also has a lot to do with their personality and PR skills.
Take for instance this Hokkien Mee uncle who was handpicked to represent Singapore Hokkien Mee in New York during the Singapore Day Festivities in April. Although I use the word "handpicked" it doesn't really mean that he fries the best Hokkien Mee in Singapore which is why he was "handpicked". But more like a combination of his Hokkien Mee frying expertise as well as enough EQ to understand the marketing potential of taking part in such an event. Why else would someone be persuaded to close the stall for 2 weeks in order to travel to New York?

So the fact is that a lot of the famous hawkers are famous because they understand the 4Ps of marketing, viz product, pricing, placement and promotion. A lot of the time, the thing that makes the difference between a great hawker and a famous one is his ability to promote himself.

Flambuoyant Frying Style coupled with Straw Hat and Colourful Shirt
And this is one Hokkien Mee man who is pretty savvy when it comes to marketing himself. You just can't walk past his stall without noticing his floral Hawaii shirt and his straw hat plus a photo of a San Francisco Trams on his signboard. That tram represented the time when he was part of a delegation to promote Singapore food in the Napa Valley in 2004. Whatever it is, I'd bet you will not be able to walk past the stall without having a second look.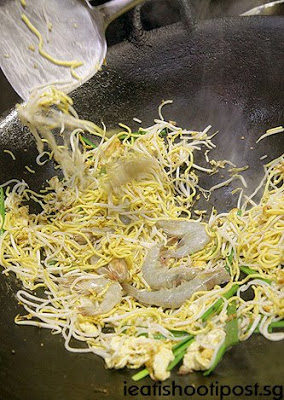 Now, apart from the superficial differences, there was also differences in the actual preparation of the Hokkien Mee that caught my attention. He is the only Hokkien Mee man that I know of that adds uncooked prawns to fry together with the noodles. He explained that this imparts and extra sweetness to the noodles and also that the prawns are more tender because they have not been overcooked.
The final product was something to behold. The noodles were suitably untidy and the charred black bits in the gravy really gave the hint of a rustic and untamed Hokkien Mee harkening back to the days of pushcart hawkers. I wish I could tell you that the taste was phenomenal but alas after all that anticipation, we all felt that it looked better than it tasted. Still better than your average Hokkien Mee but on that night, the gravy just lacked that ooomph to make it taste as good as it looks. 4/5
Conclusion
Probably one of Singapore's most well travelled and well known hawkers. His stall at Republic Food Court at Wisma Atria has had some really good reviews, but strangly not many people talk about the original stall at Newton Food Centre. Perhaps he too is a victim of our prejudice against Newton Food Centre?