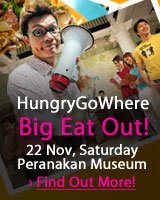 You know how the best Hokkien Mee is probably at the coffeeshop in your neighbourhood but you have never been there precisely because it is so close by? Well, there are probably also a lot of things around Singapore which tourists come to see that you have never been to before. So perhaps it would be a great idea to take advantage of the School Holidays to do a bit of exploration in our own backyard.
Explore Singapore is happening between 20 Nov to 7 December and the National Heritage Board has organized a series of events for everyone to learn more about our rich cultural heritage.
The one event that I want to highlight which is close to our stomachs is the Heritage food event which I have been helping the guys at hungrygowhere to organize. It's happening on Saturday, 22 Nov at the Peranakan Museum. We have brought together some of the most well known hawkers to showcase their dishes. So you will get to eat Hillstreet Char Kway Teow, Hock Lam Beef Kway Teow, Kwong's Satay, Kway Guan Huat Poh Piah, Sabar Menanti II, Sajis Indian Food, Peramakan and others all in the one place. And the great thing is that the hawkers will be donating the proceeds to charity.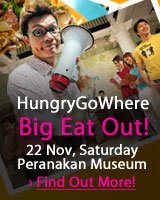 Aside from the great food, if you get there early, might also get to go on a tour of the Peranakan Museum with Comedian Mark Lee. You can also have a look around the 30 Flea Market stalls there and let the kids be entertained with some face painting and balloon sculpture. It would be a great day out for the family, so keep the date free and I look forward to seeing you there!
More details at the official site. Click here