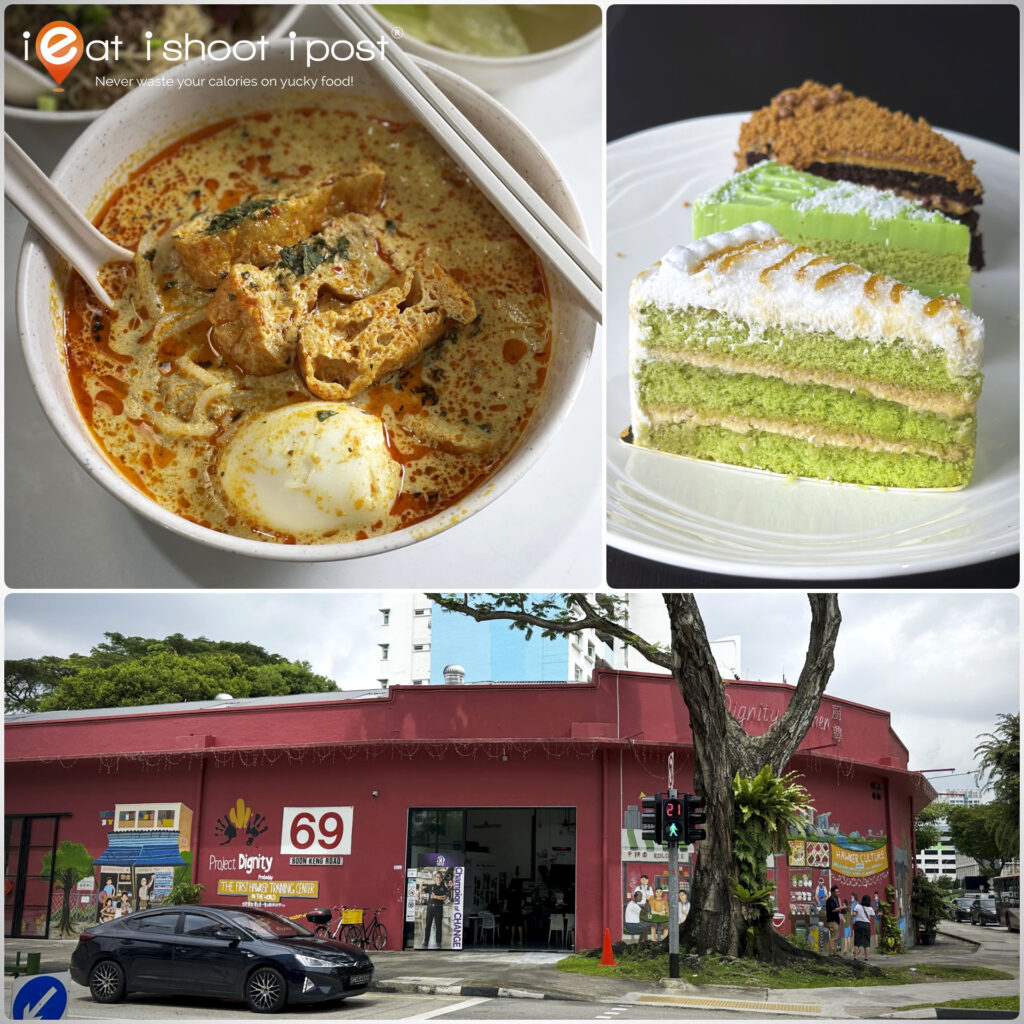 You may have passed by this red building covered with murals along Boon Keng Road and wondered what's inside. Well, let us peel off the covers and take you inside this facility that houses a food court and training centre. It is the headquarters of the social enterprise Project Dignity. With just 5 out of 100 people with disability employed, its mission is to restore dignity to the differently-abled and disadvantaged by training and providing them with a job.
One may naturally assume that the food at such establishments would be average at best, but we were pleasantly surprised to find a very good Laksa and an Ondeh Ondeh cake which is worth the trip!
What's good to eat?
Lovely Cakes and Bakes from their inhouse Bakery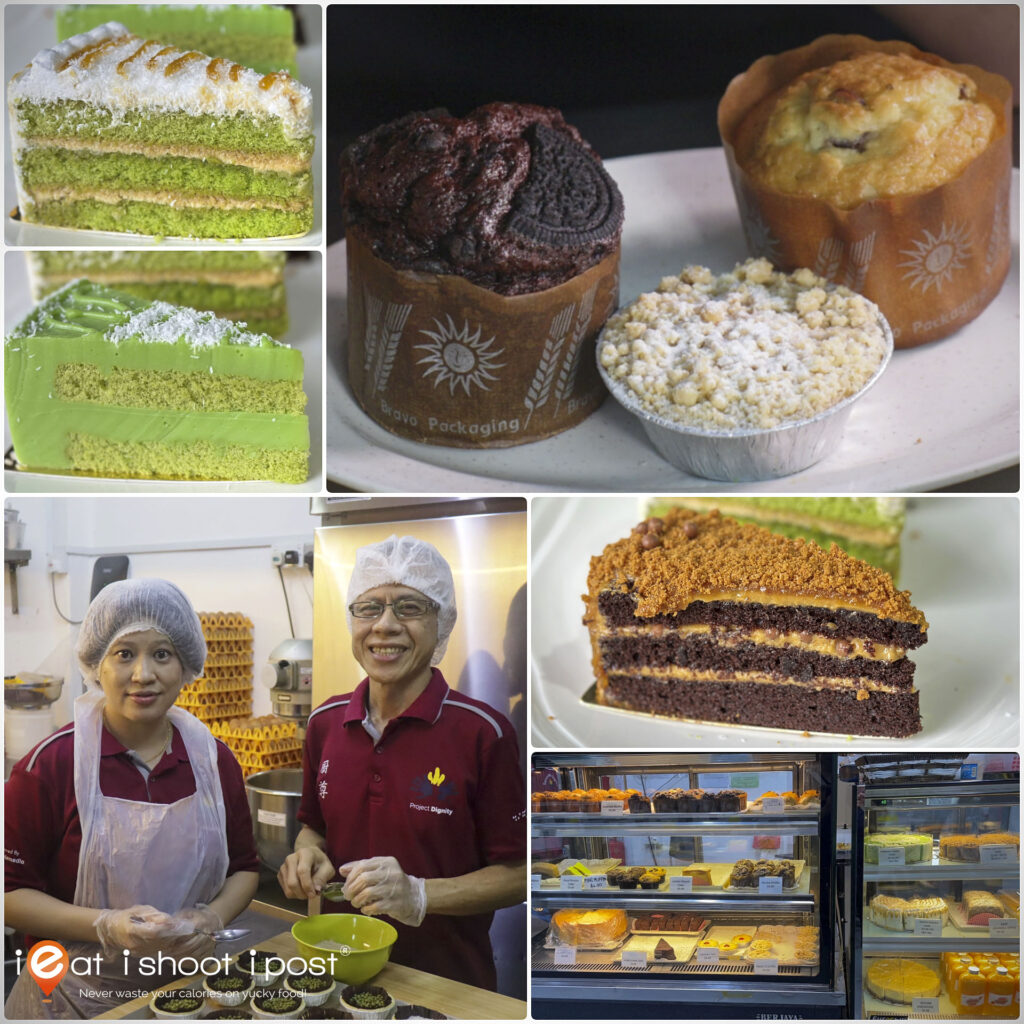 If there is one reason to visit Dignity Kitchen, it's their cakes! Their in-house bakery is helmed by veteran pastry chef Nik Heng whose resume lists 5-star hotels like Raffles and a number of local bakeries/cafes like Hans, Prima and Harri Anns. His Pandan Fudge and Ondeh Ondeh cakes ($5.90/slice) are very well made. They are not too sweet and the pandan flavour is strong yet not grassy. I would concur (with Chef Nik) that the texture is "melt-in-your-mouth" light, moist and fluffy. His Toffee Salted Caramel and Key Lime cakes ($5.90/slice) are very good too. 4.25/5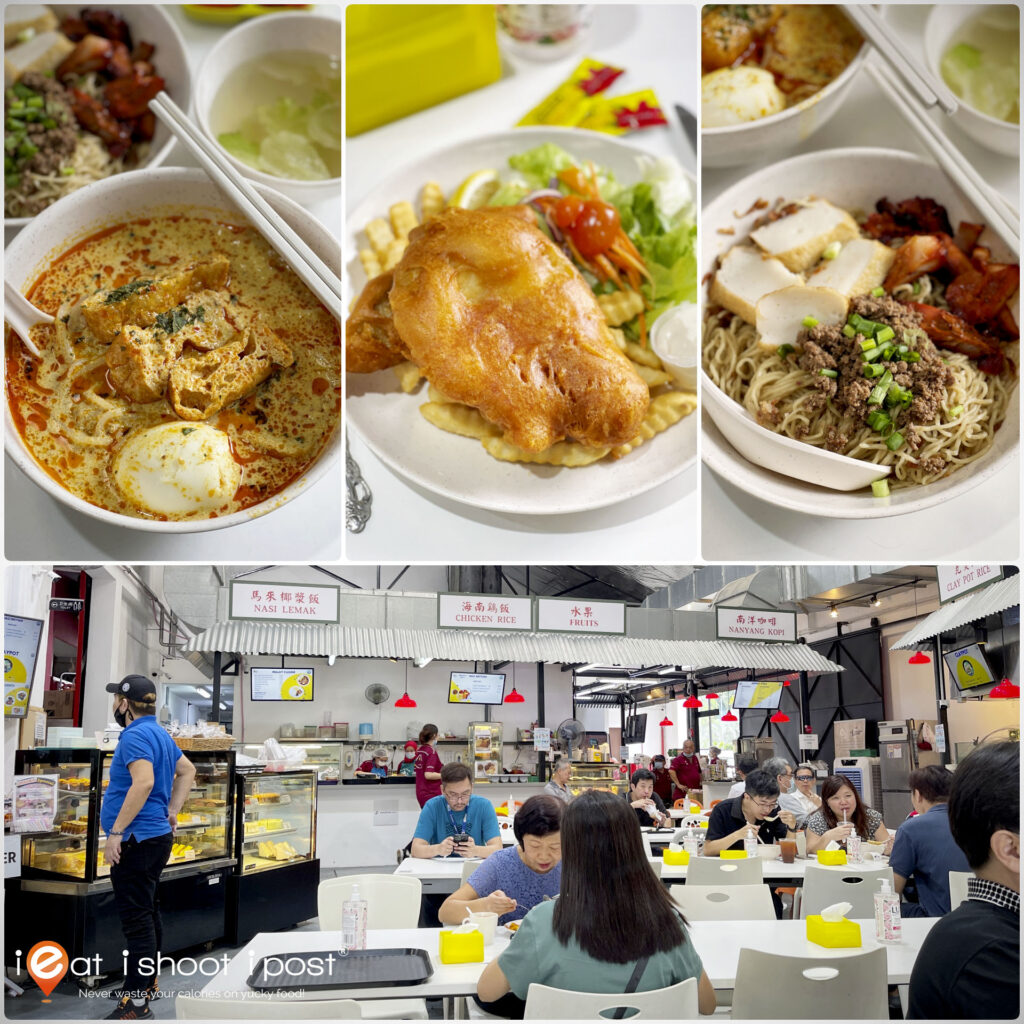 We didn't try all the stalls there but we can confidently say that cakes, laksa, and even the fish & chips are worth making a trip down to try. With so many ex-hotel chefs behind the scenes, the Signature Laksa ($5.50) is the distillation of the tried and true recipes of various 5-star hotels coming together. The gravy is lemak (rich) and flavourful and reminiscent of the laksa we have had at many a hotel buffet line. 4.25/5
The Fish and Chips is done very well and for $6.50, you get two generous portions of battered dory fish with fries and some salad. 3.75/5 The Nasi Lemak that we had on a previous occasion was, unfortunately, a tad dry and the fried chicken was overdone.
The Kolo Mee ($5.50) was very competent. The noodles are quite QQ and the minced chicken and chicken char siew are tasty. If they had used pork instead of chicken, it could easily be sold at your hawker centre and attract a queue. 3.5/5 Note that the food court is halal certified.
A kitchen designed for the differently abled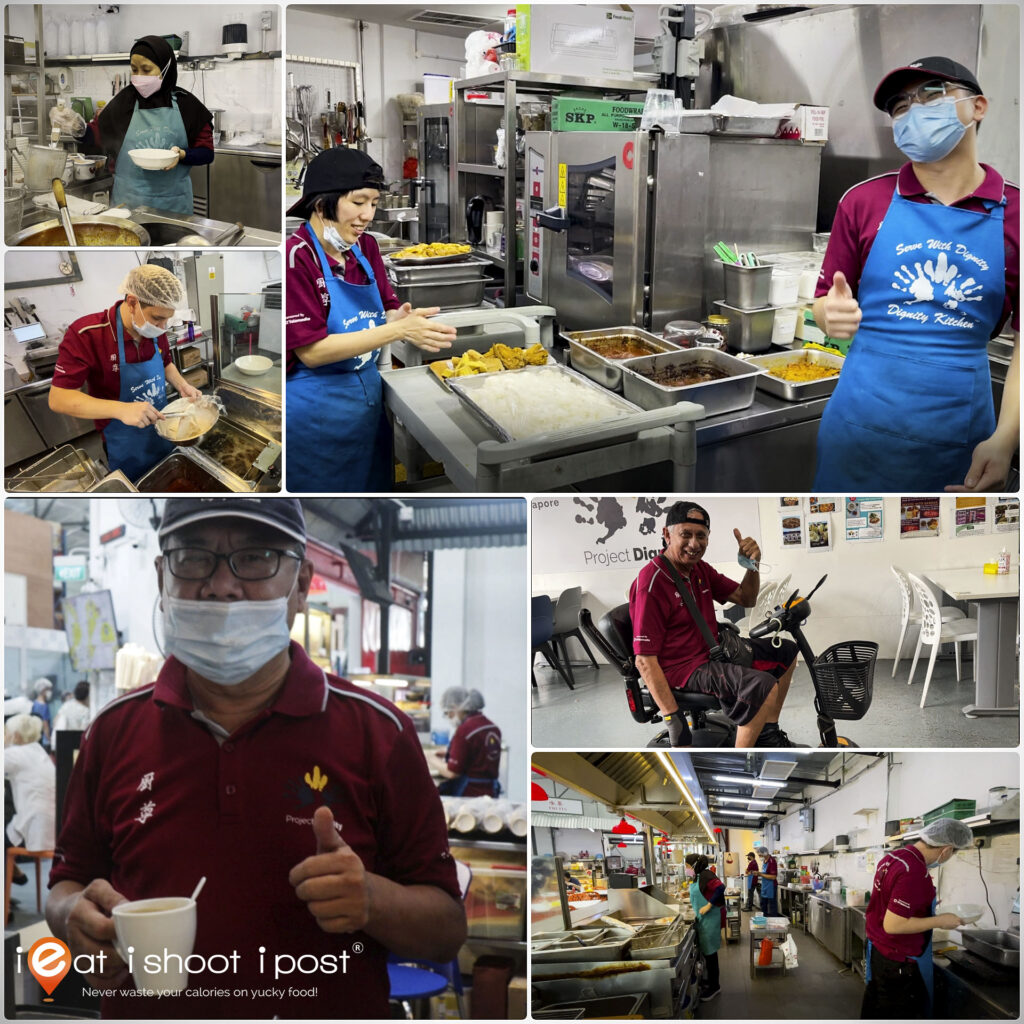 If you observe closely, you'll notice that there are no partitions between the different stalls in the food court. That is so it is easy to get to any of them, should the need arise. It is also for them to be able to assist one another. For instance, the hearing-impaired baker will not be able to hear the timer go off but her colleague (who is speech impaired) can help remind her.
Another observation I made is that they are all very careful and focussed on their tasks, albeit a little more tentative. It is important therefore to be patient when interacting with them. But as Chef David Ang would say, we got to learn to see their ability and not their disability.
Watch OGS video feature on Pauline with visual impairment who runs the Claypot rice stall.
Dignity Learn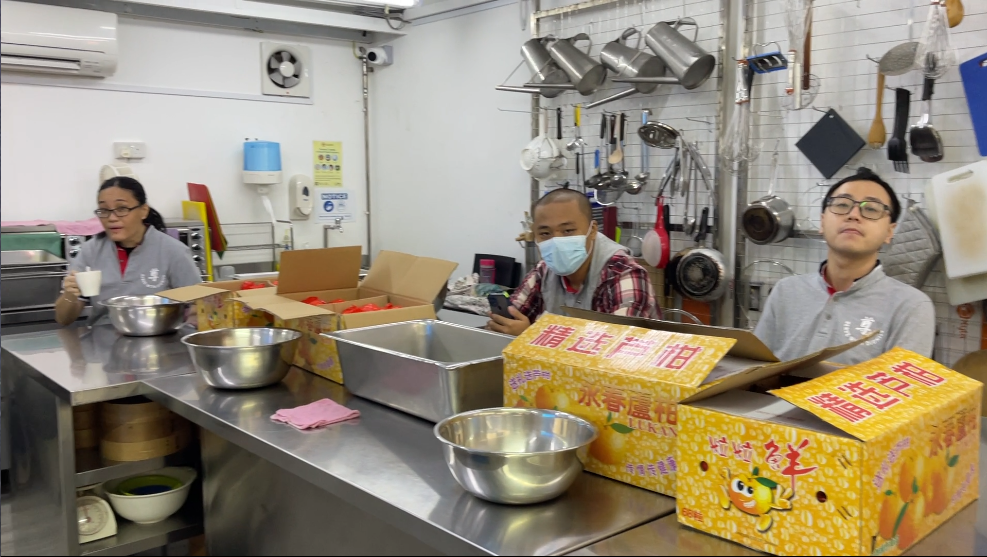 To encourage the persons with disabilities to keep at their training, a daily allowance is given while they are in the training program! And they are matched with potential employers after training too. They will still need to go through an interview of course.
Another source of income for Dignity Kitchen is the running of public courses. They offer an array of National Silver Academy (NSA) and WorkSkills Future (WSQ) classes from hawker fare to western, baking and pastry making.
Veteran Chefs behind the scenes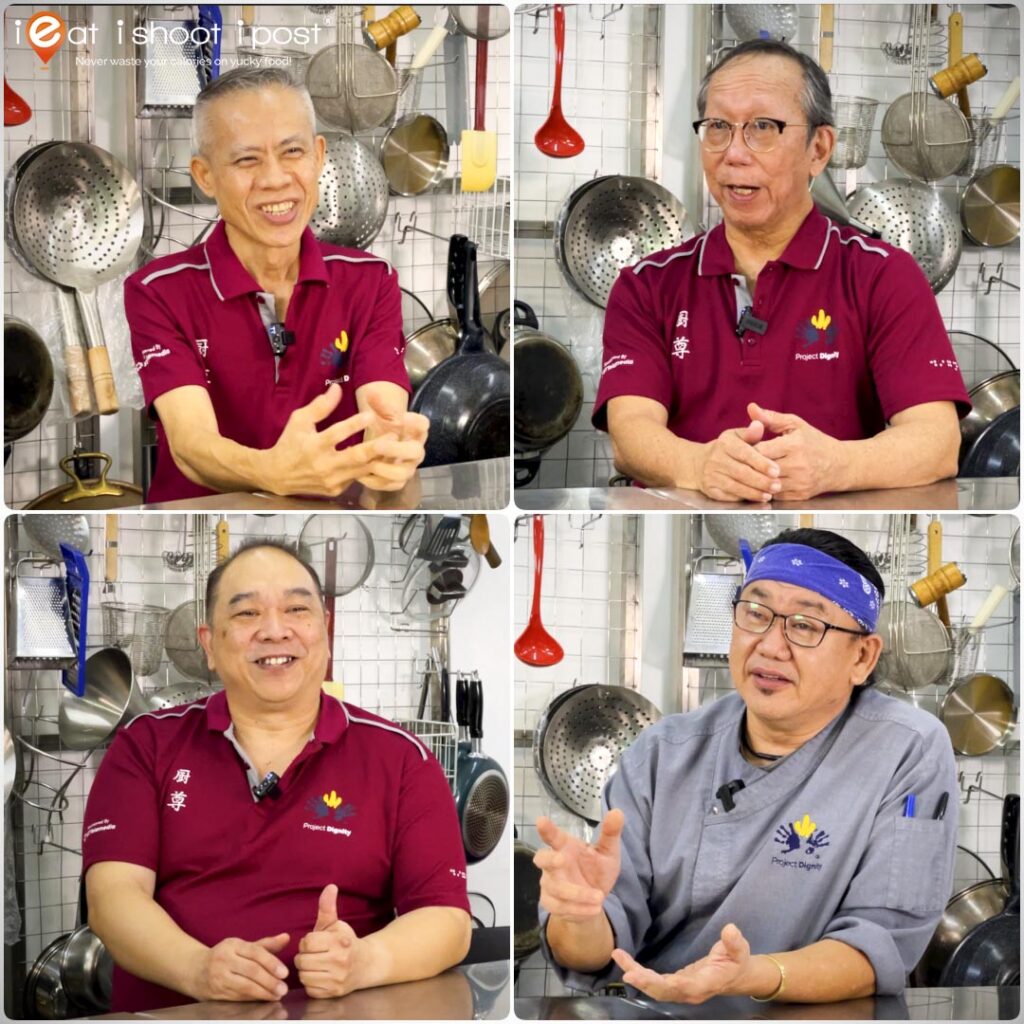 Peel away the layers a little more and you'll find a team of experienced chefs managing and overseeing the entire operations. Their collective experiences go well over 100 years! These are years honed in the kitchens of 5-star hotels, private yachts, restaurants and in different countries too. One common thread I find is that they all have a heart to make a difference – imparting their knowledge and skills and in turn, learning patience and finding fulfillment in enabling their differently-abled students/proteges to find dignity in work and employment. Want to hear more about their stories, watch the interviews here.
Dignity Outreach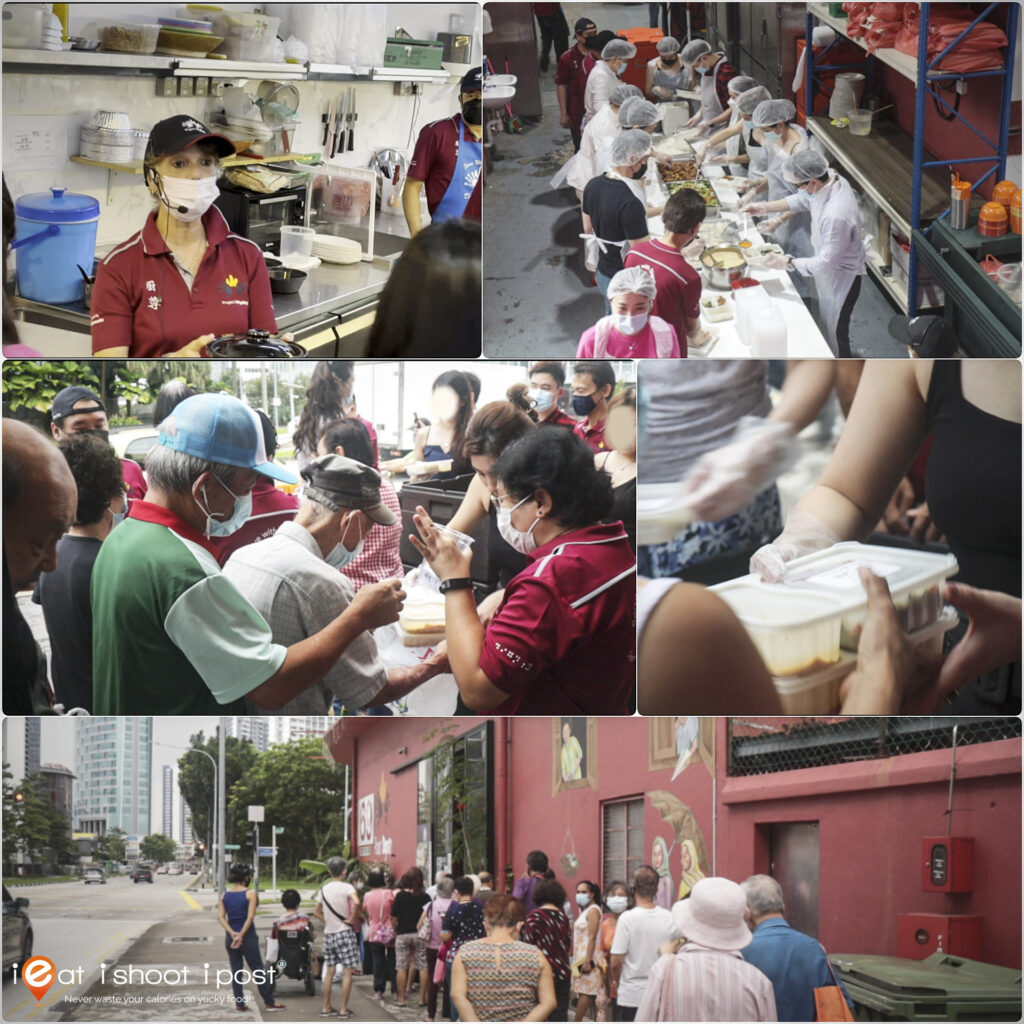 When you go to Dignity Kitchen, there is a good chance you'll see a Ms Cindy Berlandier (marketing and events) conducting Learning journeys around the area for corporates having their CSR events there. Corporates have the option to Cook-Bake-Makan or Cook-Bake-Serve. We witnessed a local bank packing and serving meals to the Boon Keng community as part of their CSR efforts.
As part of their social mission, Dignity Kitchen gives out meals to the working poor in the area at 4pm, on Mondays to Fridays. Staff members know who they are and would issue coupons just minutes before the distribution.
Apart from Dignity Kitchen, Dignity Learn and Dignity Outreach, there is a fourth pillar called Dignity Mama that provides employment for the differently-abled to run stalls selling pre-loved books and toys. They are located at 5 hospitals. Found out more here.
Video Overview
Project Dignity Founder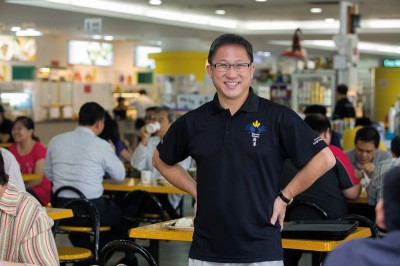 We cannot write an article about Project Dignity without mentioning the man behind the whole concept. He is the very flamboyant Mr Koh Seng Choon. He is an engineer by training and profession and had applied structured processes to enable the differently abled to operate well in the kitchen. He has since gone on to found Project Dignity Hong Kong and soon Project Dignity London. He was even one of three recipients of the World's 50 Best Restaurants "Champions of Change'' award in 2022.
But his journey was not a bed of roses, watch his interview with CNA Insider.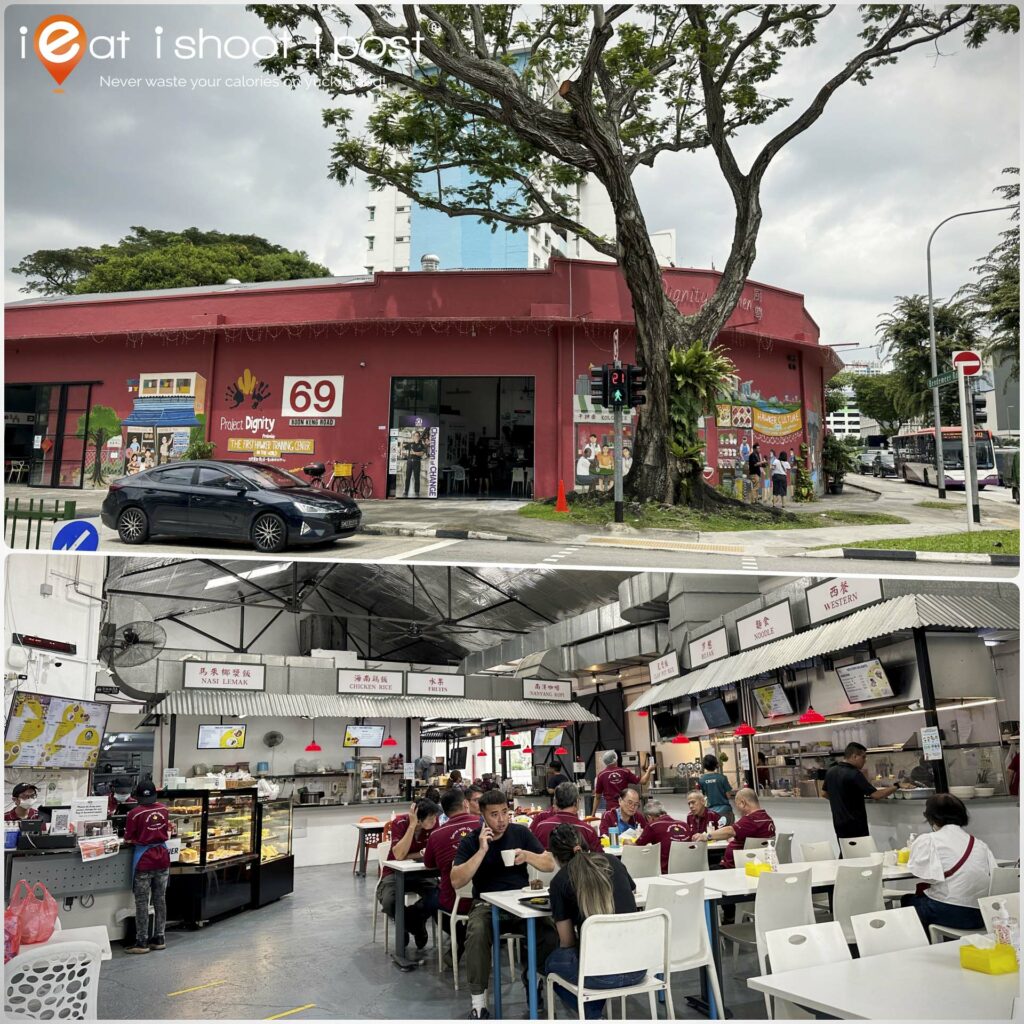 Conclusion
Project Dignity is a social enterprise, not a charity, in that they need to generate income to fund their social activities. We're told that the food court is not doing as well as they would like as they can only operate during the day and most of the patrons are there for corporate events.
Now that what's inside the red building is demystified , do drop by for a meal, or even plan your next function or CSR project with them and play a part in bringing dignity to the differently-abled.