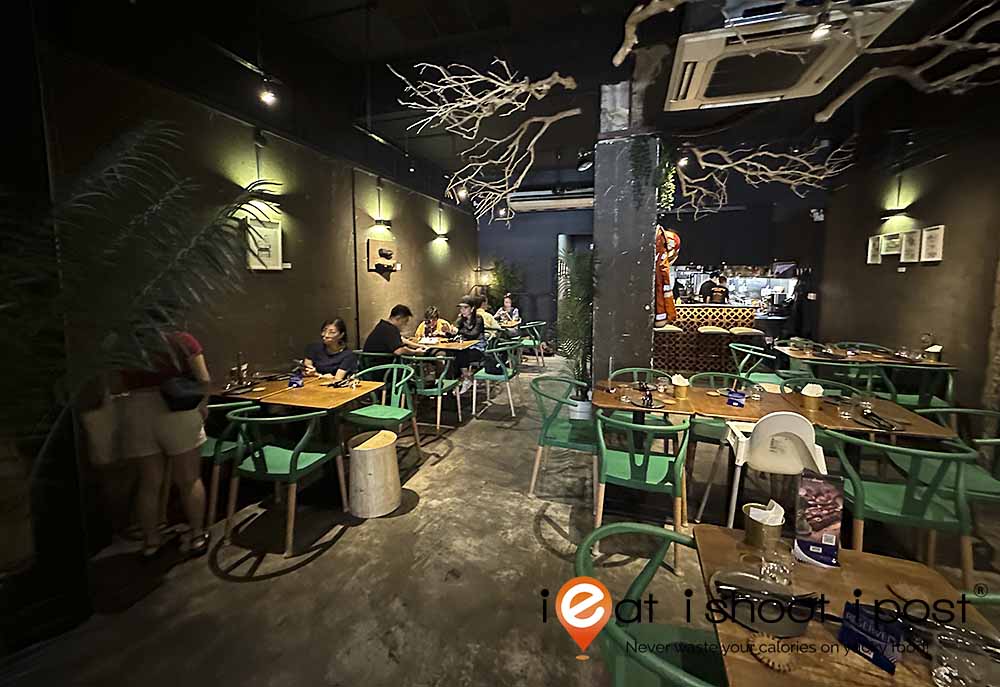 Me: Hey, I know this place that sells modern Teochew food!
You: Oh yeah! Let's go!
Me: It used to be called "The 1925 Brewing Co"
You: Huh? I thought you said Teochew food?
Me: Now its called "Blue Smoke"
You: You're messing with me, right?
Me: Let me tell you the story.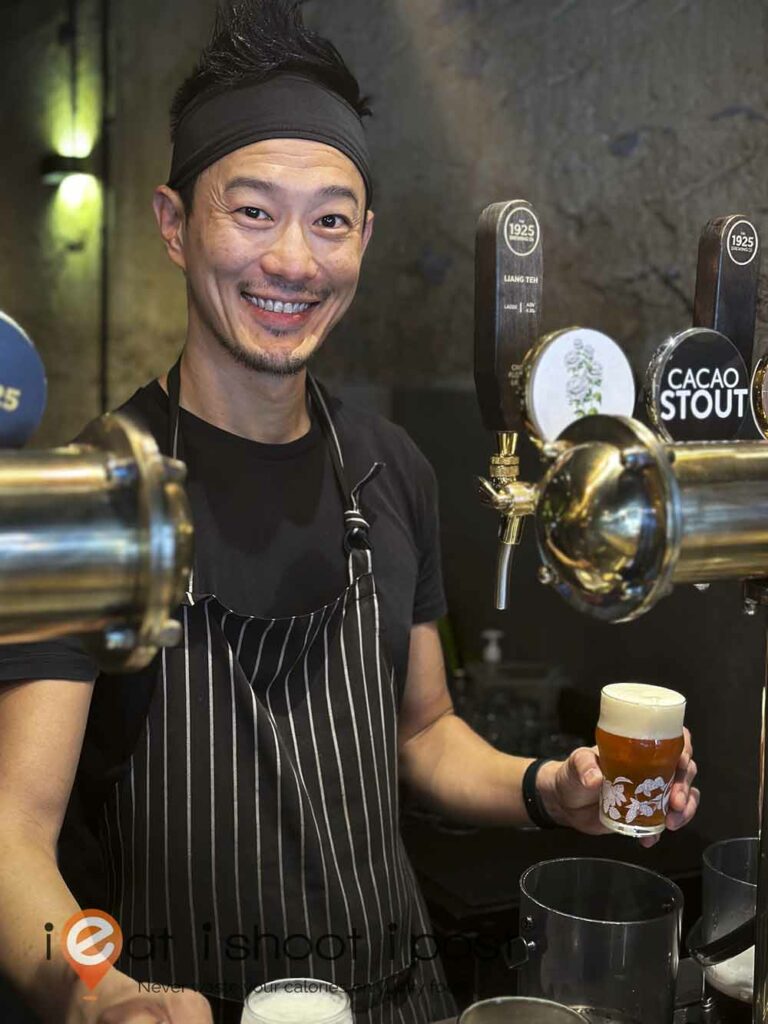 From The 1925 brewing Co…
The 1925 Brewing Co was founded by an Uncle and his two nephews. One brews, the other, stews.
In 2014, they started a microbrewery selling Asian-inspired Artisan Beer; think lychee lager and "Liang Teh" an ale brewed with chrysanthemum flowers. The other brother, Ivan, a graduate of the "YouTube Culinary Institute", took over the kitchen and created a modern Teochew Menu; think Teochew style ceviche and fish soup powered by an 8-year-old homemade Ti Poh (dried sole fish). The innovative self-taught chef was awarded the WGS Asian Cusine Chef of the Year, 2020, for his culinary prowess.
…to Blue Smoke
Just before Covid struck, Ivan had gotten himself involved in a farm-to-table concept in Choa Chu Kang where he learned the rustic art of smoking meats. But the project was prematurely terminated by Covid. However, with his newfound knowledge, he acquired an "Oklahoma Joe" smoker, revamped the menu, and renamed the restaurant "Blue Smoke". If you think his idea of Teochew ceviche is progressive, wait till you see what happens when braised pork gets a kiss of wood smoke! In fact, he decided that every item on the menu has to have a brush with "Oklahoma Joe" before hitting the table!
Let's have a look at the menu offerings.
Starters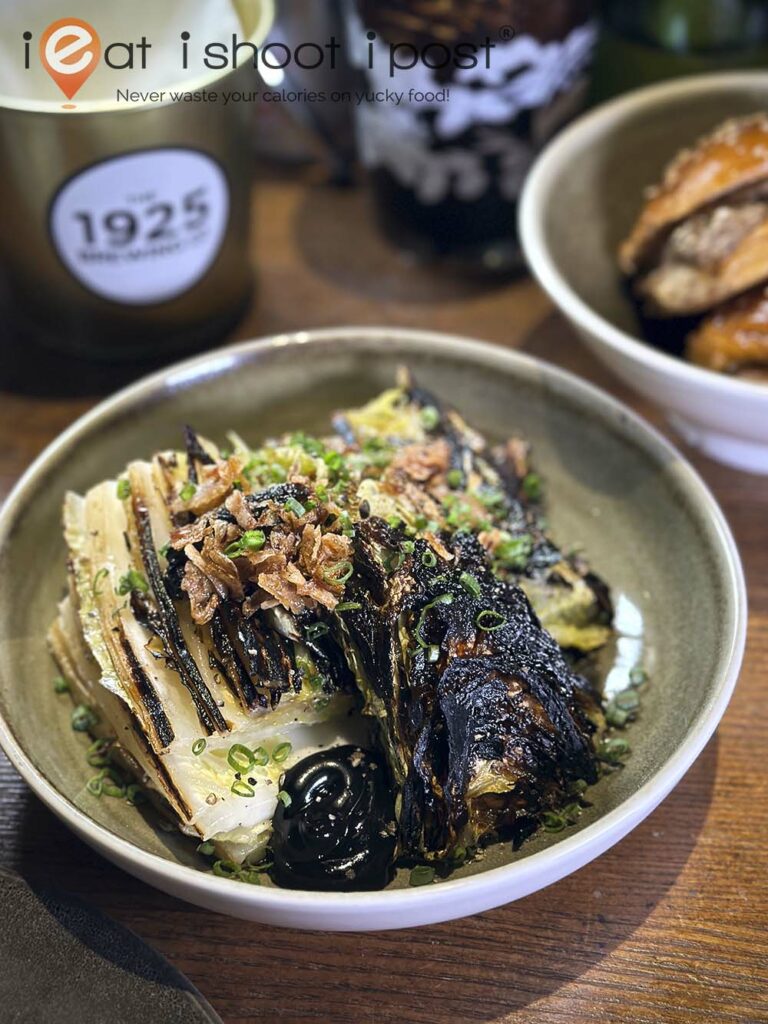 Charred cruciferous vegetables have become quite fashionable of late and for good reason. Charred brussel sprouts taste better than boiled ones and I'd choose a charred cauliflower steak over boiled cauliflower any day. The high heat caramelizes the sugars in the vegetable and together with the Maillard reaction, produces meaty, flavourful compounds which you don't get when you boil the vegetables. So, if you are one of those who eschew vegetables, (when was the last time you had boiled broccoli and carrots?) this dish of charred napa cabbage might just make you rethink your staunch carnism.

The keyboard warriors are going to balk at the char on the napa cabbage and tell us that burnt food is going to cause cancer. Well, it's time to debunk another myth. That char is formed when starchy vegetables like cabbage and cauliflower are exposed to high heat. The sugars and asparagine (an amino acid) react to form acrylamide. In the past, it was thought that eating burnt foods high in acrylamide is going to cause cancer, but there hasn't been enough good evidence to back this up. Cancer Research UK has stated categorically that:

"Eating foods high in acrylamide, like toast, charred root vegetables or roast potatoes will not increase your risk of cancer"
So, next time just go ahead and enjoy your nicely charred leopard-spotted pizza napoletana.
We really enjoyed the smokey charred cabbage mixed with the black garlic aioli. My only complaint is that the stems of the cabbage were still quite raw and didn't quite get the same amount of caramelization as the leaves. 4.25/5
NB: Acrylamide is produced by charred vegetables. Charred meats contain different compounds known as polycyclic aromatic hydrocarbons (PAHs), It is thought there is a link between PAHs and cancer but the jury is still out. My take is that it should be ok to take charred meats (and vegetables) occasionally but it is not something you should do frequently.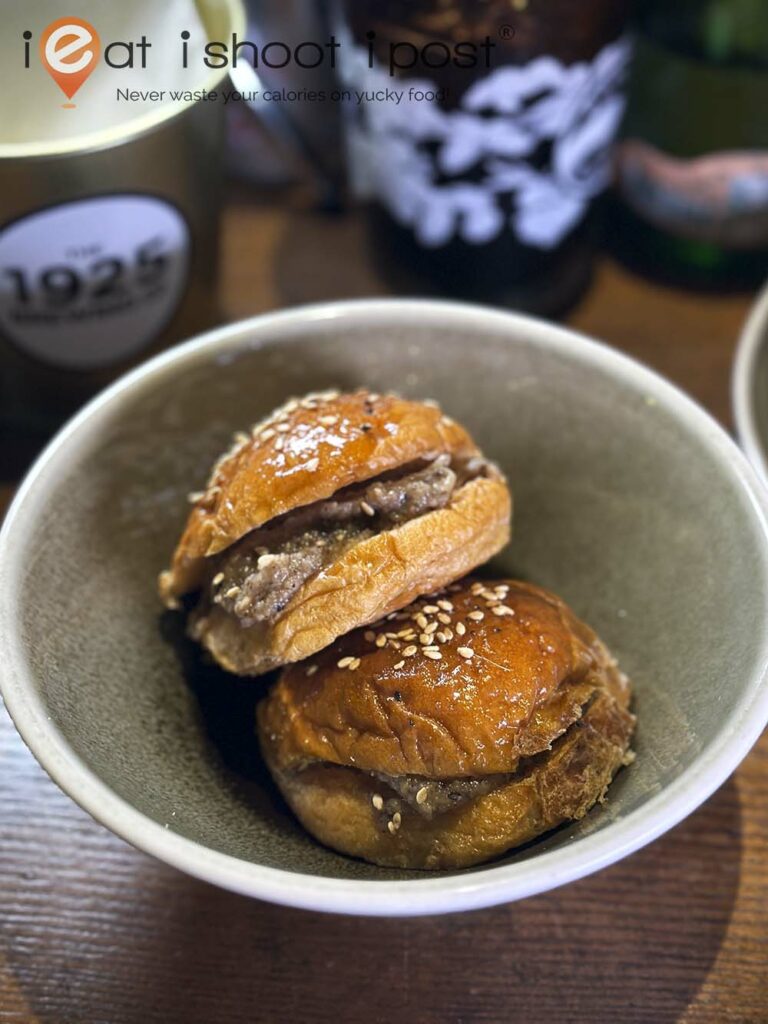 To make these tasty little sliders, Chef Ivan leaves shitake mushrooms in the smoker to dry out and then purees them together with fresh mushrooms, butter, and miso. How can it not be good? Flavor-wise, they were excellent but would have liked more texture in the mushrooms. Another layer of sauteed mushrooms would have given them a bit more bite. 4.25/5
Mains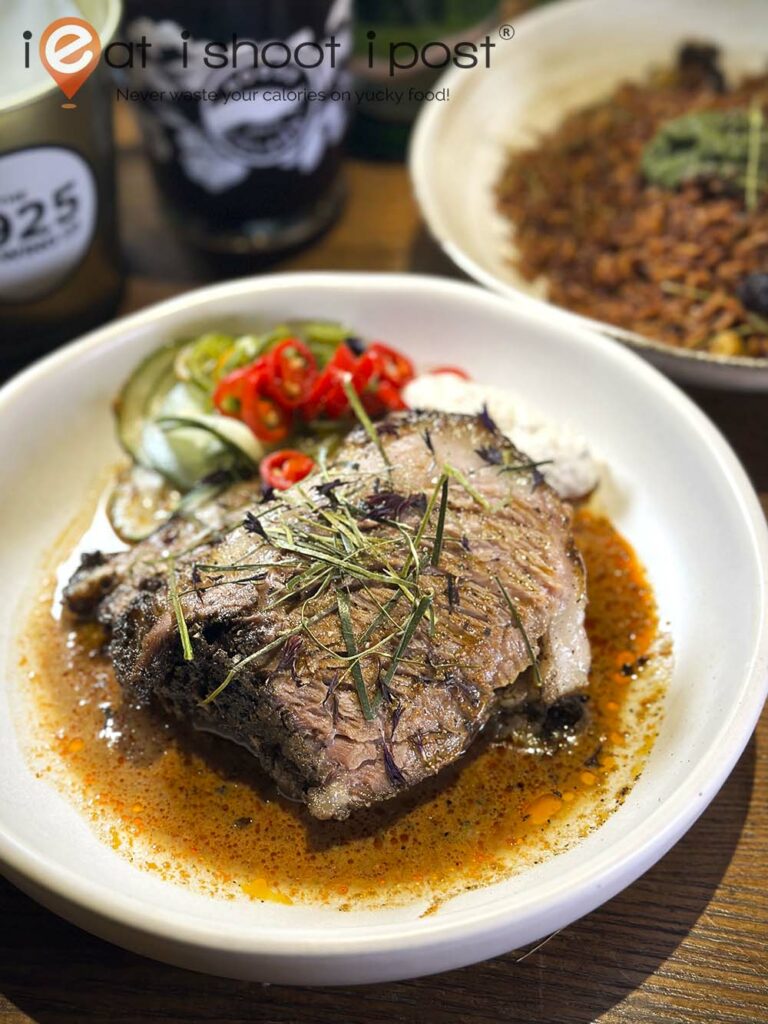 The smoked brisket is, without a doubt, Ivan's pièce de résistance. You have a choice between the point end or the navel end. (both are the same price) Go for the point end where the meat is more marbled. The 20-hour smoking process renders all that fat into creamy yumminess by the time it hits the plate. Ivan's mastery of the smoking process means that you get very moist and tender meat while still having a robust smokey flavor. No need to use a knife for this one, just a fork will do. 4.5/5
I wasn't as enamored with the pork belly as I found the rind just a little chewy in parts. The meat was tender and juicy and went well with the wasabi sour cream but the pork didn't quite have that smokiness I was looking for. 4/5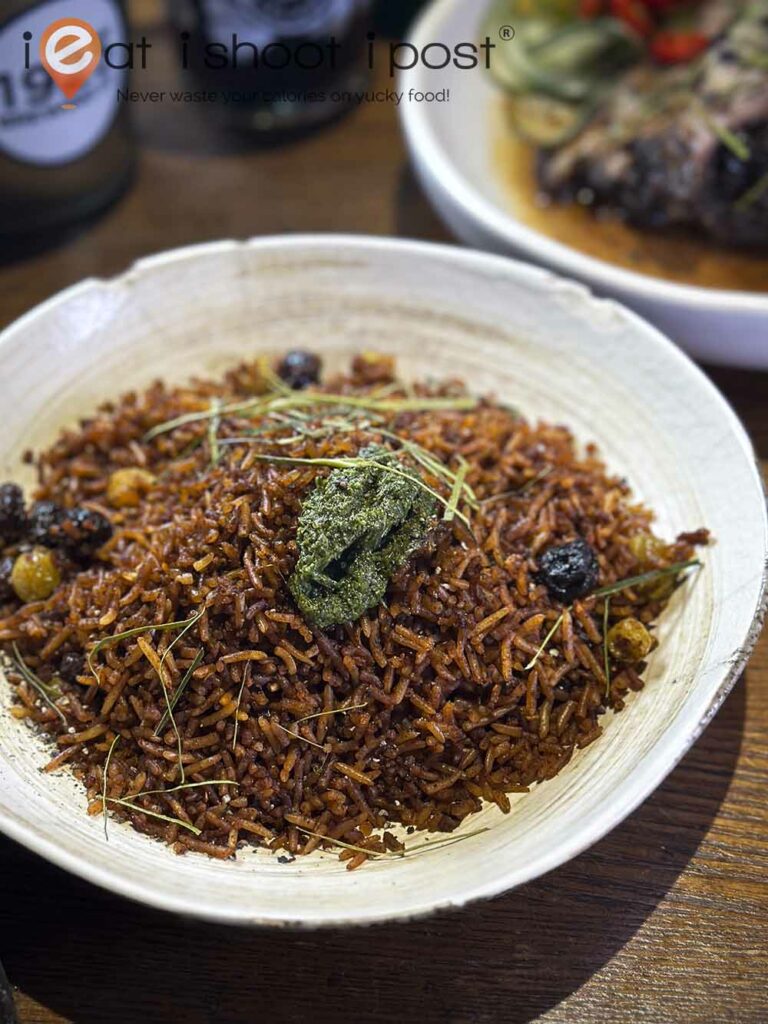 I am not as crazy about dirty rice as a side dish to accompany the brisket as other online commentators. This cajun-style pilaf is rice that has been tossed in the meat juices collected from the smoking process. Oh, I liked it on its own, but I didn't think it went well as an accompaniment for the brisket. The rice was a little dry the day we tried it and eaten on its own, it had a gritty umami that is actually quite enjoyable. It is already so favorable on its own that you really don't need the extra gravy from the brisket. 4/5
Drinks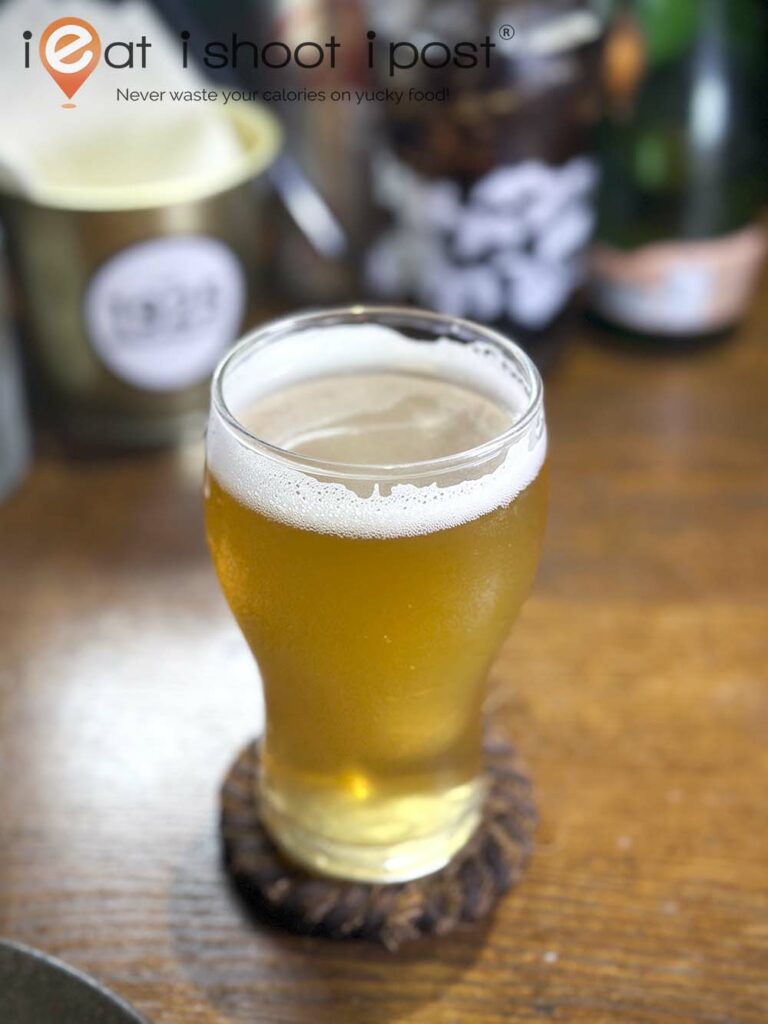 Don't forget to order some of their Asian-style beer. Their lychee pale lager was quite interesting and went well with the Asian-inspired flavors! I can't drink much alcohol, and was pleased to find that their soft drinks are priced at only $3!
Dessert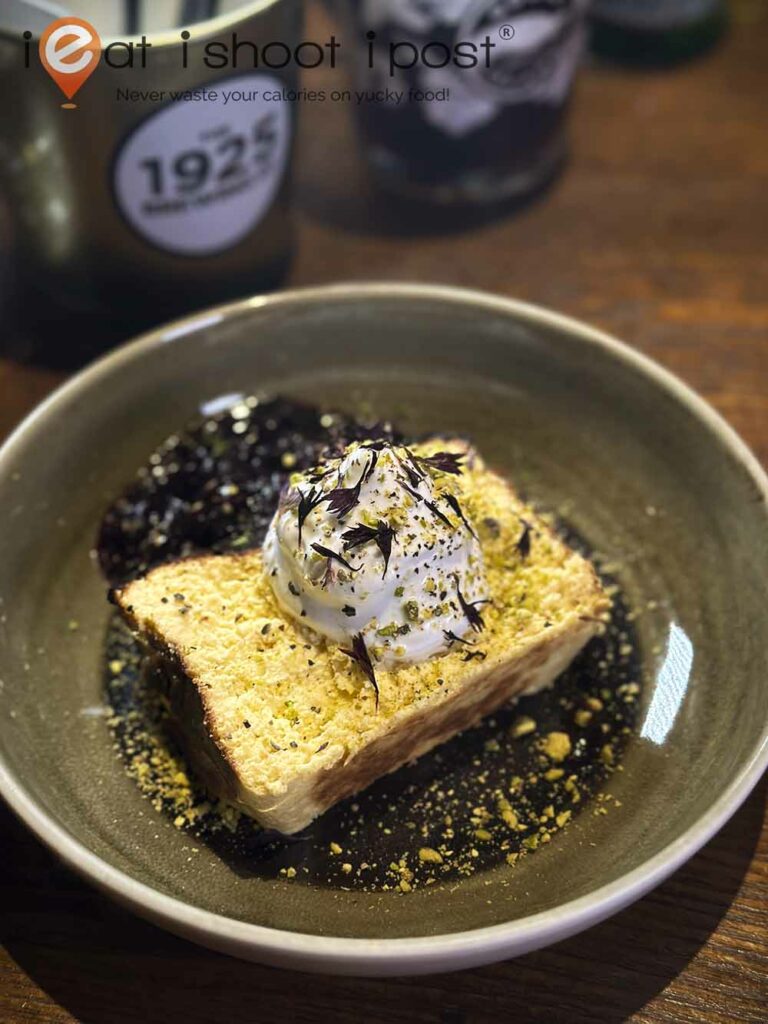 I don't think Ivan's very strong in the dessert department. His basque cheesecake was alright. It wasn't as moist as I'd liked and even though it was baked in a smoker, I didn't think it added that much value. 3.5/5
Conclusion
This is one of the most exciting new eateries which I have tried recently. Ivan's idea of marrying Asian flavors with wood smoke has a lot of potential and I can't wait to go back to experience his omakase private dining. Hope the Michelin inspectors discover it soon as I think it is the kind of place that tourists visiting our island would want to visit in order to experience food that is uniquely Singaporean.