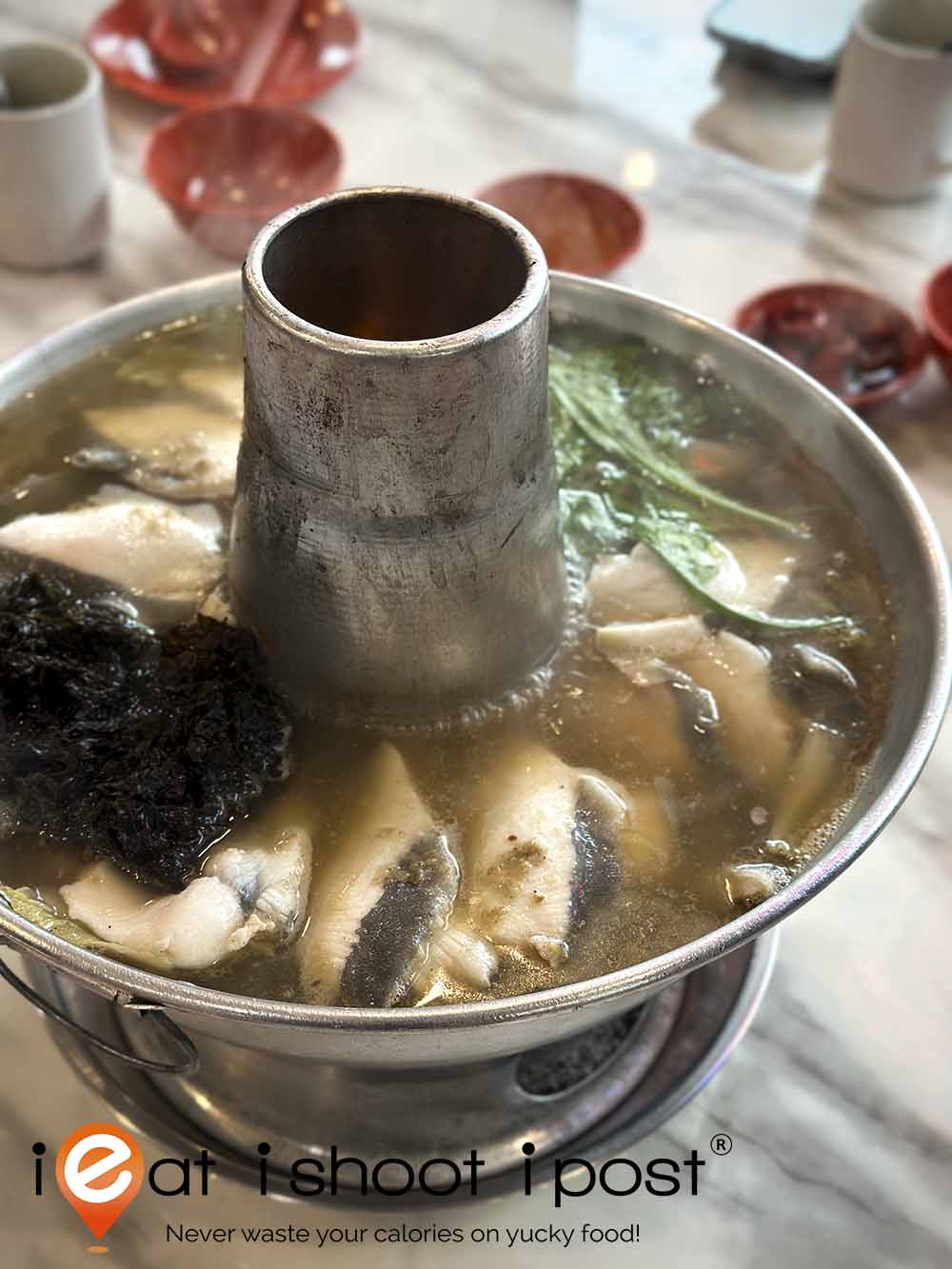 The History of Fish Head Steamboat
If you have craving for Fish Head Steamboat, then the name Nan Hwa Chong would probably come to mind. It is not surprising, since they are the pioneers of the dish. It is quintessentially a Teochew dish but the style of presenting this fish soup in a steamboat is unique to Singapore as you won't find it easily elsewhere.
The story of Fish Head Steamboat started in 1927 when Jessie Tan's Great Grand Uncle started selling fish soup along Merchant Road. At the time, they were a stall within a coffee shop called Nan Hwa Chong, which is the name they carried over with them when they relocated.
Jessie's father, Mr Tan Lek Chew, 72, affectionately known as "Ah Chew", grew up in the restaurant. He was a tailor by vocation but started working for "lau gu" (ie Grand Uncle) in his early twenties and finally took over the restaurant in 1972. They subsequently moved to the basement food court of the Eminent Plaza in 1987 and then to their present location at North Bridge Road which was where I first met Ah Chew back in 2011.
Why is it called "Fish Head" Steamboat
You might be wondering why it is called "Fish Head" Steamboat when fish meat is usually served? Well, it is because, in the early days, Song Fish Head was used as the Teochews have a penchant for the head and other fiddly parts of the fish rather than the flesh which we consider too one-dimensional. In the old days, wild-caught Song Fish was available locally and didn't have the muddy flavor that is sometimes found in the farmed variety which is common nowadays.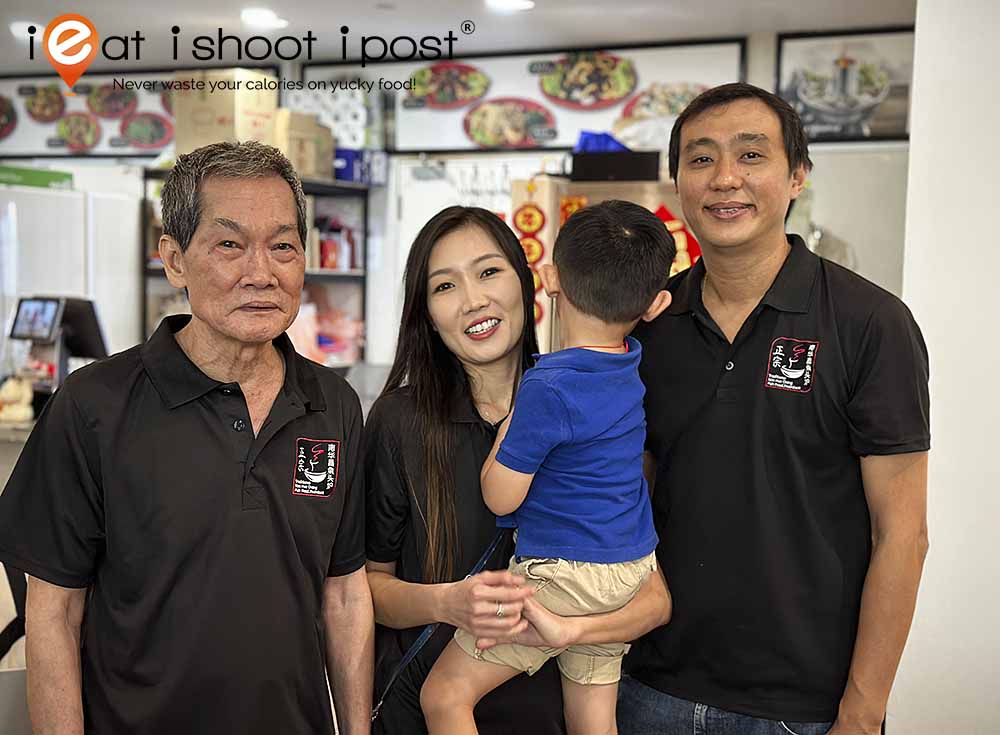 Into its 4th Generation
If you are based around the North Eastern part of Singapore, you will be glad to know that Jessie and her husband have just opened Traditional Nan Hua Chong Fish Head Steamboat in Kaki Bukit, bringing the legacy of the 96-year-old establishment into its fourth generation.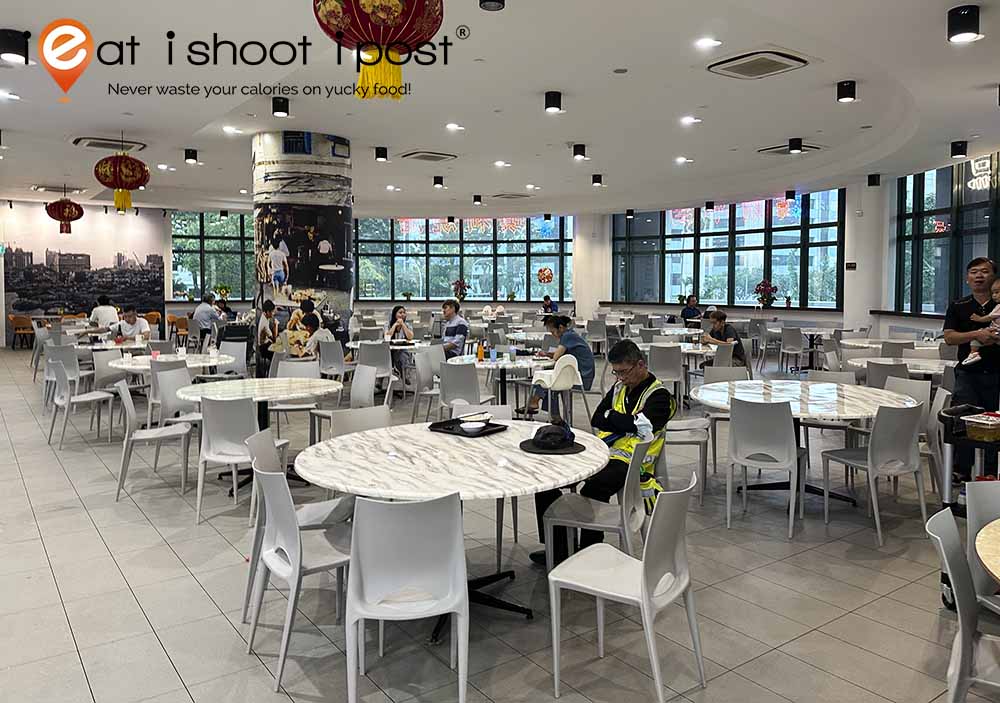 Review of Signature Dishes
Must Try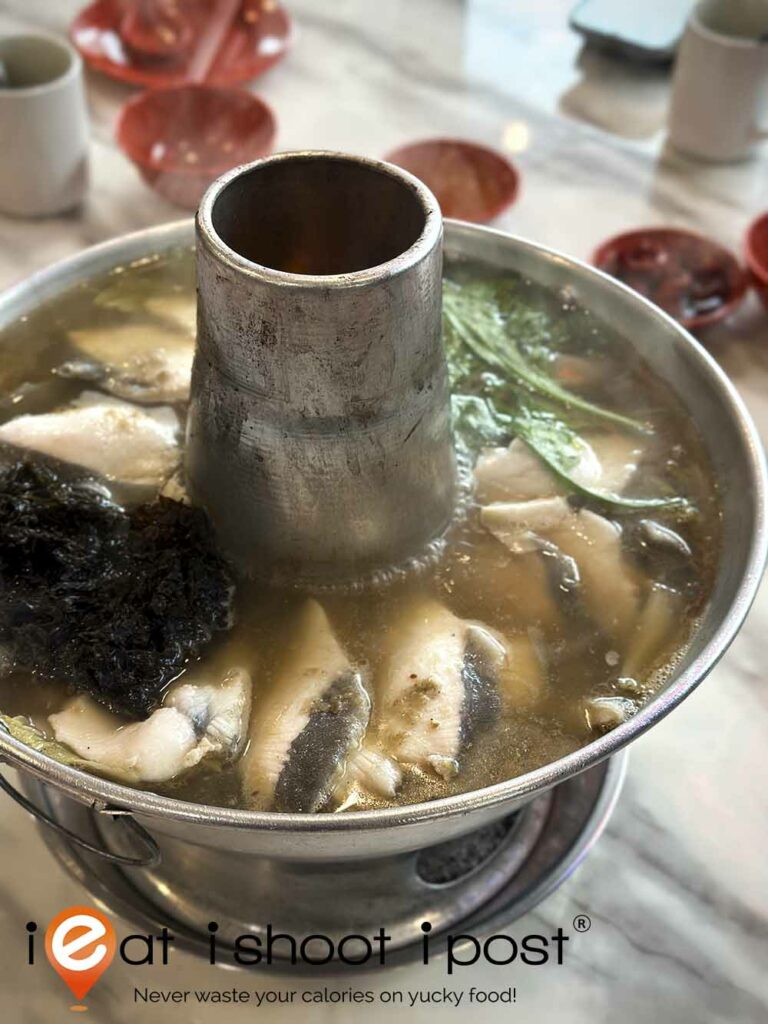 Their Fish Head Steamboat is priced at $38, $48, and $70 and they offer a batang (Spanish Mackeral), grouper and pomfret. I was pleasantly surprised that there is no price difference between the pomfret and the other types of fish as most restaurants will charge a premium for pomfret. The soup is a rich pork bone broth with ample umami powered by a generous amount of ti poh (fried sole fish). It is a more straightforward version compared to the one at Whampoa Keng which has added herbs, evaporated milk, and sour plums. I would have liked some sour plum in the soup as the extra tang does go well with fish. I only found out later that it is an option that you can request. The quality of the pomfret was good, although they use white pomfret (peh chior) instead of the more expensive Chinese pomfret (dao chior) 4/5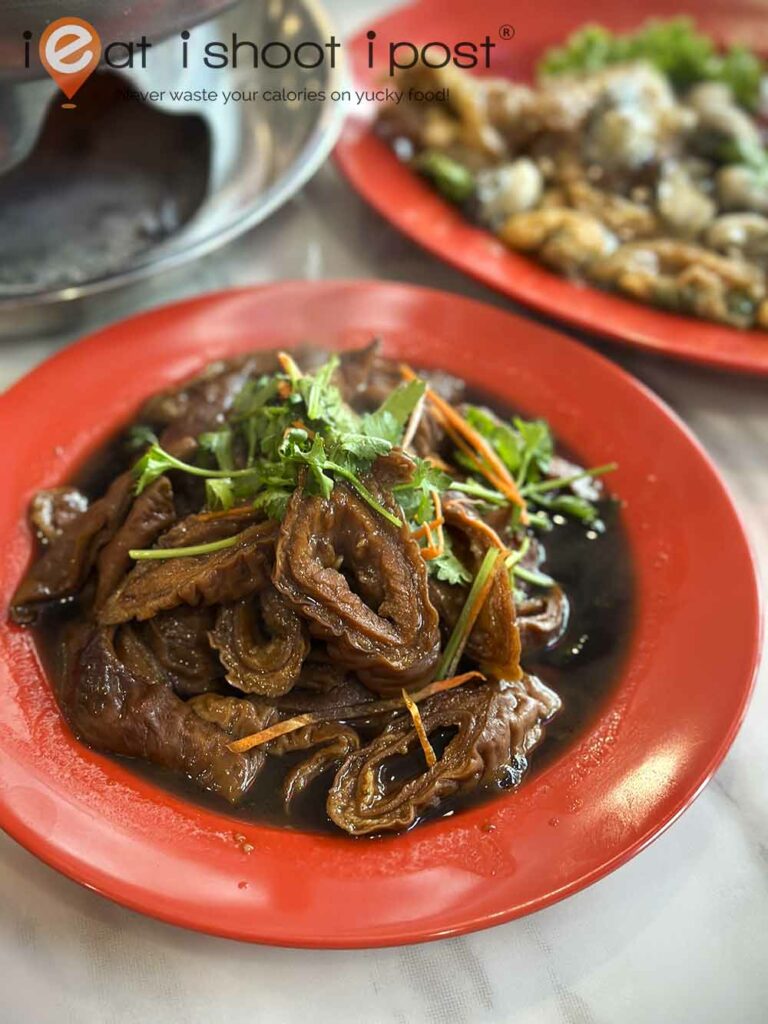 The braised intestines are very good. VERY GOOD. If this was served at a Kway Chap stall, the Kway Chap stall would easily rank right up there with all the other famous stalls. Worth ordering even though I don't usually eat braised intestines with Fish Head Steamboat. 4.5/5
Can Try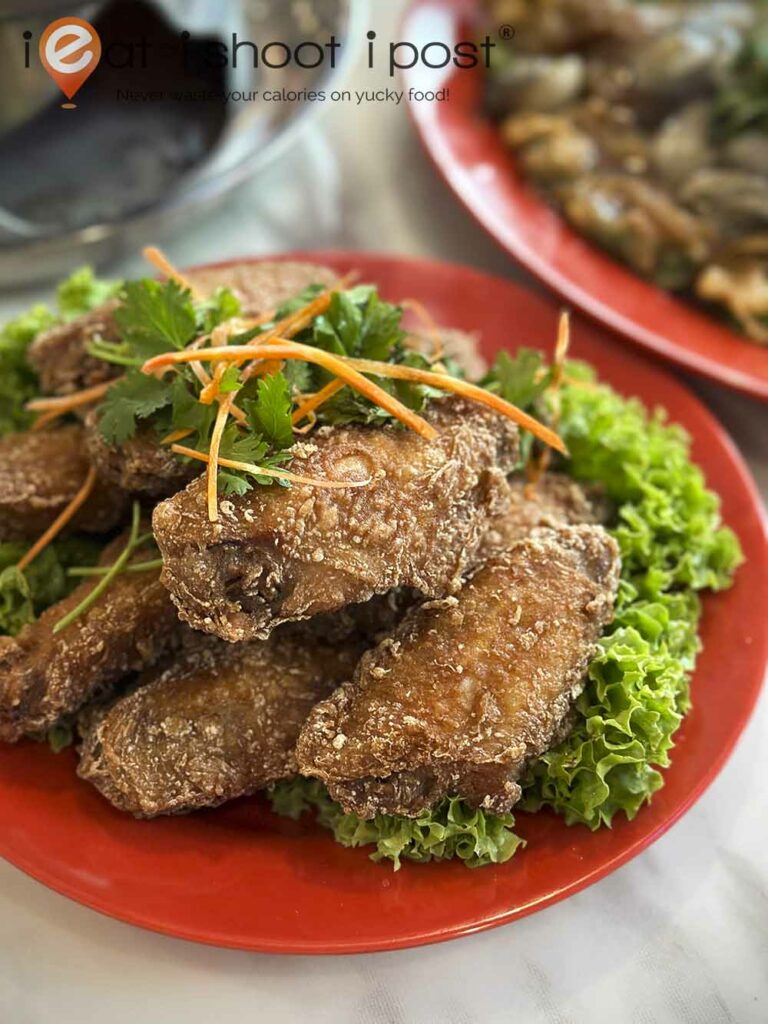 Their har cheong gai is competent but I felt the funky har cheong flavour didn't quite seep into the bones. Still, it is a dish I often eat with Fish Head Steamboat, so I will order it. 4/5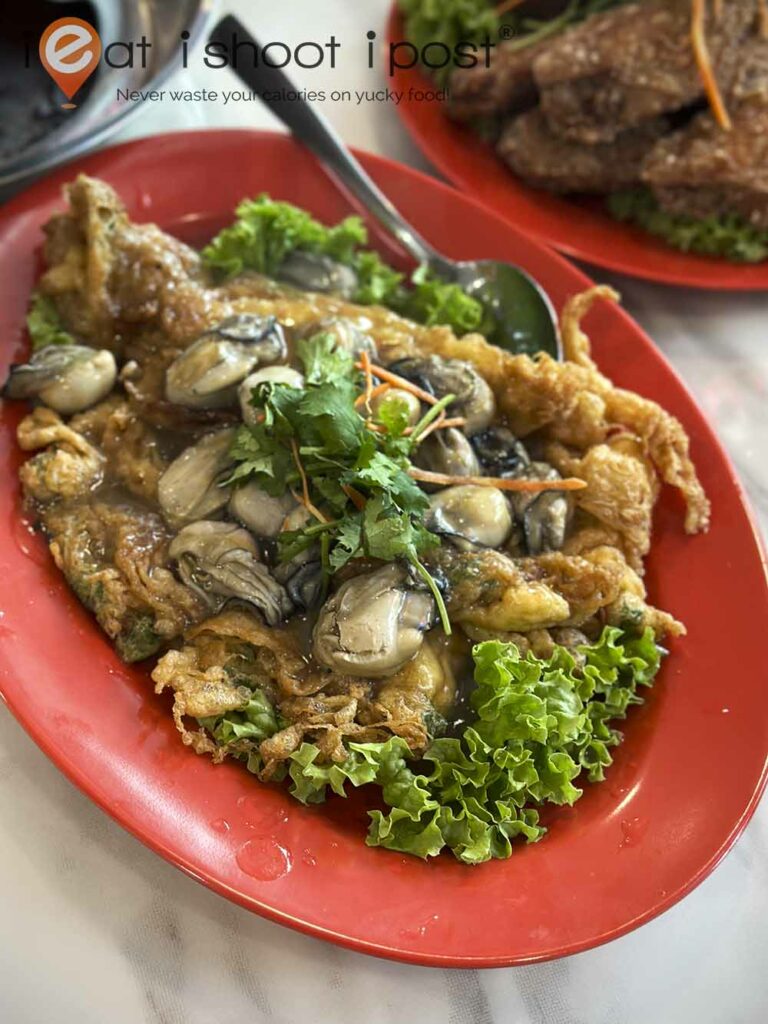 What I like about the oyster omelet is how fluffy the eggs were. There were really old-school fried eggs which are essentially an omelet deep fried in lots of oil so that the edges turn into crispy frilly bits while the middle is still moist and velvety. What I didn't quite like were the oysters which had a very strong fishy flavor. Would have been good if they were fried with a bit of chili, blue ginger, and vinegar. My makan kakis who love oysters didn't mind it though. 4/5
Try If You Must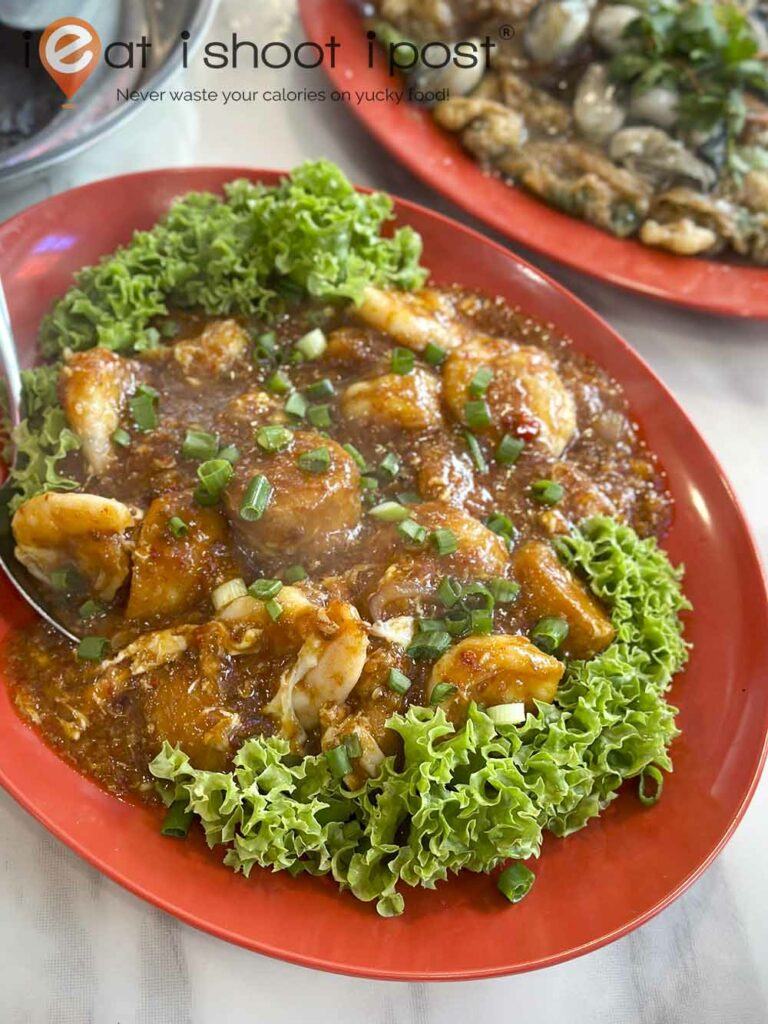 I don't usually order this style of tofu prawns when I am having Fish Head Steamboat but my makan kakis say that it is their usual accompanying dish. The chili sauce is reminiscent of chili crabs. I still prefer my prawn and tofu with the usual gingery oyster sauce. I felt the chili sauce didn't quite blend so well with the tofu and prawns. 3.5/5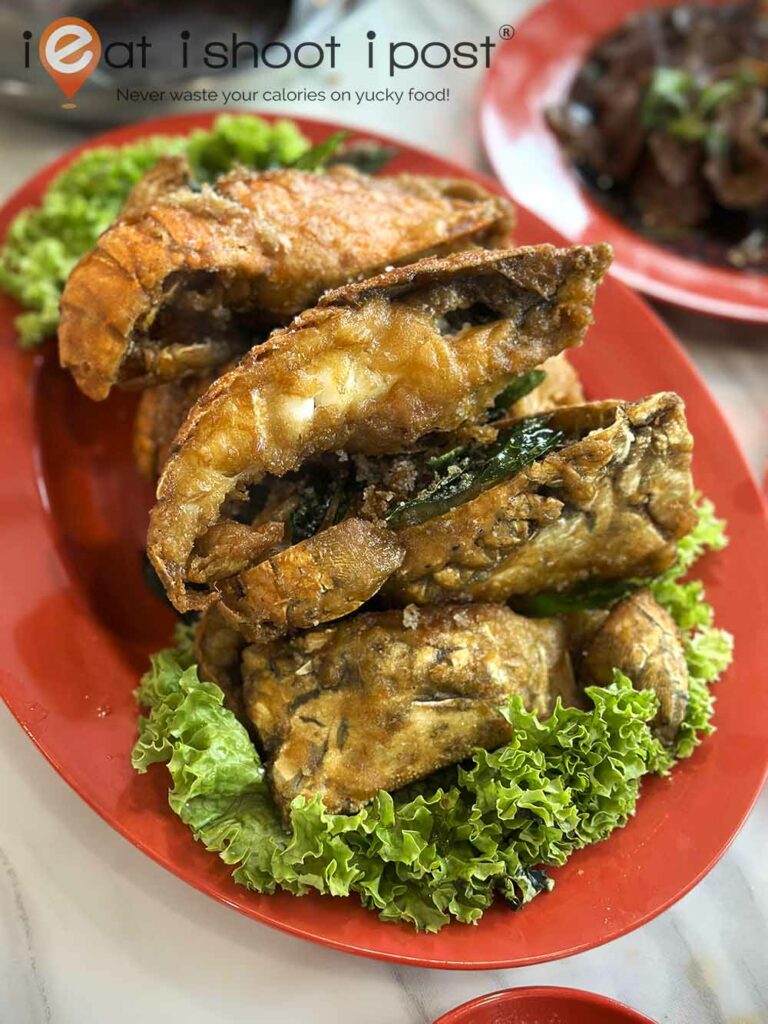 The crayfish itself is quite meaty. Sometimes when you eat crayfish, the amount of meat that you actually get is quite small, like the size of your thumb. But, the crayfish here is substantial and you get quite a good amount of meat in it. The butter sauce only coated the surface and it was a little dry so you don't get enough of it to go along with the meat. They need to give it more sauce, I feel. 3.75/5
Conclusion
Good place for your next Fish Head Steamboat meal if you are in the North East Area. It is good to see the 4th generation owners taking over this 96-year-old establishment! The accessible parking and comfortable setting will certainly be a draw for some!