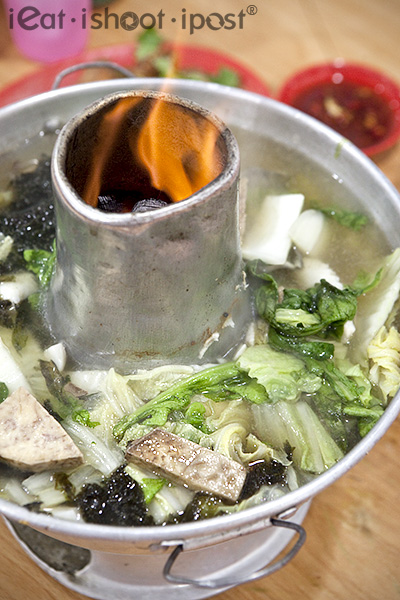 Pomfret Steamboat
In my last post on Fish Head Steamboat, I alluded to the fact that Nan Hwa Chong is probably the earliest Fishhead Steamboat that is still in operation. The boss here tells me that it was his paternal grandfather who started selling Fish Head Steamboat way back in 1927 in merchant road. I asked him if it was his grandfather who invented this particular dish as some have postulated. But he said that he suspects that the dish was something that his grandfather brought over from Swatow. However, he did mention that fish soup that is served in a steamboat was not widely available the last time he visited Swatow, although fish soup certainly is. So the question of whether Fishhead Steamboat is a uniquely Singaporean dish is still debatable.
Nowadays the fish commonly used for Fishhead Steamboat is usually pomfret or garoupa. But in the old days, the favourite fish was the Song Fish (Asian Carp) and specifically, the head of the Song Fish. Hence the name 鱼头炉 (Fish head soup). It makes sense to use Song Fish Head as the head is quite big, but there is no way you can use pomfret for Fish Head soup. Its head is simply too small. The great thing about Song Fish head is that it has all the mushy, fiddly bits that are nice to nibble on, but being a fresh water fish, it can taste a little muddy at times. The old people love it, but the young nowadays prefer to eat fish meat, which is why pomfret and grouper is more popular nowadays.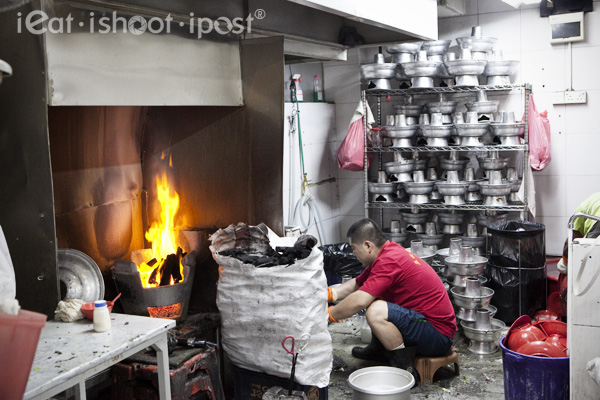 The crowd at Nam Wah Chang is amazing, so if you go on a weekend, you have to be prepared to wait almost an hour before your steamboat arrives. Calling itself a Steamboat "corner" is a massive understatement. The "little corner" has expanded to another shop space a few doors down and their steamboats line the back alleys and the roadsides. The boss tells me that very soon, they will have dining on the 2nd storey as well. I reckon they should just call themselves Fishhead Steamboat Central instead.
The fish soup here is your classic Teochew fishsoup without the addition of milk like what they do at Whampoa Keng. So the sweetness comes from the fresh fish which they have been sourcing from the same supplier for the last 30 years. I was told that the supplier himself is a third gen owner as well! The umami kick comes from some serious Ti Poh (fried Sole fish) which made the soup wonderfully savoury. Overall the soup is very cheng and tastes very much like an upgraded version of the fish soup that doesn't get served in a steamboat. Rockett girl gives it her two thumbs up. I prefer the Whampoa Keng version which might not be the classic recipe but the milk gives it some body. In the end, I guess it all boils down (pun intended) to individual preference. 4.25/5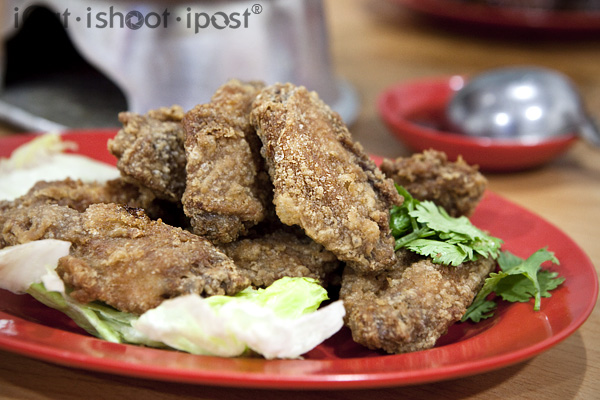 Har Cheong Gai seems to be a popular accompaniment to Fish Soup, whether it is Fishhead Steamboat or XO Fishhead Bee Hoon. Most Har Cheong Gai that I have come across has been quite good as long as it is freshly fried. Unfortunately I can recommend the Har Cheong Gai at Nam Wah Chang as it was really lack lustre. The chicken wasn't plump and full of juices when it arrived and the flavour was lacking. 3/5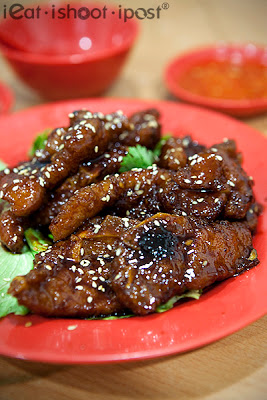 What I can recommend is the Jing Du Pork Ribs. A lot of places tend to over tenderize their pork but over here it is just nice and the sauce reminded me of the Jing Du Pork Ribs that I ate when I was a kid at the now defunct Tai Seng Restaurant along Upper East Coast Road. 4.25/5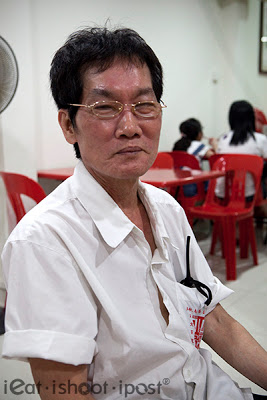 Now there are a few Nam Wah Chang restaurants around and it may get quite confusing. As far as the owner, Ah Chew, is concerned, his is the only original Nam Wah Chang which can trace its roots back to 1927. There is another Nam Wah Chang over at Teck Chye Terrace which is run by his ex-wife. Then there is a Nam Wah Chiang diagonally across the road from where he is. That one is run by a friend (ex-friend really) of his who took over his previous shop space and did not bother to change the name of the restaurant when Ah Chew moved out.
Conclusion

Classic Teochew style fish soup with plenty of ooomph. The only problem is the waiting times over the weekends can be almost an hour.