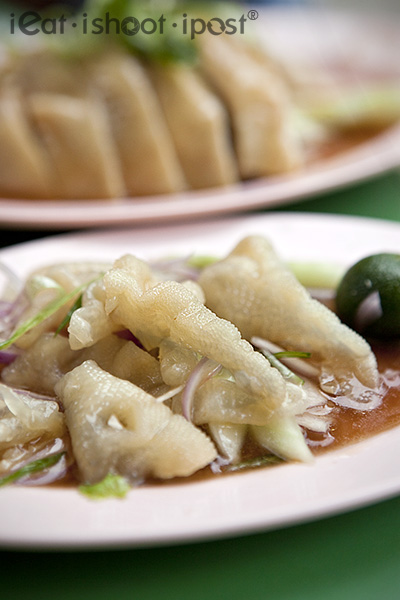 Actually Singaporeans are pretty tame when it comes to food. I was asked about what type of food would be most interesting to feature on Andrew Zimmerman's Bizarre foods when he came to Singapore and could only suggest things like Soup Tulang, Frog Porridge and chicken feet. It is nothing compared to the wierd and wonderful things that people eat around the world. Things like live monkey brains and tarantulas and live cobra hearts.
But I guess if you wanted to pick a dish that would gross your Ang Moh friends out in Singapore, chicken feet might be a good bet. Although nowadays, I know many Ang Mohs who have already been exposed to this, so it isn't really a fear factor anymore.
Actually chicken feet should rank up there with trotters as an anti aging food. They are full of collagen which is great for keeping your skin nice and taut. It is more about texture then taste as chicken feet are pretty much tasteless and will take on whatever sauce you cook it in.
The kakis loved the chicken feet at the stall. They are nice and crunchy and sauce is excellent. So if you after some low calorie snack which keeps you young at the same time, here is one place to find it. Not to mention that it is really cheap too. 4.25/5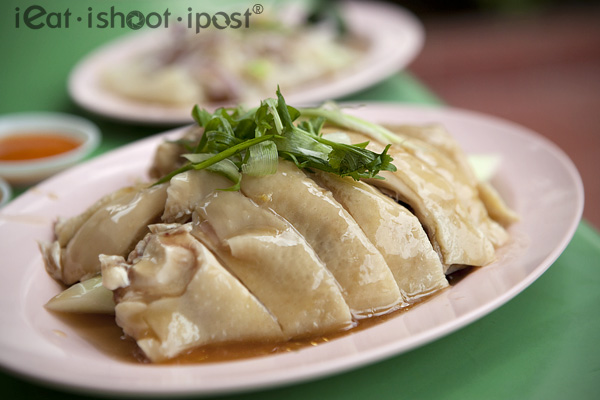 Tian Shui Chicken Rice used to be located at the corner coffeeshop and has recently moved to the adjacent food centre. So long time fans of this stall might be a little confused if you have tried to visit them in the last few months. Someone else has taken over the stall in the corner coffeeshop which continues to attract quite a large following. But it was Tian Shui which Damien was recommending. It is one of the few chicken rice stalls that I know of which also sells Yong Tau Foo soup and sure enough the pot of soup was found in the stall.
The chicken here is really outstanding and it has been sometime since I found a chicken, chilli and oyster sauce combination that could rival the one at Yi Bao (not sure if they are still there). The chicken is perfectly tender and lively and is perfectly complemented by the flavoursome oyster sauce. The chilli is bright and citrussy, it has a spicy kick which is not prolonged such that you don't go away with a mouthful of heat. This is the best chicken and chilli I have tasted for some time. 4.5/5
Unfortunately, the fairy tale ends with the rice. It's dry and although it has the flavour of the chicken broth, it is doesn't stand out at all. This is a shame because if the rice was also good, they would have scored the trifecta in the race for chicken rice glory. 3.5/5
Conclusion
Great place to satisfy your craving for good chicken and chilli with crunchy chicken feet as an added bonus. It's really too bad that the rice was a let down, but it is good for those who are weight conscious.