With ieatfamily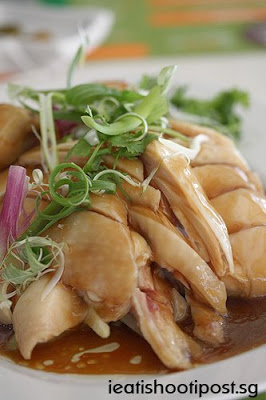 Half Chicken $12
This is my 20th post on White Chicken so I think I have some credence to say that after all the dust has settled, there is one White Chicken in Singapore which in my opinion still stands out as the one in which I would travel halfway around the island just to eat. And the funny thing is that a lot of people might not agree with me and I can't understand why.
Thus, I again crown Yi Bao's (Formerly Yee Cheong Yuen) White Chicken as Singapore's most underated White Chicken. Perhaps the trouble is that people don't really come for the chicken rice but for the Ipoh Hor Fun and so the White Chicken suffers from an identity crisis.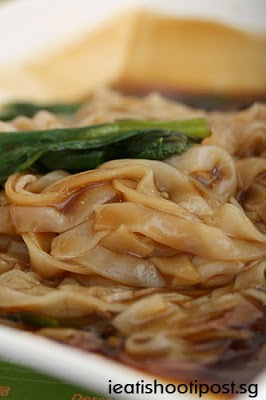 Looking at the way Yi Bao has redefined itself, I would surmise that expansion plans might be underway to replicate a few more of this Malaysian food joint across Singapore. Aside from changing to a name that identifies with one of Malaysia's most famous region for good food, they have also begun to print placemats with their menu on it, very much like Crystal Jade's. If this does not herald an Invasion, what does?
Forget the Indians (Mr Tea), HongKongers (Hong Kong Cafes) and the Philippinos (Hotshot Burgers), we are being invaded by our closest neighbours, the Malaysians! You might also know of the White Coffee chain which has just started their first stall at Big Splash, selling Black "White" Kopi and Ipoh style food as well. Make no mistakes, the Malaysians are coming!
And I am actually looking forward to it!
Everyone knows that food in JB and Petaling Jaya are quite shiok. So it is about time some Malaysian entrepreneur start a chain of good Malaysian food eateries in Singapore so that I don't have to travel all the way to Petaling St for a nice plate of KL Hokkien mee or JB for Ayam Ding Ding! Comon' where the heck are you guys and what's holding you back?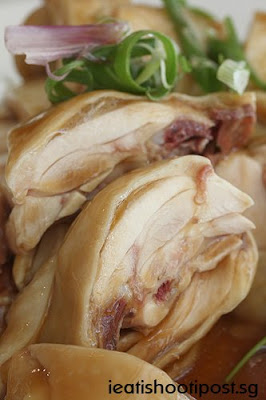 I have been eating the Chicken here since Youth Fellowship days at St James Church. I remember at the time that the "Wak Kai Ma Tai Min" (XL Chicken Noodles) was my number one dish which I look forward to eating every Sunday. Thankfully, the chicken today is still as yummy as it was then and I can actually afford to buy half a chicken to enjoy rather than to slowly appreciate my $2.50 portion as a student with limited pocket money.
OK, the purists would cringe to see all that Oyster sauce on the chicken, but I love it. The texture of the chicken here is the best around. The skin is crunchy and they always have that wonderful layer of subcutaneous (under the skin) gelatine what is so wonderfully slurpy. The meat has just the right amount of tenderness and is so savoury the it makes me wonder if they soak the chicken in brine before cooking. Anyway, it is my all time favourite white chicken and I am giving it 4.6/5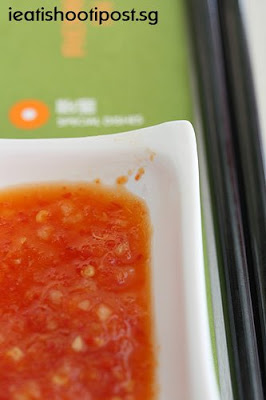 Then finally there is the chilli which goes so well with the chicken. This is the only one chilli that I actually enjoy. It's got just the right balance of sour and sweet and it's not overly spicy so it might not appeal to everyone.
Conclusion
Best tasting white chicken in my books, but the chicken rice purists might vehemently disagree. OK lah, taste is subjective and blah blah blah. Still, it remains my number one place for Wak Gai Hor Fun and the kids love it too.

Link to previous post here