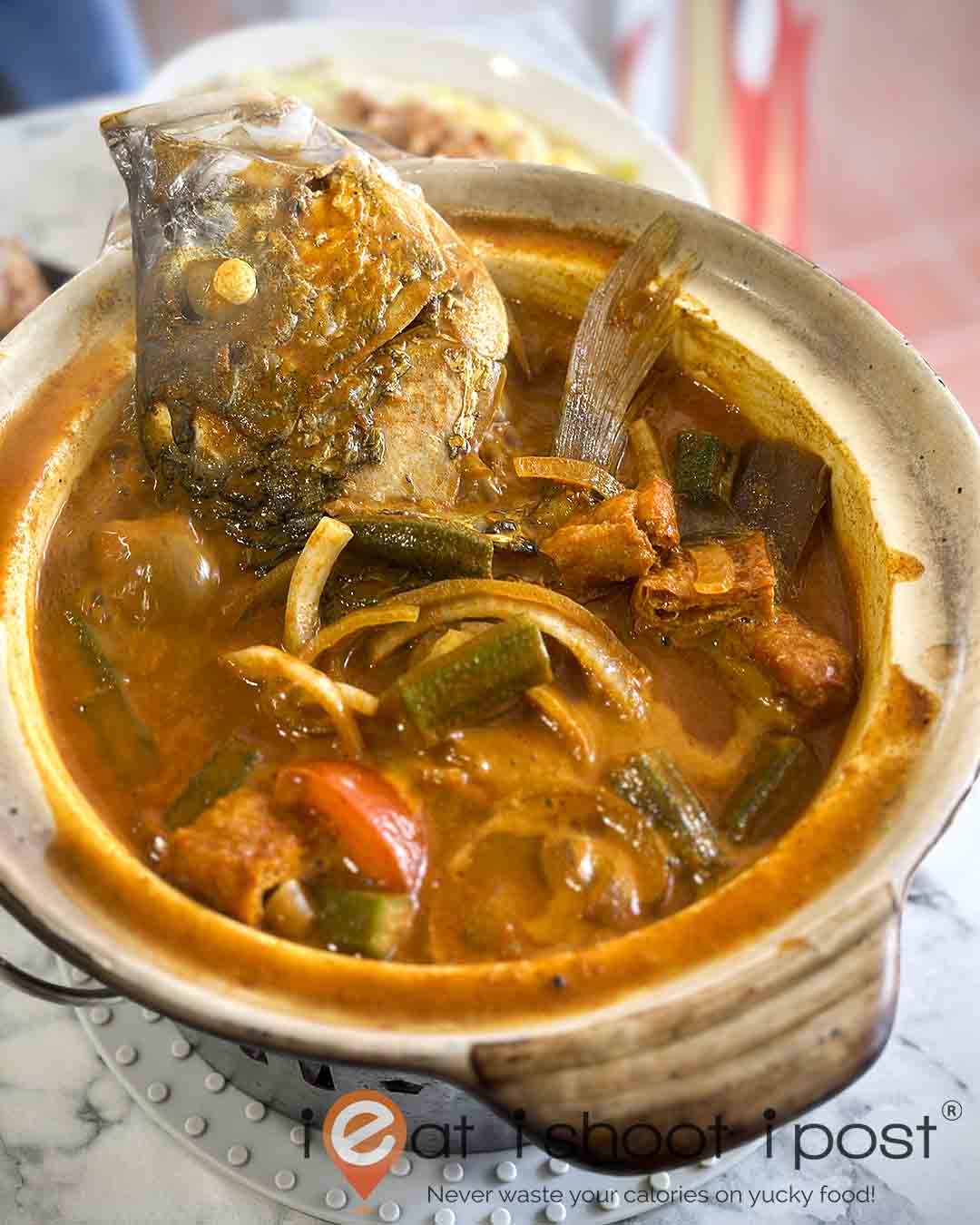 Restaurants like Curry & Curry is best described as a "Singaporean Family Kitchen".
"What exactly is a Singaporean Family Kitchen?" I hear you ask.
Well, I just coined the phrase to describe this little heartland eatery in Kovan which serves what a typical Chinese family might eat on a regular basis. I have come across some reviews that describe them as a "Zi Char" but that doesn't really capture the essence of the place. They certainly have a few popular Zi Char dishes, but when you eat there, it feels more like you are eating at someone's house, rather than a coffee shop.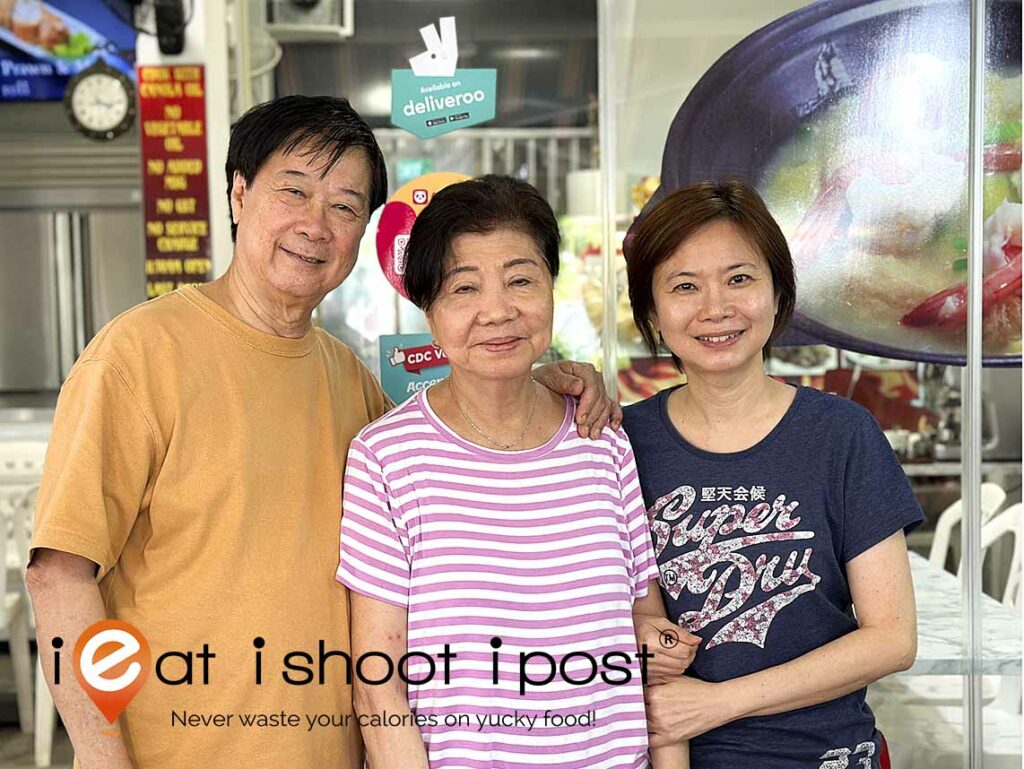 The restaurant is run by 76-year-old Mr. Francis Lee, his wife and daughter, and has been opened for more than a decade. Francis was in the textile business and had spent most of his working life overseas. When he retired and returned to Singapore, he got bored and decided to turn his HDB shophouse into a restaurant where he can serve different types of curry dishes – hence the name Curry & Curry. That was the initial plan, but over the years many of the curry dishes were replaced by other non-curry dishes that reflect what Francis likes to cook at home.
The other thing that makes this eatery a "home kitchen" is the fact that Francis still visits Jurong Fishery Port daily to buy fish and seafood himself just like how grandpa would have done if you went over for a meal. Even the prawns for the hae zhor and crispy prawn cakes are made from fresh prawns which are painstakingly peeled and chopped.
Another notable aspect is their "3 No" policy. No MSG, No GST, and No Service Charge, which would be very attractive to many of our readers, I am sure!
Let's get down to the food.
Must Try Dishes
Fish Head Curry
The Fish Head Curry is one of their signature items and most people come just for it. It is a cross between Indian and Peranakan fish head curry and it's tangy and not overly rich. Francis uses "Golden Snapper" aka Ang Sai for the dish. Unlike Ang Goi which is widely farmed, Ang Sai is still wild-caught. (Refer to my Fish Files for more details). It's not the most addictive that we have come across but very competent and should appeal to those who are looking for Assam-style curry. 4/5
House made Otah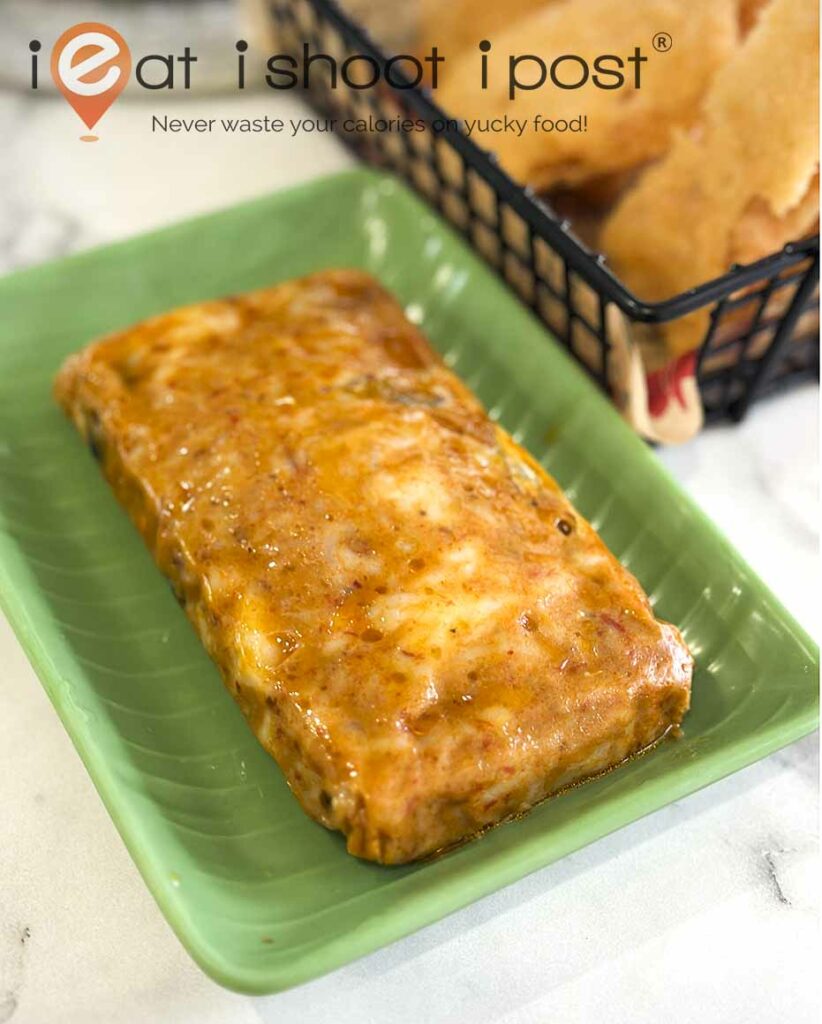 Their house-made otah is very good. Unfortunately, by making it in the shape of a typical "Muar Otah", many internet articles have mistaken it for a factory-made product. They use generous pieces of fresh fish and the house-made rempah gives it a lovely aroma. 4.5/5
Omelettes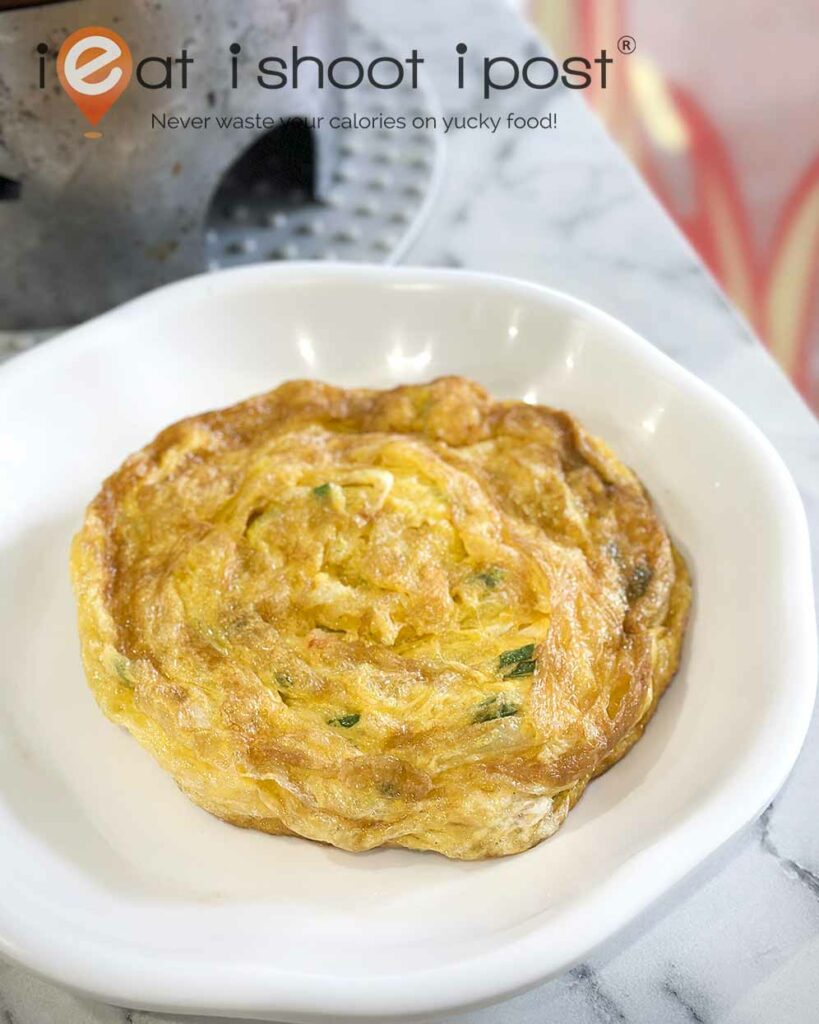 The omelettes here are excellent. They really know how to fry the eggs such that they are fluffy on the inside and nicely golden brown on the outside! An omelette may be a simple dish but when it is done well, it can be quite heavenly! We had the Fu Yong Omelette. We were alerted only later to their crab omelette that is made from crab meat which they deshell themselves! Definitely worth a try next time. 4.25/5
Cabbage and Egg with dried scallop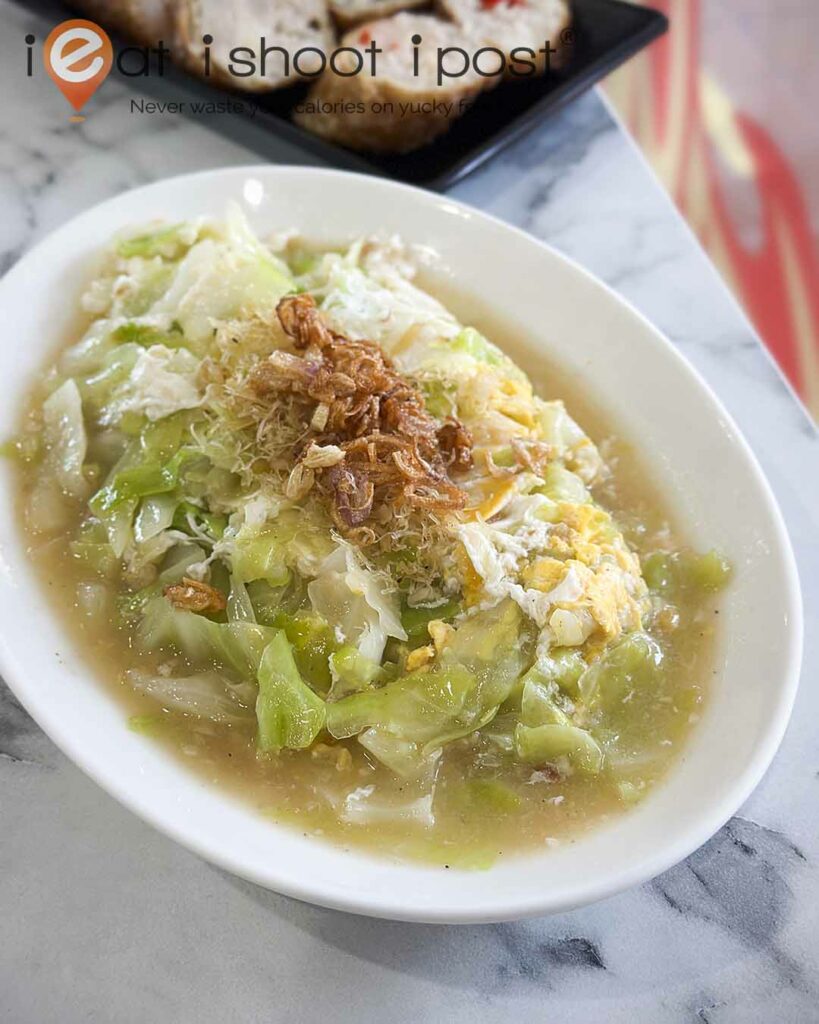 The cabbage is a good example of why I call this restaurant a Singaporean Family Kitchen. This dish is something that has been served at the Lee household which they had added to the menu. It's basically cabbage fried with egg and topped with shredded dried scallops. It is the kind of food you might get served when you visit Grandpa's house. 4.25/5
Can Try Dishes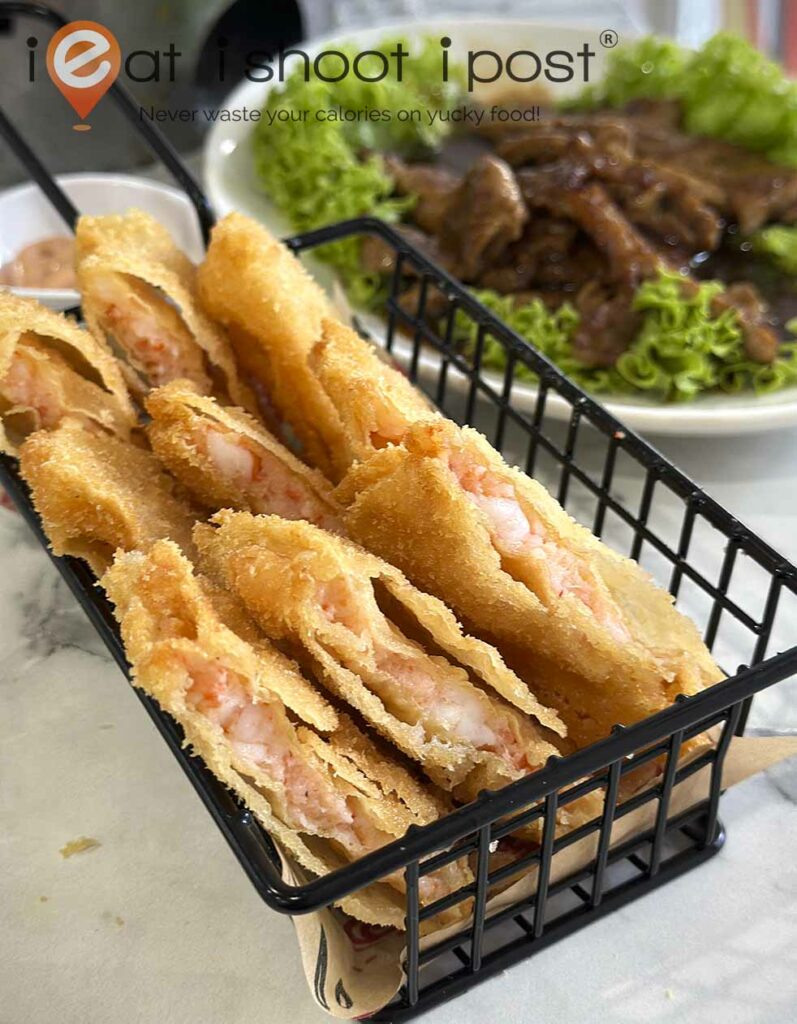 Crispy prawn cakes are a new addition to the menu. Francis uses fresh prawns from the market for the filling which is very commendable. However, we felt the crust was a little too thick. As such, you can't really appreciate the flavor of the prawns. 4/5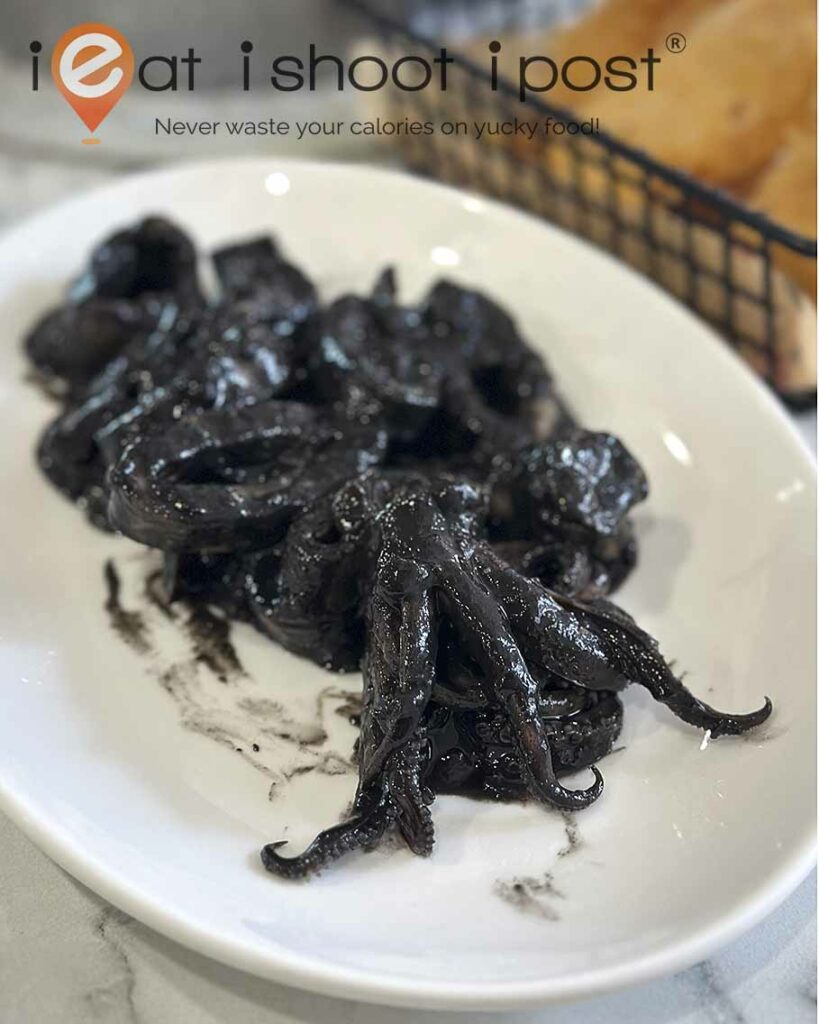 If you have a preference for savoring the authentic taste of fresh produce, you should order the Black Ink Sotong. This dish features tender squid cooked in its very own ink. In contrast to the classic Malay rendition of Sotong Masak Hitam which incorporates an array of herbs and spices to the dish, this version remains wonderfully uncomplicated, allowing you to relish the squid's natural flavor. They actually buy fresh squid from the market and harvest the ink to cook the dish! 4/5
Try if you must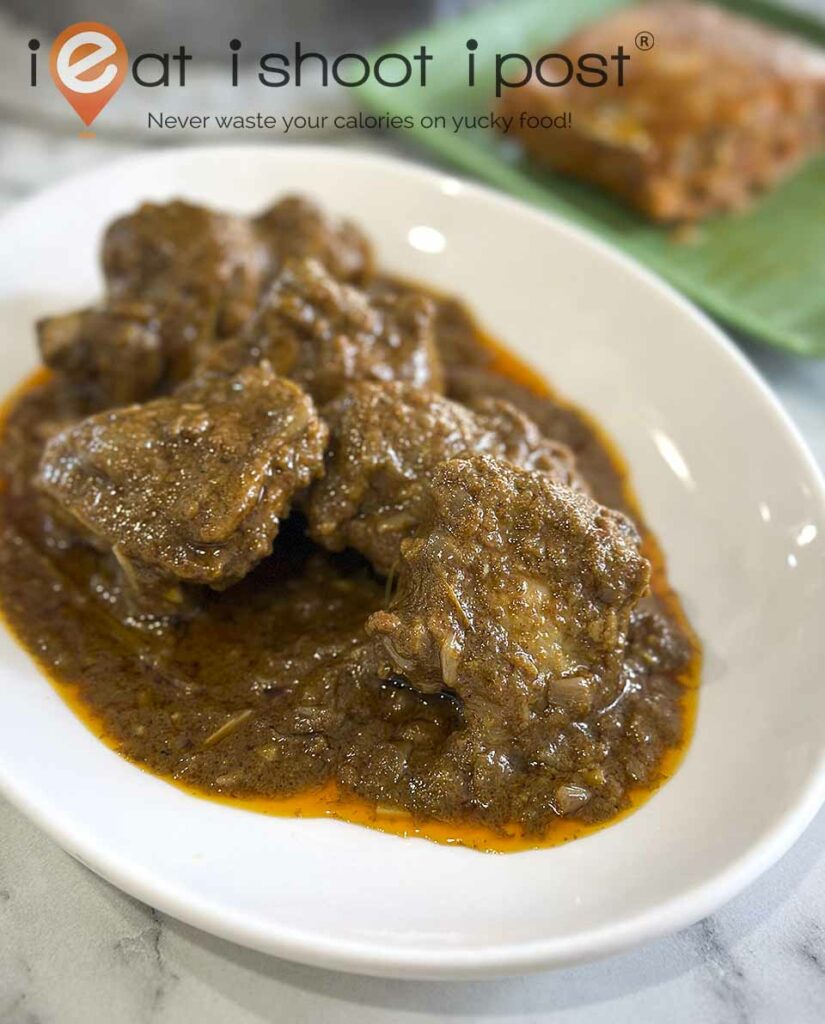 The chicken rendang was nice but it lacked the floral aroma of turmeric and lime leaves. It's still a good dish to eat with rice, but just not outstanding. 3.5/5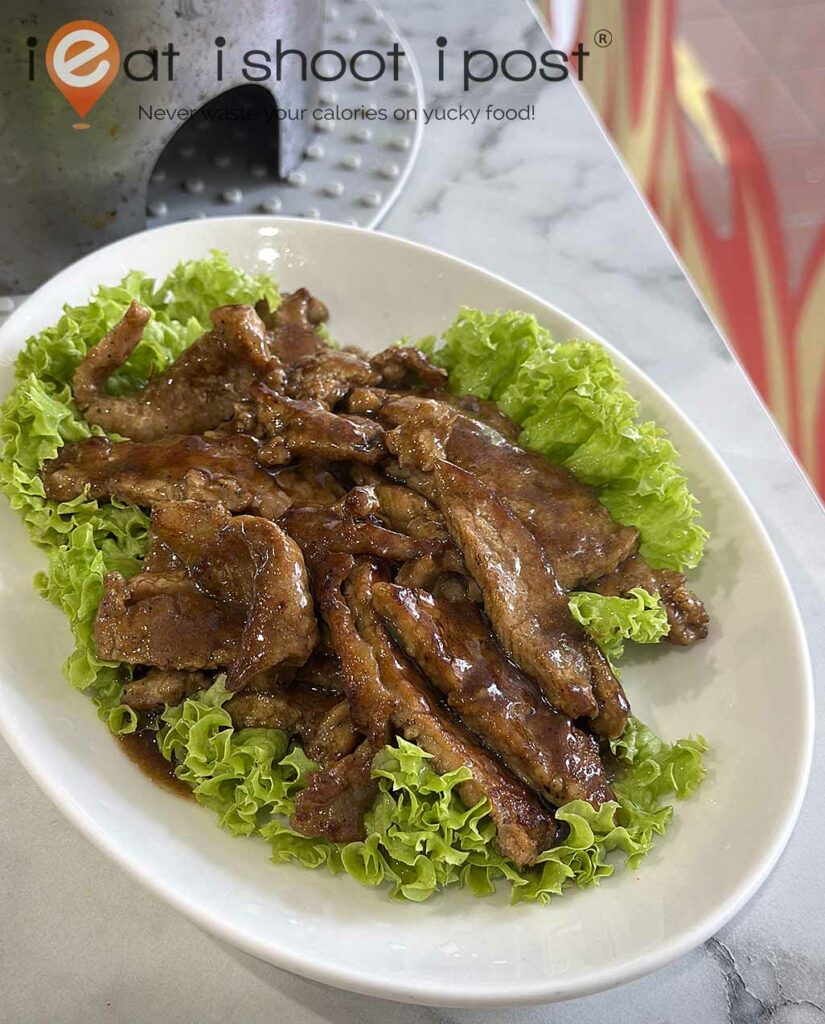 The sliced pork with wine sauce was a little underwhelming. We were told this was a very popular dish at the restaurant, so our expectations were high. The pork was nice and tender, but the sauce just didn't quite do it for us. 3.5/5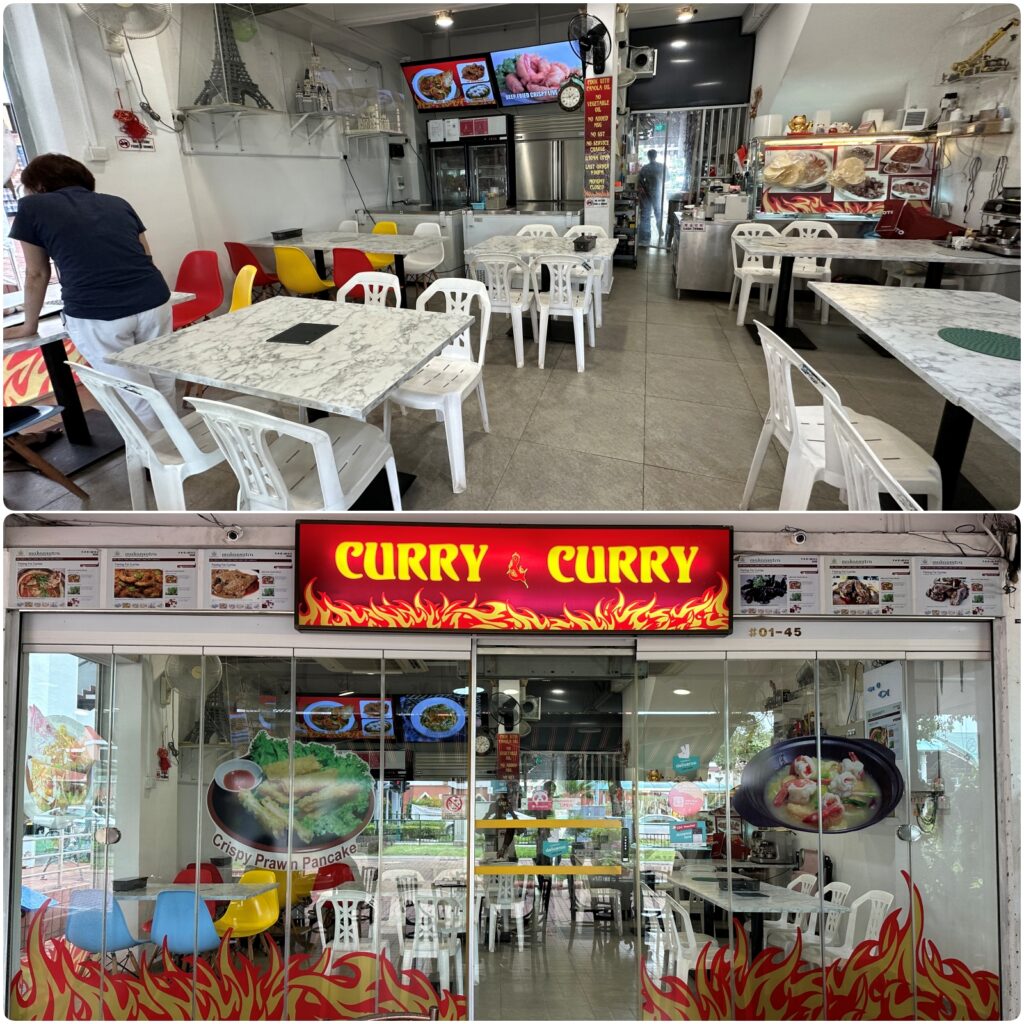 Conclusion
If you live around the Kovan area, this little family eatery could well be one of those regular places to go for a family meal that feels as if you are eating at Grandpa's. The seafood is procured from the market daily and they don't use MSG in the kitchen. There's also no additional service charge or GST!
Disclosure
This was a media tasting. That means that the meal was hosted but there was no obligation to write a review.