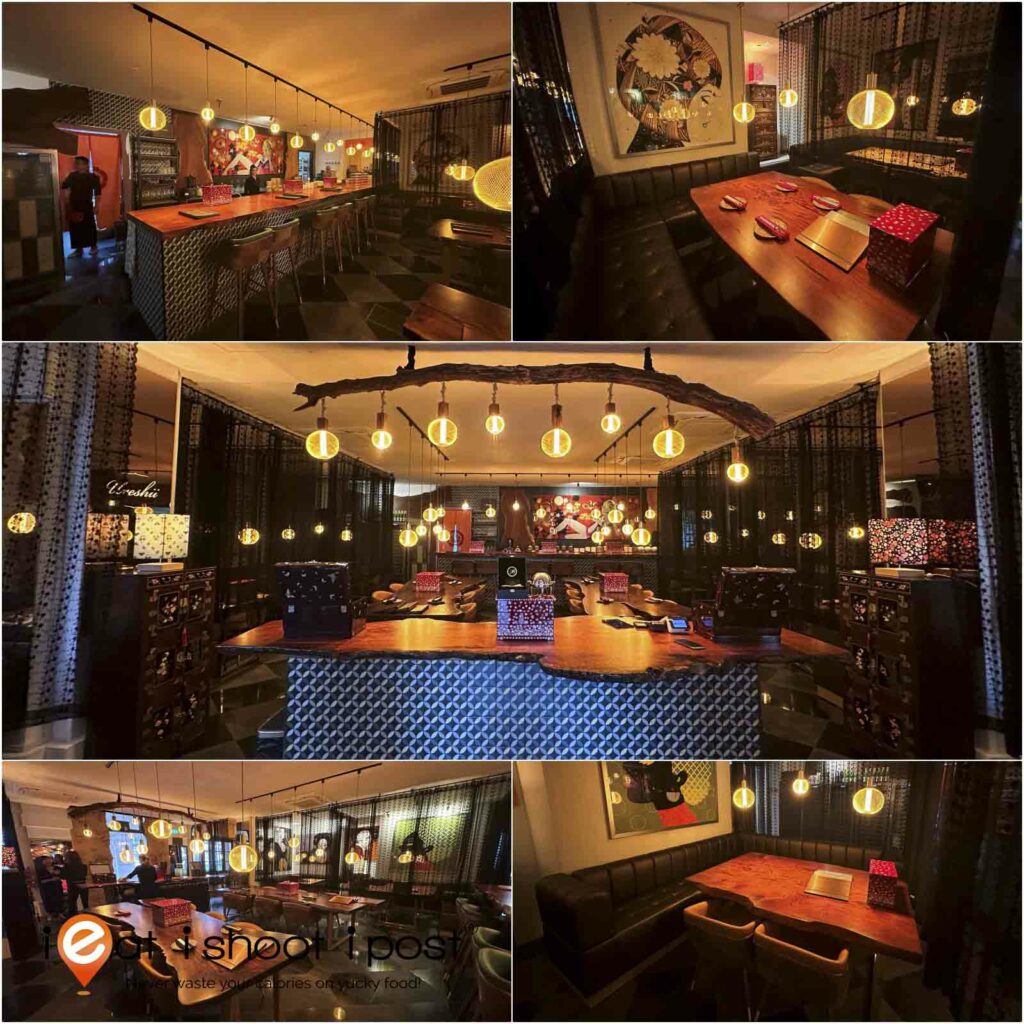 Remember Chef Jung, the self-taught chef, ex-gym owner, and mild-mannered Korean hunk who opened Tanoshii Restaurant in Dec 2018. Well, if you have been to the restaurant and enjoyed his Korean take on Japanese food, then you'd be elated that he has just opened his second restaurant, Ureshii.
Ureshii, which means "Happy" in Japanese, serves Chef Jung's brand of Korean-Japanese fusion dishes in a more casual setting. Located at the Old Parliament House, the Arts house is possibly Singapore's oldest building. Its location overlooking the Padang is a lovely place to enjoy some lovely food.
We have always been profoundly impressed by Chef Jung's unwavering passion for quality. It is evident in every aspect of his restaurant – from the ingredients he carefully selects to the exquisite furnishings adorning the place. Upon stepping into Ureshii, one immediately notices the captivating solid wood tabletops, specially imported all the way from Japan. This was the similar sense of amazement that struck us when we first visited Tanoshii. We couldn't help but wonder how such significant investments in furnishings could be financially viable. However, Chef Jung's philosophy remains consistent for both the ambiance and the food. He just values quality above all else.
Starters, Salads and Sashimi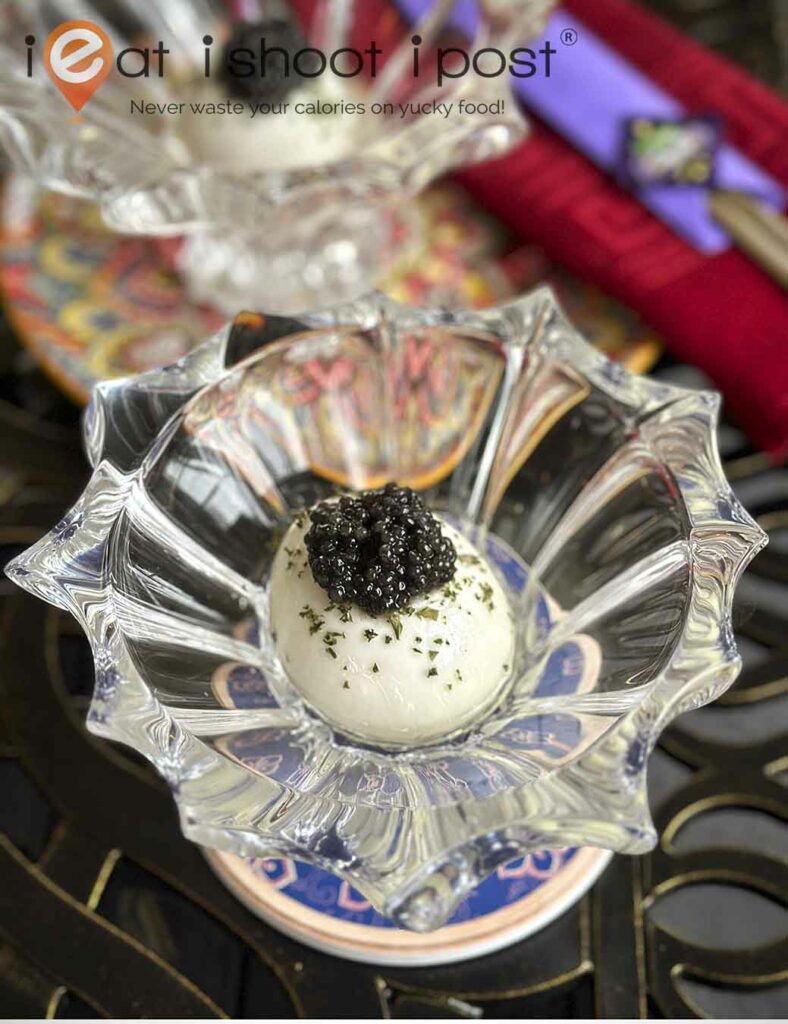 Similar to Tanoshii, Ureshii offers a fusion of Korean and Japanese cuisine, complemented by occasional modern European influences.
A perfect illustration of Chef Jung's commitment to premium ingredients is our opening dish: the Onsen egg with truffle oil and Beluga Caviar. While it may seem simple to prepare, the key lies in the pursuit of exceptional components.
To create this dish, a Japanese egg is precisely sous-vide at 65°C, then delicately adorned with a drizzle of truffle oil and crowned with the finest Beluga Caviar. The real trick, according to Chef Jung, lies in sourcing the caviar. He personally imports Russian Caviar to ensure unrivaled quality while keeping it accessible to his patrons at a reasonable price.
Needless to say, the combination of egg, truffle, and caviar is a harmonious symphony of flavors. My suggestion is not to mix everything together but to enjoy the intensity of the caviar with just a portion of the egg first!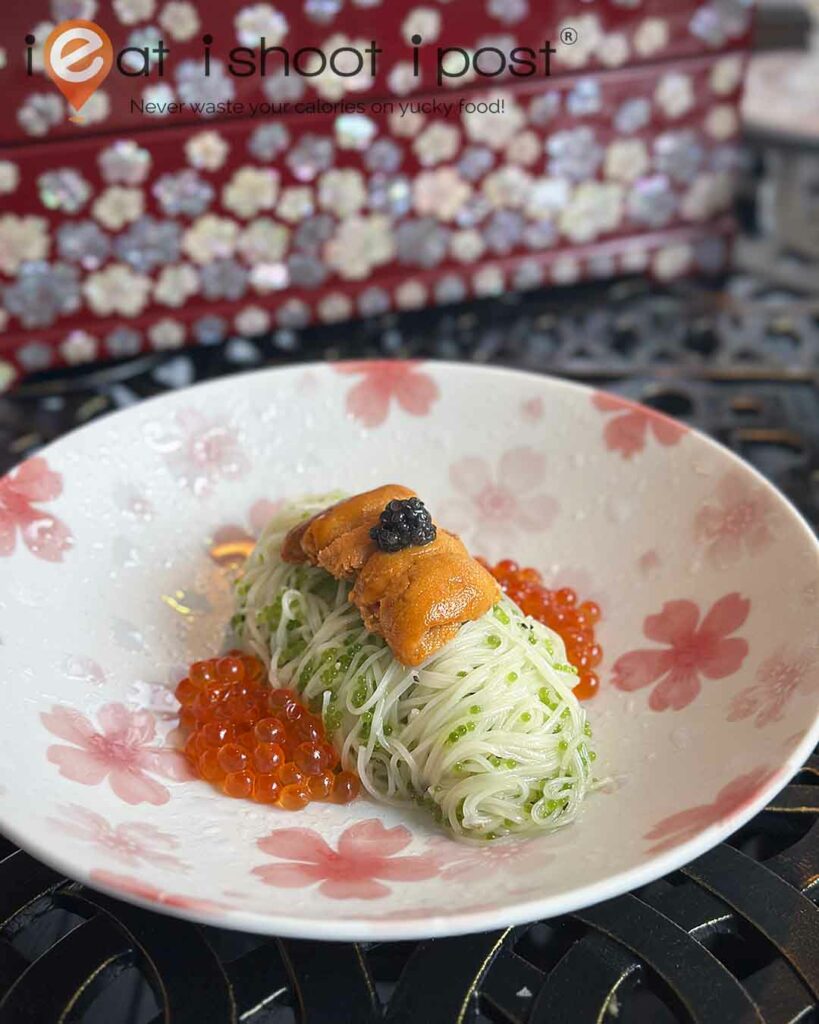 The Cold Truffle Noodle is a popular dish that is brought over from Tanoshii. It's basically cold somen noodles with ikura, uni, caviar and wasabi tobiko. Sounds simple, but Chef Jung has a secret sauce that brings everything together in perfect harmony! No wonder this dish has captured the hearts of so many delighted diners!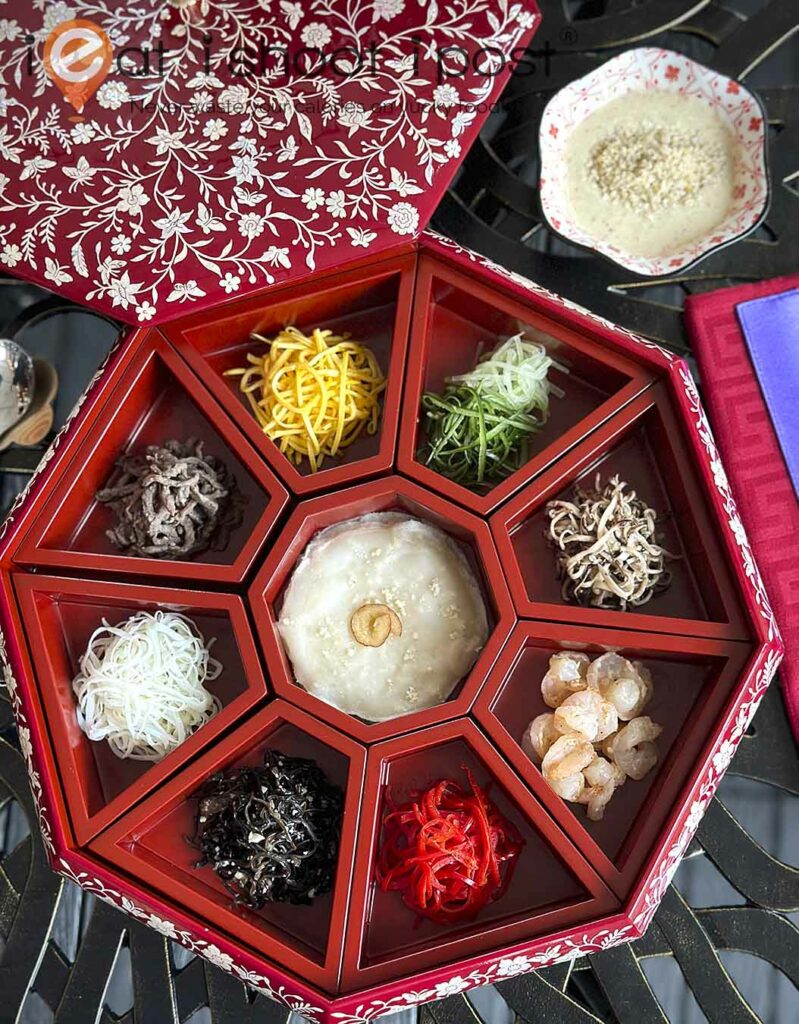 Renowned for its beauty and vibrancy, gujeolpan stands as one of the most captivating centerpiece dishes in Korean cuisine. Its rich history traces back as far as the 14th century and holds a significant association with the Joseon royalty. The platter comprises nine meticulously divided sections. Each section is filled with assorted meats and vegetables which are meticulously sliced and presented.
Chef Jung has had a fascination with this dish and used to serve it at Tanoshii. However, as the restaurant got busier, he had to take it off the menu due to the sheer amount of prep time needed. The octagonal box which is handmade in Korea, features inlaid mother-of-pearl patterns and costs $1K each! A feast for the eyes and a conversation starter for sure.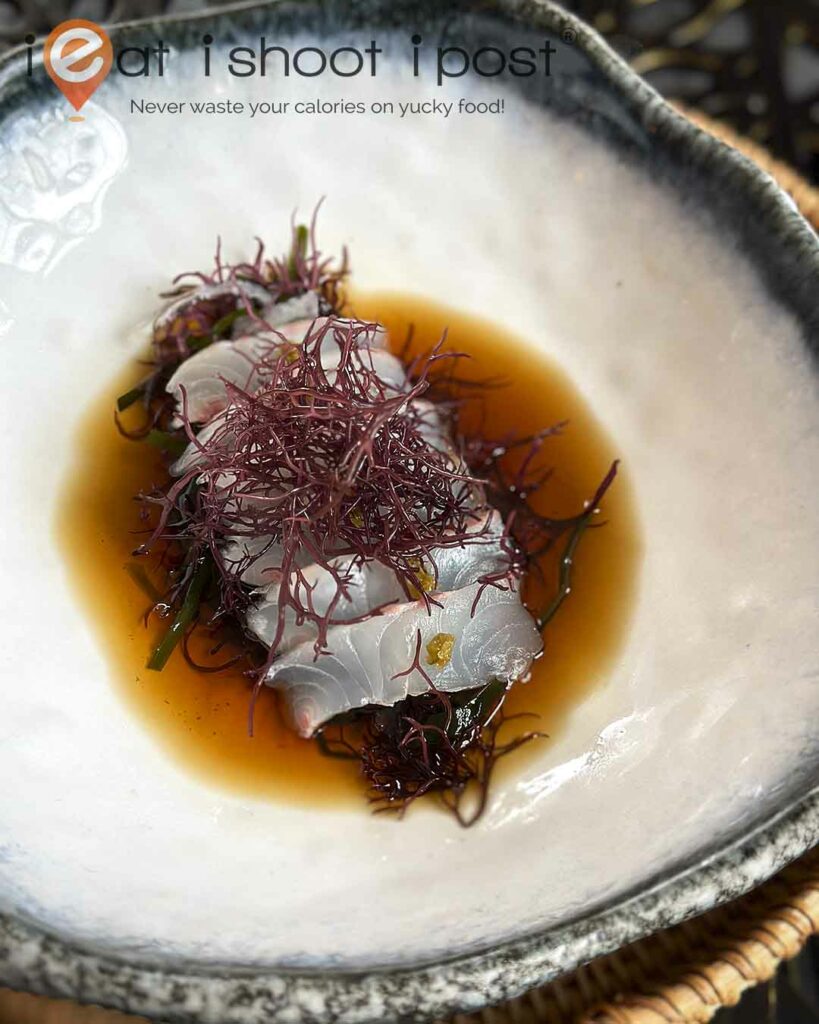 Chef's sashimi dish marries seven types of seaweed from Jeju island with a very rare fish called ishidai (striped beakfish), which is currently in season. This fish eats uni and abalone and the flesh is very crunchy and flavourful. The price of the dish might raise some eyebrows, but this isn't a fish that you are going to come across easily even in Japan. The ponzu sauce is excellent and the seaweed also adds extra crunch to the dish.
Gorgeously Grilled Garlbi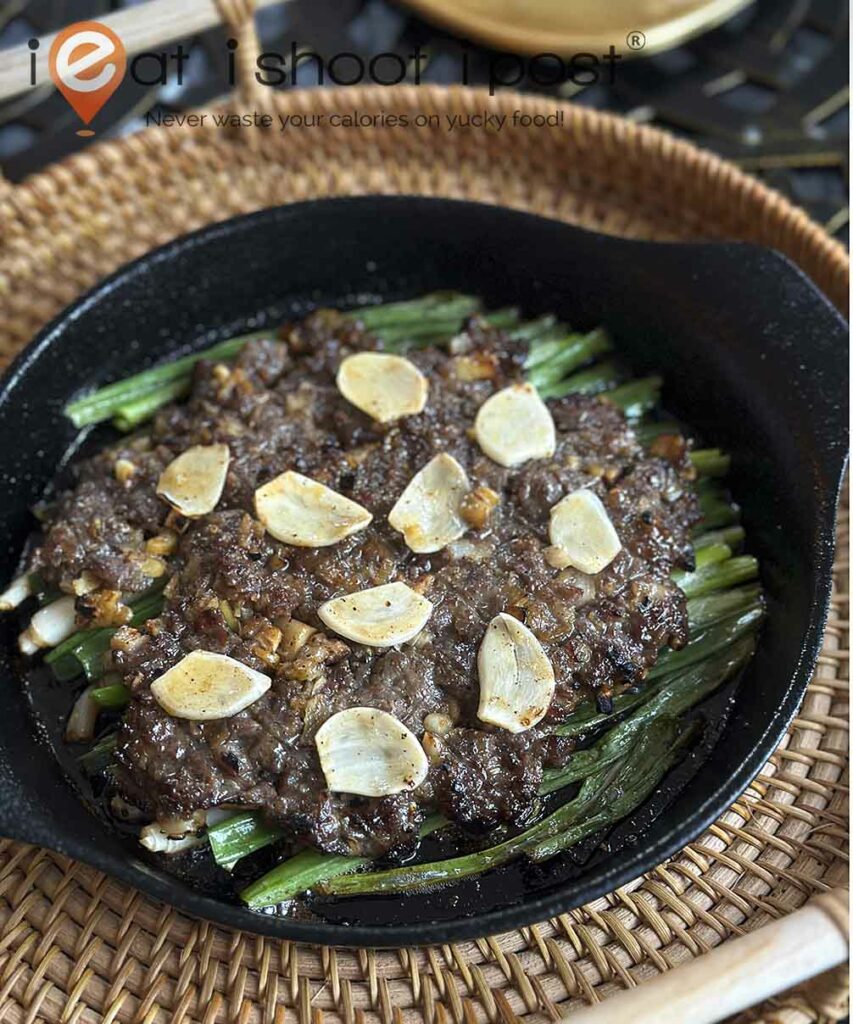 This dish has truly inspired me to want to recreate it in my own kitchen! In Korean, "DDjieok" refers to rice cake, and "Garlbi" to short ribs. Essentially, it's a beef patty made from short ribs. Legend has it that this special dish was initially created for a king. He felt it inappropriate to pick up beef ribs with his fingers and gnaw at them. To address this, the resourceful royal chefs ingeniously chopped up the beef while keeping the bone attached. That way, he could easily pick it up with chopsticks!
At Ureshii, they craft this delectable dish by chopping up top-notch US Prime short rib. It is then marinated and combined with chopped nuts before being seared and served on a bed of charred spring onions. Just writing about it makes my mouth water!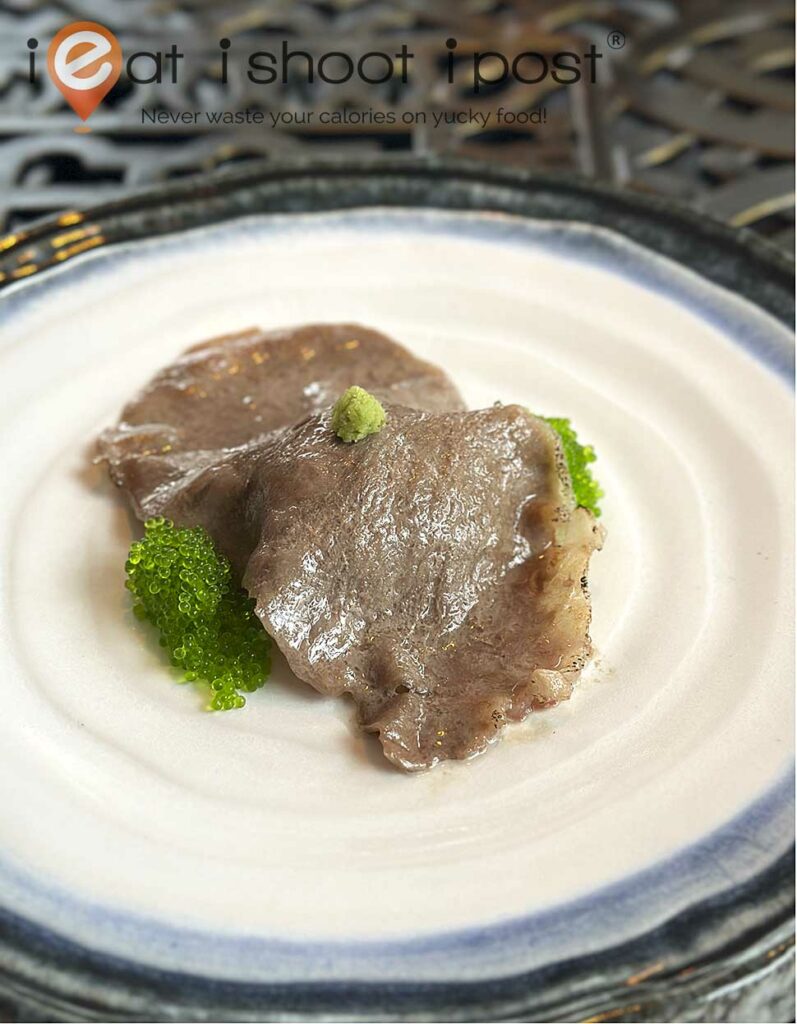 The wagyu sushi is a mouthful of pure joy. A5 Japanese wagyu is lightly seared and draped over a nugget of sushi rice with wasabi tobiko at the side. My only complaint is that the tobiko really is only for show. It is impossible to shovel all it and pop the whole thing into your mouth! Plus, it really is too big for one mouthful (though I managed in the video). And if you take two bites, it gets really messy!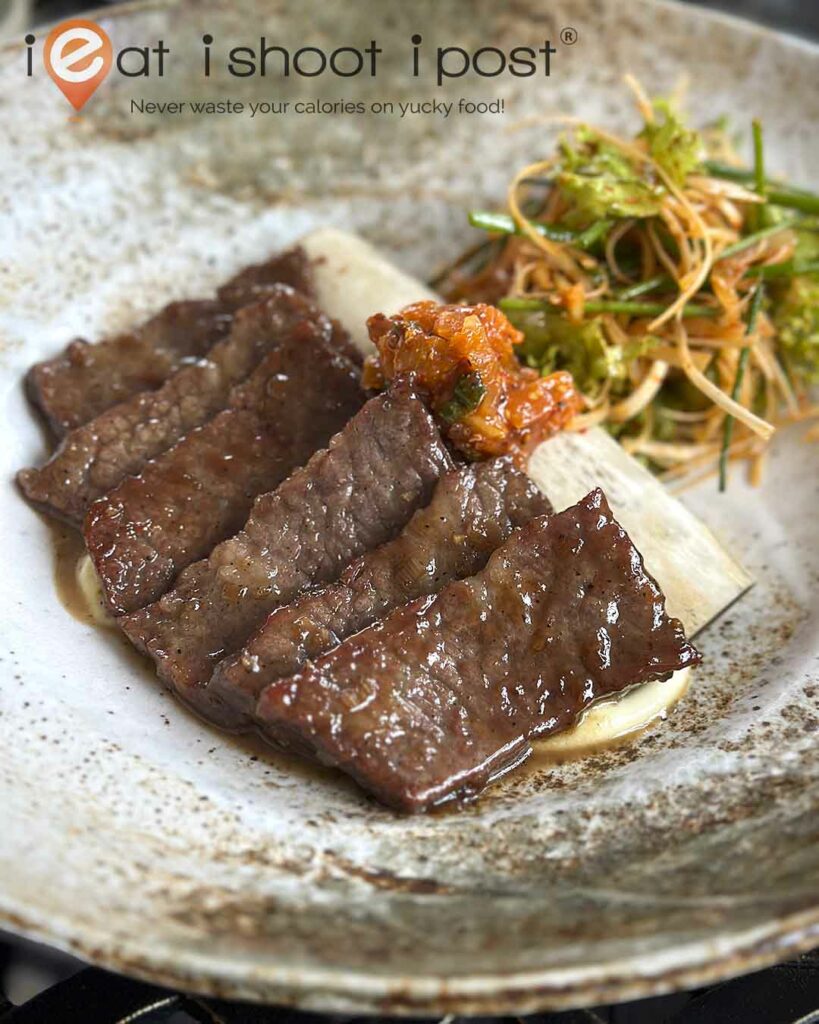 If I were to pick an all-time favourite Korean dish, it would have to be charcoal-grilled marinated Garlbi. When it comes to yakiniku cuts, the Garlbi, taken from the shortribs, is king! The meat is nicely marbled, a bouncy bite and the beefy flavors are slowly released as you chew. At Ureshii, they age the beef for 2 weeks and apply the marinate just before it is pan seared on a special Korean cast iron pan. Chef Jung serves the tasty slivers of beef on a bed of creamy pommes puree, accompanied by kimchi bokkem (fried kimchi) and Korean spring onion salad.
Monkfish Kaarage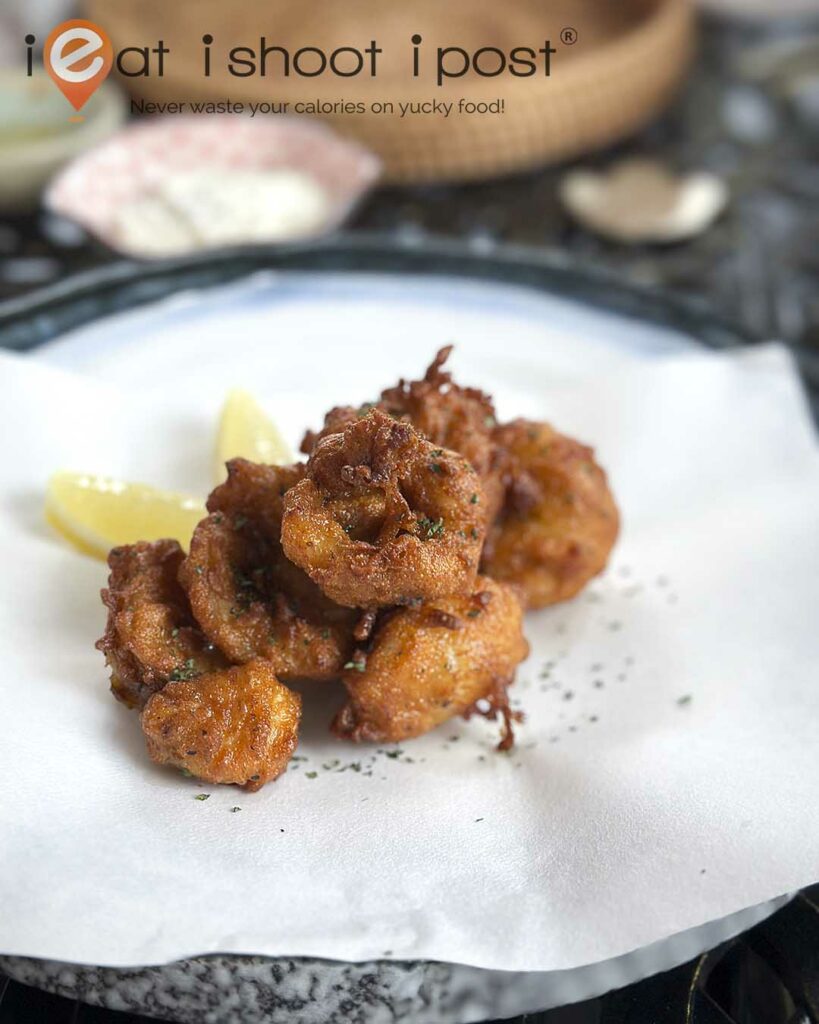 If you're in the mood for a delightful deep-fried dish, the Monkfish Karaage is an excellent option. The Monkfish offers a distinct texture—firm yet slightly squeaky—which adds a fascinating element to every bite. Moreover, the batter includes a touch of curry spice, providing a unique and enticing flavor accent to the dish.
Chef Jang's signature – Octopus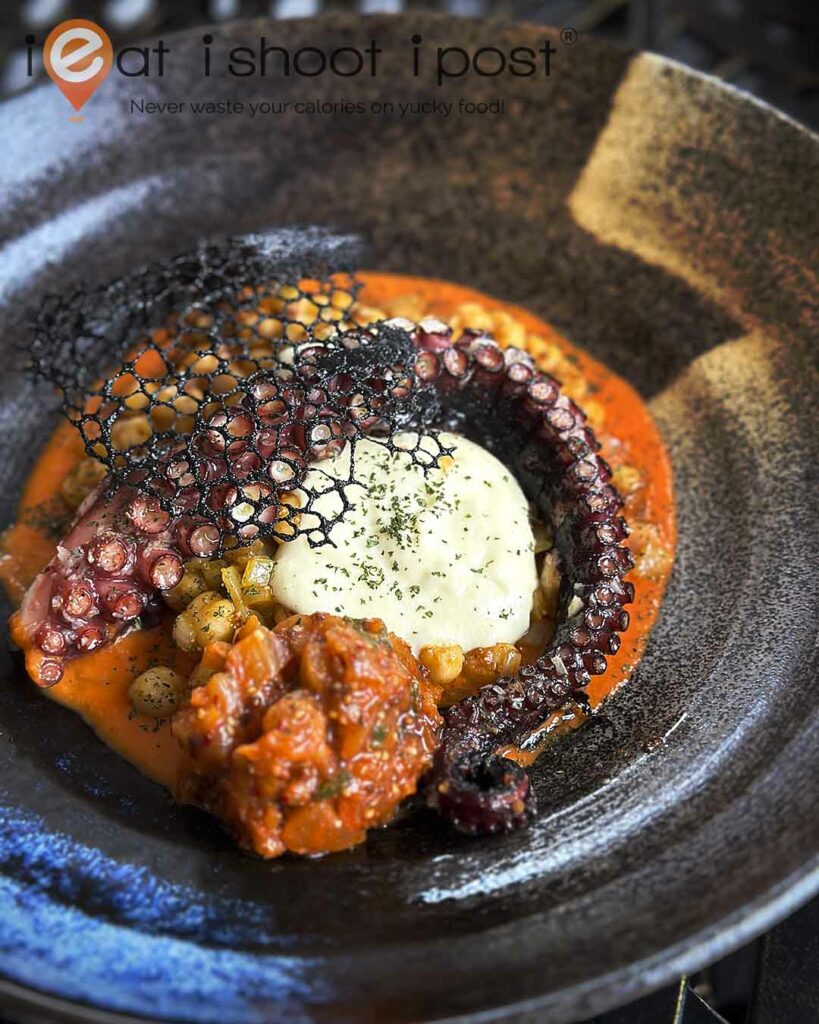 The Chef takes immense pride in his octopus dish, and rightfully so. His relentless experimentation with octopuses from different regions led him to the choice of live Hokkaido octopus. The tasty mollusks is bought at an auction in Hokkaido and air-flown to Singapore on the same day! It was a moment of epiphany the first time we tasted it fresh from the steamer. It was truly unlike any other octopuses we had tried before.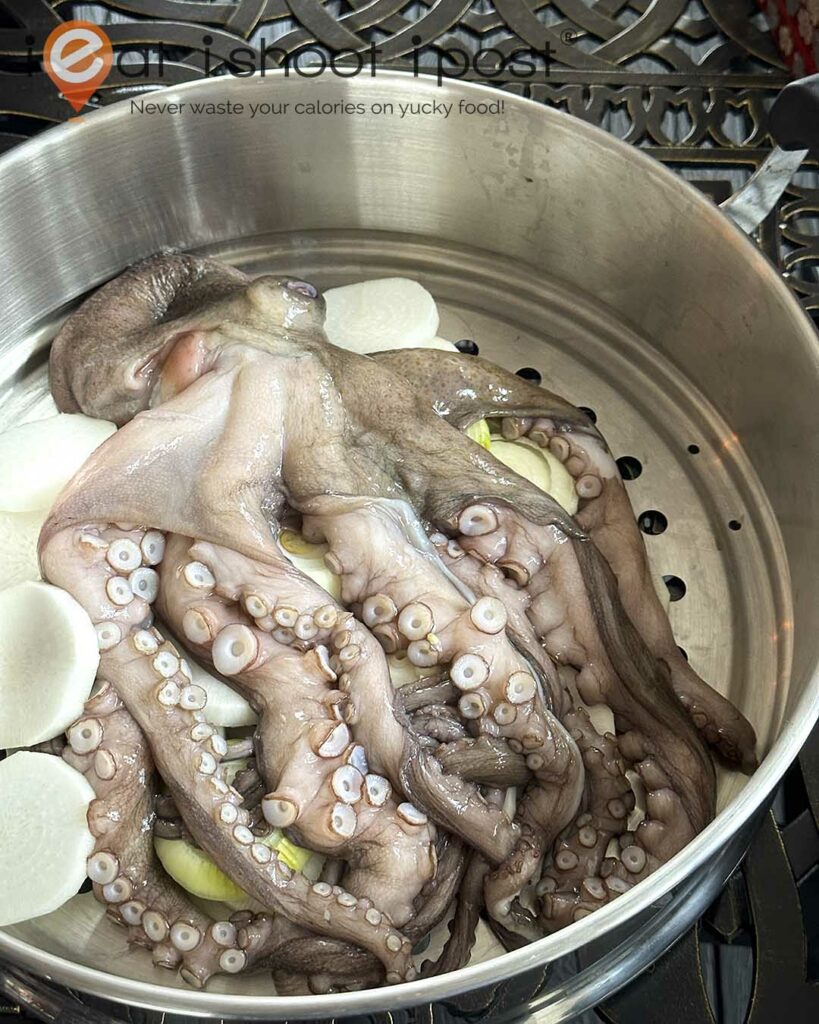 The octopus is first massaged by hand to tenderise it. It is then placed in a steamer with fresh vegetables and steamed for 45mins to retain its flavour. Chef gave me a piece to try right after steaming and the flavour was amazing! There was a natural smoky flavour to it!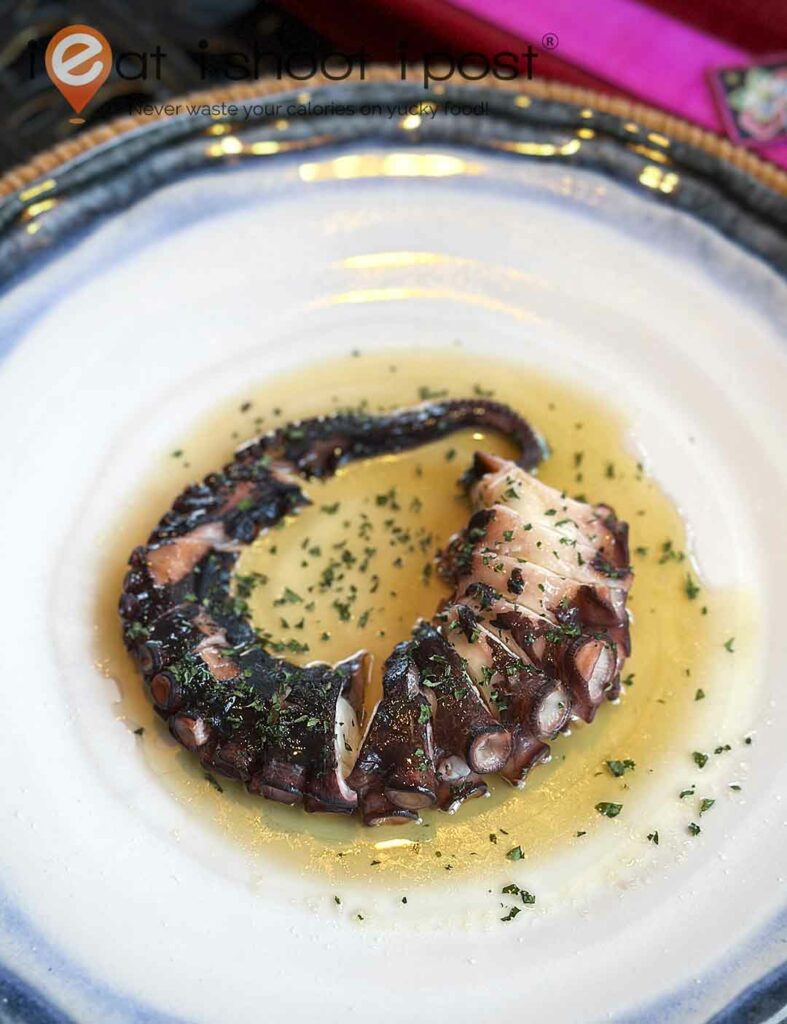 Chef's signature octopus dish typically features a romesco and chickpea sauce. But we couldn't help but feel that these sauces somewhat overshadowed the delicate flavor of the octopus itself. In our opinion, the true essence of the octopus can be fully appreciated when paired with a touch of high-quality Korean sesame oil.
Korean Jeon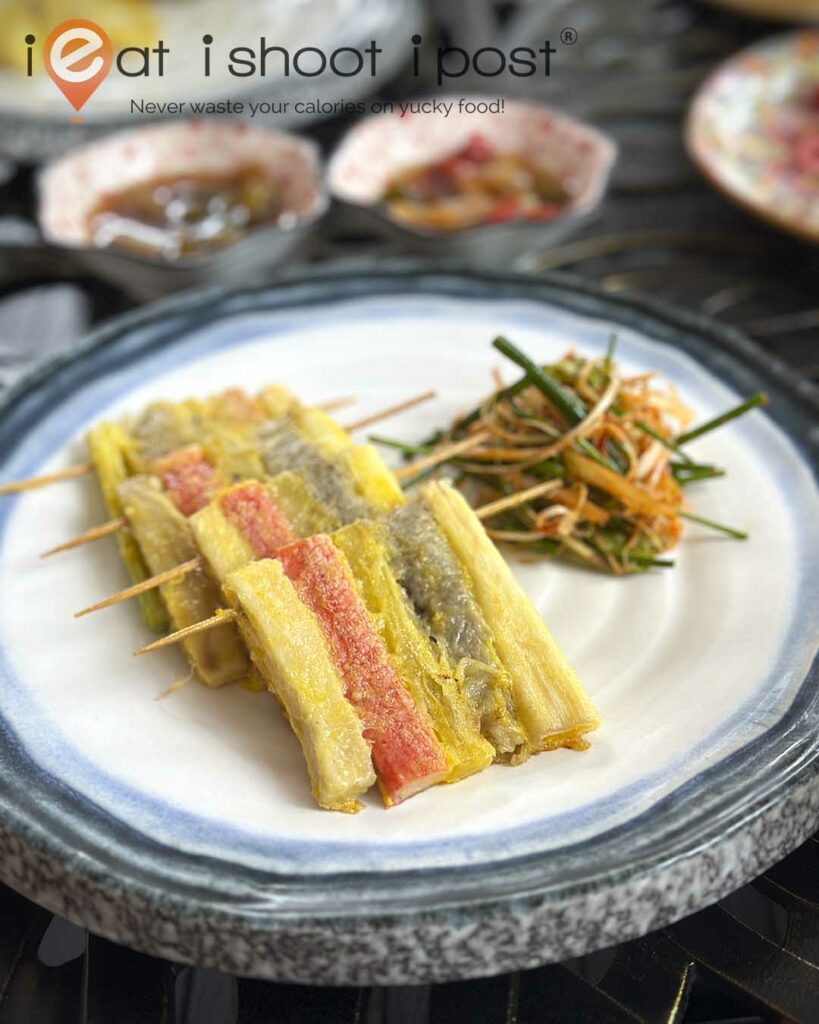 Sanjeok (산적) holds a significant place in Korean culinary traditions, frequently savored during Korean Thanksgiving Day (Chuseok) and Korean New Year's Day (Seollal). This vibrant dish has earned its popularity due to the harmonious combination of colors and flavors it offers. The making of Sanjeok involves thinly sliced meat and vegetables, carefully threaded onto small wooden sticks, such as toothpicks. After a light coating of flour and a dip in an egg wash, the skewers are skillfully cooked on a frying pan, resulting in a mouthwatering treat.
It was something new for both Lisa and me and we were glad to have tried it. But I can't say its something I'd order again especially since there are so other things on the menu that I would like to try!
Dessert – Garlic Cream Cheese Bread and Bingsu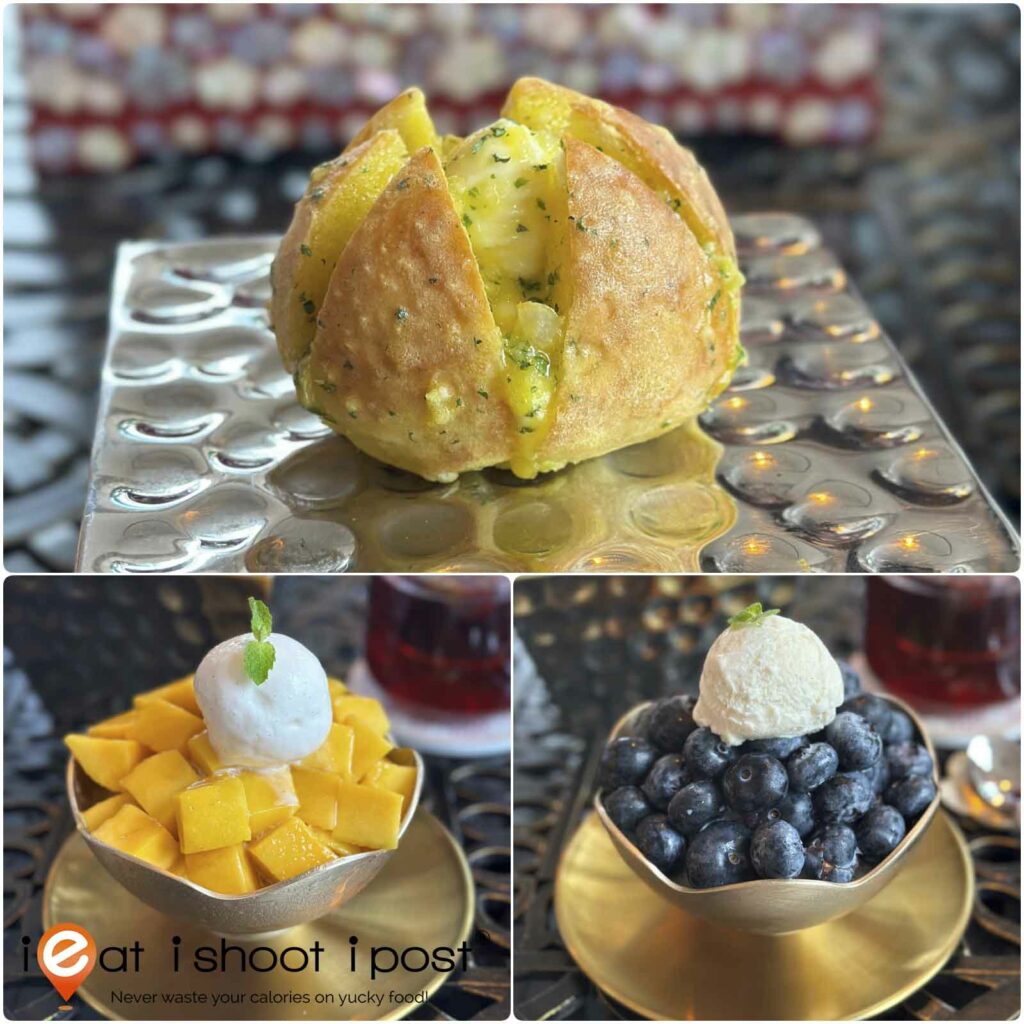 For dessert, they have a Garlic Butter and Cream Cheese bun that has been a hit in Korea in recent years. Although it initially seemed surprising to consider this as a dessert, the infusion of sweetened cream cheese does create a delightful contrast to the savory dishes we had earlier. In keeping with Chef's philosophy, the buns and toppings are all made in-house.
Additionally, they serve Bingsu which is generously topped with seasonal fruits such as mango and blueberries. They also serve the traditional Korean version with red bean and brown sugar topping.
Apart from that, they have a few fruit and floral teas ($8) that can be rather refreshing after all that rich food.
Admittedly, the dessert menu seemed quite simple compared to the rest of the menu but this chilled and refreshing dessert was a delightful way to end the meal.
Conclusion
If you're already a fan of Tanoshii, there's no doubt that you'll absolutely adore Chef Jung's new restaurant! Situated at the Arts House, the location perfectly complements the chef's artistic approach, evident not only in the food but also in the furnishings. Ureshii is a haven for food enthusiasts in search of exceptional ingredients usually found only in top-notch fine dining restaurants but served in a convivial and laid-back environment.