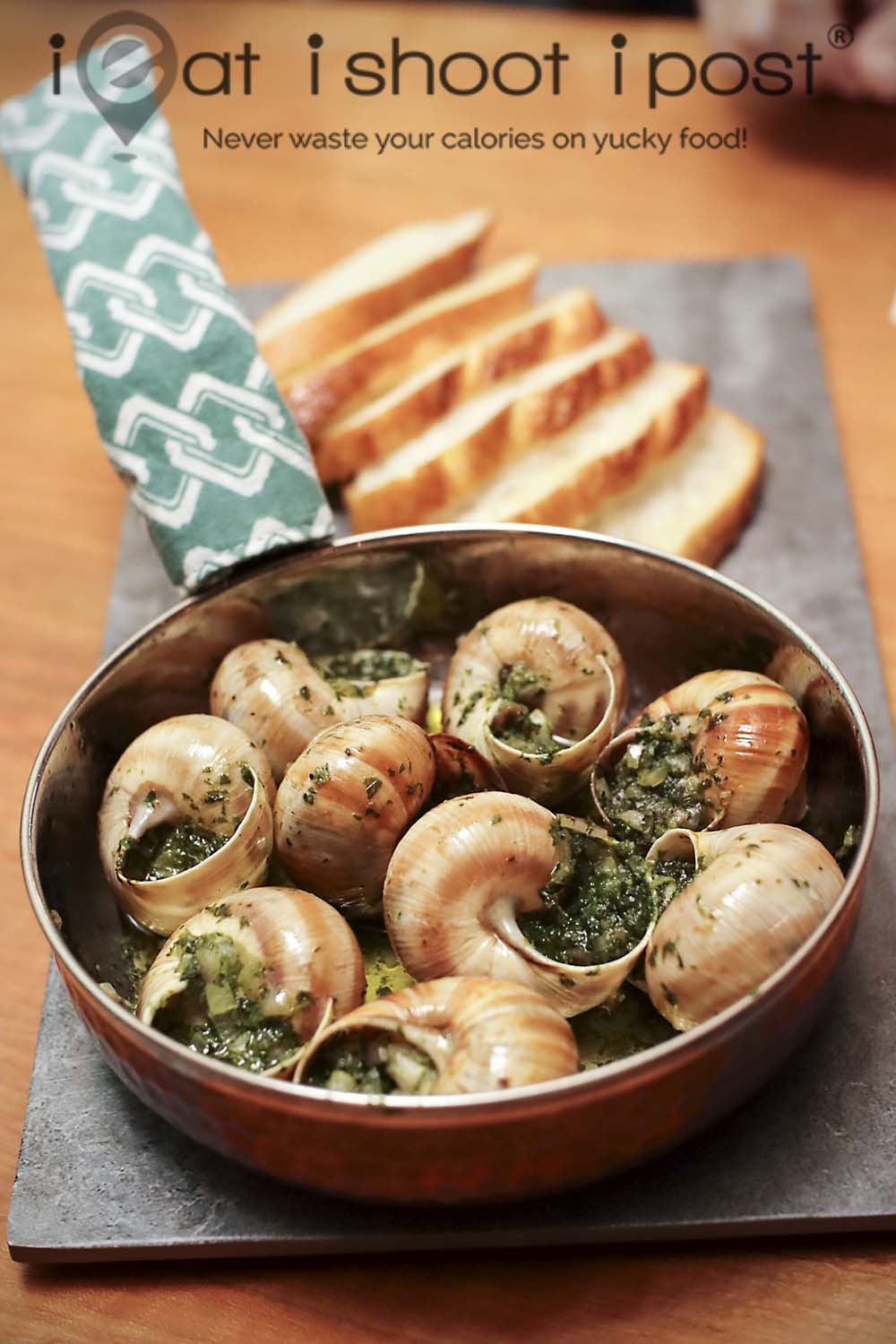 Once in a while, you come across a restaurant that can be described as eccentric,  and even slightly self serving.  It's the type of restaurant that owes its existence to an owner who decides to open his own place because he can't find the food he wants to eat anywhere else!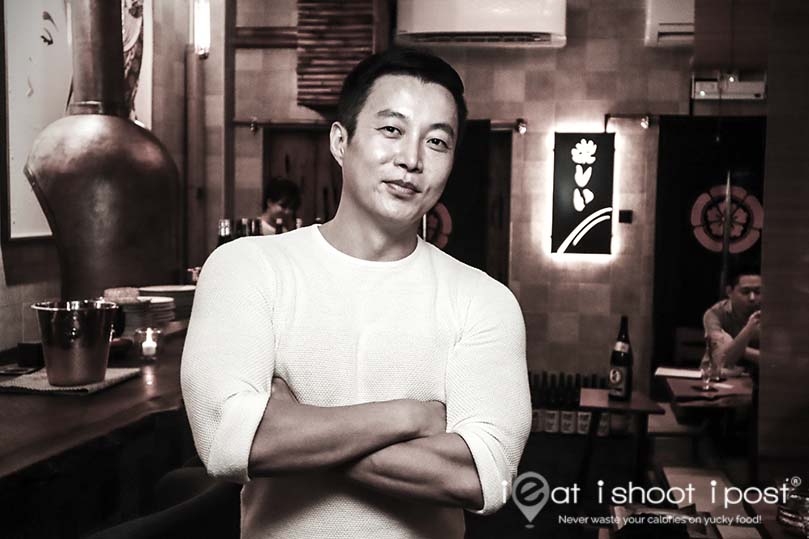 Enter Chef Jung, an ex-gym owner and mild mannered Korean hunk who decided to sell his gym and apprenticed himself to a famous Osakan chef for two years in order to master 10 dishes.  He returned to Singapore to set up Tanoshii and probably spent half a fortune to have the place decked out with solid wood table tops, copper chimneys and tatami mats lining the walls.   The place feels well heeled, yet laid back and cosy, like visiting the home of a wealthy friend who furnishes it to intimate rather than to intimidate.
I was introduced to the restaurant by two of his regular customers — professional ladies who seem to have been totally mesmerised by his cooking.  (and probably other things)
Although it calls itself a Japanese restaurant, Tanoshii's menu reflects an eclectic mix of Korean and even French dishes.  In a nutshell, they are all the dishes that Chef Jung likes to eat himself!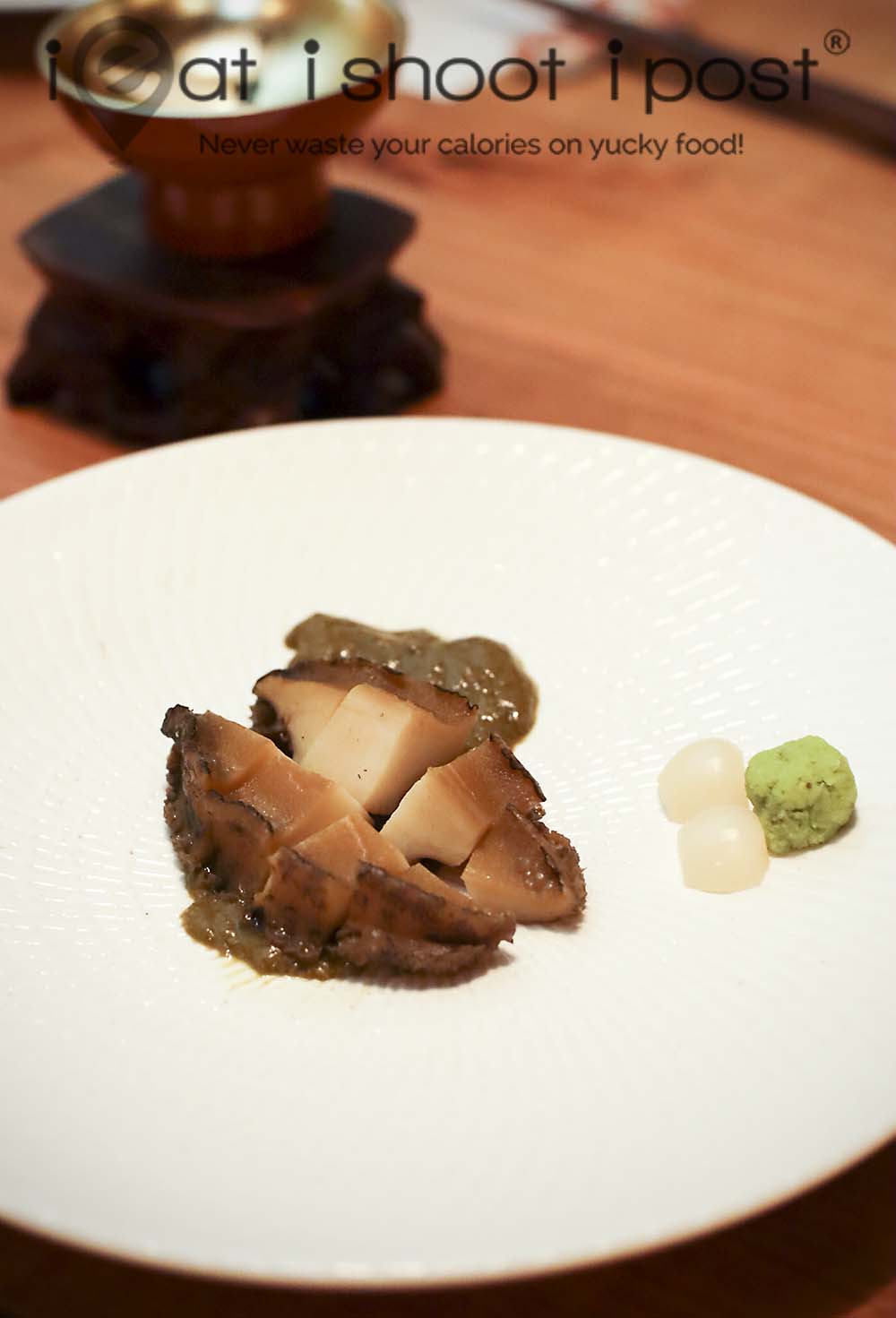 The dish that really caught my attention was the escargot.  I have never really thought much about this French dish of snails until I had Chef Jung's version.  Whatever I had before were simply chewy morsels drowned in melted garlic butter and I have never understood what the fuss was all about.
Chef tells us that the dish starts with live killed escargots from Jeju island which goes through a laborious process of simmering in a rich chicken stock for hours in order to tenderise the meat and infuse it with flavour.  Then the shells are filled with herbs to give it a fresh garden aroma.  It was really good and fresh escargots are a world of difference from the frozen ones that are usually served elsewhere.   Just make sure you ask for more bread to mop up all the buttery goodness!  4.5/5
Chef Jung insists on using live seafood whenever possible and also keeps tanks of live abalone which also come Jeju island.  The live abalone is shucked, steamed and served with a sauce made from its innards. This is a classic dish served in many top end Japanese restaurants but this is the first time I am having a whole abalone to myself!  It was good, but I have never been a big fan of abalone, so I wasn't as enamoured with this dish as I was with the escargot.  4/5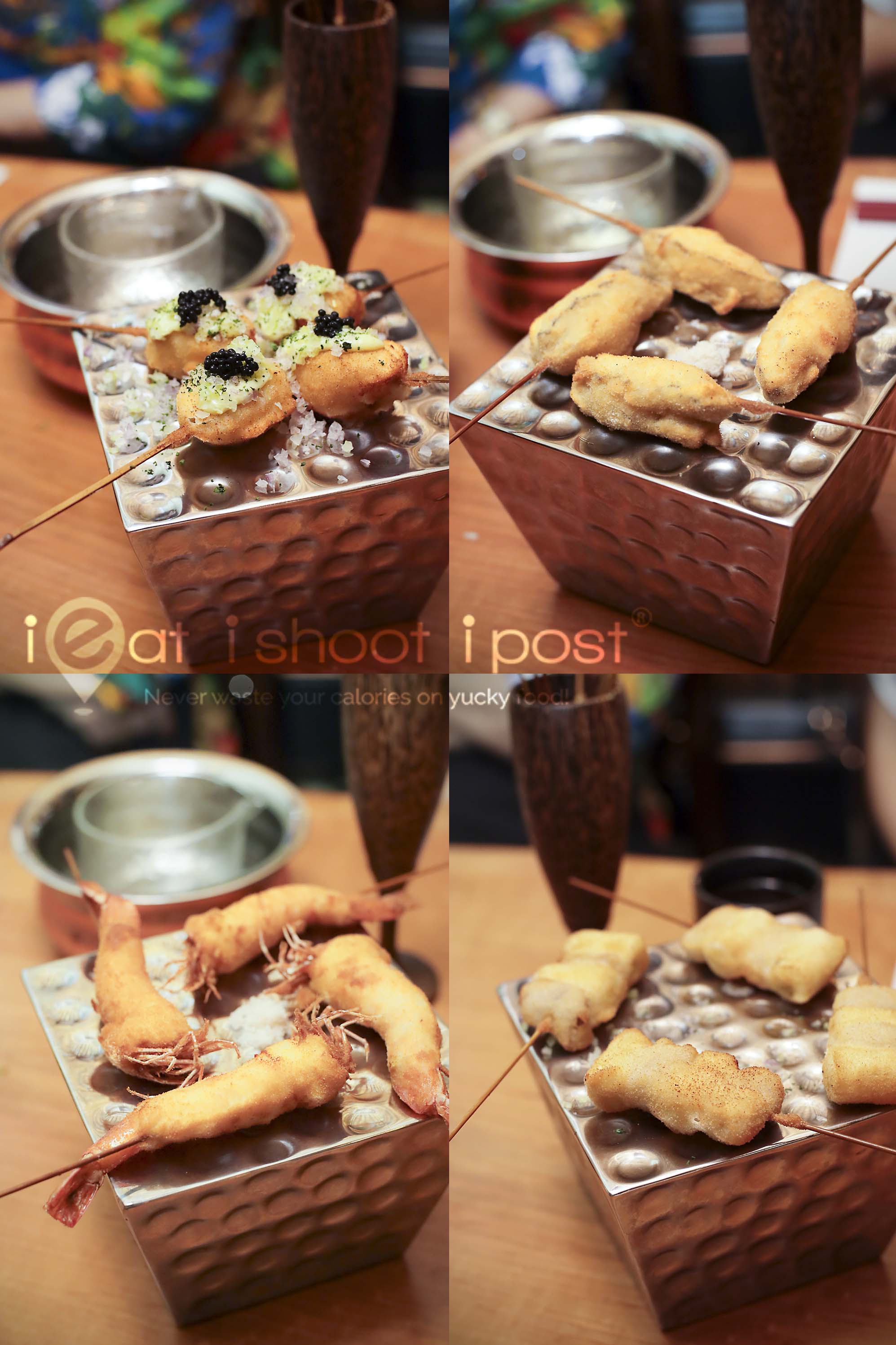 You can't visit Tanoshii without ordering a few sticks of kushikatsu.  This is one of Chef Jung's defining dishes.  He had been quite open in sharing the recipes of all the other dishes, but when it came to the batter for the kushikatsu, he politely told me that it is a secret.  The batter is crisp on the outside but has a moist and puffy layer inside that cushions the delicate seafood from the heat of the oil so that it steams nicely within its own cocoon.  Great to sit at the bar and have a few of these with sake!   4.5/5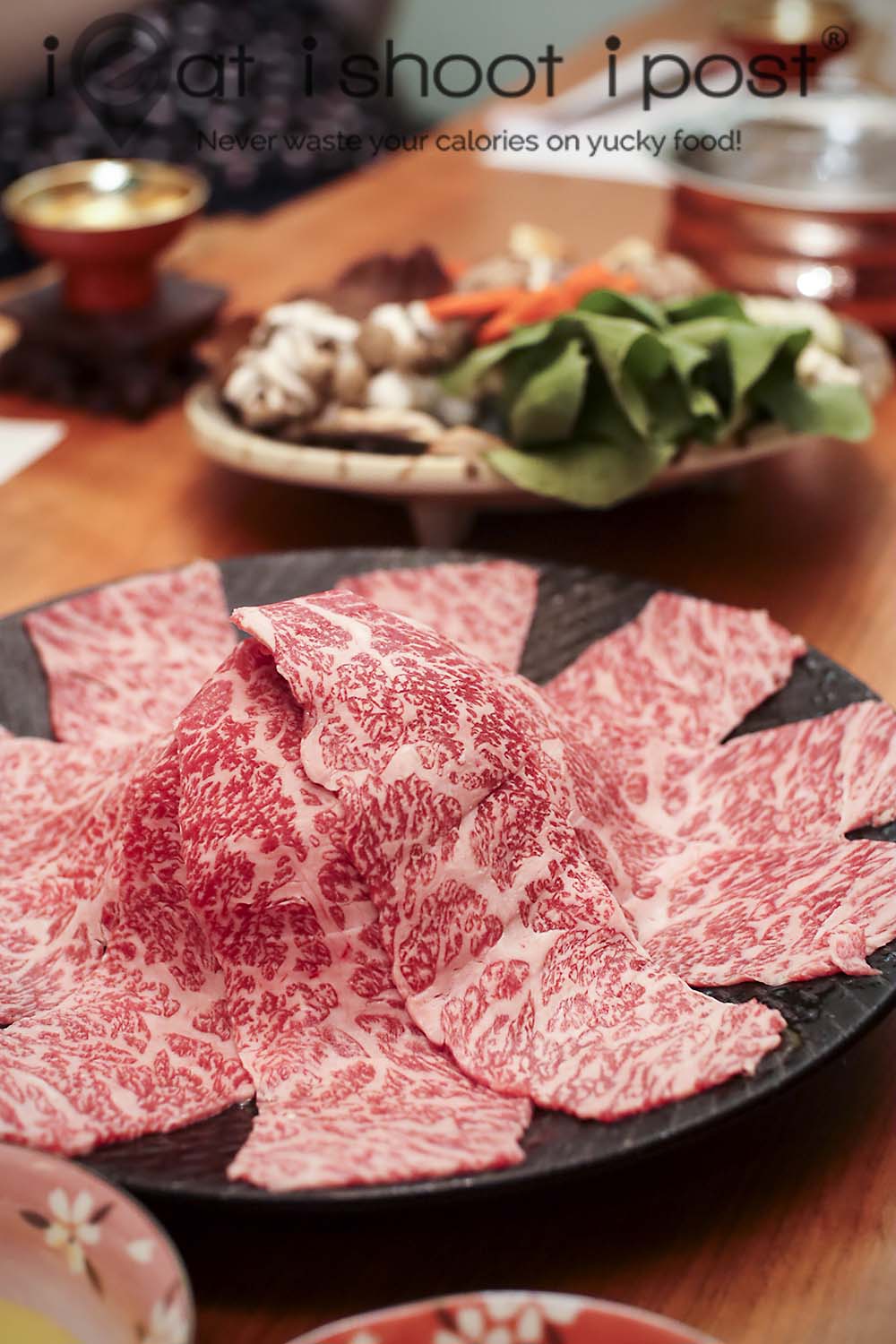 Chef makes his own sukiyaki sauce which he says needs to be aged together with katsuobushi for a month before it is used. It goes without saying that the beef sukuyaki is very good.  My only peeve is that he used a non-stick pot to cook the dish instead of a classic cast iron pot. Other than that, they serve it in the same way as they would in Japan where one of the servers will come to your table to cook the meat drop in into a bowl of raw egg.  4.25/5
If there was one dish which I wasn't overly impressed with, it would be the beef yakiniku which was cooked in a non-stick pan.  It would have been better if it were done over binchotan so that it develops a nice smokey crust!  3.5/5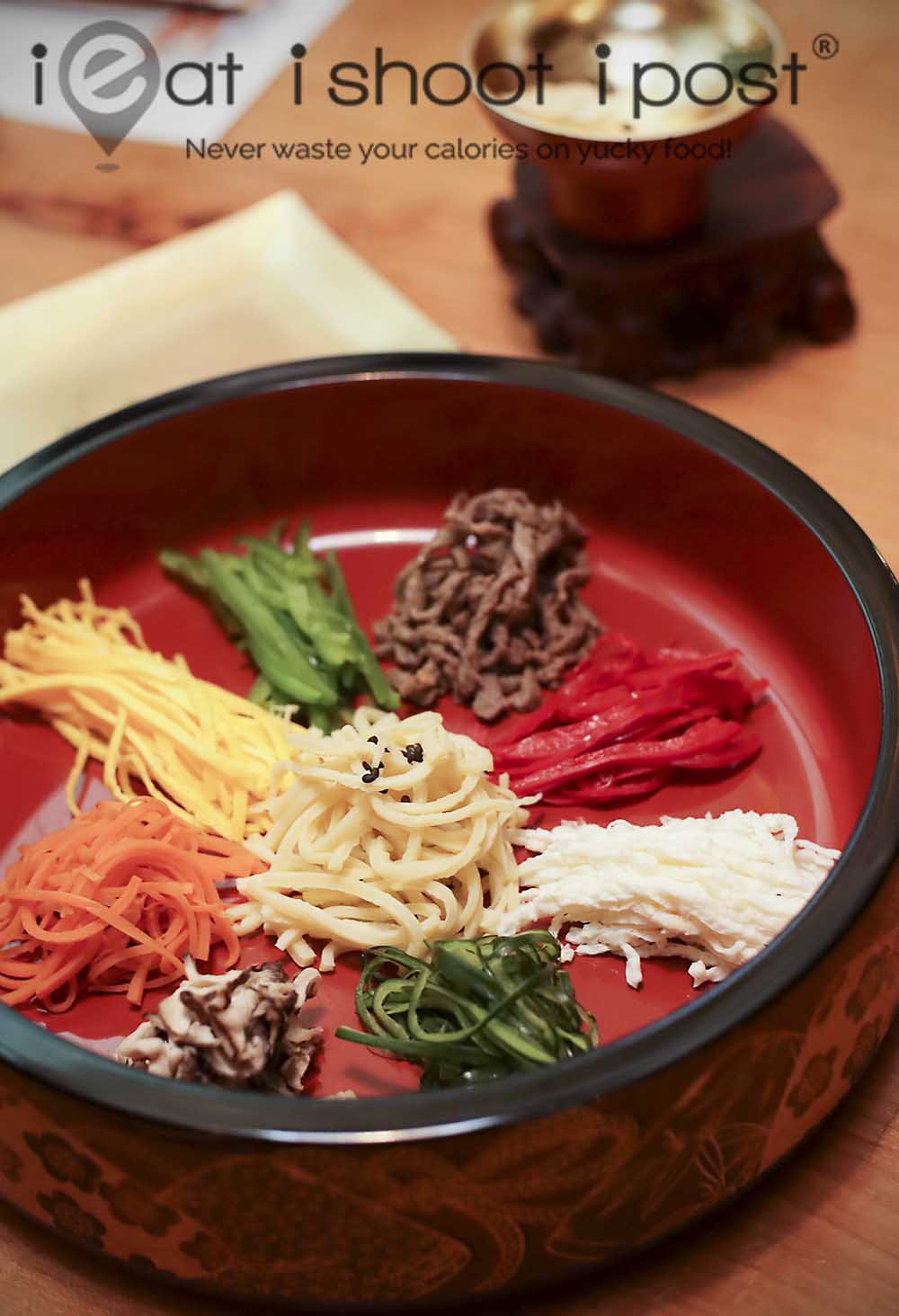 There are a few Korean dishes like the imperial longevity salad which pays homage to Chefs Korean roots.  This is usually served in the omakase as one of the starter dishes, or you can order it from the ala carte menu.  4.25/5
Dinner can be as simple as a $28 Tonkatsu set meat or you can opt for the $118 omakase which will feature some of his signature dishes including the abalone, escargot and kushikatsu.  You can check out their menu here.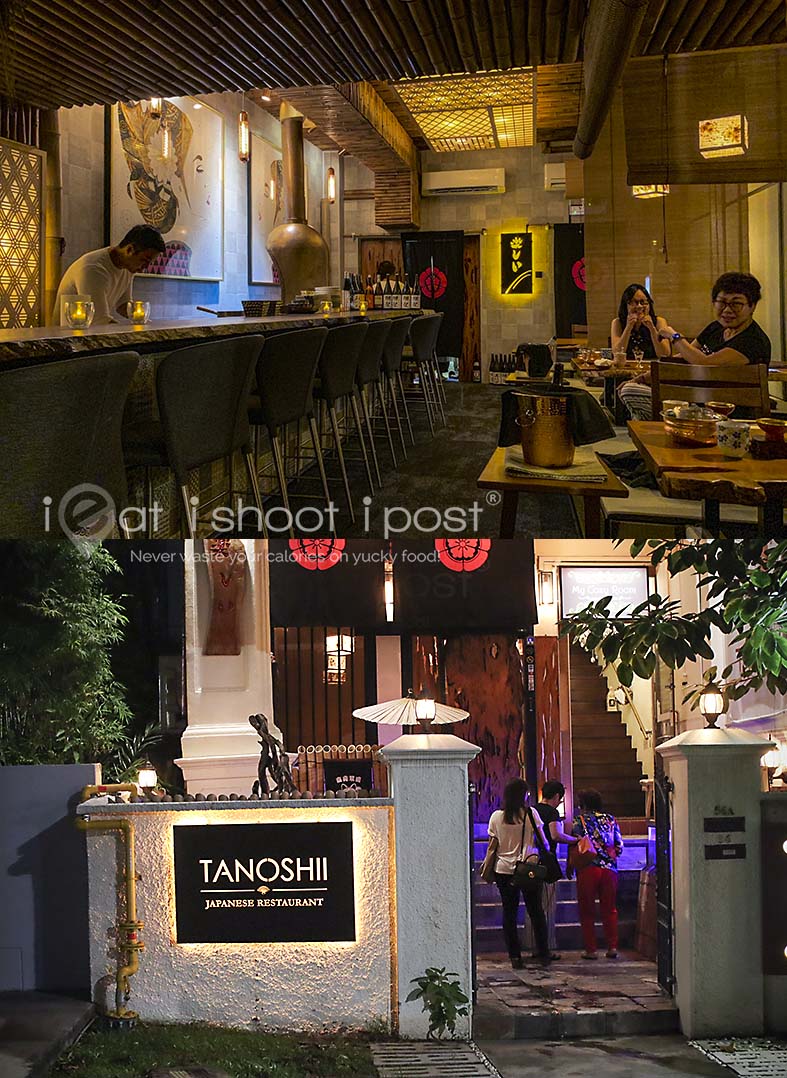 Conclusion
Great food, cosy atmosphere, superb service and Korean hunk chef.  Do you really need more reasons to go?
Disclaimer
This meal was arranged for us by one of the regular customers at Tanoshii.