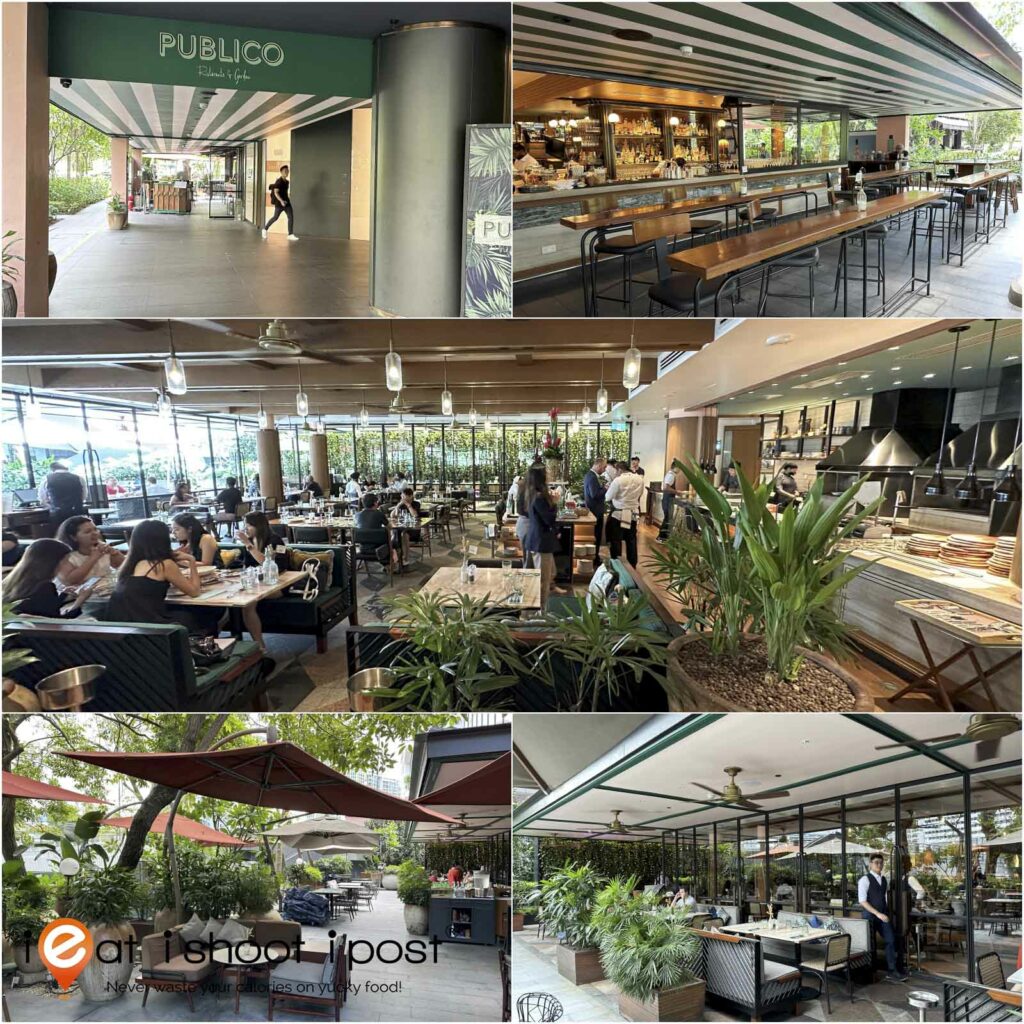 Publico Ristorante has had a facelift recently and we were invited to check out its refreshed interior and new summer menu. We were most taken in by the enchanting greenery, comfy chairs and luxuriously plush pillows scattered throughout the restaurant. It's the kind of place you wished you have nothing else planned for the rest of the day, so you can enjoy the cosy surroundings and pretend you're on a summer holiday in Italy.
The other thing that got us excited was the two wood-fired ovens in the centre of the open kitchen. I love the aroma of wood smoke and was happy to learn that our first dish did indeed undergo a baptism of fire before it reached our table.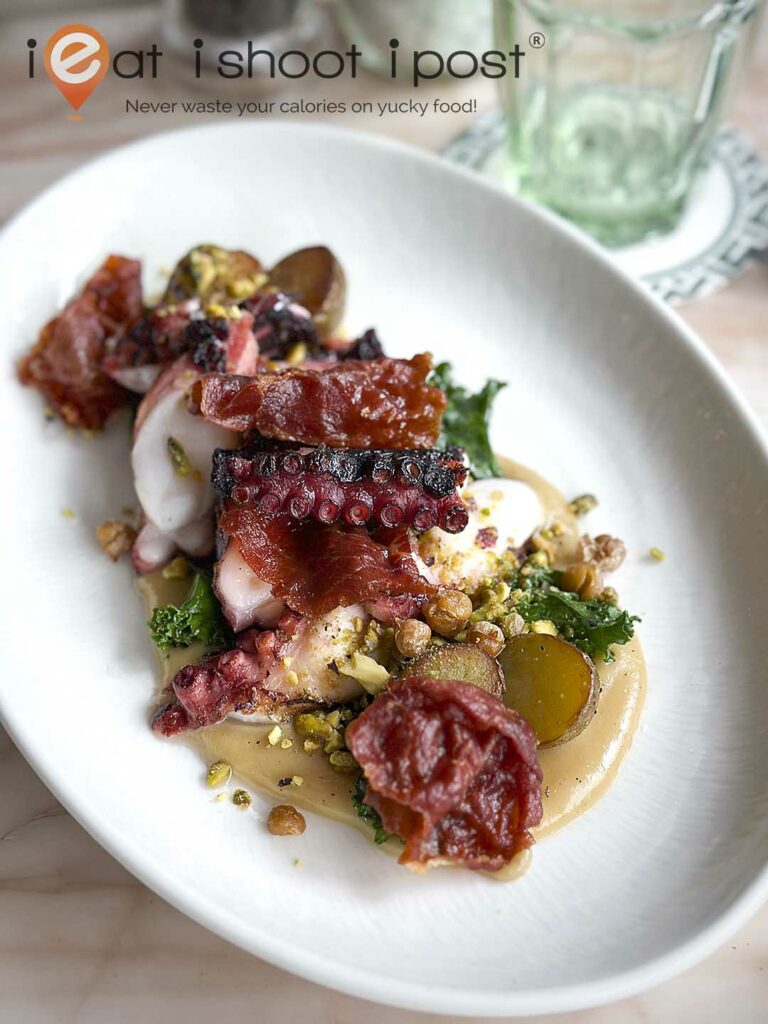 The Woodfired Mediterranean Octopus was an impressive first dish. This is a classic dish of the southern coast of Italy. In their dedication to creating authentic regional Italian fare, the chefs at Publico try to source produce and ingredients from different parts of Italy to reflect the regionality of the dishes. We enjoyed the tender pieces of the Mediterranean octopus that was char-grilled along with some kale. It paired well with crispy Prosciutto di Parma (Parma Ham) and bagna cauda (garlic confit sauce). 4.25/5
Classic House Made Pastas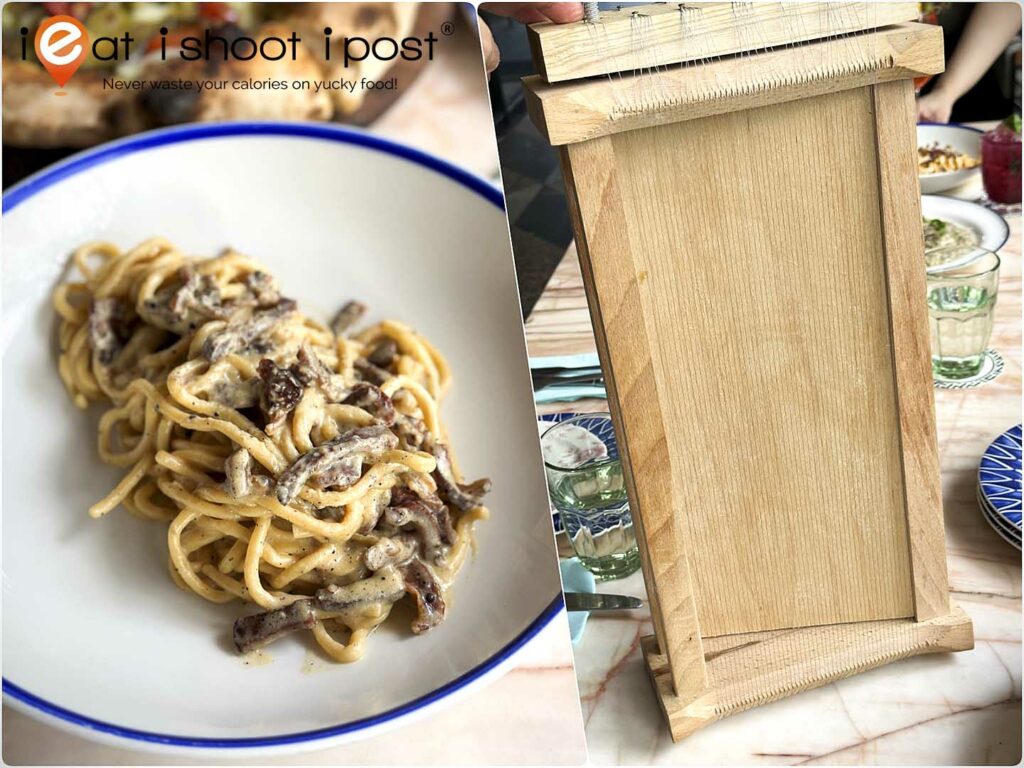 One highlight of their summer menu is the house-made pasta which is crafted freshly on-premises. Among the delectable options, one standout was the Spaghetti Chitarra. It is a unique pasta made by cutting the dough with a board lined with strings, resembling a guitar (hence the name "Chitarra,") This preparation method results in a thicker pasta with a porous texture, that is perfect for the carbonara sauce to cling to.
The sauce itself keeps to the Roman tradition of utilizing just four ingredients. They are namely Guanciale (cured pork jowl), Pecorino (a hard cheese made from Sheep's milk), egg yolk, and black pepper. These ingredients create a symphony of flavours which, when combined with the toothy Spaghetti Chitarra makes for comfort food. 4/5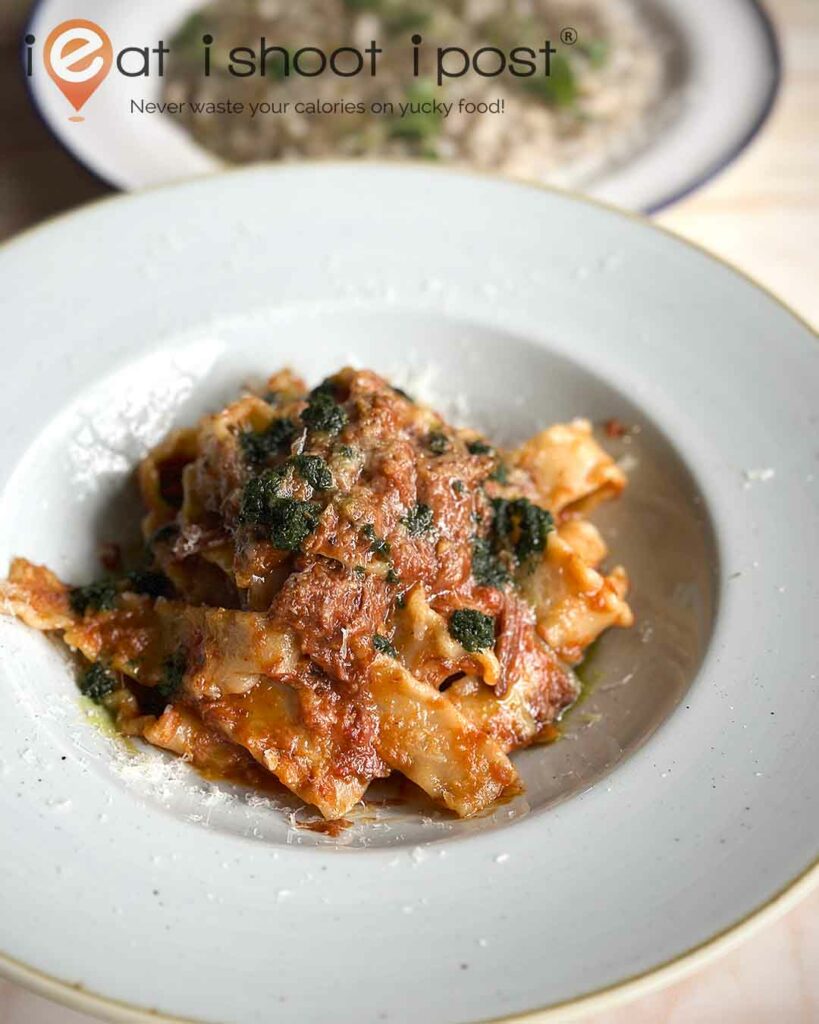 We had a Mafaldine pasta next, which is a flat pasta with iconic wavy edges which originated in Naples. It is named after Princess Mafalda of Savoy who is said to have long wavy hair, much like the ruffled edges of the pasta. This pasta is served with a rich slow-cooked Lamb Ragu which makes for a hearty meal. 4/5
Risotto and Pizza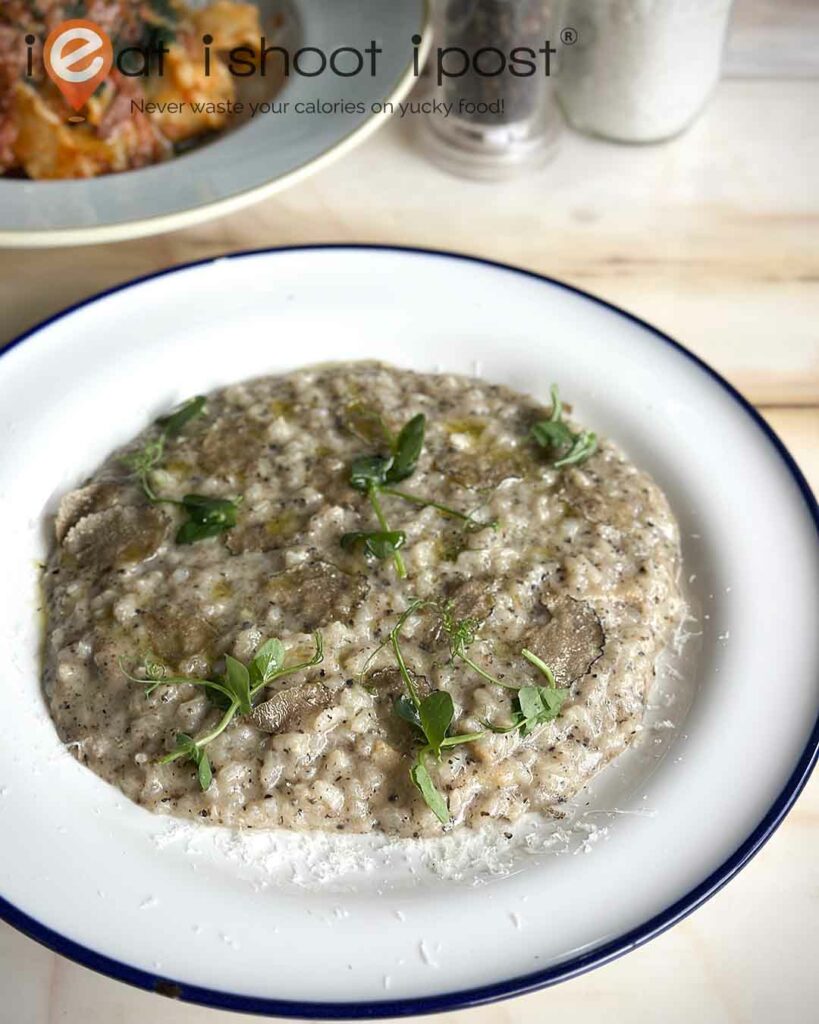 Their mushroom risotto had all the flavours we enjoy – woodfired porcini mushrooms, truffle jus and aged cheddar Parmigiano shavings. To justify the $42 price tag, you get a few slices of freshly shaved black truffle too. The dish would have been perfect if the rice grain still retained a toothy bite. It was just slightly overcooked and the texture was a little more like porridge. 3.5/5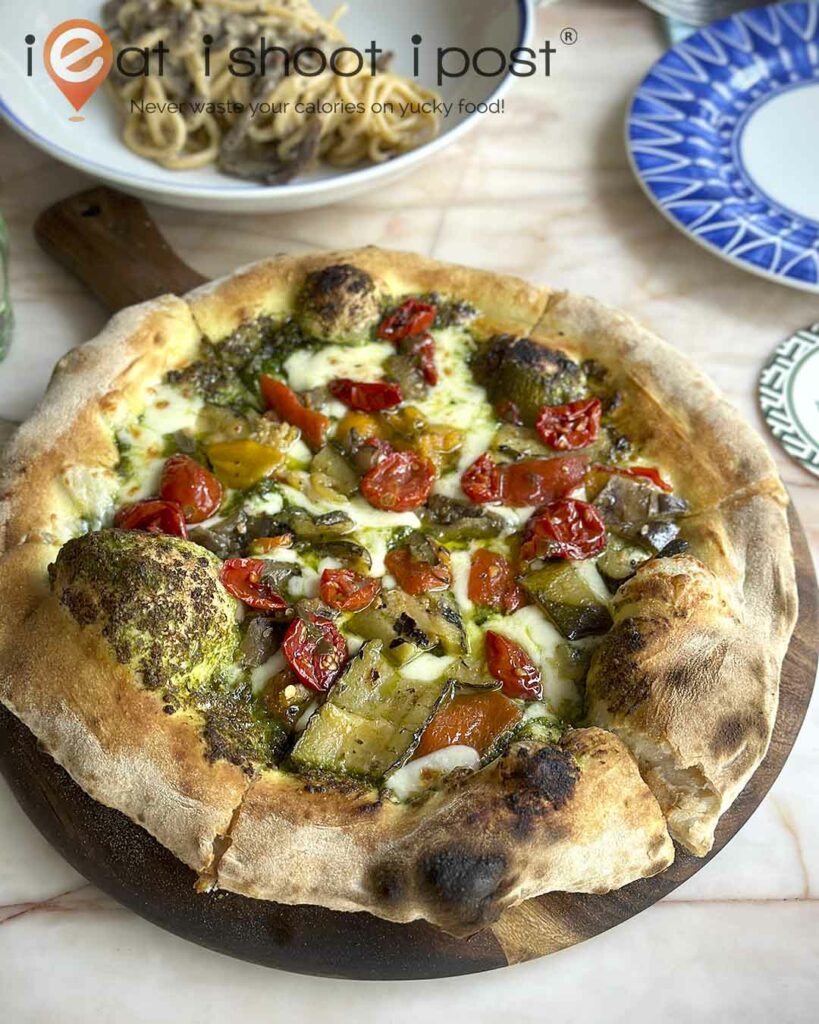 We couldn't leave the place without tasting their pizza. And chef very kindly obliged with an Ortolana Pizza , also known as a Farmer's Garden pizza. You'd imagine chef picking out fresh summer vegetables (like eggplant, capsicum and zucchini) from his garden and charring them for the pizza topping. Perhaps, it's just our romantic idea. Nonetheless, the veggies are grown on Mediterranean soil. They all came together nicely with some basil pesto on the base and a lovely Fior Di Latte (semi-soft mozzarella cheese) for a gentle cheese pull.
Although the topping was great, we were unsure about the pizza crust. The cornicione was rather heavy and doughy rather than light and crunchy and didn't quite have the leopard spotting that we have come to expect of a Neapolitan pizza. It could be just that particular batch of dough. 3.5/5
Dolce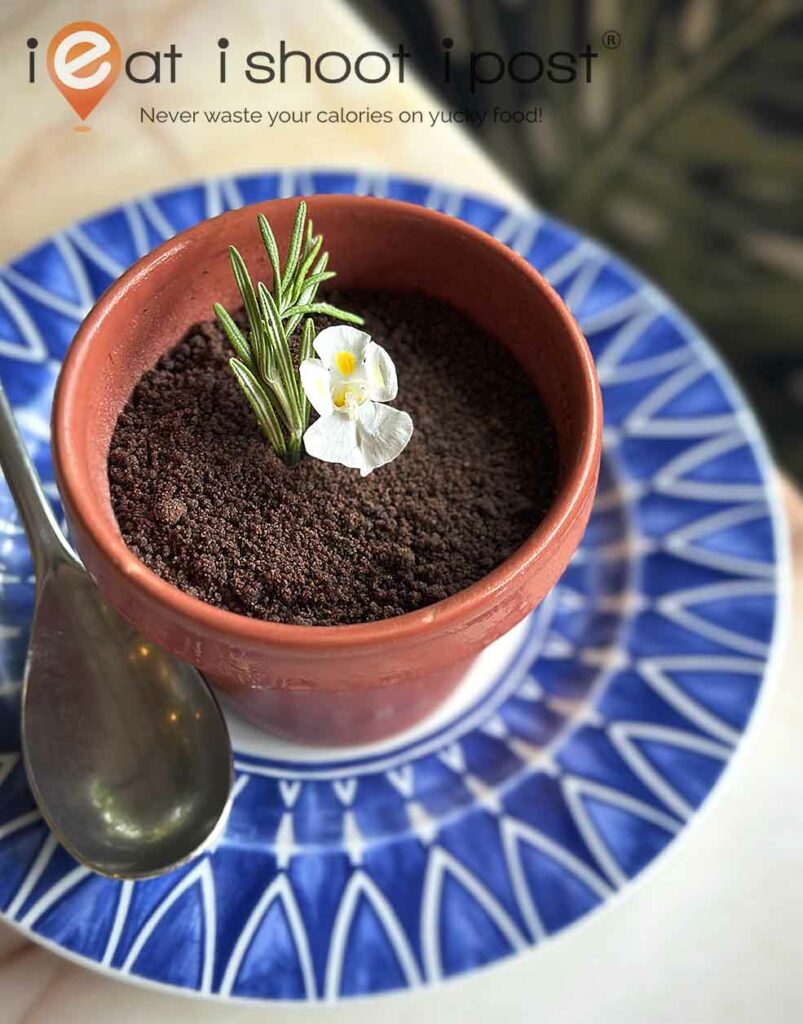 To finish our meal, we had a very cleverly plated or rather "potted" Tiramisu. Needless to say, the coffee liqueur, mascarpone, cocoa and Savoiardi biscuits delivered a sweet end to our meal. Though a little more the liqueur wouldn't hurt. 4/5
Conclusion
Publico Italian Ristorante & Garden is a comfortable, cosy and relaxed restaurant to enjoy some classic Italian dishes made with produce sourced directly from Italy. As we've only had Italian food outside of Italy, we cannot vouch for its authenticity. But we can imagine the atmosphere in this pet-friendly riverside restaurant to be that of a warm Italian summer by the Mediterranean sea.

Disclosure: This was a media invite.