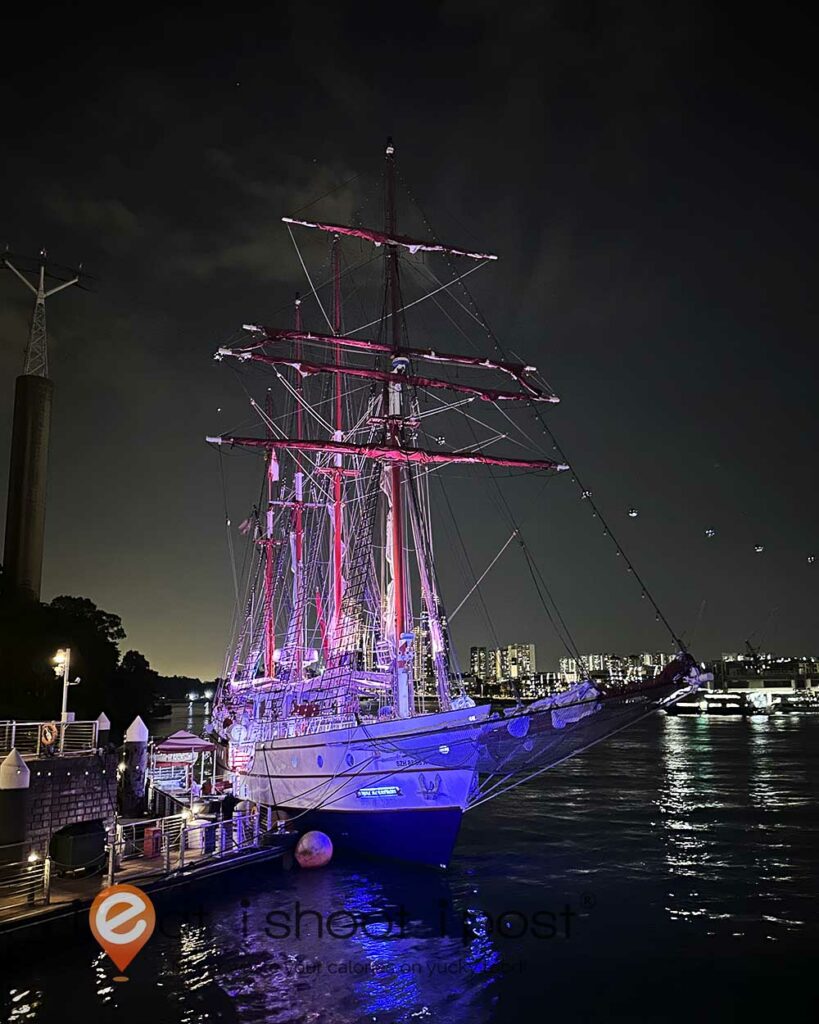 "I must go down to the seas again, to the lonely sea and the sky. And all I ask is a tall ship and a star to steer her by; " – John Masefield
There is something undeniably romantic about a tall ship under full sail. It presents a majestic and awe-inspiring sight with its sails billowing and the vessel gracefully moving through the water. I can imagine Sir Stamford Raffles, arriving in Singapore in 1819. After several months on such a tall ship, albeit without the insurance of an engine and propellers.
We were invited to experience their Sunset Cruise where we enjoyed a seven-course sit-down dinner on the upper deck, as we sailed along the Singapore coast. It was certainly one of those unique dining experiences that is perfect for a surprise marriage proposal, birthday or anniversary celebration!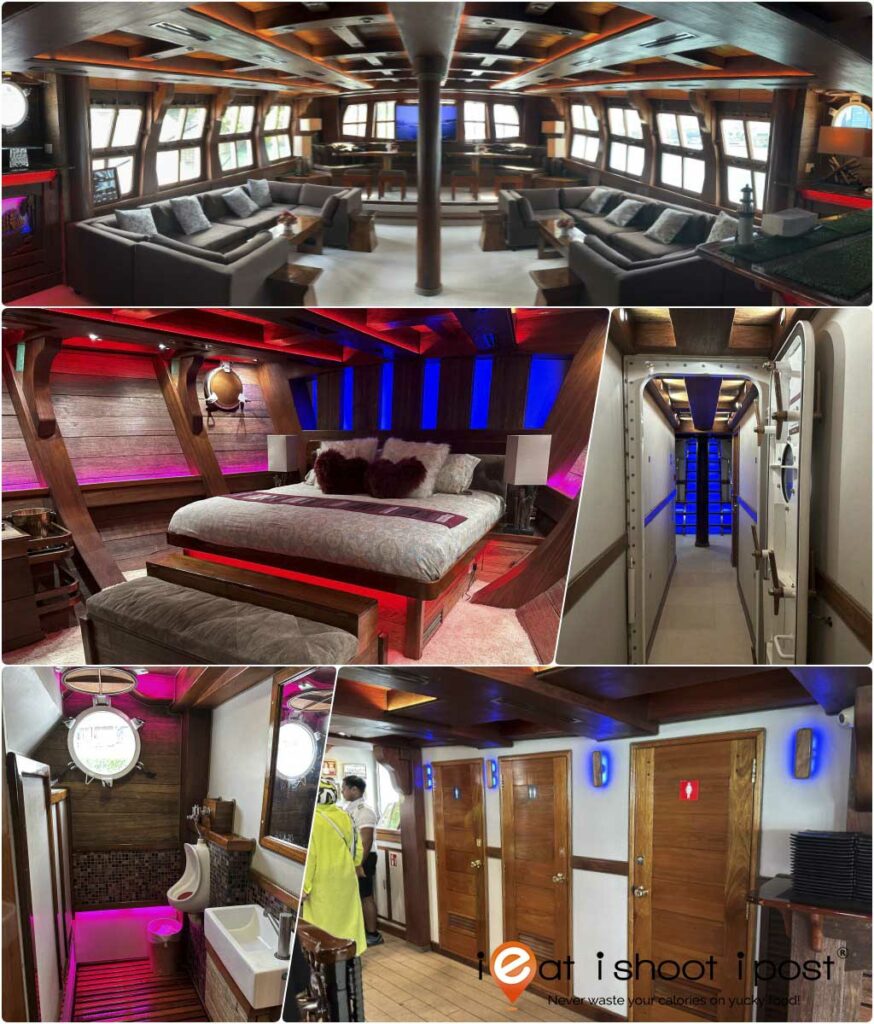 The Royal Albatross is a fully rigged, four-masted barquentine that is moored at Resorts World Sentosa. It serves as a luxury charter yacht and a unique venue for events and dining experiences. She was built in 2001 in Chicago and was originally named "Kaiwo Maru". Her design was based on the 19th-century European trading schooners. The ship underwent an extensive refurbishment and conversion project in 2008 to transform her into a luxury sailing vessel.
The Royal Albatross provides many modern amenities: a Grand Salon, a Topside Bar and a luxury cabin for overnight stays. The ship can accommodate up to 149 passengers during the day and 32 guests for overnight voyages. That's a good size where the entire ship can, and has been chartered for corporate functions, weddings, and even themed-dinner cruises
Dog Friendly Cruise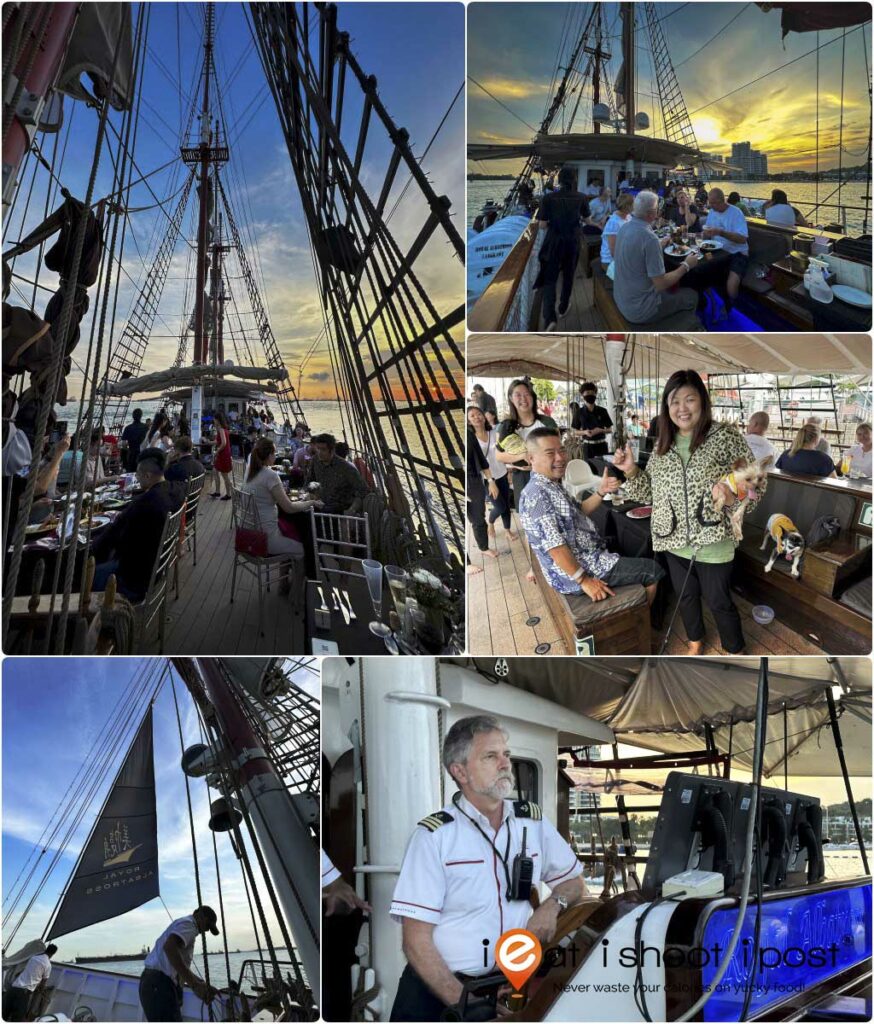 Dog owners will be very happy to know that their cruises are all dog friendly! They even have special menus curated for our furry friends using human-grade ingredients by @petcubes! 80% of the dinner guests came with their furkids that evening. But once we set sail, you hardly notice any of the dogs. They were all very well-behaved!
Enchanting Sunset Dinner Cruise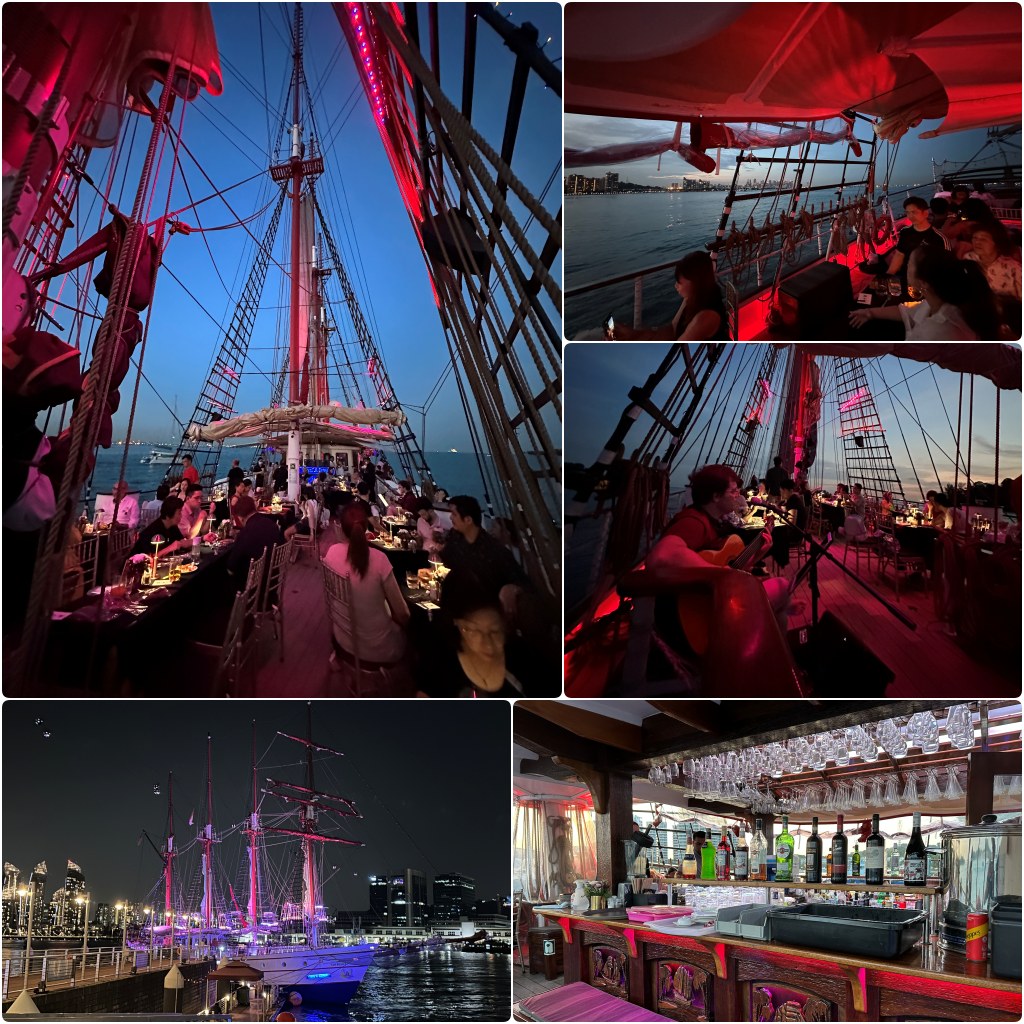 It's truly astonishing how far humans will go in pursuit of a unique experience. Just think about it. The entire upper deck was transformed into a restaurant, with an entire kitchen crew below deck and wait staff scurrying up and down the narrow stairways. And all this happening while the ship is being buffeted by the waves!
They even erected a canopy to shield patrons from the sun and rain! And let's not forget the additional sailors required to man the sails and rigging. All this meticulous planning in order to provide 130 dinner guests (not counting the dogs) with a seven-course feast, under a starry sky, with the gentle sea breeze and rhythmic waves providing the enchanting backdrop. It sounds absurd when you actually think about it, but that is precisely why it's worth experiencing!
7-Course Dinner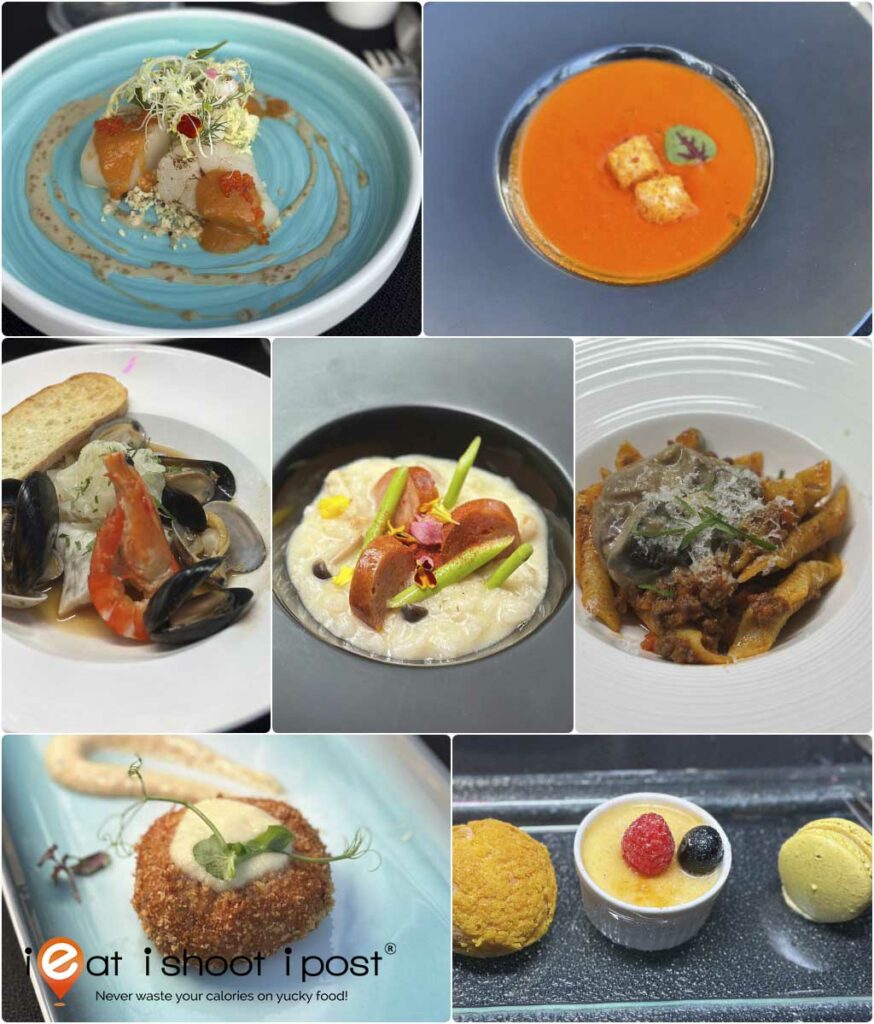 The galley, though small and challenged by the constant motion of the ship, still managed to serve up a surprisingly satisfying meal. Don't expect luxurious indulgences like caviar, uni, or oysters that you'd find at a comparable price on land. What you are paying for the experience of eating a full-course meal on the deck of a tall ship! Having said that, the chef did manage to churn up quite a competent meal with classics like crabcakes, seafood bouillabaisse, chicken risotto, and beef ragu pasta. Click here for the full menu. They also have a 4-course menu.
From Sentosa, we sailed eastwards towards MBS with the magnificent sunset behind our backs, made a turn around St John's Island arriving back just in time for the fireworks display at Sentosa musical fountain. It was a relaxing two-and-a-half hour and we went back with our tummies full and shared memories recorded on our smartphones for posterity!
If you are planning a significant moment, eg a marriage proposal, just bear in mind that Singapore is hot and humid, so you might want to think about ditching the suit and tie for something a bit more casual and comfortable! Note that you'd be required to take off your shoes whilst on board the ship.
Conclusion
The Royal Albatross provides a unique experience for those looking for something out of the ordinary. Aside from sunset cruises, they also do breakfast cruises and private charters during the week. Whether it's a romantic outing, a gathering with friends, or simply a moment of solitude, the Royal Albatross promises an unforgettable adventure on the open seas.
Disclosure: this was a media invite.