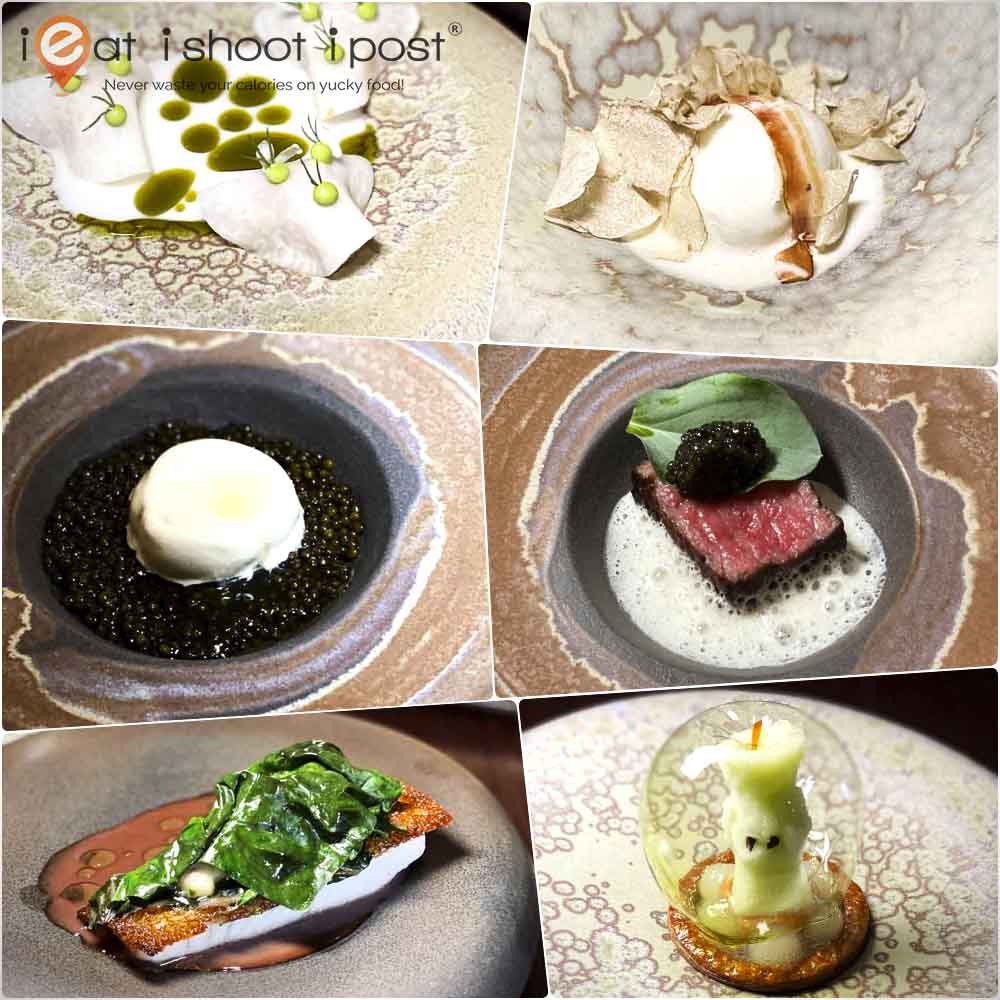 Same location, different restaurant
Sometimes you do fine dining to celebrate with luxuries like truffles, foie gras, oysters, lobsters, and perhaps a nicely charred A5 Wagyu steak. You are not looking for anything too out of the world and you surely don't want to wreck your brain trying to understand what you are eating. We felt this way the last time we were sitting at this geographical location. Back then, it was occupied by the 3 Michelin Star, Joel Robuchon where every dish was meticulously executed, plated, and served with much panache. Everything was excellent but familiar, so existing paradigms of what goes with what is not challenged.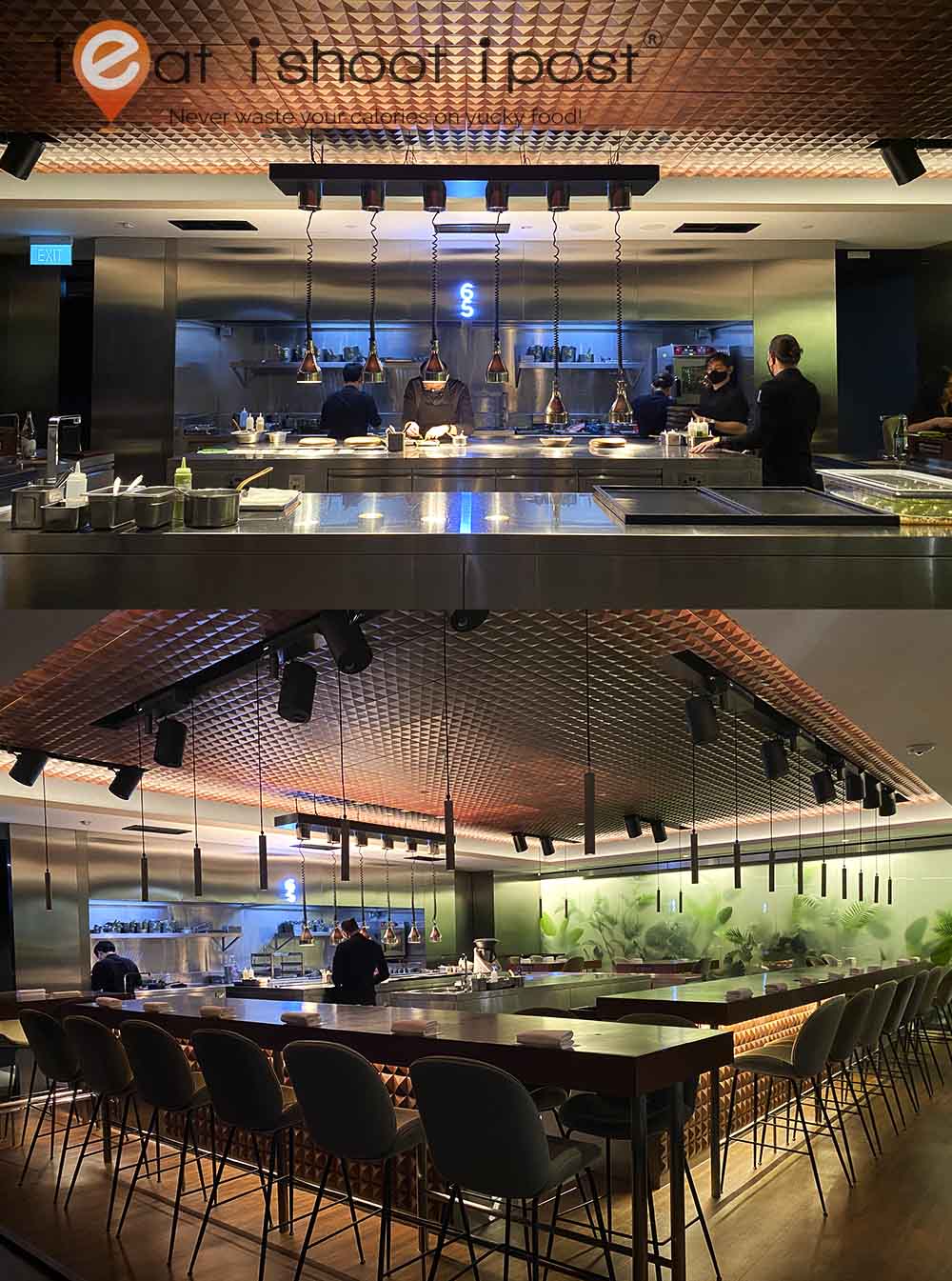 Open Kitchen Concept
The same space has now been transformed into Table 65, a very different fine dining concept headed by Celebrity Chefs Richard van Oostenbrugge and Thomas Groot of the critically acclaimed Two Michelin Stars Restaurant 212 in Amsterdam.
At Table 65, the setting is more casual with diners all seated around an open kitchen, much like Robuchon's other restaurant, L'atelier. The food, however, is the type that challenges the diner to redefine what goes with what. For instance, their wagyu dish was served with foamy oyster veloute while the turbot was paired with a bordelaise sauce. One would have expected the two sauces to switch places, but in the end, we had to concede that it actually worked.
Overall, we enjoyed our evening at Table 65. The food was fabulous and we were also taken on a journey of new gastronomic discoveries by Chef Dayal and his team!
Breakdown of the Dishes
Amuse-Bouche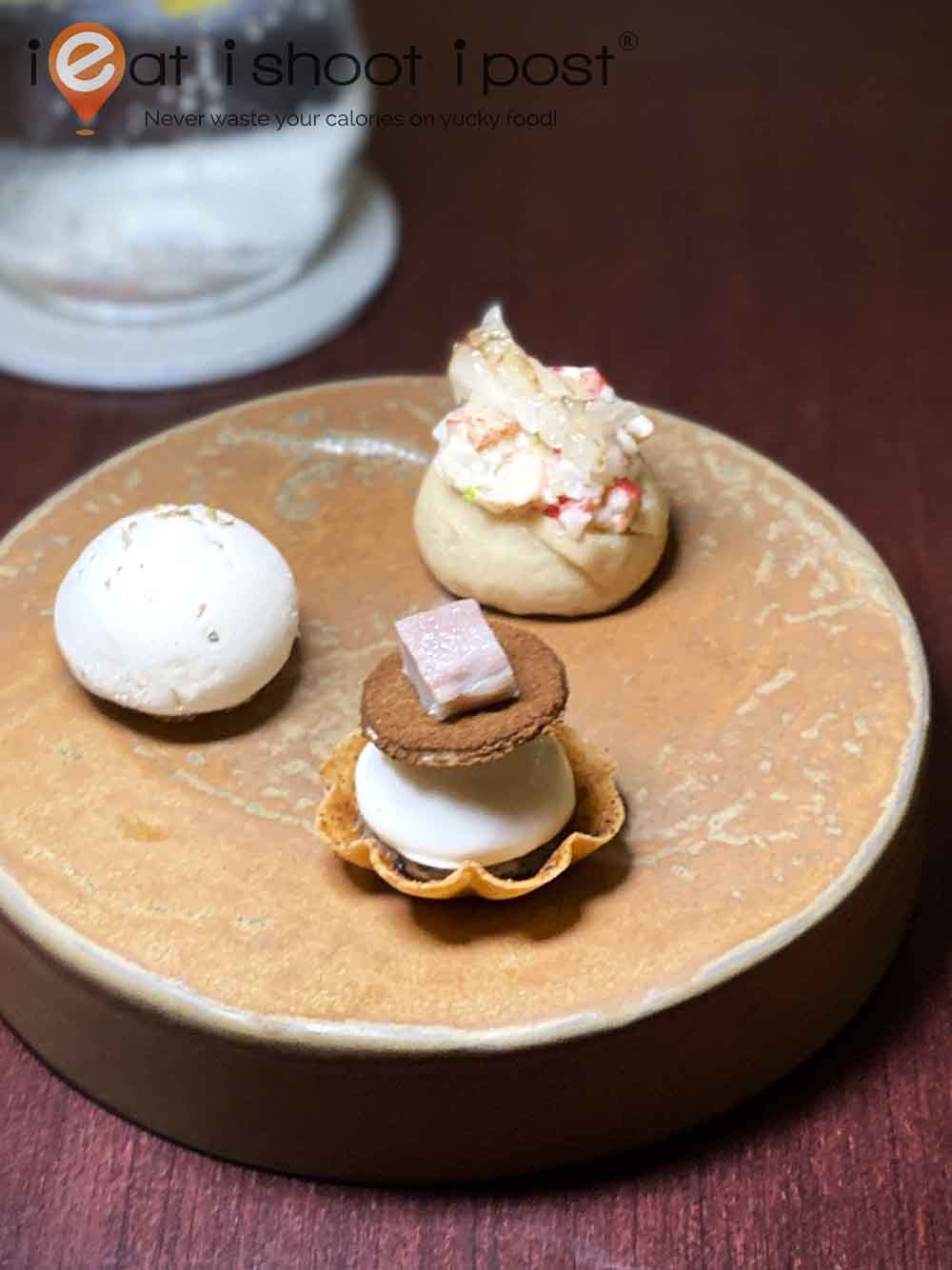 The Amuse-Bouche was delightful. The dashi meringue with foie gras was a real tease as was the smoked eel carbonara with porcini. They were dainty and delicious and left you wanting more! It was interesting to see a mini Lobster steam bun that was served with lardo di colonnata – perhaps a homage to our chili crabs which are also served with steamed buns? 4.5/5
Ala Carte – Turbot Jelly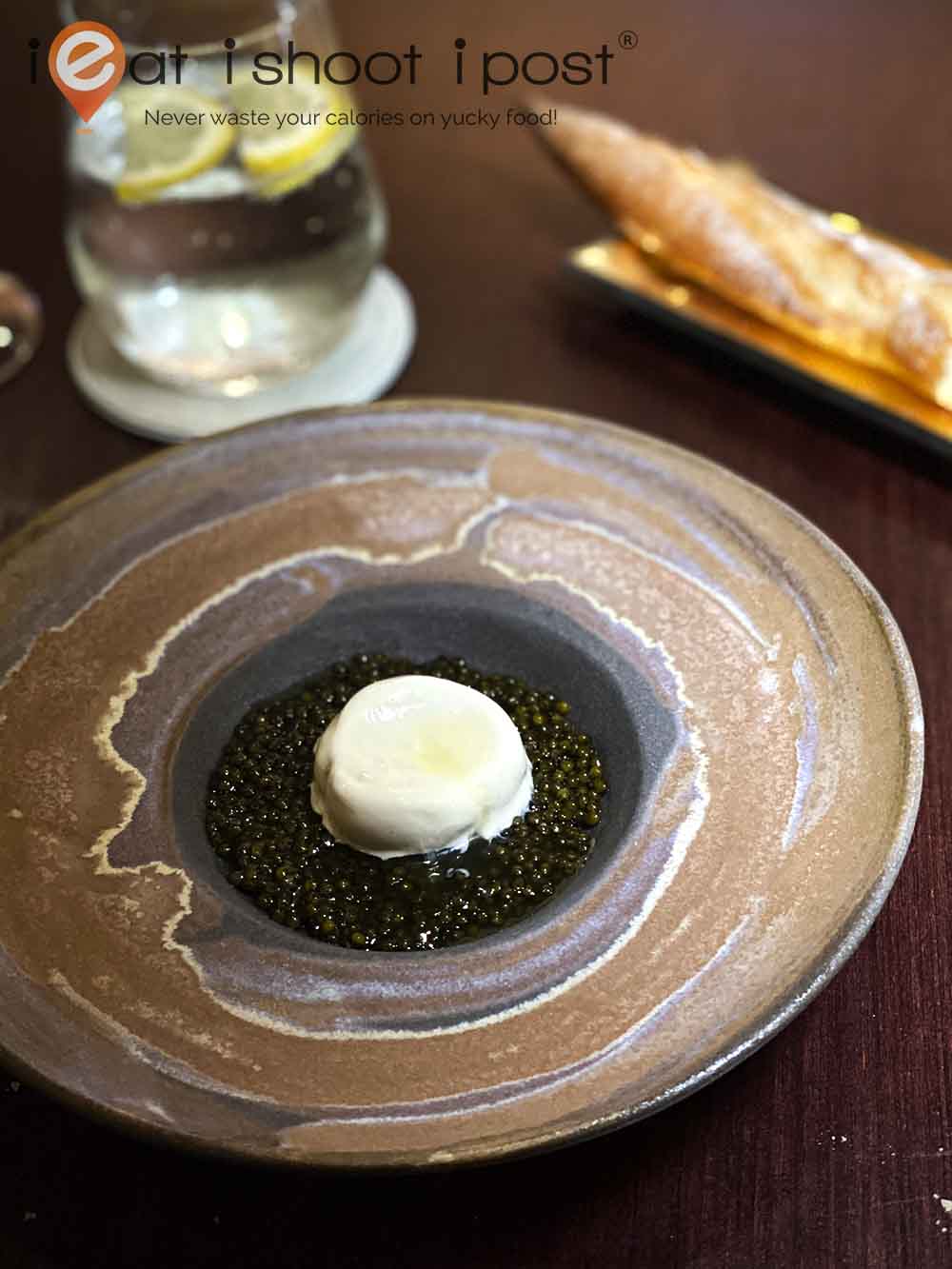 For the ultimate luxury, Chef Dayal presented a dish of Ice Cream of Gillardeau Oyster on a bed of jelly made from the head of turbot, topped with a generous layer of N25 Caviar. This caviar is harvested from mature sturgeons bred at a high altitude (2200m) which is subsequently aged for 3-10months to produce caviar with a translucent membrane that is still elastic. The way it pops in the mouth is quite different and it is less salty than the caviar we were familiar with.
5 Course Set Menu ($198++)
Ceviche of sea bass with tiger milk and kaffir lime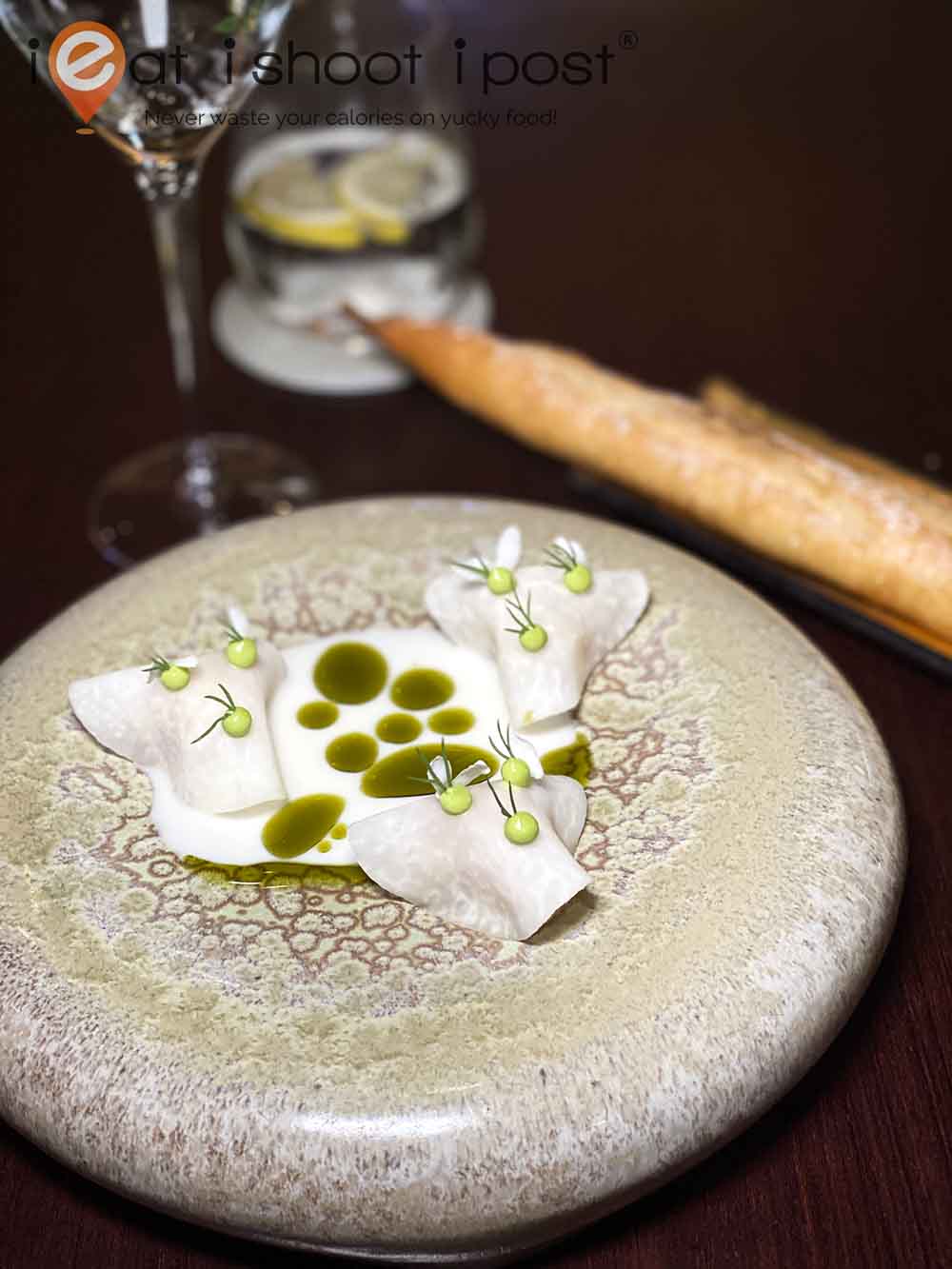 This dish was reminiscent of a Thai-style Tom Kha soup due to the use of kaffir lime oil and coconut milk. It was draped with a thinly sliced kohlrabi root to give it a crunchy contrast. It wasn't as mind-blowing as the Turbot jelly but still pleasant nonetheless.
Fluffy egg "Soufflé", vin jaune with bacon and truffle
The combination of white truffle, eggs, and bacon is a marriage made in heaven. You really don't want to mess with this time-tested pairing of flavors. But what Chef did was to introduce a change in texture by creating an egg white souffle by steaming in the shape of a ball and embedding the runny yolk inside. The fluffy souffle was terrific with the white truffle and vin jaune, and the feathery sliver of zolderspeck – attic-cured bacon, gave it that salty umami punch.
Tip: When the dish arrives, just place your face 10 cm from the dish and give it a good whiff! The warm ceramic bowl acts like a radar dish, concentrating all that truffle aroma into your olfactory glands!
Turbot 'Bordelaise' bone marrow, onion, and Swiss chard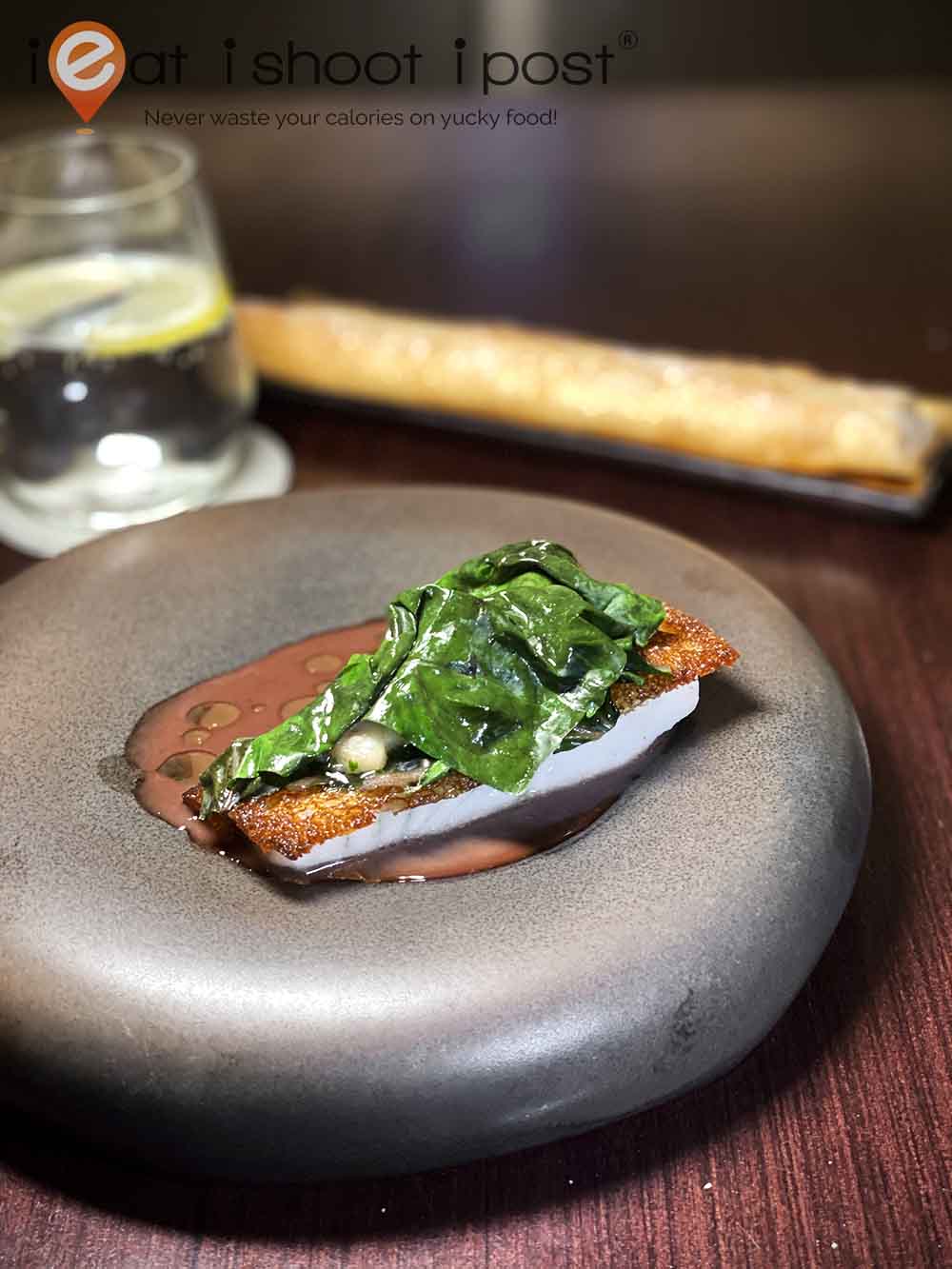 The turbot was another one of those eye-widening dishes of the night. The thin piece of crackling which we assumed to be the skin of the turbot turned out to be a uber crisp wafer of sourdough, and while bordelaise sauce is usually paired with red meat, chef made it work by using a base of clam jus instead of veal. It was an unexpected delight which is what this level of fine dining is all about.
Roasted Duck from Toh Thye San farm, confit leg, braised endive and foie gras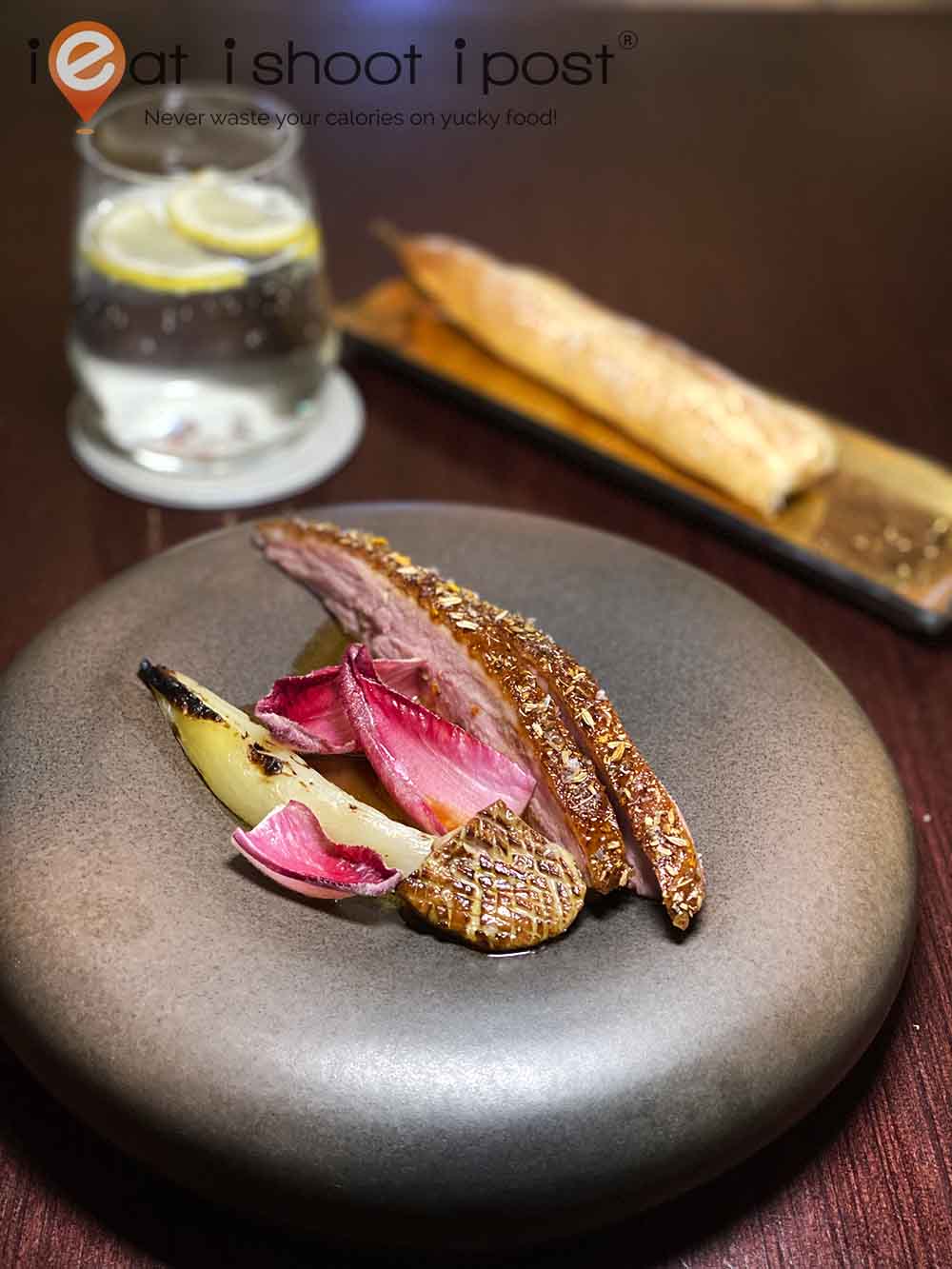 We also enjoyed the roast duck which comes fresh from a Malaysian farm. The breast is roasted to perfection while the legs are used to make the sauce. I am not sure if the foie gras came from the same duck, but I doubt it. I would have liked something sweet to pair with it as I am always looking for the plum sauce that goes with Chinese-style roast duck.
A4 Kagoshima wagyu striploin oyster and caviar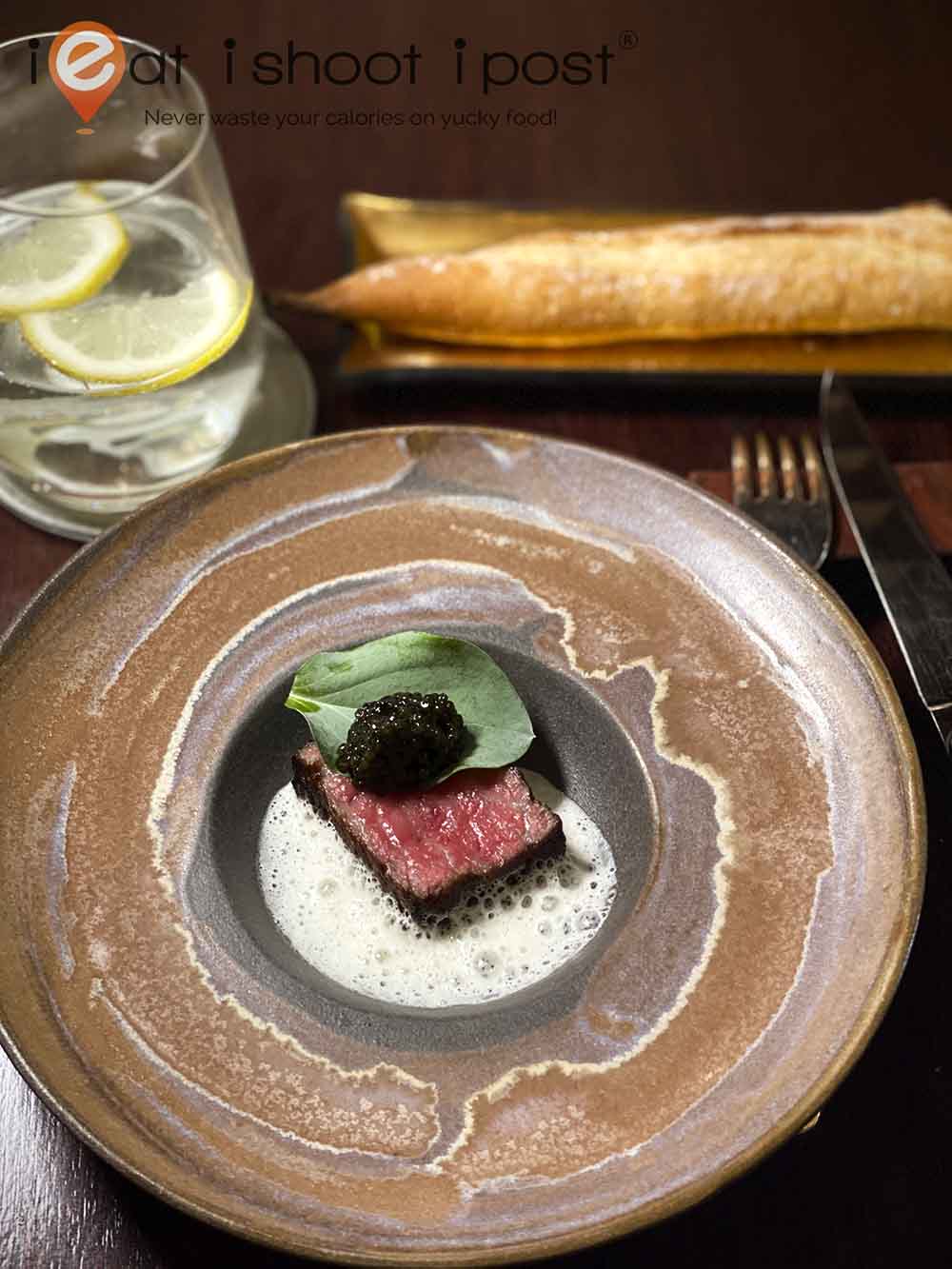 The thought of serving beef with an oyster veloute seemed a little eccentric at first until I recalled that once upon a time, there was a classic English dish known as the carpetbag steak which is essentially a steak stuffed with fresh oysters. The Kagoshima striploin, paired with oyster and caviar is perhaps the ultimate luxury. Note that you get to choose between the roasted duck or the beef for the set menu. And be warned that you'll need to top up another $70 if you were to choose the beef.
Apple, salted caramel, puff pastry and walnut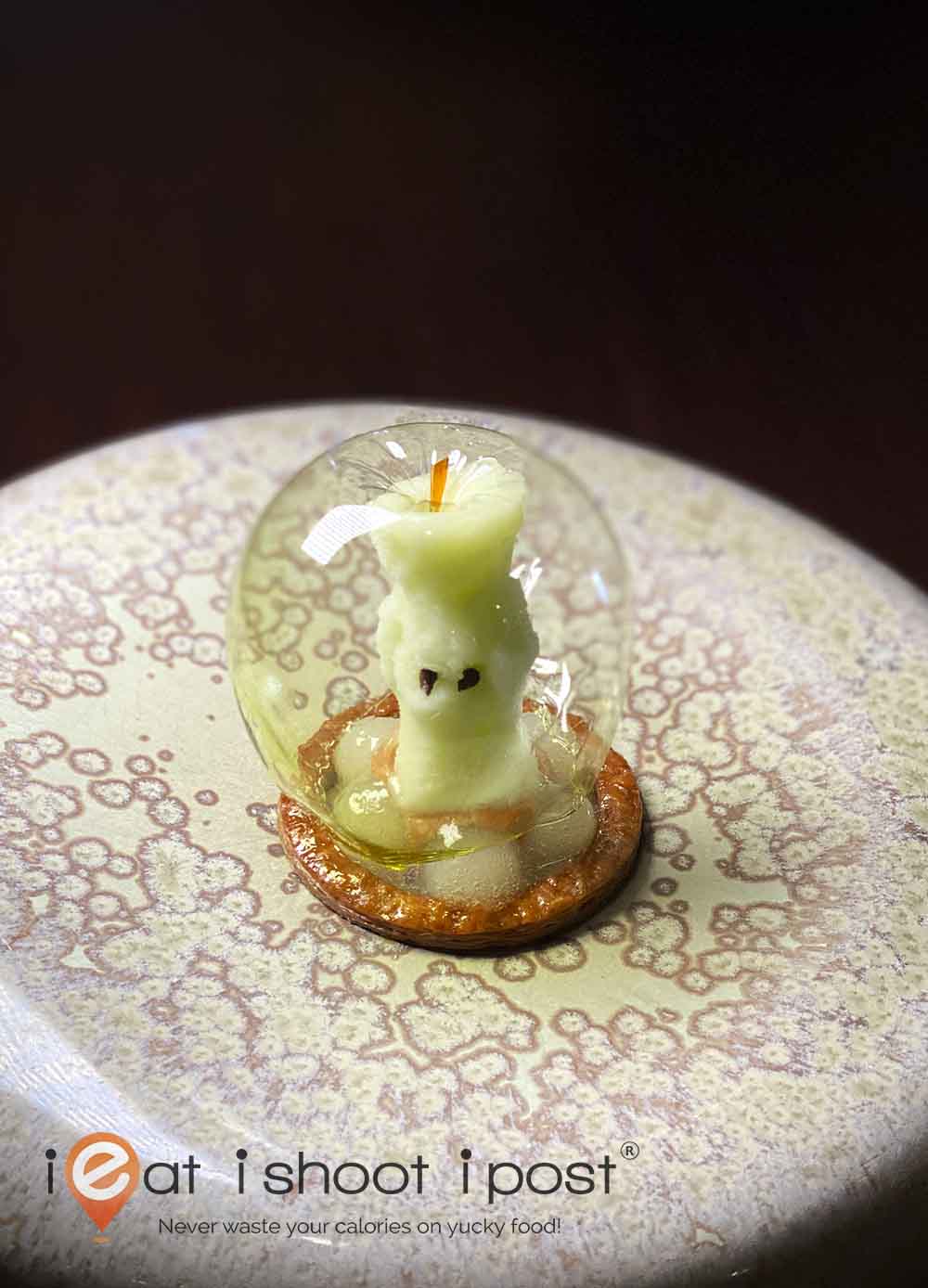 For dessert, we were served their iconic apple which was inspired by the French Apple Tarte Tatin. The core is made of green apple sorbet with chocolate pips and a ball made from Caramel sugar. It is perhaps one of the most memorable desserts we have come across. It certainly teases the eyes, but it isn't exactly something you'd ask for a 2nd serving of.
Video Highlights
Highlights of our meal with wine pairing (additional $158++)
Set Menu and Wine Pairing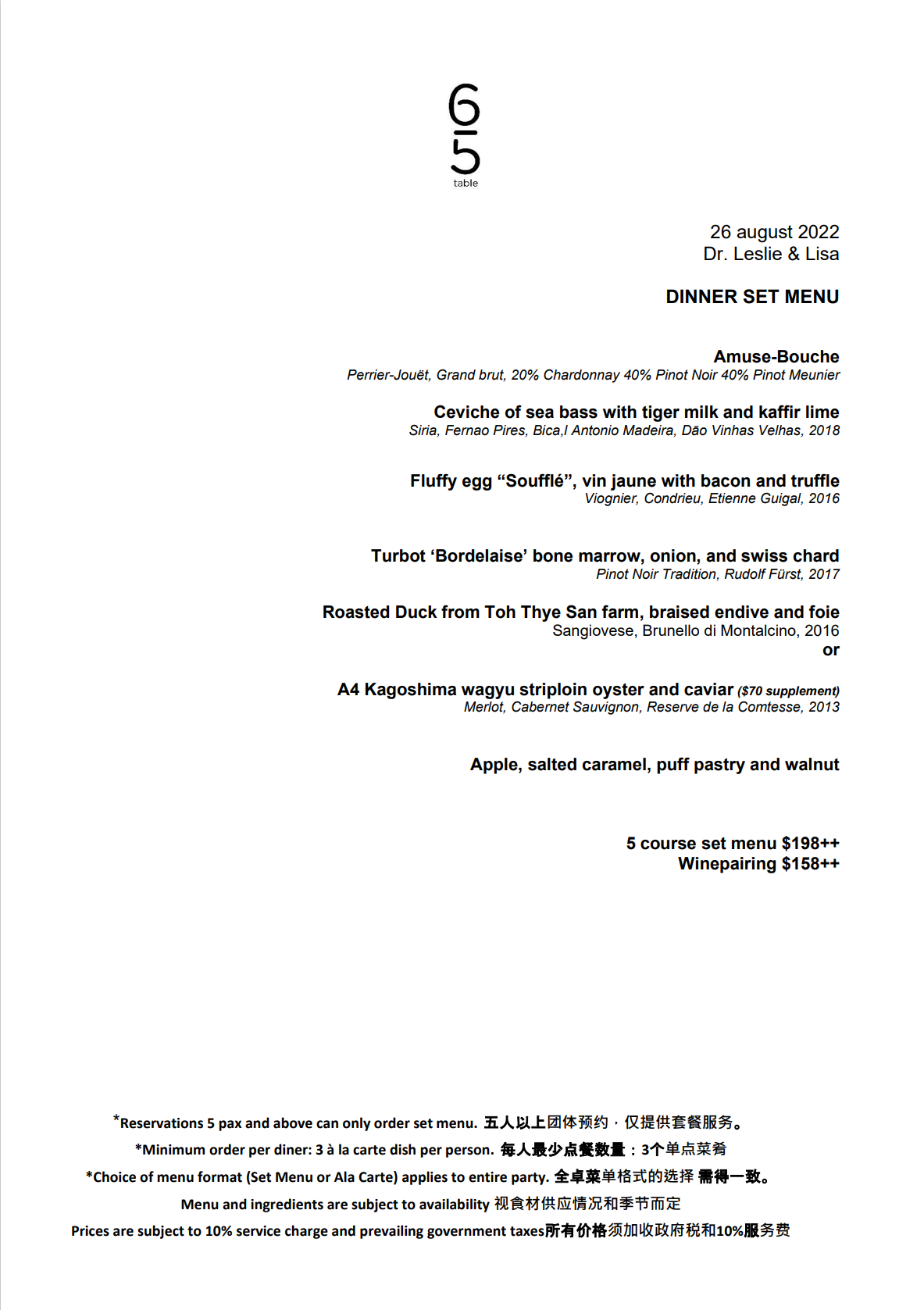 Conclusion
We had a wonderful evening at Table 65. The food was delightful and the setting is casual enough. We liked the open kitchen concept where you get to watch the chefs in action.
Disclosure
This was a media invite. That means we were under no obligation to write a review unless we feel that the restaurant was worth recommending.