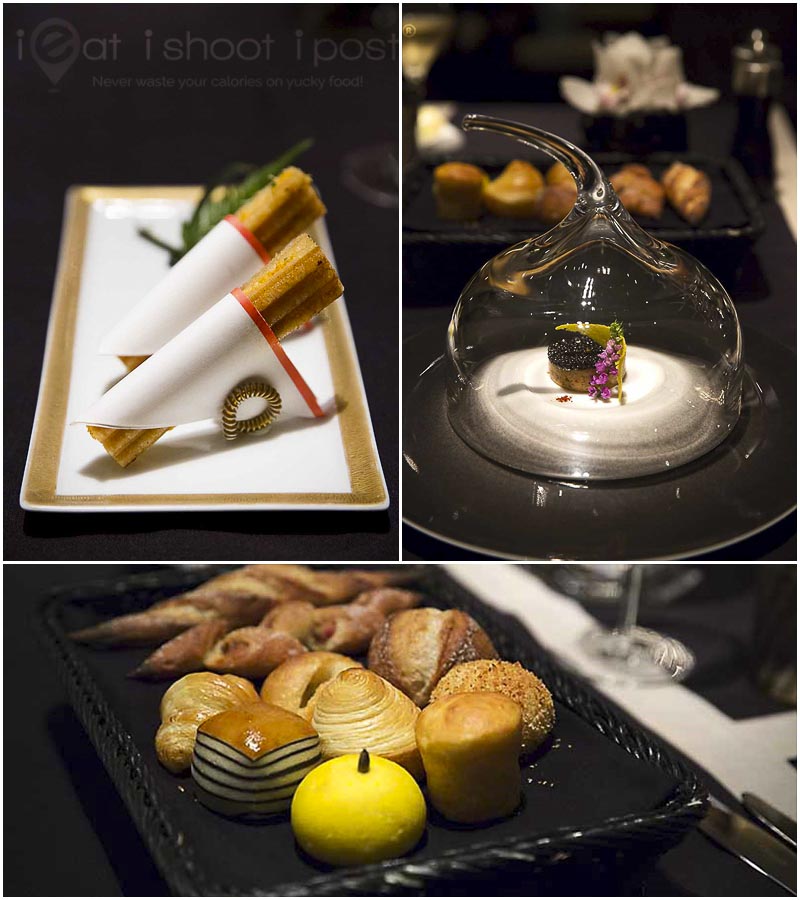 How does one write about a Three Michelin Star restaurant whose Chef has been given the title "Chef of the Century" and who currently has a total of twenty eight Michelin Stars?  If I criticised it,  I would surely sound patronising.  If I said the experience is "phenomenal", I might be misconstrued as being shallow.
So how does one write about Singapore's first and only Three Michelin star restaurant?
Well, let's just say that the following post is merely an account of my own (and FeiEats') experience of dining at Joël Robuchon. My intention is merely to feature the photos of my meal there and eat vicariously on your behalf.
Joël Robuchon is classic French fine dining except perhaps that in Singapore, the patrons tend not to dress too formally.  During the course of the meal, your wait staff will come by with trolleys to carve your meat and tempt you with a variety of breads, desserts and chocolates.  The trolley service adds a certain level of prestige to the meal as is the fact that if you ordered something like roast duck, they would carve a whole duck in front of you, give you just a few slices and wheel the rest back in the kitchen.  What they do with the rest of the duck is a mystery because everyone seems to be getting a whole chicken, duck or in our case a whole chateaubriand et foie gras of which we only consumed half.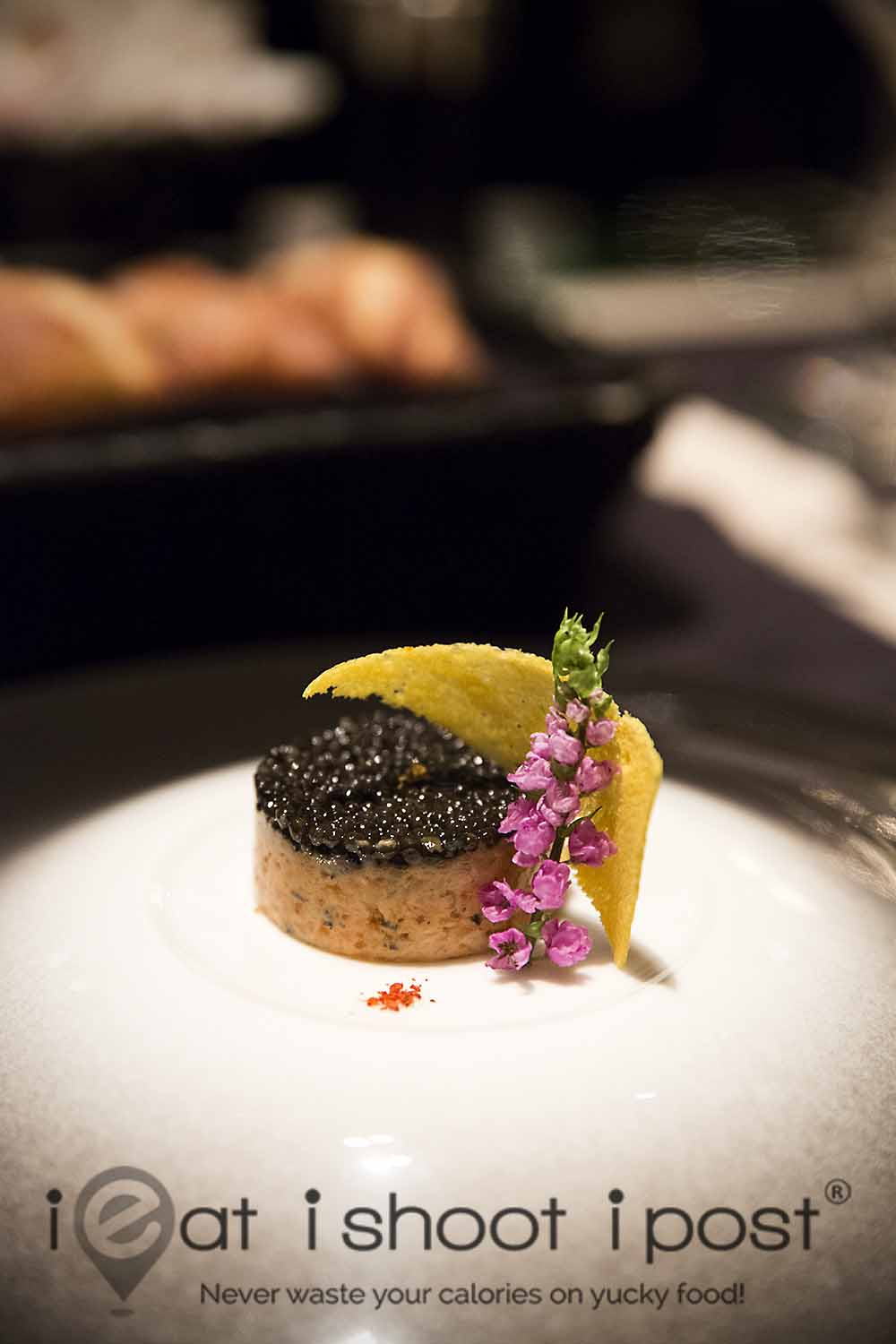 Our dinner started with the "Pour Commencer" of crispy langoustine waffle which is made from chopped langoustine and uni sandwiched between two perfectly toasted, buttered bread.  This is the Robuchon version of the lobster sandwich and a fitting prelude to the other courses of the evening.
Next course was "Le Caviar Imperial" which is Sologne caviar on a disc of wild New Zealand salmon tartare.  Executive Chef Michael Michaelidis told us that wild caviar is no longer available and Chef Robuchon only uses Caviar Impérial de Sologne which is harvested from farmed sturgeons in France.  The salmon tartare is marinated with classic beef tartare ingredients like mustard, capers and anchovies with the addition of tobiko or flying fish roe for added texture.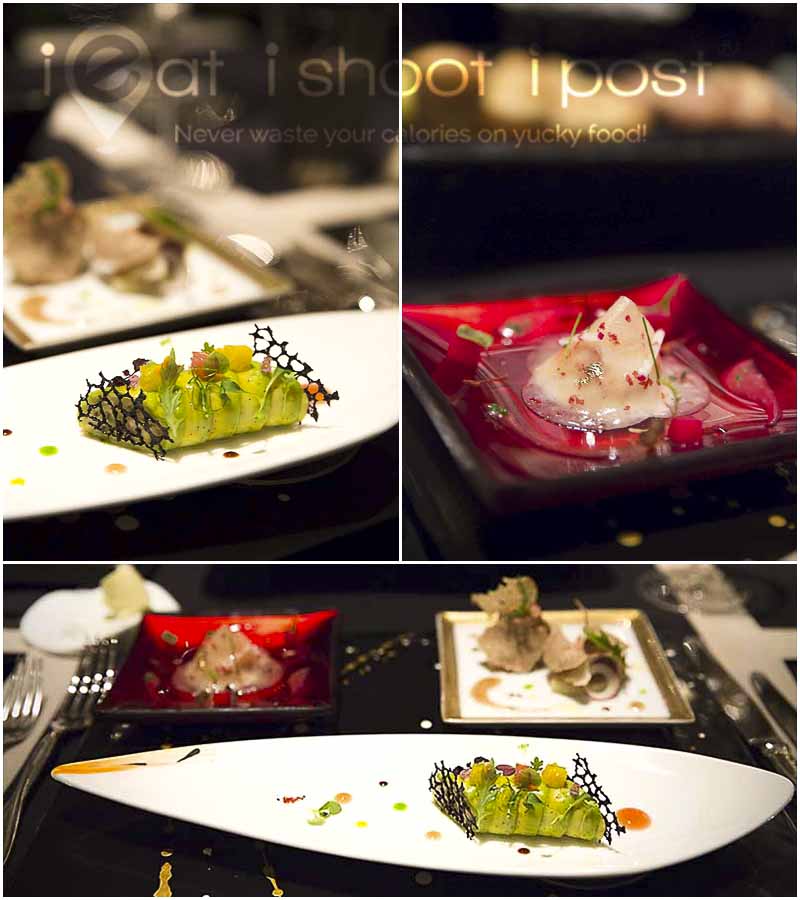 Next we were presented with a trio of starters.  "La Truffle Blanche" was shaved white truffles on ratte potatoes topped with foie gras carpaccio.  No surprises here, as these are tried and tested flavours combinations, as was the king crab with avocado.  What was a little more unexpected was the chilled lobster with pickled daikon radish which was sliced thin and used to wrap the lobster like a ravioli.  I felt that the pickled daikon was a little tart which over-powered the lobster meat.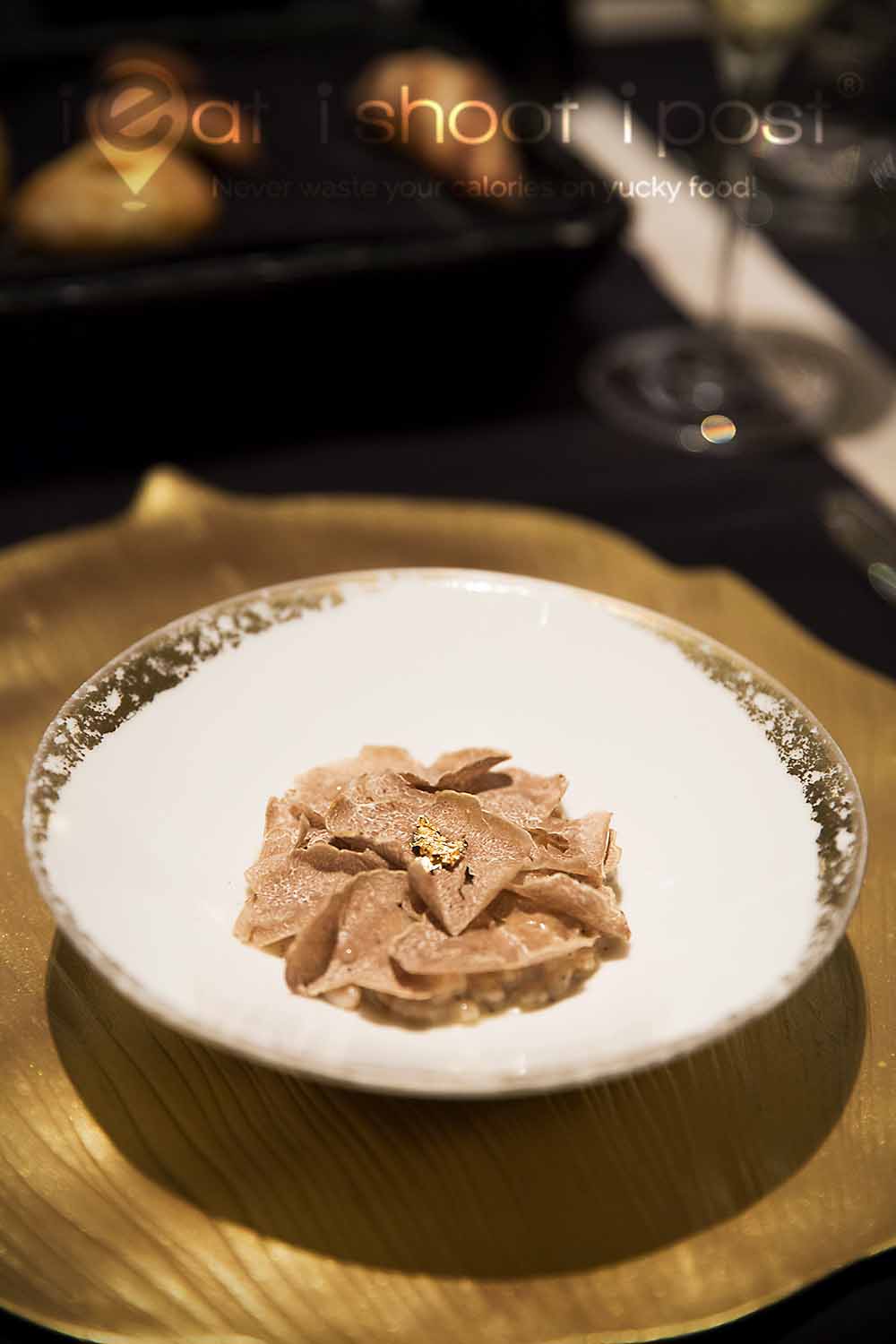 White truffles season is a great time to visit Joël Robuchon as you are bound to get a fair few shavings of it.  Our truffle dish was again a combination of classic, sure win flavours of white truffles, parmesan and mascarpone cheeses and risotto.  The surprise came in the form of the spelt or "L'epeautre" used to make the risotto.  Spelt is not widely available because of its low yield.  Chef Robuchon sources the grain from a small organic farm in France and the texture is excellent. It is a little like barley but lighter and with a very interesting bite which is very different from the typical risotto.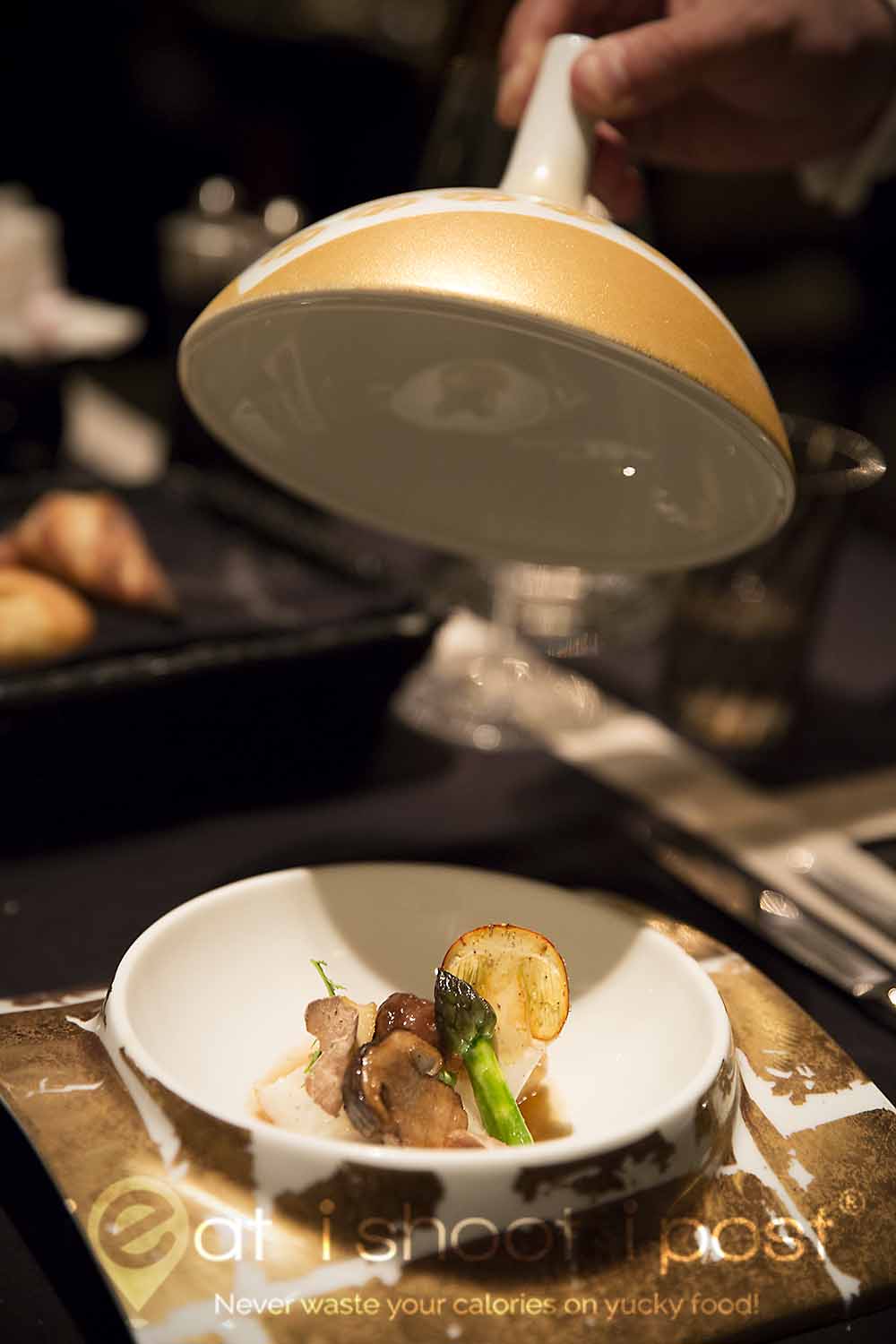 Our "Le Turbot" was as much about the matsutake, ovoli and baby porcini mushrooms as it was about the coveted French turbot which was grilled on the bone before being filleted and served with the mushrooms, chestnuts and yuzu.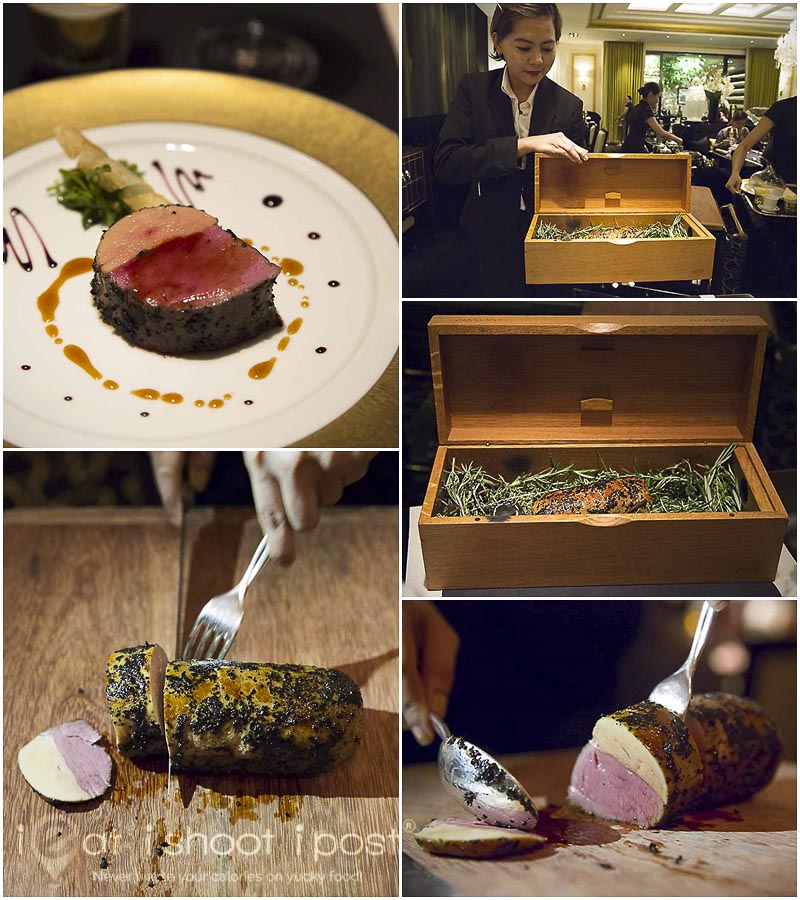 Throughout our meal, we have been observing the carving of meat happening at the other tables which only heightened our own expectations.  Every time a wooden box was opened, the restaurant would be filled with the aroma of wood smoke. When it was our turn to open our box, we were presented with a superb chateaubriand et foie gras.  I seldom order chateaubriand (tenderloin) as it lacks the fat and thus, the flavour of sirloin or ribeye. But what Chef Robuchon did was to stick a slab of foie gras onto a tenderloin with a bit of egg white, marinate it with black truffles and cooked in a water bath till the internal temperature reaches 54°C – perfectly medium rare.   It was then charred and served on a bed of herbs with the smouldering cedar wood.  It was the best tenderloin I have ever eaten!  The texture and flavour was superb and needless to say, the foie gras added that extra flavour and richness to the beef!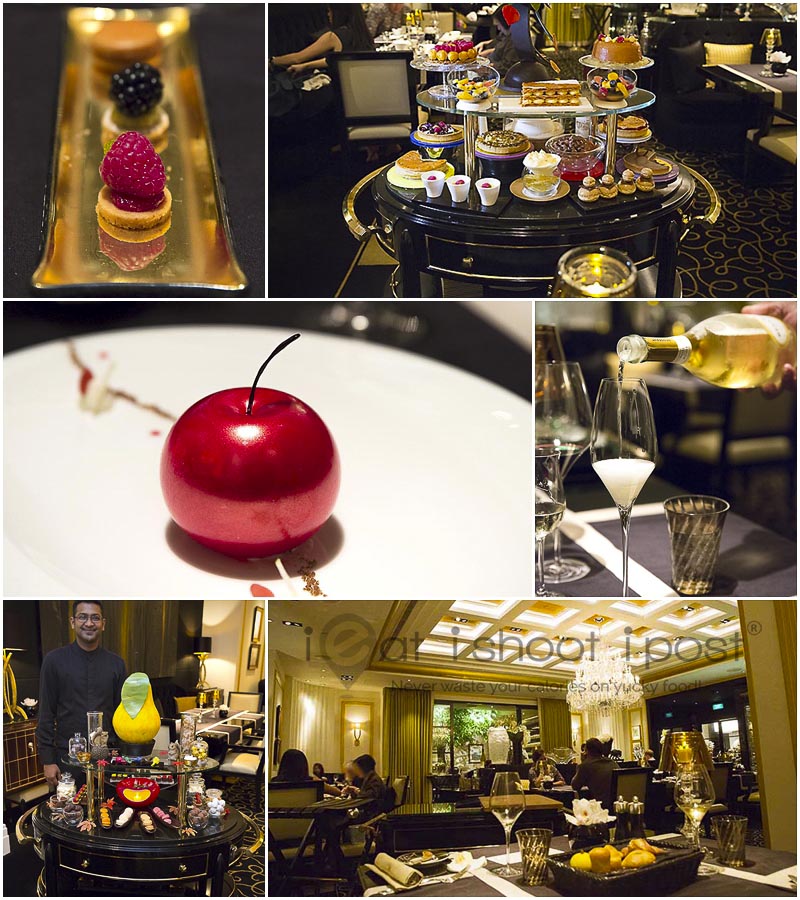 The French really know how to enjoy their meals at a leisurely pace. So even after the main course, it wasn't a perfunctory dessert and a quick goodbye.  No, there is a procession of at least three dessert courses to make you feel as if they don't want you to leave so soon!
Our first course was the was a caramelised de-structured apple with caramel ice-cream, vanilla and spicy biscuit.  Basically what looked like an apple was made up of ice cream on the inside encased in a thin, red sugary crust.  We were told that it takes half an hour to create each of these!
After the first course, you would be presented with the dessert trolley and tempted to choose a few more delectable sweets like plum and fig tarts and various cakes.  And after all that, if you are still feeling hypoglycaemic, the petite four trolley would come by to offer you a choice of chocolates, macaroons and other little sweets! These two dessert trolleys are part of any of the set meals on the dinner menu which starts at $248++ per pax.  Basically the cheaper sets allows you to choose one dish for each course, while the more expensive ones allow you to choose more than one from a choice of a few dishes.  The portions do get smaller with more courses.
Conclusion
There is good reason why Chef Robuchon is the world's most celebrated chef and we are very privileged to be able to experience his dishes here in Singapore.  FeiEats and I have been to L'Atelier on several occasions and we have always enjoyed our experience there.
There are a few tried and tested flavour combinations that you can always expect to see on the menu.  Things like crab and avocado, truffles with potatoes, truffles with foie gras, truffles with eggs and so on, and Chef Robuchon's signature pomme puree is always on the menu. I would say that those who are privileged enough to eat at fine dining establishments regularly and are looking for fresh new flavours may be a little disappointed.  But for the average person, a dining experience at Joël Robuchon is as close as you can get to a perfect dining experience in Singapore.  We are saddened by Chef Robuchon's passing and can only mourn the world's loss of a culinary master.
Disclosure
This was a media tasting review.  The meals were provided but there were no obligations or fees received for the write up.