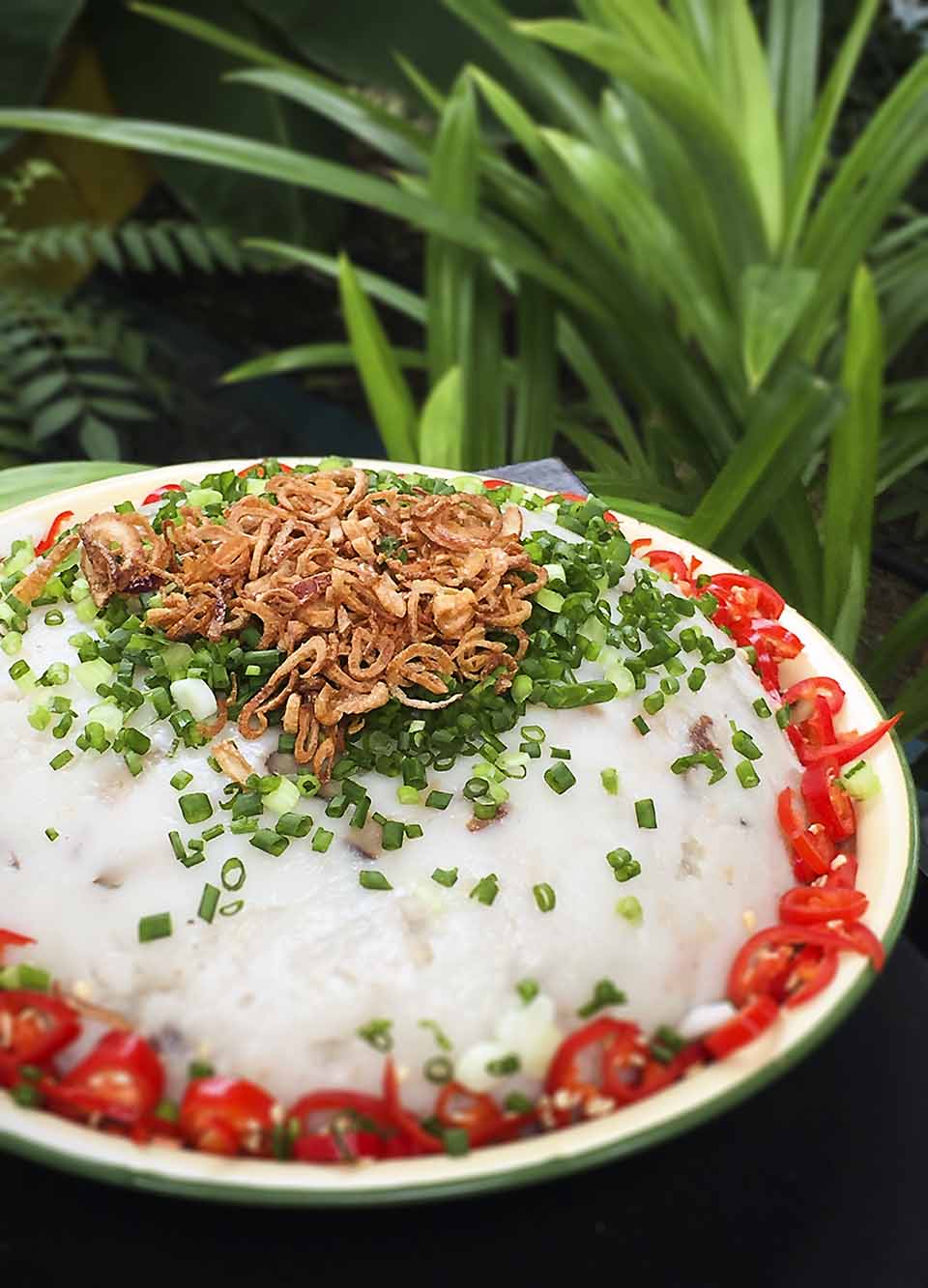 I am sure you all enjoy ordering "carrot cake" whenever you are at the dim sum restaurant.  The Cantonese version includes umami rich ingredients like dried scallops, dried shrimps and Chinese sausages and can be served either pan fried or steamed and served with a sweet soy sauce.
Traditionally, you need to cook the radish and make the rice slurry in a pot before transferring the batter into another tray which is then placed in a steamer to steam for 1-2 hours.  With the Tefal Induction Rice Cooker, you can easily do everything in a pot!
Ingredients
Dried shrimps 30g
Dried scallops 30g
Dried mushrooms 5
Chinese sausage 2
Shallots 4 (finely chopped)
Radish 500g (1 medium size)
Rice Flour 250g
Tapioca flour 10g (1 Tbsp)
Wheat flour 10g (1 Tbsp)
Chicken powder 1 Tbsp
Water 1.2L (850ml for radish, 350ml for flour)
Garnishing
Fried shallots
Sliced chilies
Spring onions
Method
Pre-soak dried shrimps, mushrooms and scallops and drain reserving the liquid. Dice into 1cm pieces.  Slice radish into flat and thin slices and soak in water and drain.  Chop the shallots.  Pour soaking liquid into measuring cup and add water till there is 850ml of liquid.  Add the chicken powder to it and set aside.  Mix rice, tapioca and plain flour together and mix in 350ml water.  Stir until smooth and set aside.
Switch the rice cooker to DIY mode and set temperature to 160°C.  Fry the shallots briefly, then add the shrimps, mushrooms, scallops and chinese sausages and fry till fragrant. Add radish and fry briefly to mix.  Add water and reduce the temperature to 120°C and simmer for 8 mins.  The radish is ready when it turns translucent. Turn off the rice cooker and add the rice flour slurry slowly, stirring continuously until it turns into a uniform paste.  Set the cooker to slow cooker mode and set to 90°C and cook for 1.5 hours.  Leave to cool before removing.
To serve, slice the radish cake and heat by pan frying or steaming and top with shallots, chillies and spring onions.
Be sure to LIKE @TEFALSG page and visit Tefal to check out other recipes that you can make with Tefal Cookware.
This recipe was brought to you by Tefal.
Disclosure: Some links above are affiliate links, meaning, at no additional cost to you, we will earn a small commission if you click through and make a purchase.