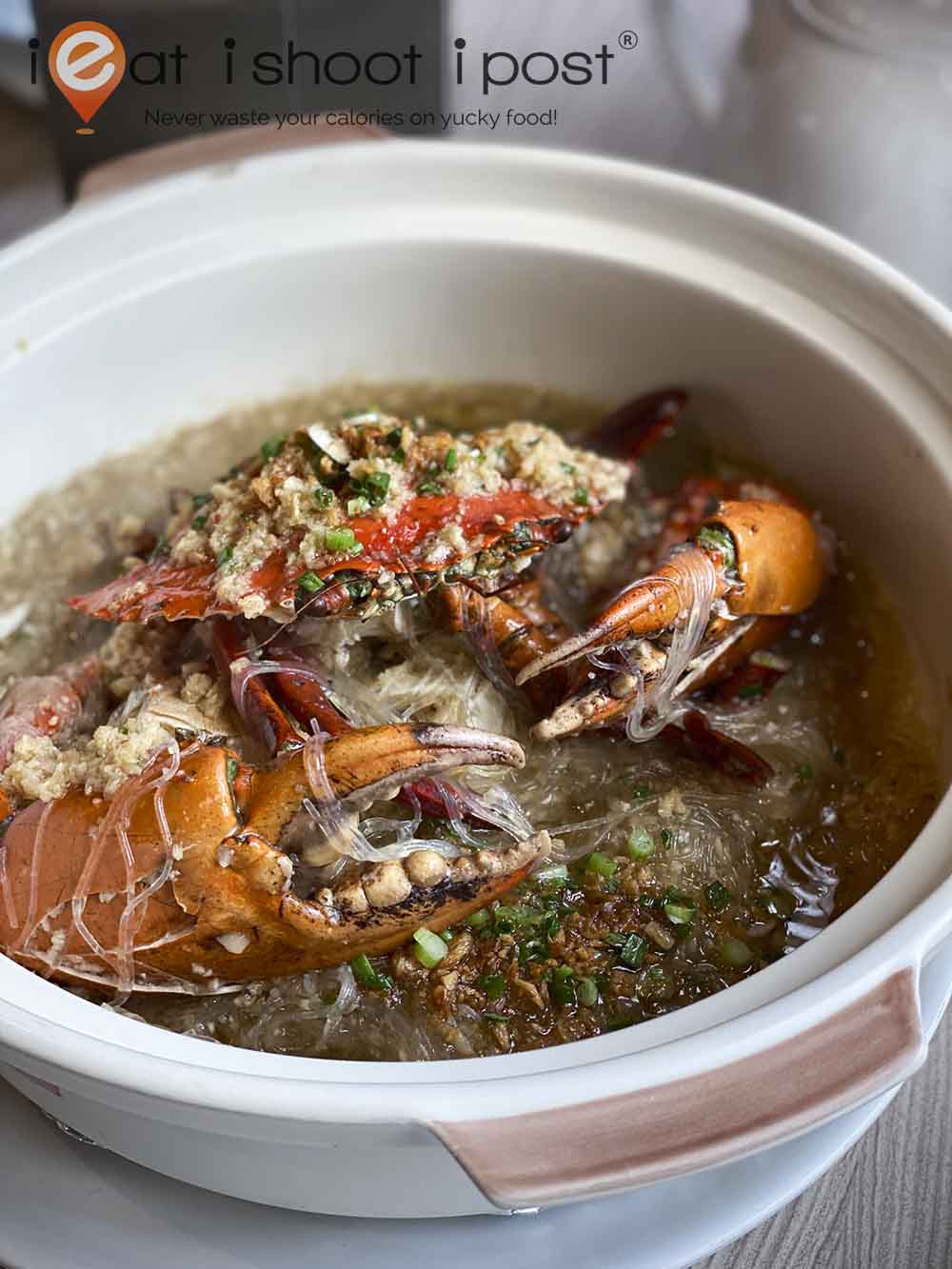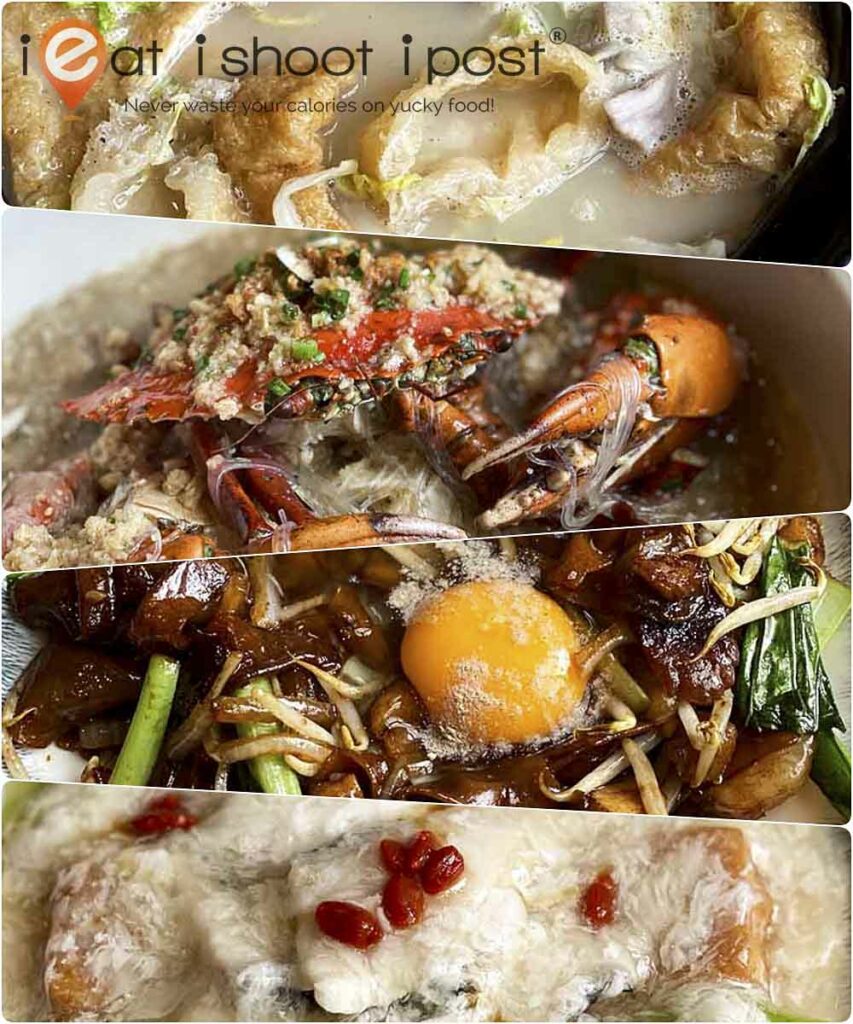 Fans of Keng Eng Kee living in the East would be very happy to know that they have now opened their 2nd outlet at Tampines SAFRA! Now you don't have to travel all the way to Alexandra Village go round and round looking for a car park lot in order to enjoy your plate of Moonlight Hor Fun!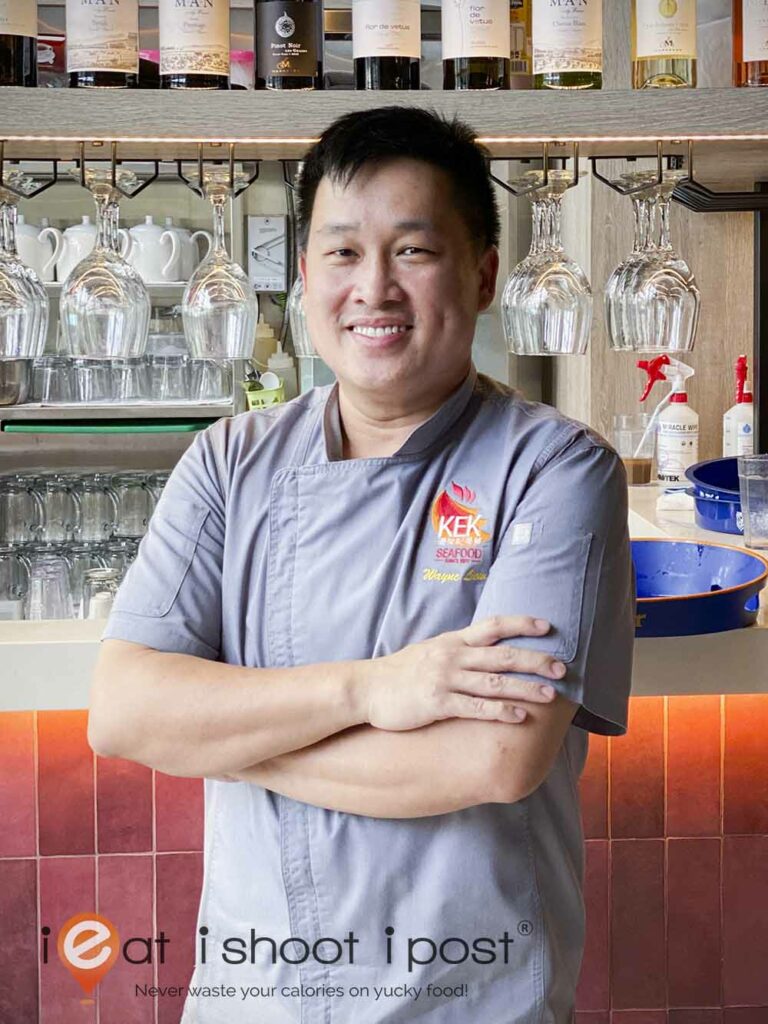 Keng Eng Kee, or KEK, is widely considered as one of the best zi chars in Singapore. When I first met Chef Wayne Liew 8 years ago, he was one of the very few locally born Zi Char Chefs that is sweating it out behind the wok! It is good that under the Liew siblings, KEK has grown from strength to strength and has represented Singapore in many overseas events as well winning accolades such as Michelin Plate Restaurant 2016-2022, World's 50 Best Restaurant Essence of Asia 2021 and Top 50 World Street Food masters 2017, amongst others.
Keng Eng Kee was founded by their grandmother over 5 decades ago as a humble hawker stall along Old Havelock Road. They became really established under their father, Mr Liew Choy's watch when they moved to Alexandra Village in the 1990's. They did have a 2nd outlet in Pandan Gardens for a few years before the opening this 2nd outlet in Tampines SAFRA.
Airconditioning, Car Park and Poolside Dining!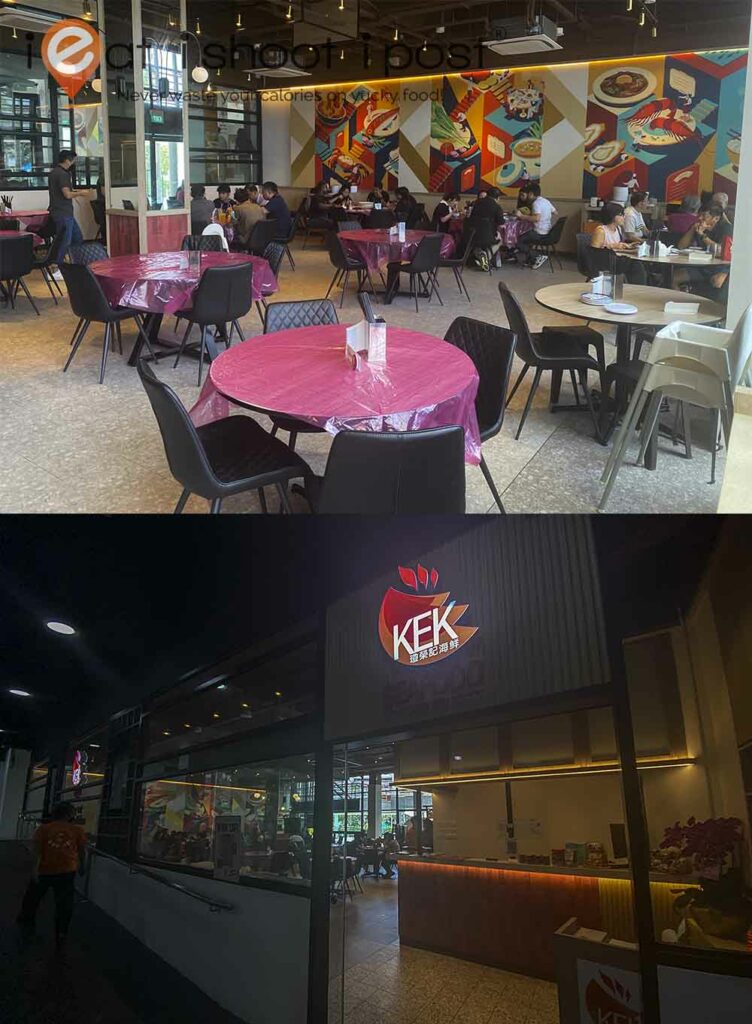 The Restaurant has a 120-seat capacity, air-conditioned and nicely renovated, an upgrade from their coffeeshop premises in Alexandra. However, their tables are still covered with red disposable plastic "table cloth" which really doesn't fit with the overall deco. But Wayne says he had no choice because it is a whole lot easier when it comes to cleaning up, especially when there are lots of crab shells on the table. The restaurant has large floor-to-ceiling glass walls that look out to the swimming pool which serves as a reminder that perhaps you might need to go for a swim to work off all the calories! Another good thing about the new location is the availability of ample car parking lots so you don't have to worry about not being able to find a parking space.
Five New Dishes for the New Restaurant
With the opening of the new restaurant, Chef Wayne has come up with 5 new dishes which we will review here. Of course, the old favourites are also available on the menu.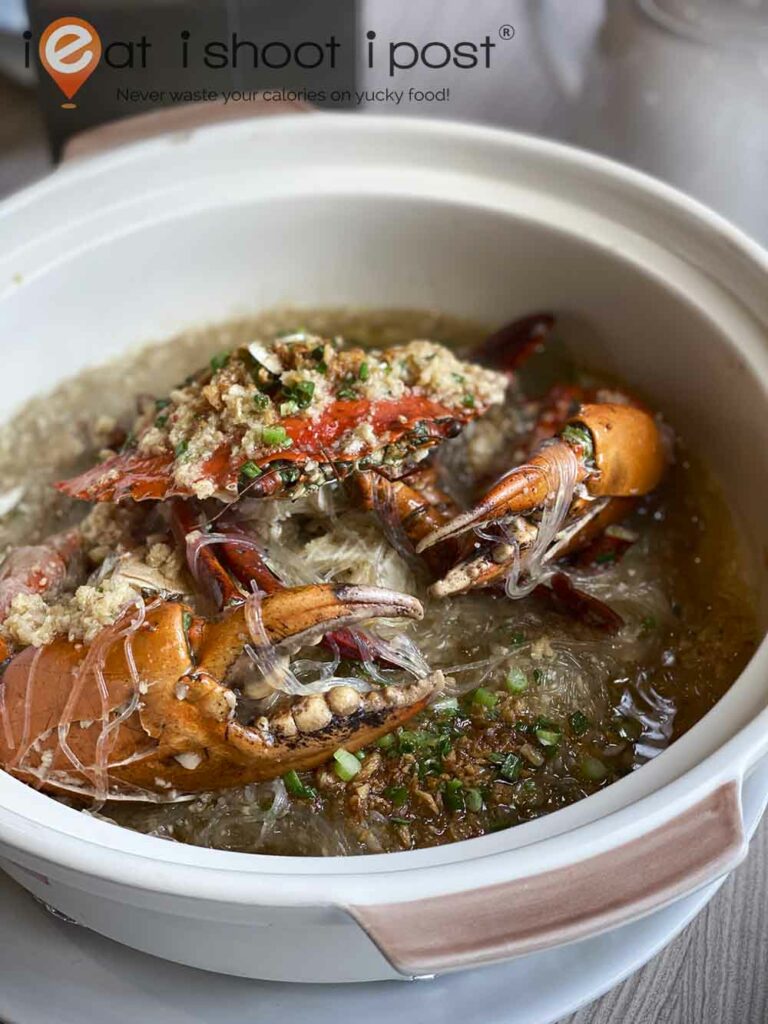 Leading the list of dishes debuting at the new KEK is their Crab Vermicelli dish which is a little different from the usual crab vermicelli dishes I have come across. It is a little more soupy, and they drizzle a hot sesame oil over the crabs at the table so you get a good dose of fried garlic and sesame fragrance. It is a nice dish which I can't help but compare with the Thai style goong ob woon sen. Personally, I found the garlic flavour to be a little too strong and needed something like a handful of chopped coriander to balance it out. 4/5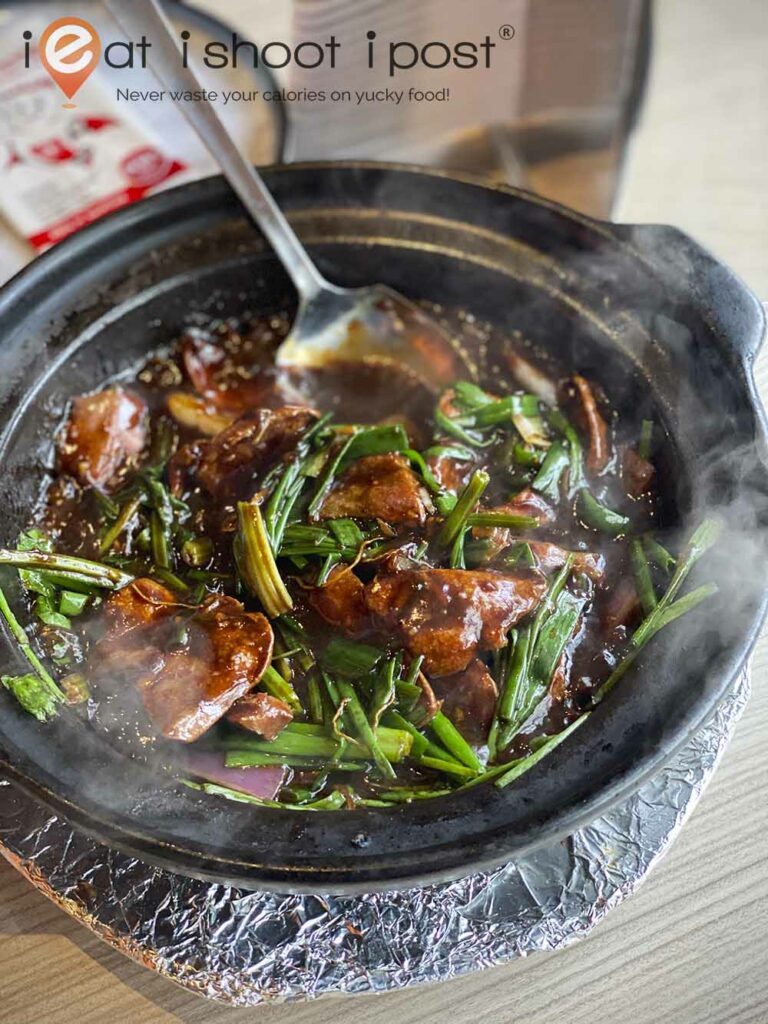 I've never really acquired the taste for pork liver, but I found the sauce in this dish rather addictive. The sizzling hot claypot was presented at the table and a bowl of rice was mixed into it which is a little unusual but the sauce and the rice was one of those comforting things that I really enjoyed. I had a slice of liver but still didn't like the taste of it. As far as liver goes, my kakis commented that it was a tad overcooked and didn't quite have that bouncy texture they were looking for. 4/5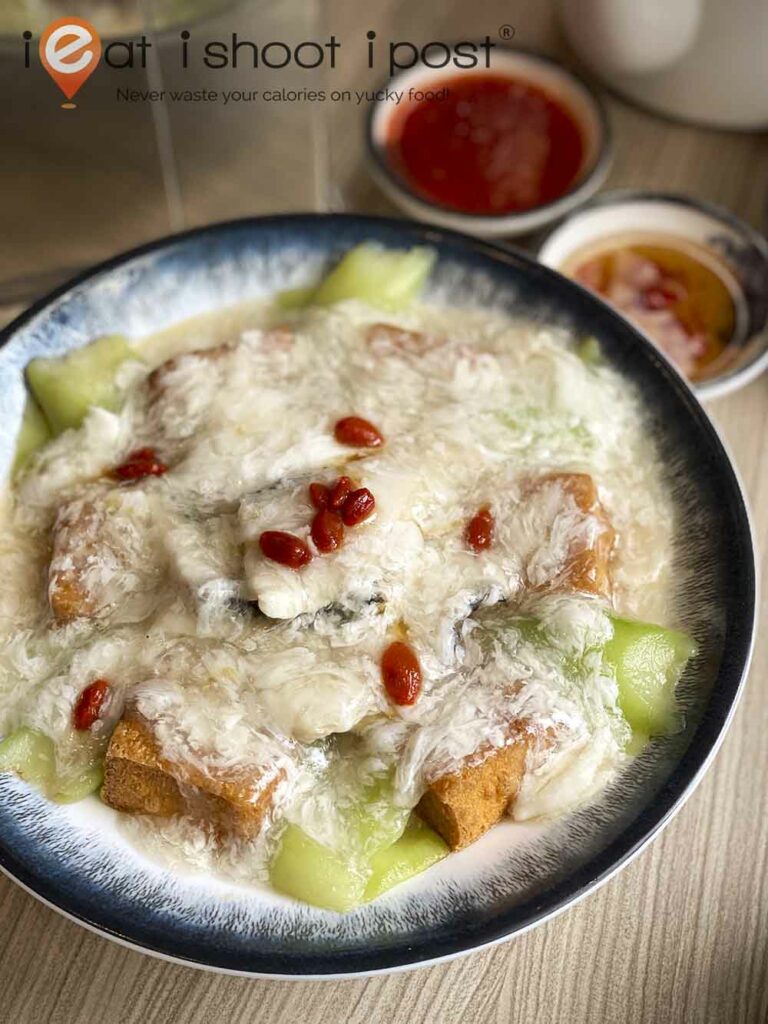 I liked the deep-fried tofu which has that very tasty skin that went really well with the silky egg white sauce that was very competently done such that it really looked like clouds covering the fish and tofu. The dish just lacked that knock-out punch that would make it a classic. Still, its a good fish dish to have on the table. 4/5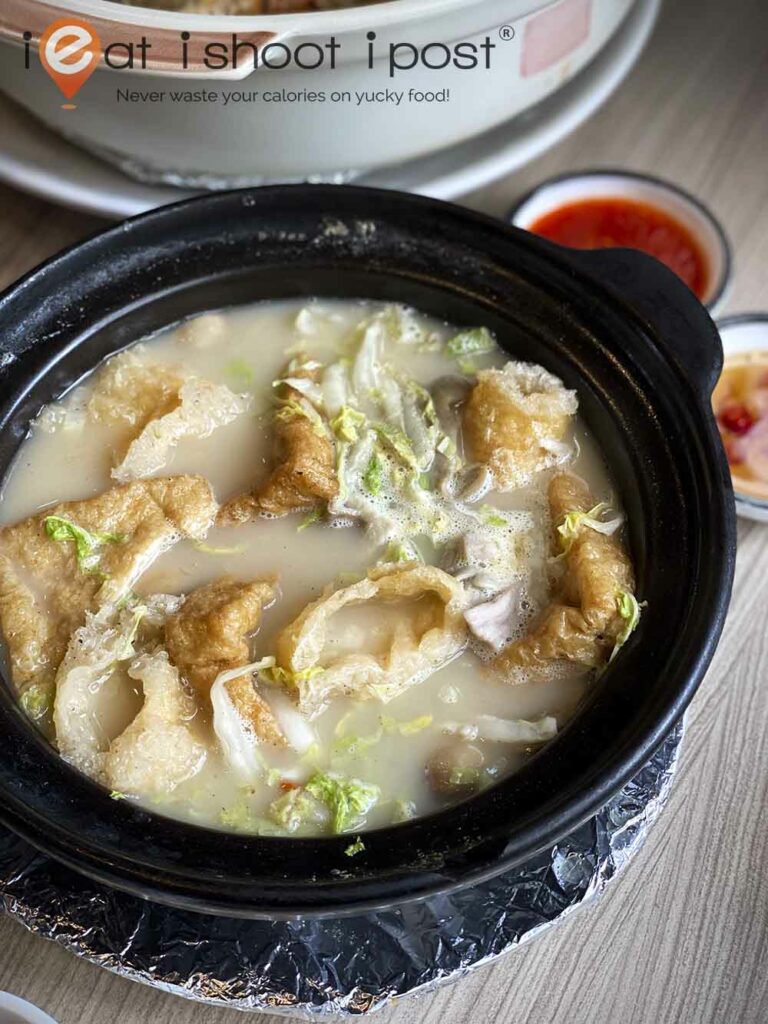 Collagen soup is still very much the in thing and in our last few Makan sessions, we have noticed many restaurants serving pig stomach soup as well! KEK's version is peppery and smooth but could be a bit more silky. It's competent but not the best we have come across. 4/5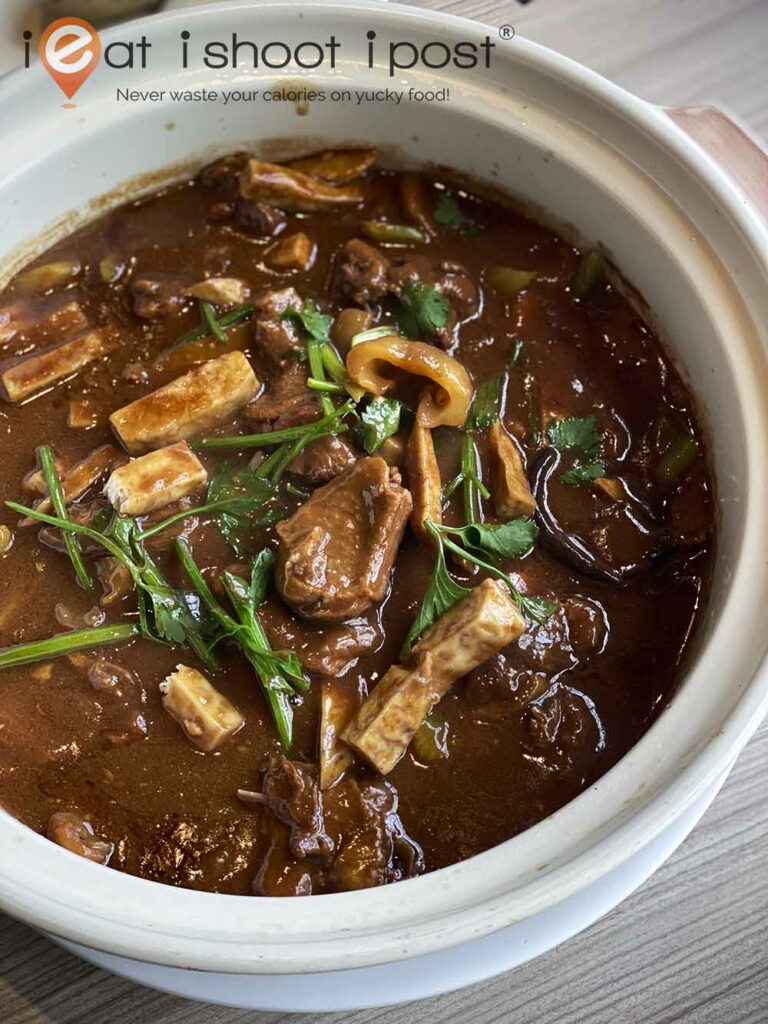 The Claypot Braised duck is a family recipe which has been passed down for three generations. The duck is braised with sea cucumber, mushrooms and celery with the addition of fried yam as a new twist to the dish. This is the kind of dish which you really need a bowl of rice to go with! Worth trying if you like duck. 4/5
Signature Dishes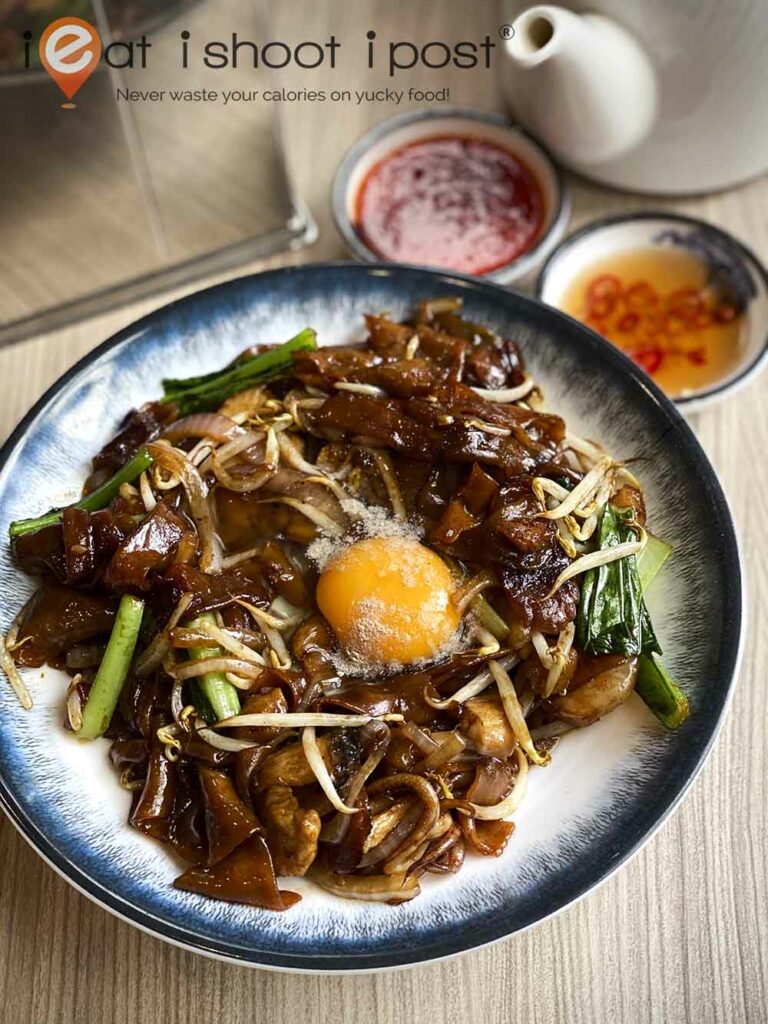 You cannot go to KEK without ordering their "Moonlight" Hor Fun. It is just one of those dishes that is just yummy and so nice to eat. The wok hei, chewy hor fun, tasty black sauce and silkiness of the raw egg is iresistible! 4.5/5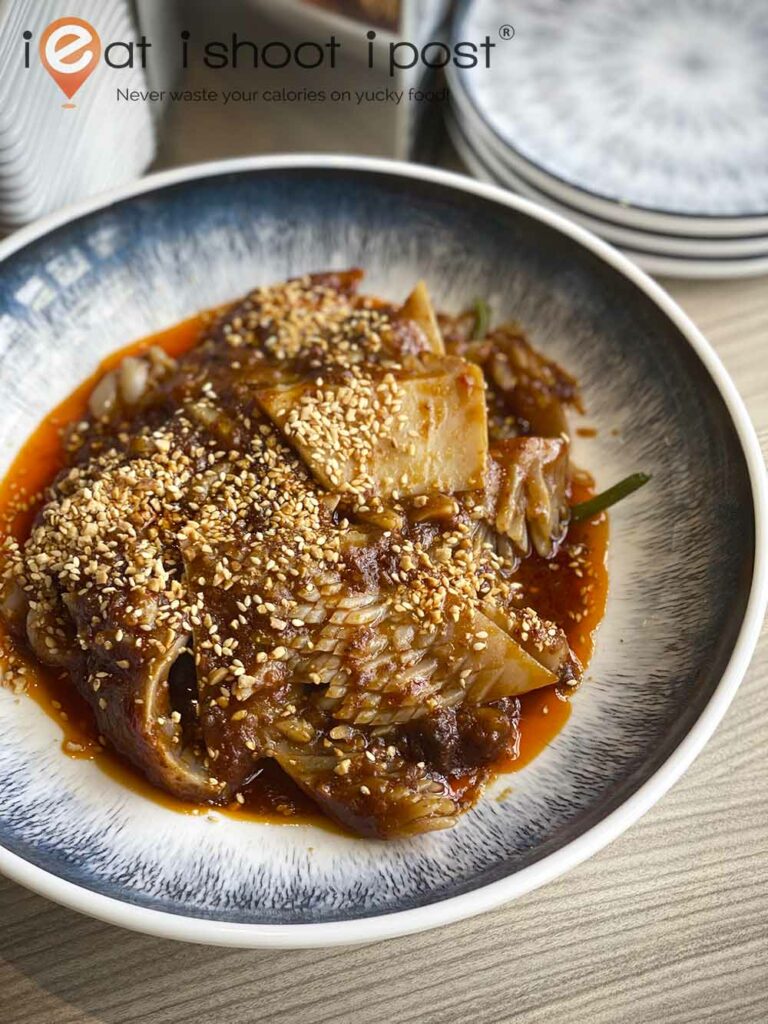 Another signature dish is the cuttlefish kangkong. Thick, tender slices of cuttlefish is wok fried in a sweet, spicy and tangy sauce. It is not easy to find such cuttlefish nowadays. Well worth trying! 4.25/5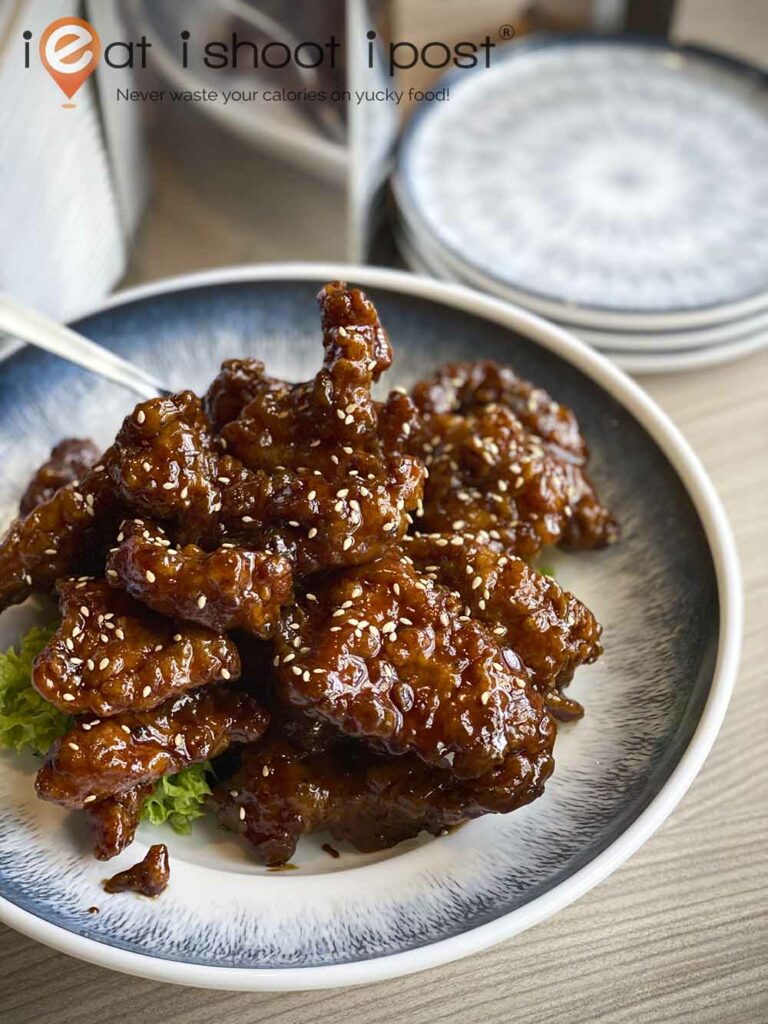 I really liked the coffee pork ribs. The texture of the meat was tender and juicy and encrusted with a crispy shell that is infused with a sweet and slightly bitter coffee sauce. Had a few pieces of this! 4.25/5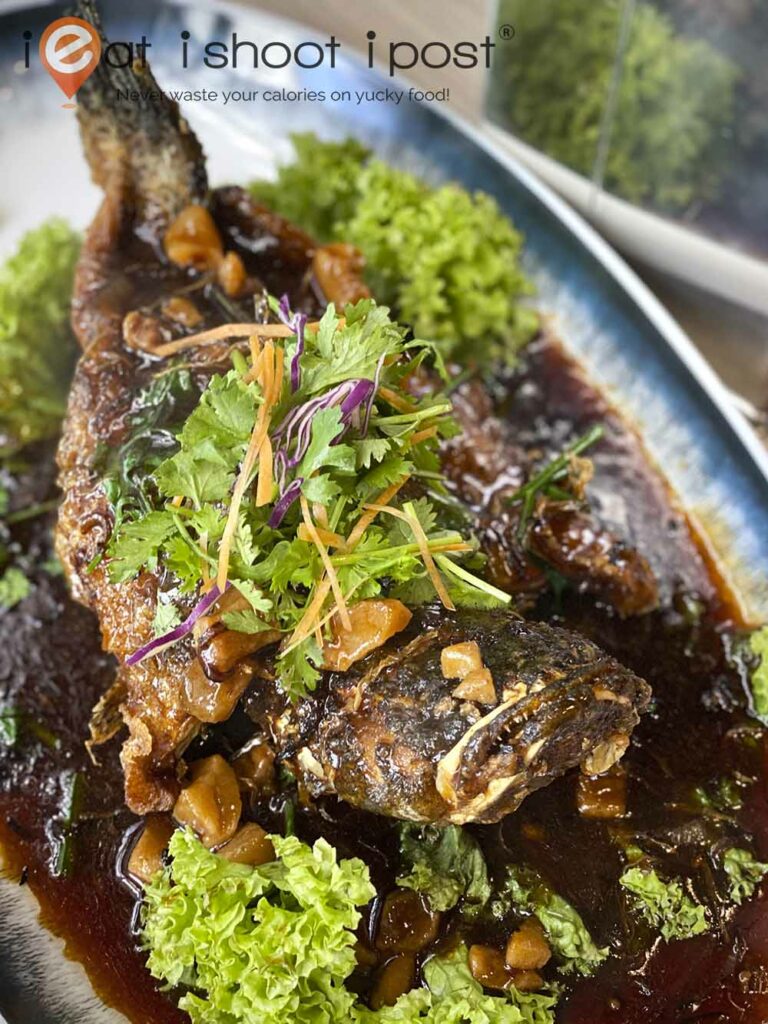 The fish was expertly fried so it was crispy on the outside and still moist on the inside. I didn't quite resonate with this style of sauce thought, preferring the style where the fish is just coated with an more intense and light-coloured soy-based sauce. 4/5
Conclusion
The food at KEK befits its reputation. It is so good that now I don't have to travel all the way out West to enjoy my Moonlight Hor Fun and have to worry about the parking situation! It's probably the best place for a Zi Char meal in the Tampines area!