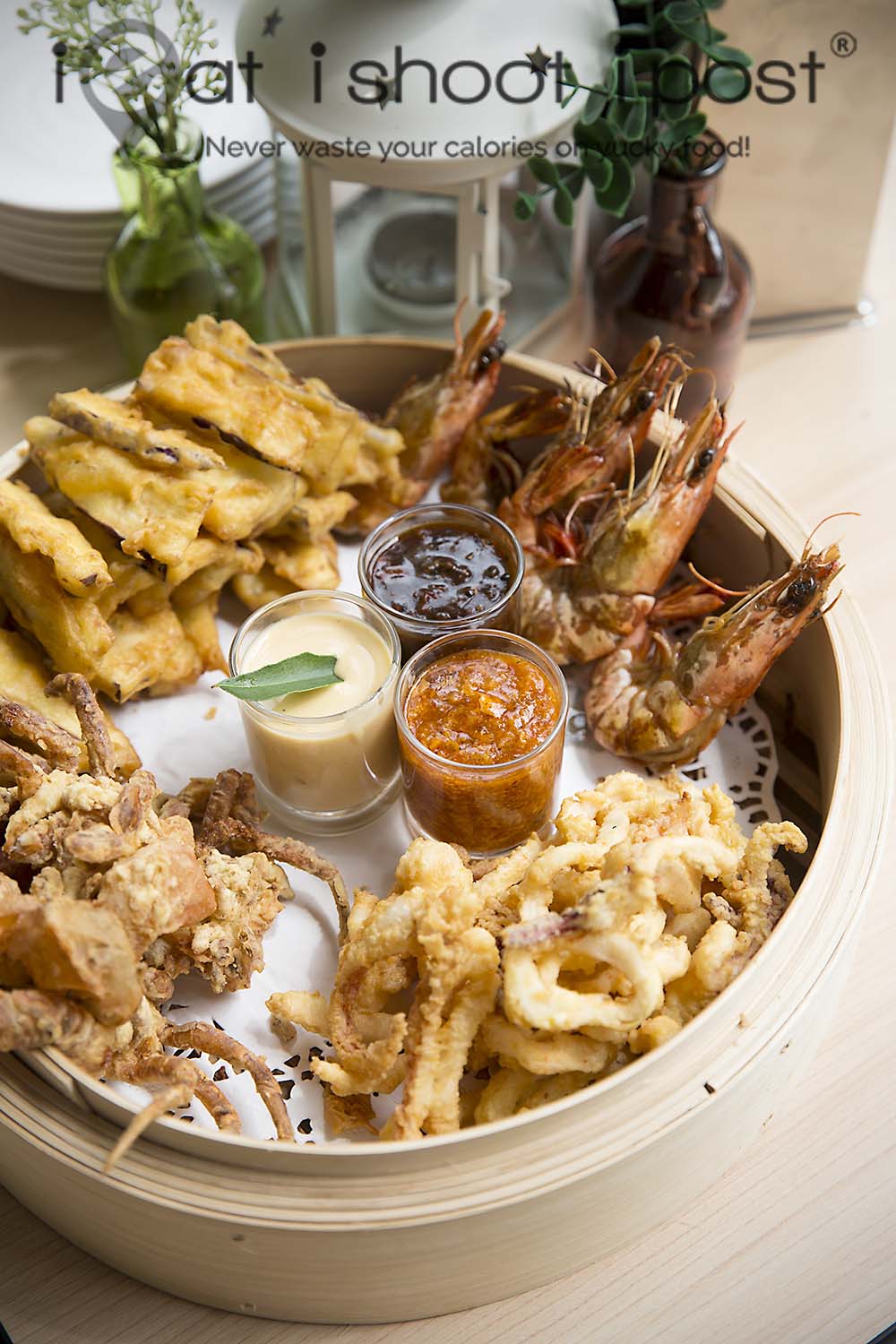 Chef Wayne of Keng Eng Kee, or KEK as it is known nowadays, has opened a new restaurant in Pandan Gardens where he is serving his blend of progressive Zi Char.  The second generation Singaporean born Chef was given full permission by his father to serve his nouveau Zi Char cuisine at his own place, something that he has had to keep under wraps at the old stall.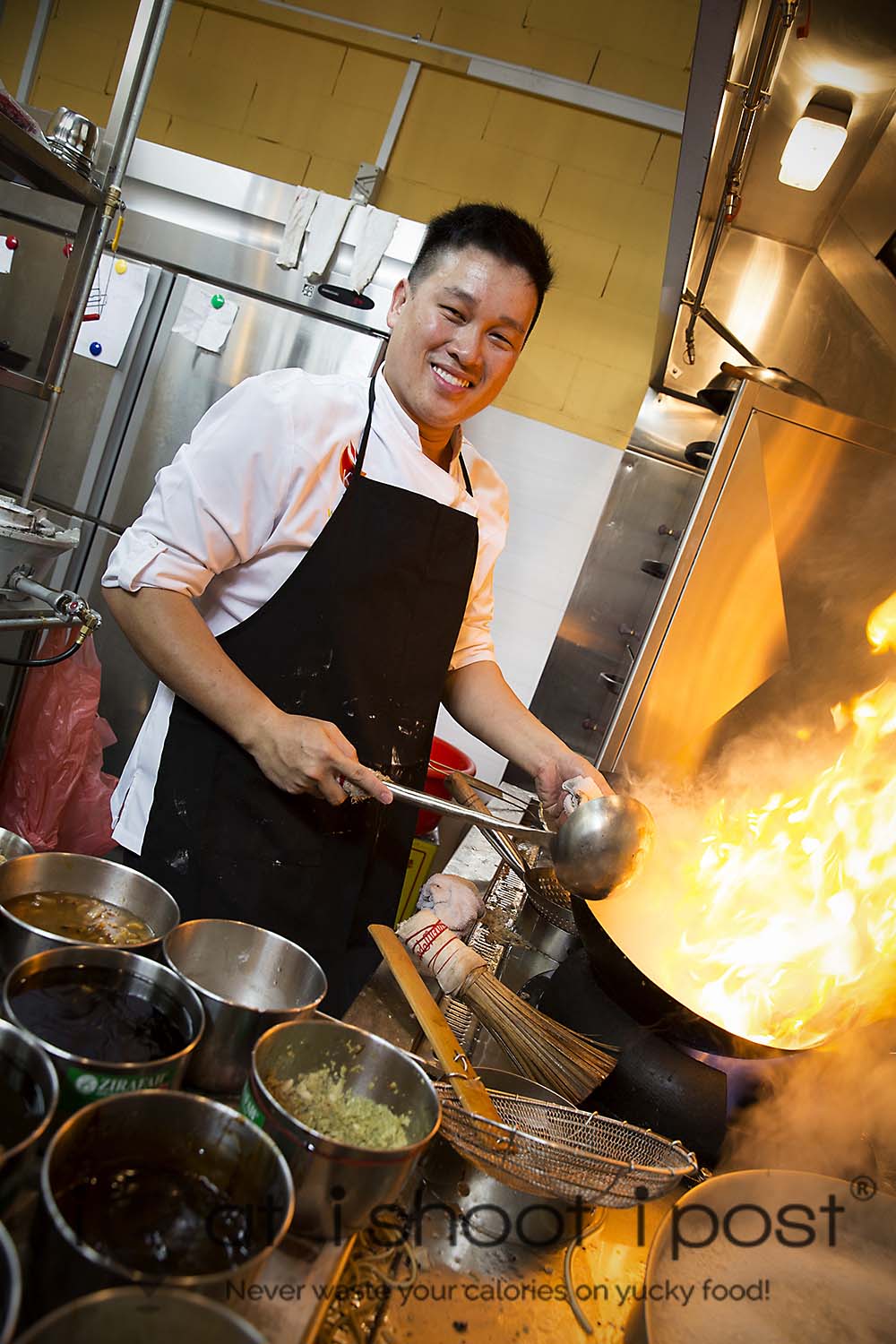 I have been encouraging our Zi Char chefs and hawkers to incorporate new and exciting ingredients like Wagyu beef and Iberico pork into the Zi Char menu, but the older generation of hawkers have been very reticent to change.  New generation chefs like Wayne are more open to new culinary ideas and more willing to experiment.  The general public is also becoming familiar with ingredients such as Wagyu, miso, truffle oil etc so it is only logical for the modern Zi Char kitchens to incorporate these into their cooking to come up with new dishes.  After all, classics like chilli crabs, kyoto pork ribs and Marmite chicken were once upon a time, new dishes too!
One of the signature dishes of this new KEK is the crispy seafood platter with three "National Dips" viz salted egg, black pepper and chilli crab sauce.  This was a dish that was created with the help of KF Seetoh for the recent World Street Food congress.  It's a different way of presenting three classic sauces and works rather well as a starter.  It doesn't take too much to imagine what it tastes like, but the whole family can share a dish like this and everyone gets to choose his favourite seafood and pair it with his favourite sauce! 4.25/5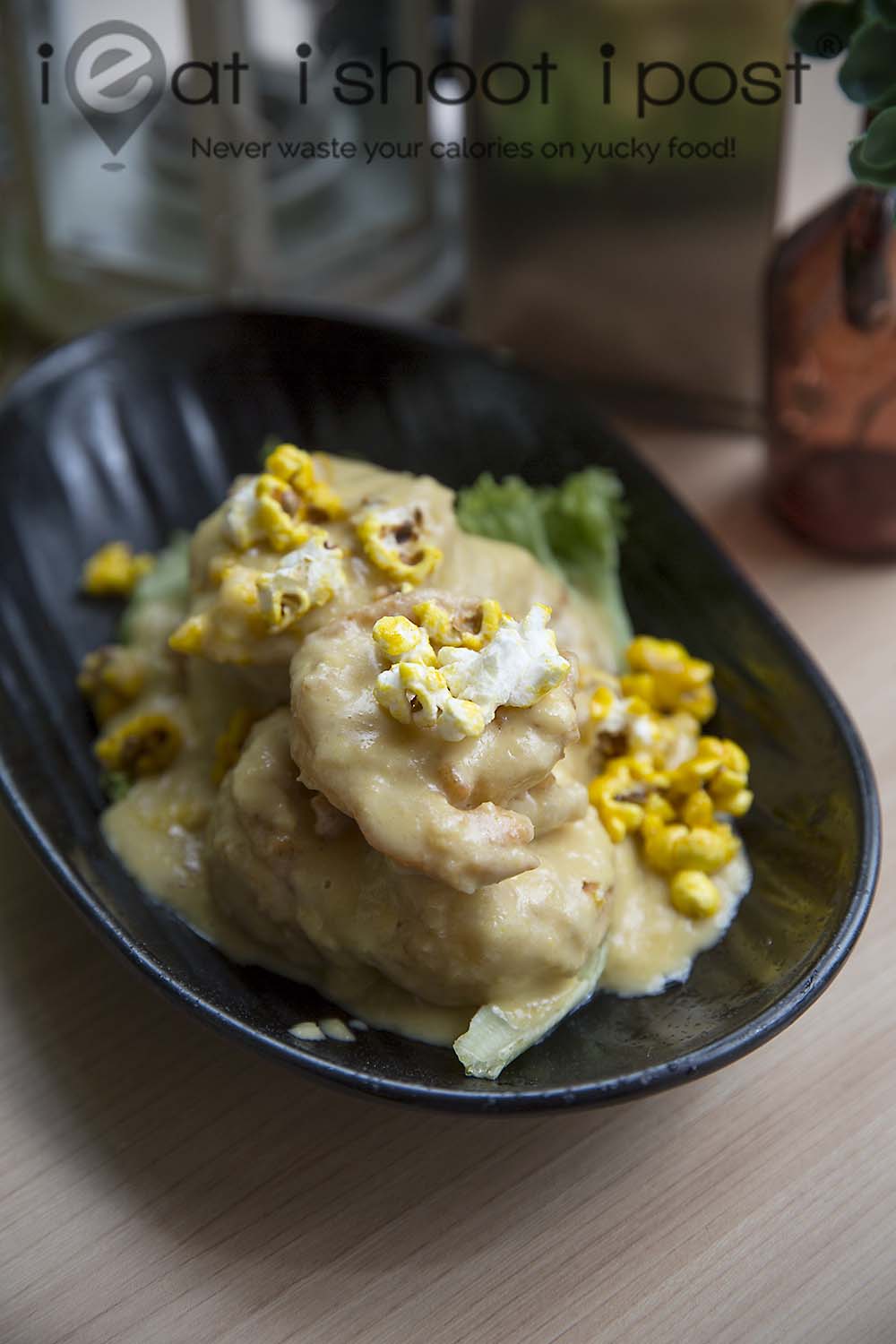 Chef Wayne has been playing with the idea of using corn as the base flavour for a sauce since I last met him at the old KEK.  With the popcorn prawns, he pairs the sweetness of a sauce made from sweetcorn with the nutty, buttery aroma of popcorn.  I think this dish has the potential to be a hit but it does need a bit more tweaking. One of the things I suggested was for Wayne to start popping his own corn so that it is fresh rather than using the commercially available popcorn.  He tells me he will work on it.  Stay tuned.  3.75/5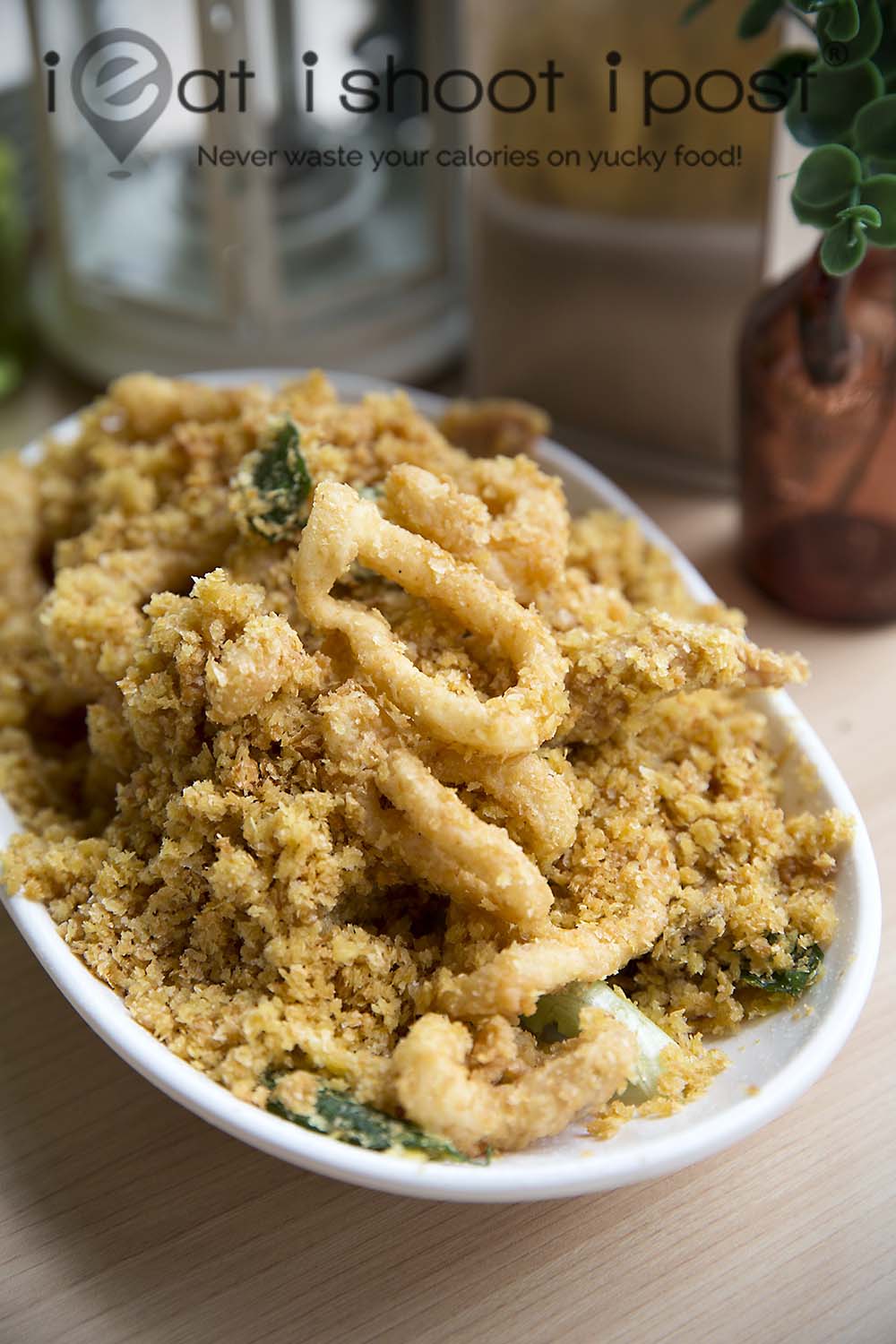 Another "sauce" he had been working on is potato grits which is essentially like the "sauce" for cereal prawns except that instead of Nestum, he uses dehydrated potato flakes.  The flavour is quite interesting.  Imagine eating crispy calamari with crushed potato crisps and you have a rough idea of what it tastes like.  Again, I felt it just lacks that special something to make it a classic like cereal prawns, but it is something worth trying as an alternative to cereal prawns. 3.75/5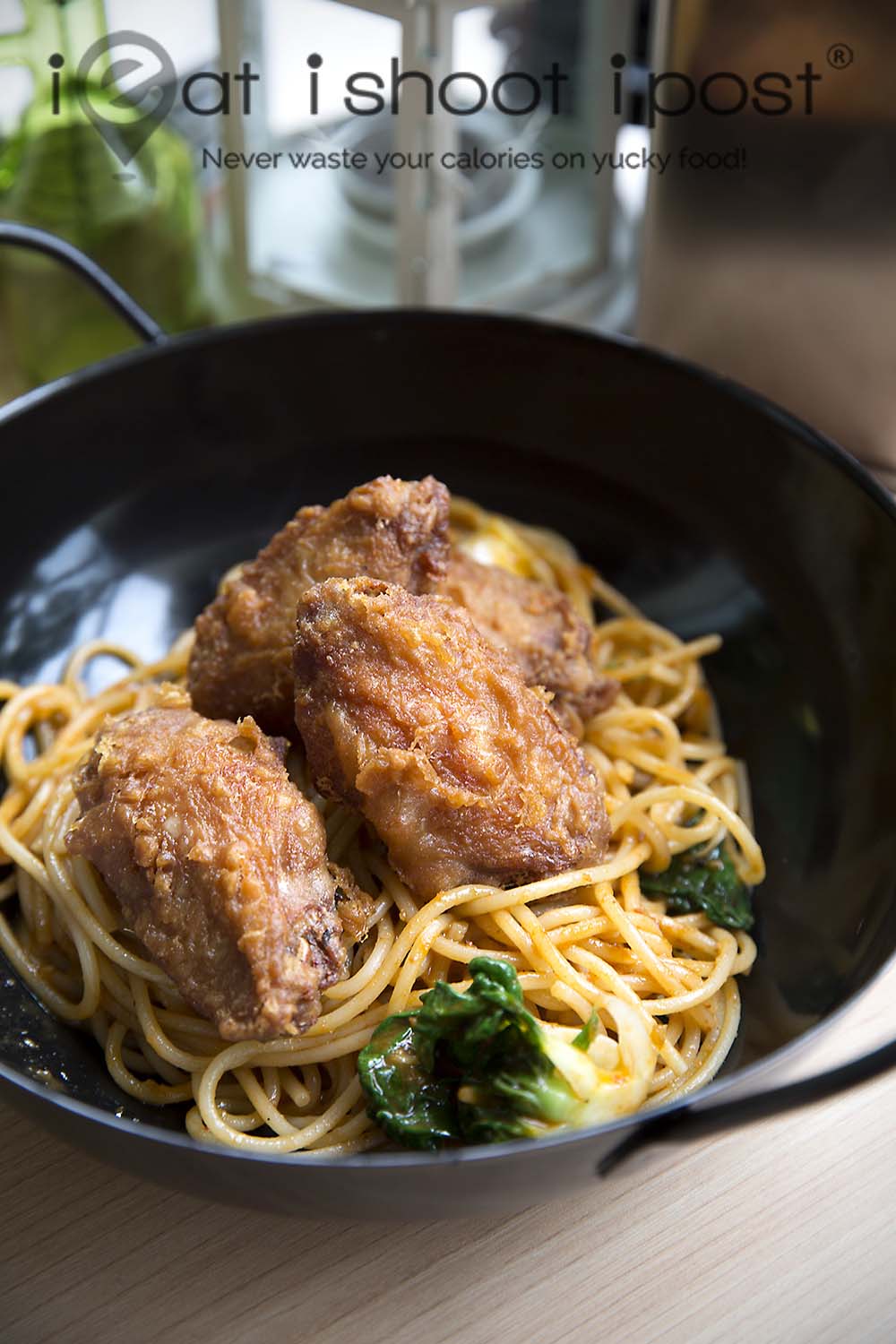 One of Wayne's creation that we were pleasantly surprised with was the Nonya Spaghetti with Har Cheong Gai.  The spaghetti was wok fried and a sweet, spicy, tangy Nonya steam fish sauce.  He has also been experimenting with other flavours like spaghetti with salted egg sauce and soft shell crab which I am sure will be good too! 4.25/5
Luncheon meat lovers will always try to find different ways of preparing their favourite can food, but this is the first time I have come across a steamed version.  Wayne tells me that this is something he grew up eating.  The luncheon meat is steamed together with egg white, chilli padi, and minced garlic.  I found the garlic to be a little too strong which left me with garlic breath for the rest of the day,  but this is real comfort food for luncheon meat lovers!  4/5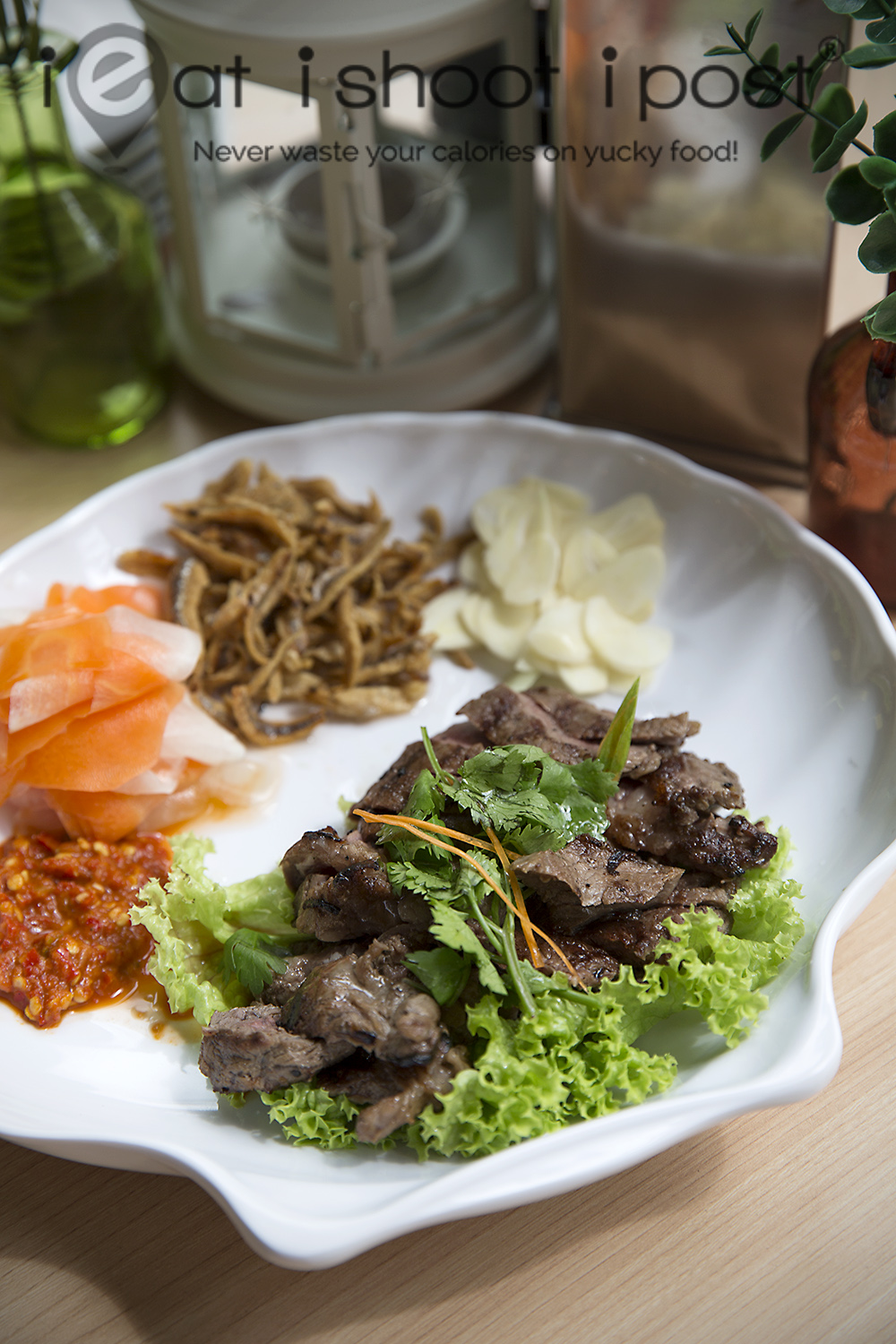 I didn't like the beef wrap and I did not hesitate to tell Wayne about it.  The idea is borrowed from the Korean beef wrap but he substituted the kim chi for sambal chilli. I felt the ikan bilis was simply out of place and does nothing for the dish.  3/5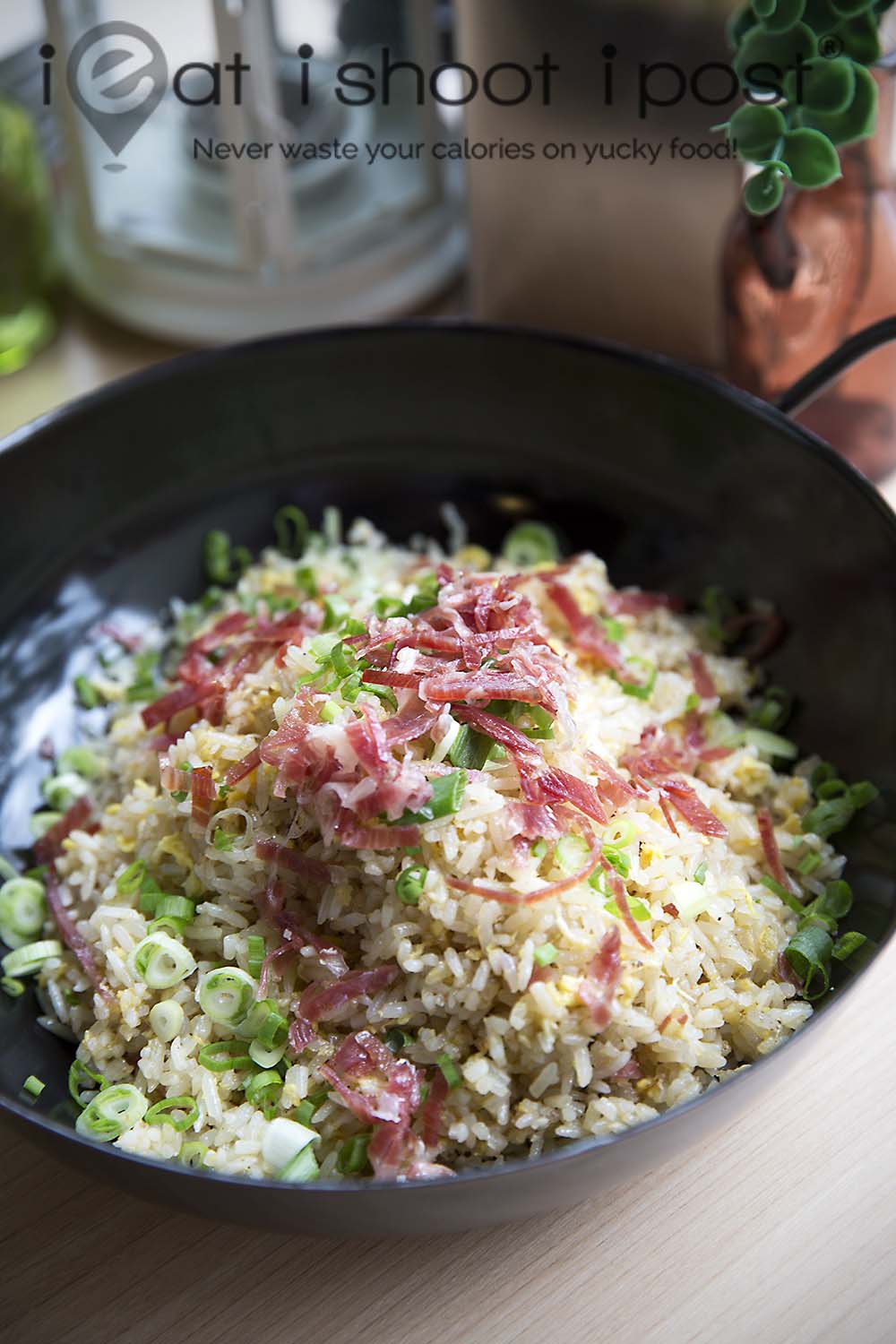 A friend of mine happened to passed me a packet of jamon iberico from his recent trip to Spain and I got Wayne to do an egg fried rice and topped it with the jamon!  It was excellent!  Wayne is really good with the wok and infuses all his fried dishes with that elusive "wok hei" which we all love so much.  The egg fried rice is fabulous on its own but with the jamon, it was really something to savour.  I am now trying to get someone to supply him jamon iberico at a decent price so that I can order this dish whenever I visit!  Cross your fingers!
Conclusion
Great to see our young Zi Char chef coming out with new dishes! There is no doubt that traditional dishes are well executed.  Chef Wayne's wok skills are excellent and you can experience it with his moonlight hor fun or just a simple plate of fried vegetables.  We shall have to wait and see if any of Wayne's new creations will join the ranks of Marmite chicken and yam ring to become the latest Singapore Zi Char fad!
Here is my post on Keng Eng Kee at Alexandra Village. http://bit.ly/ieatKEK
Acknowledgements
Thanks to Chef Wayne for hosting our tasting session.