I have driven past this particular coffeeshop along Tanjong Katong on many occasions en route to the carpark and have always noticed that it was quite crowded.  But it wasn't until my friend Johnny told me about their char siew that I made an effort to drop in to give it a try.  Johnny specifically said that I needed to ask for the fattier charred cuts to truly experience their char siew!
He was right.
The char siew here, especially the charred, fatty cuts are a carnivore's dream come true.  But this char siew is more than just delicious.  It had an old school quality that really reminded me of the char siew I used to have as a kid in Toa Payoh Lor 7 in the early 80s. Like Nan Xiang, that stall also serves char siew on chicken rice which is a fantastic combination.  One caveat, though.  You really do need to ask for the fattier cuts as the lean cuts can be tough and dry. 4.5/5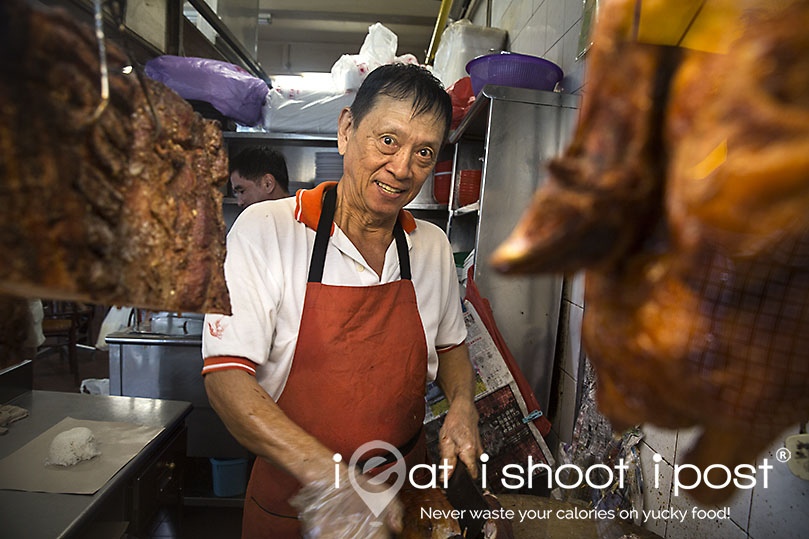 The stall owner, Mr Moh has been running the stall since 1967.  Being Hainanese, he first started out selling Chicken Rice.  Business was slow when he first started but it picked  up in the 70's when he started selling roast meats.  The char siew recipe was something that he concocted himself and can rightly be called a Hainanese style char siew.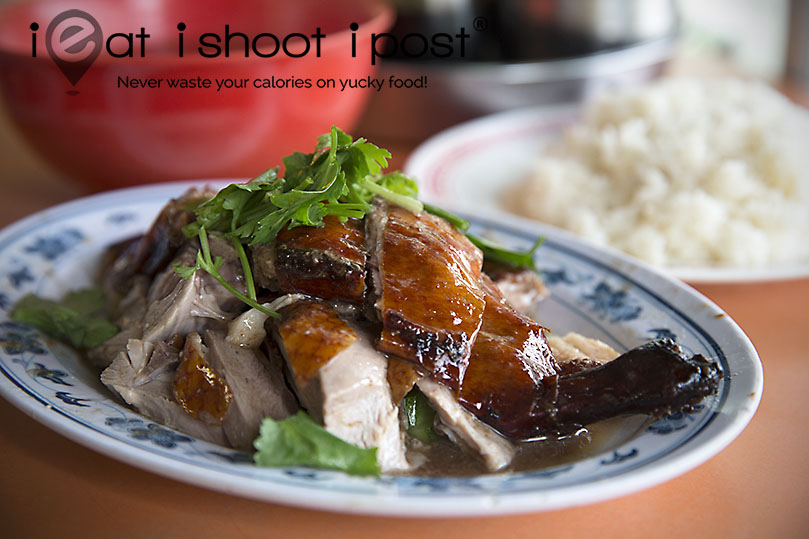 Their roast duck and sio bak are both quite competent,  4.25/5  but it is the char siew that is really worth the trip. Bargain hunters will be happy to know that Mr Moh has the philosophy of selling his food at affordable prices, something he has been doing since the early days in order to win customers when business was slow.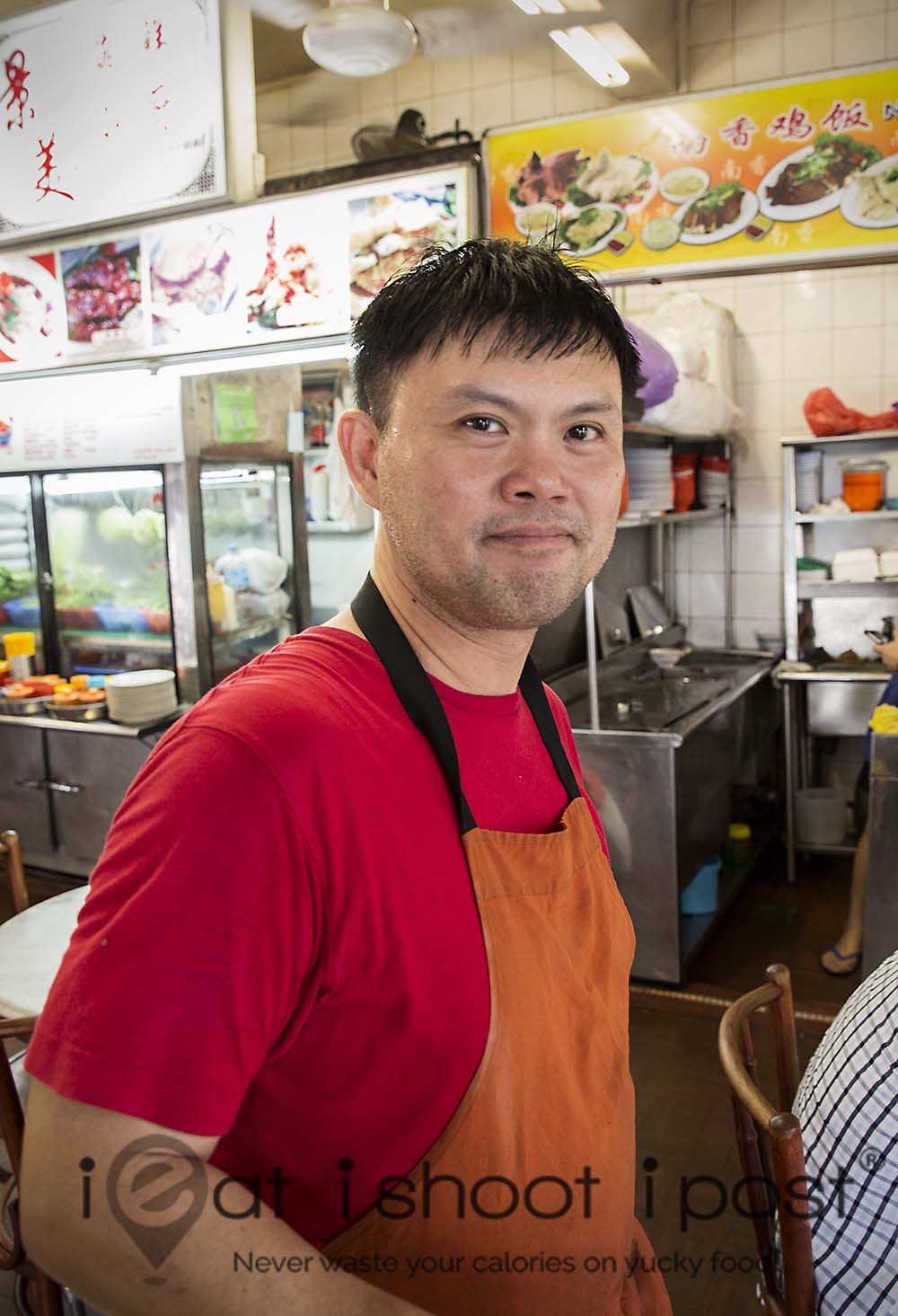 I met with 2nd generation Jimmy Moh who tells me that  he had been working as an engineer before deciding to make a mid career switch.  He had grown up helping his father at the coffeeshop but decided one day that it was much better to run his own business even though the hours are long and working in an old coffeeshop is nowhere as comfortable as his air-conditioned office.
Hawkers like Jimmy who make a mid-career switches are not uncommon.  He is fortunate to be able to inherit a business which is doing well.  I have spoken with several other middle aged hawkers who had to start from scratch and it isn't as easy.  These mid-life hawkers bring with them memories of traditional food and most end up selling stuff that they ate as kids.  Aside from young hawkers entering the trade, they are playing an integral role in keeping our culinary traditions alive!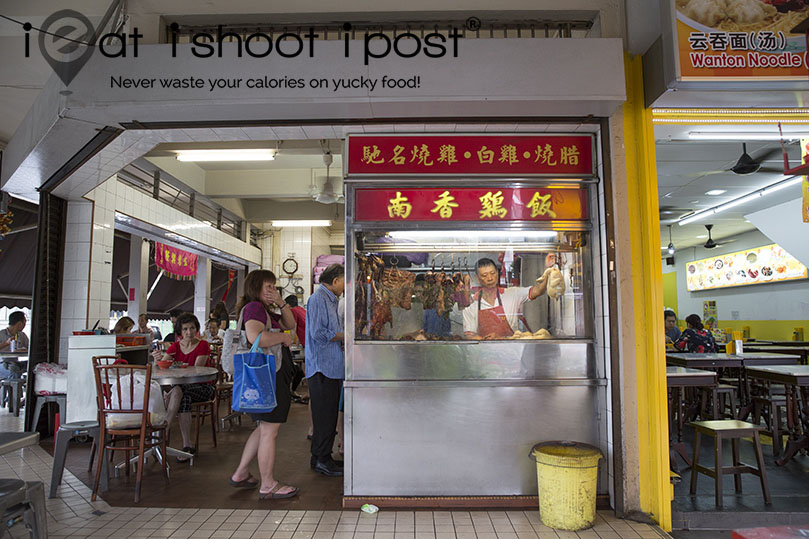 Conclusion
This old school char siew is definitely worth the calories and the waiting time and it's value for money too!  Just make sure to ask for the fatty, charred cuts as the lean cuts are quite mundane.
Note:
In the evenings the stall is manned by another hawker.  They occupy the same premises but use their own recipes.