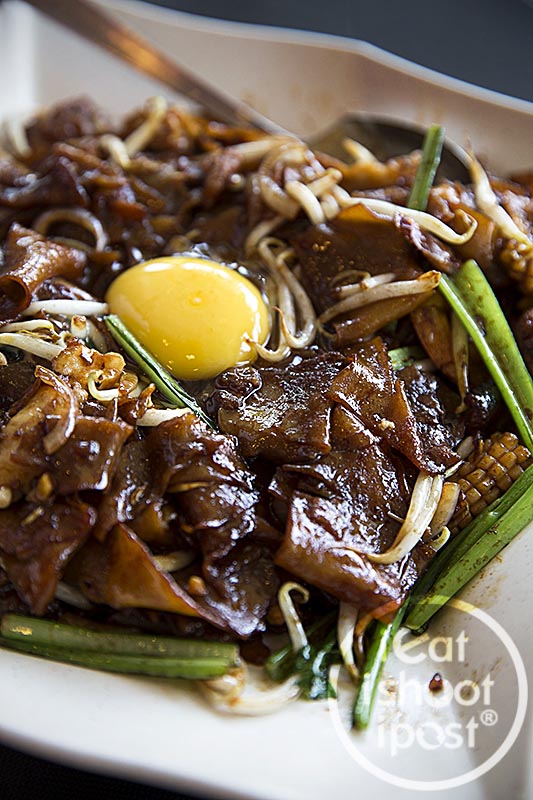 The future of the Singapore born Cze Char Chef is bleaker than that of an impotent Panda.
No kidding. Those of you who frequent Cze Chars will know that almost all of our Cze Char chefs are from Malaysia. If Malaysia should one day restrict their citizens from coming to work in Singapore, our Cze Char culture will collapse overnight because nobody actually knows how to cook the dishes! Most of the Cze Char stalls are owned by Singaporeans who hire Malaysian Chefs to cook. All they know how to do is to run the business!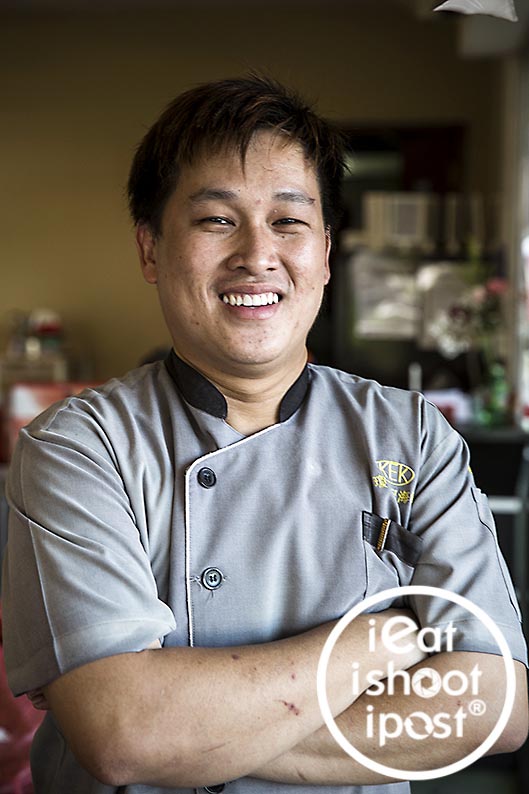 That is why this story begins with a photo of an endangered species – A Cze Char Chef who still needs to serve reservist. At 30, Chef Wayne Liew is, so far, the youngest Singapore born Cze Char chef I have met. Like Luke Skywalker, he represents a new hope for the future.
Wayne recalls that when he first stepped into the kitchen to help his father in his early 20's, he was looked regarded by the Malaysian chefs as the young boss who would be better off staying behind the cash register. They can't believe that any Singaporean would be tough enough to sweat it out in a Cze Char Kitchen!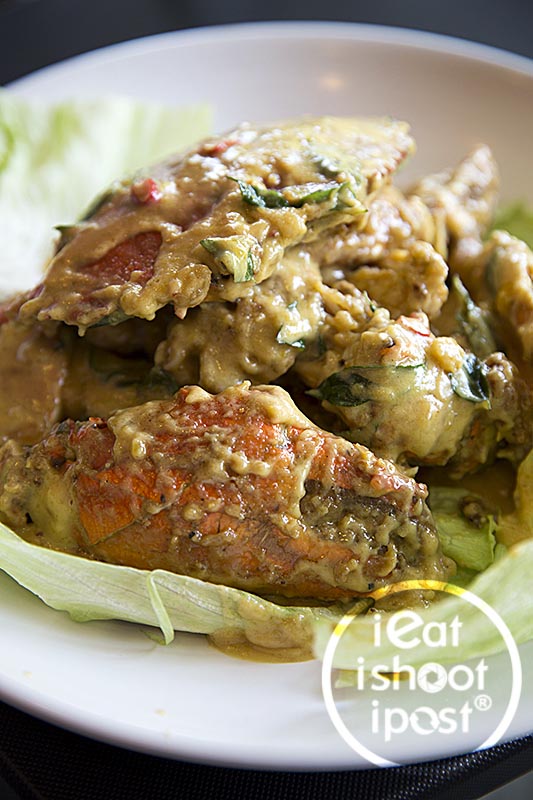 Well, I am glad that nowadays he is respected as the "top hand" in the kitchen. Respect as they say, is earned and after tasting his dishes, he had also earned the respect of all our kakis that day.
Wayne knows how to work the wok such that he infuses his dishes with that magic "Wok Hei" aroma which we all love. That elusive flavour is what makes eating out, so different from eating at home. Anyone who has tried to fry Hor Fun at home will appreciate how difficult it is to get that elusive "Wok Hei" aroma.
In order to understand the art of Wok Hei, I did, in fact, set up a high powered gas burner in my backyard together with 3 different woks and experimented on just what makes the Hor Fun smell the way it does. In order to achieve "Wok Hei", you really need a big fire. Really big. Big enough to heat up your wok till it is red hot and white smoke rises from the surface of the wok. A splash of oil is then added to the wok and then the hor fun. Then it is a matter of tossing and swirling the Hor Fun till it is just a little charred. Too long and the Hor Fun will start to become too soft and stick together. Too short and you get no Wok Hei. I have tried many times and only on a few occasions have I managed to get a whiff of that Wok Hei aroma.
That is why something as simple as the Moonlight Hor Fun is 月光河 to me the epitome of wok frying. Nothing showcases the wok skills of a chef better than a simple Hor Fun fried with just dark sauce, lard and topped with a raw egg. 4.5/5
You may not realize it but the same wok hei is also important in a dish like Salted Egg Crabs. It might not be as distinct as when it is in a hor fun, but it makes a huge difference between a mediocre Salted Egg sauce and one that has that edge. The recipe for salted egg sauce is actually very simple. It's Planta margarine, curry leaves, cut chillies, sugar and salted eggs. So what differenatiates one stalls from another is just the proportions and how it is prepared. According to Wayne the key to a great salted egg sauce is swirling the sauce around the wok for long enough so that it gets infused with the smokey wok flavour. The sauce here is very addictive, although the crab we got that day could have been sweeter. 4.25/5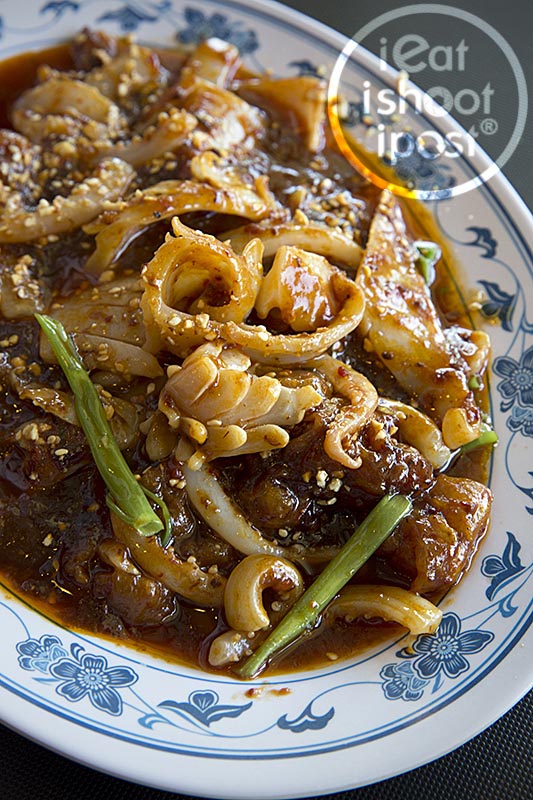 The cuttlefish kangkong is yet another of KEK's signature dishes which has benefitted from his wok skills. The smokey, spicy, sweet sauce is a tad on the oily side but is unique and very shiok. I had initially thought that there were pieces of Gu Rou Yoke (sweet and sour pork) underneath the cuttlefish but they turned out to be large pieces of crispy fried lard! You have been forewarned! 4.5/5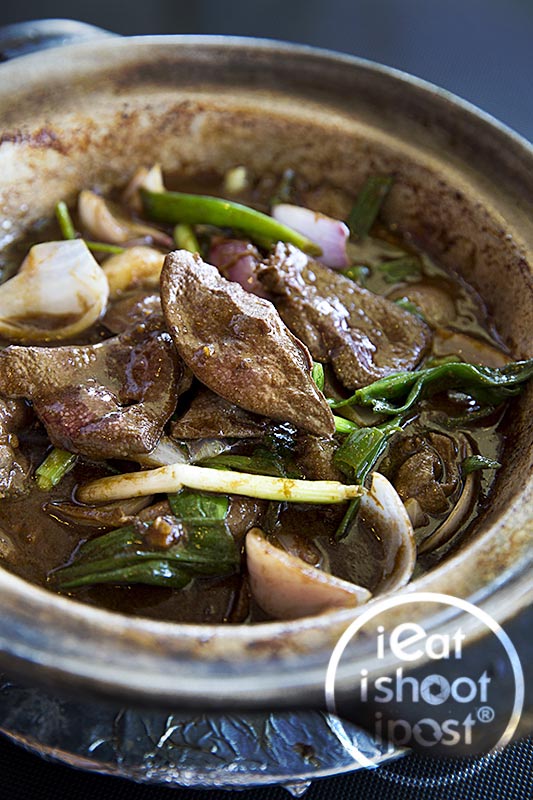 The Moonlight Hor Fun and cuttlefish kangkong have been part of KEK's menu since the 60's when his grandfather was selling food along Havelock road. Another classic dish that has been passed down is the pork liver. I have yet to learn to appreciate the offal flavour of this delicacy but those who like pork liver will definitely love the slices of tender pork liver which have been perfectly sauteed and matched with a robust gingery wine sauce. 4.25/5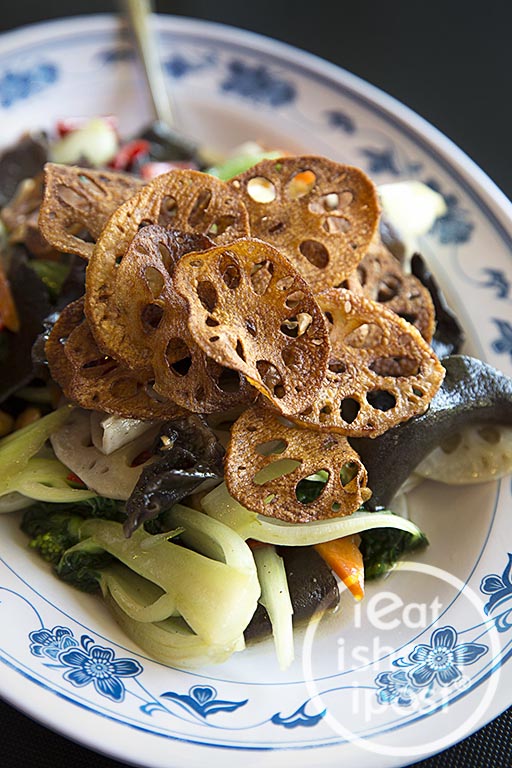 The lotus root vegetables is a dish which has been created by Wayne. In this dish, he contrasts the crispy fried lotus roots with a braised version together with a medley of vegetables and cashew nuts. The dish is again infused with that smokey wok hei which makes everything taste good! If you need to order a veggie dish, this is certainly worth considering! 4.25/5