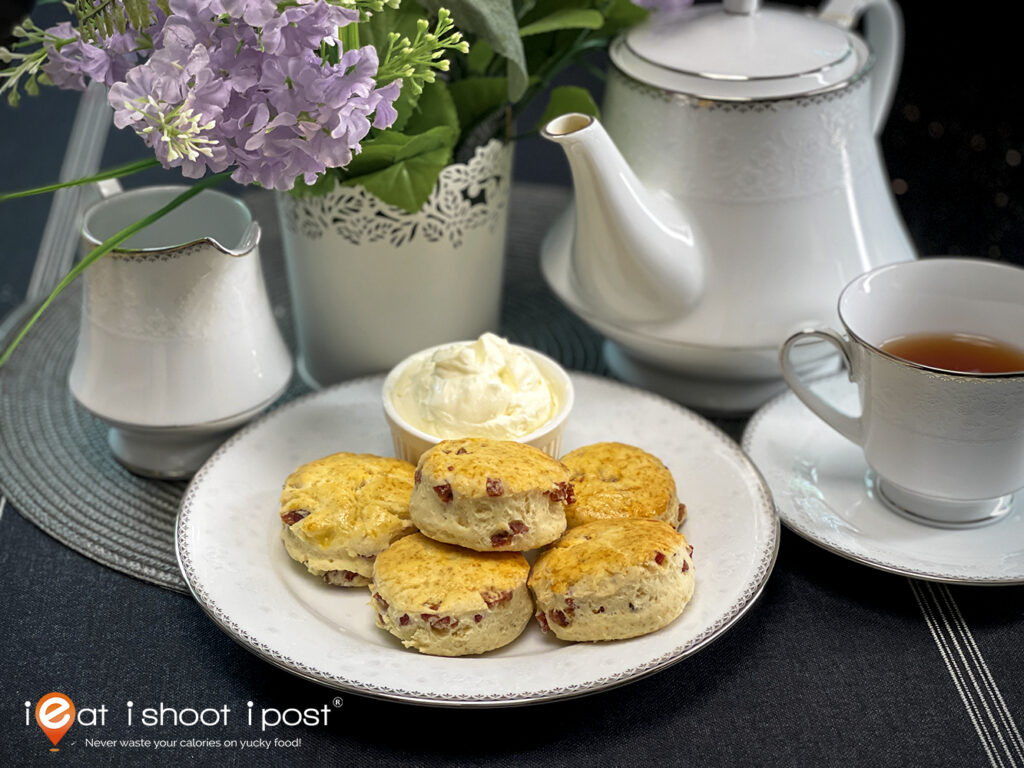 If there is one thing that I really can't stand, it's scones that are hard like a hockey puck! Ok, I exaggerate, but I have come across really rubbery scones in many a buffet line and even at fancy Hi Tea joints! It irks me even more knowing that nice fluffy scones are really easy to make!
You won't believe how easy it is to make these bak kwa scones! All you need are two simple ingredients and you can enjoy hot, fluffy scones within an hour. No sophisticated equipment needed. No need for any special kneading technique. No need to grate frozen butter. All you need is a bowl, a biscuit cutter, and an oven. I added the bak kwa to give it a bit of color and flavour but you can leave it out or substitute with some raisins or cranberries.
Ingredients
Scones
French Cream 150g (Whipping Cream with 35% fat)
Self Raising Flour 180g
Salt 1/2 tsp
Bak Kwa 50g 1 slice diced (or raisins/cranberries)
Whipped Cream
French cream 200ml (Whipping Cream with 35% fat)
Icing sugar 2 tsp
French Cream
French Cream is very popular amongst pastry chefs as it is very dependable. It is consistently creamy and full of flavour and whips up nice and light due to a consistent overrun rate of 2.8. That means that when you whip 1L of French cream, you can expect to get 2.8L of whipped cream!

The French are known for their cheeses and butter because of the quality of the milk that is produced by cows that graze on the lush pastures of the French countryside. Consequently, the quality of French cream is excellent as well!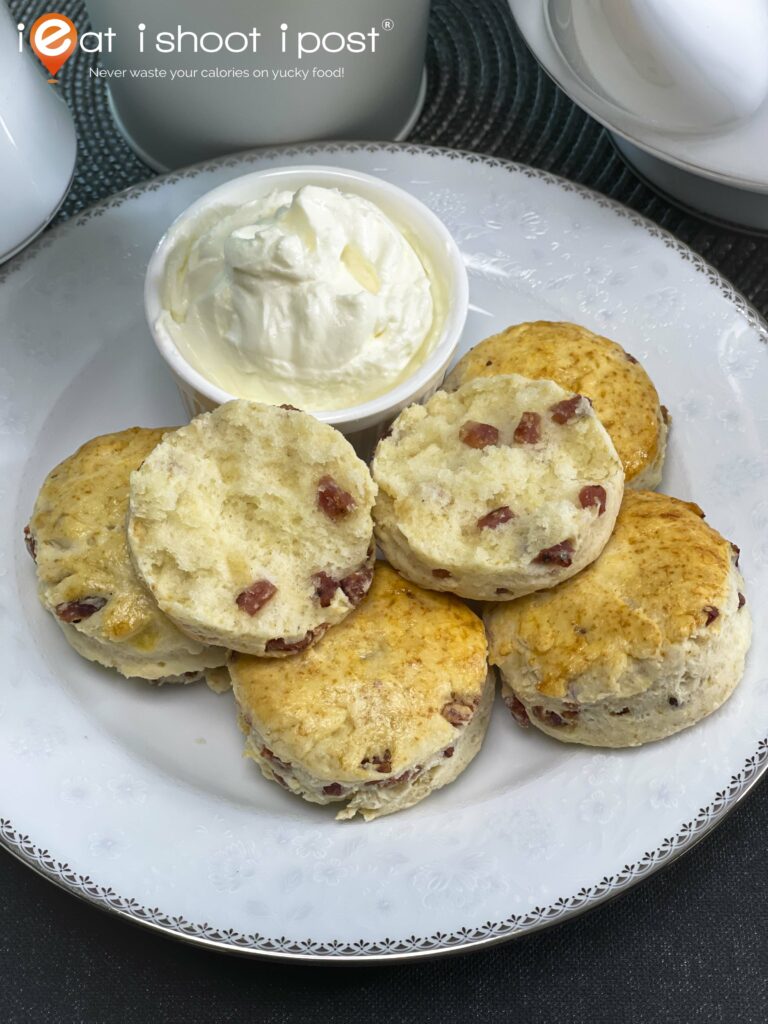 Method
Add diced bak kwa (BBQ Pork Slices) and salt to the self raising flour
Microwave cream for 45 sec. It should be warm, around 40°C
Add cream to flour and mix till just combined
Flatten to 2.5cm height and cut into discs with a cookie cutter
Flip upside down and place on a baking tray
Brush with egg yolk and milk wash
Bake at 180C for 12 mins

Whipped cream
Add icing sugar to cream
Blend with a hand blender or whisk by hand till cream thickens
Tips
Flipping the scones over onto the baking tray will give it a nicer even top.
When egg washing, resist brushing the sides as it will prevent the dough from rising up straight while baking.
Be vigilant and watch your cream when whipping because it could go from nicely whipped to overwhipped in just a matter of seconds!
Serving Suggestion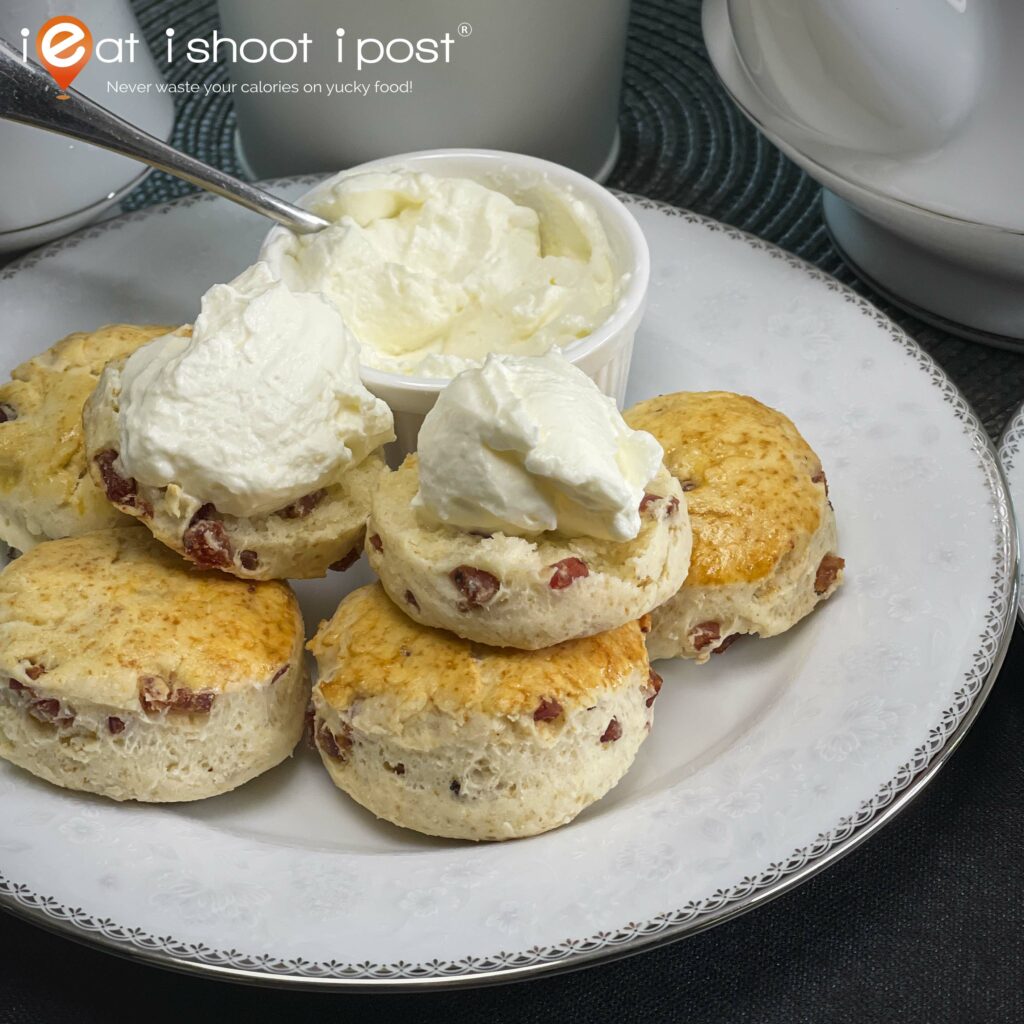 Add a generous dollop of whipped cream and top with kaya or even more bak kwa for that perfect accompaniment to a cup of tea! No more hard scones forever!
Happy Baking!
Other recipes using French Cream
This post is made possible by the French Dairy Board with aid from the EU.
#creamofeurope #enjoyitsfromeurope #frenchcream #frenchpastries
Reference
How to make the absolute easiest ever biscuits – America's Test Kitchen
This post contains affiliate marketing links meaning we may receive a small commission should you click through and make a purchase, at no additional cost to you.