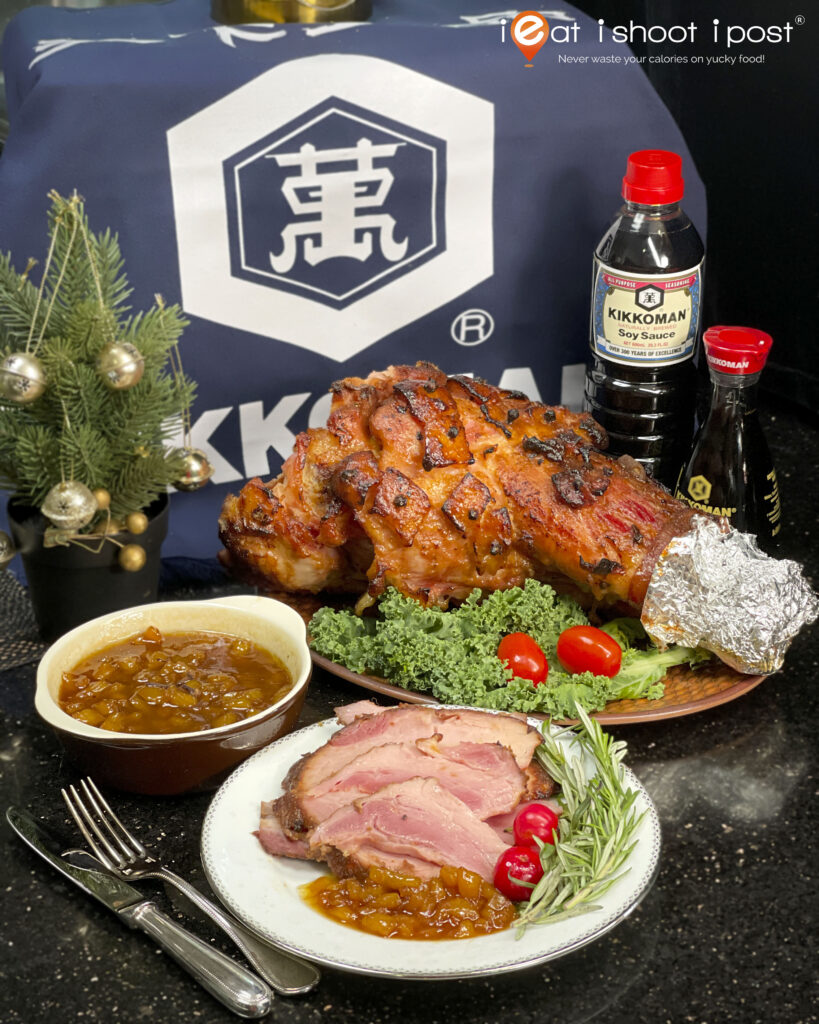 Wondering what to cook for Christmas? You might want to give this Christmas glazed ham recipe a try! This Kikkoman soy sauce glaze will bring your Christmas ham to the next level and the pineapple and ham combination is always a crowd favourite especially with the kids who love Hawaiian Pizza.
Ingredients
Whole bone-in leg of ham
Pineapple 1

Soy Pineapple Glaze
Kikkoman Soy Sauce 50ml
Honey 100g
Pineapple 100g
Soy Pineapple Sauce
Pineapple – One whole minus the slice for the glaze
Butter 100g
Water 250ml (1 cup)
Brown Sugar 2-3 Tbsp to taste
Vinegar/Apple Cider Vinegar 2-3 tsp to taste
Kikkoman Naturally Brewed Soy Sauce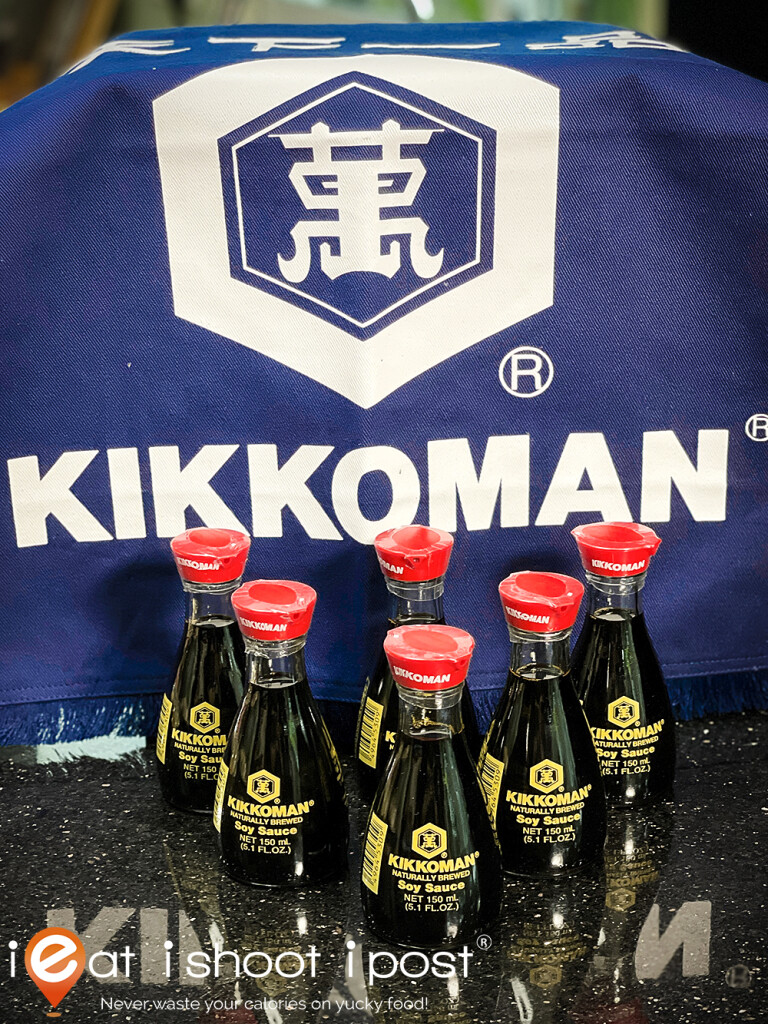 Kikkoman Naturally Brewed Soy Sauce is the key to a beautifully glazed Christmas ham. When heated during roasting or deep-frying, it produces a rich colour and the aroma is alluring. It's the perfect sauce for creating a deep brazen color for the ham. On top of that, it's umami and has just the right amount of saltiness to the pineapple and honey glaze.
This popular seasoning has its origins 300 years ago when a Samurai's wife started brewing soy sauce to etch out a living after fleeing from a feudal war in Osaka. The rest, as they say, is history.
Method
Preparing such an impressive dish might seem like a major undertaking, but it is actually very doable and requires only a few basic ingredients. It actually yields a lot more oohs and ahhs relative to the amount of effort it actually takes!
Key steps and estimated time needed
Prepare the leg of ham – 10 min
Prepare the glaze 5 min
Glazing the ham
Heating the ham and glazing – 2 hrs
Making the soy pineapple sauce – 10 min
Carve and serve
1. Preparing the Ham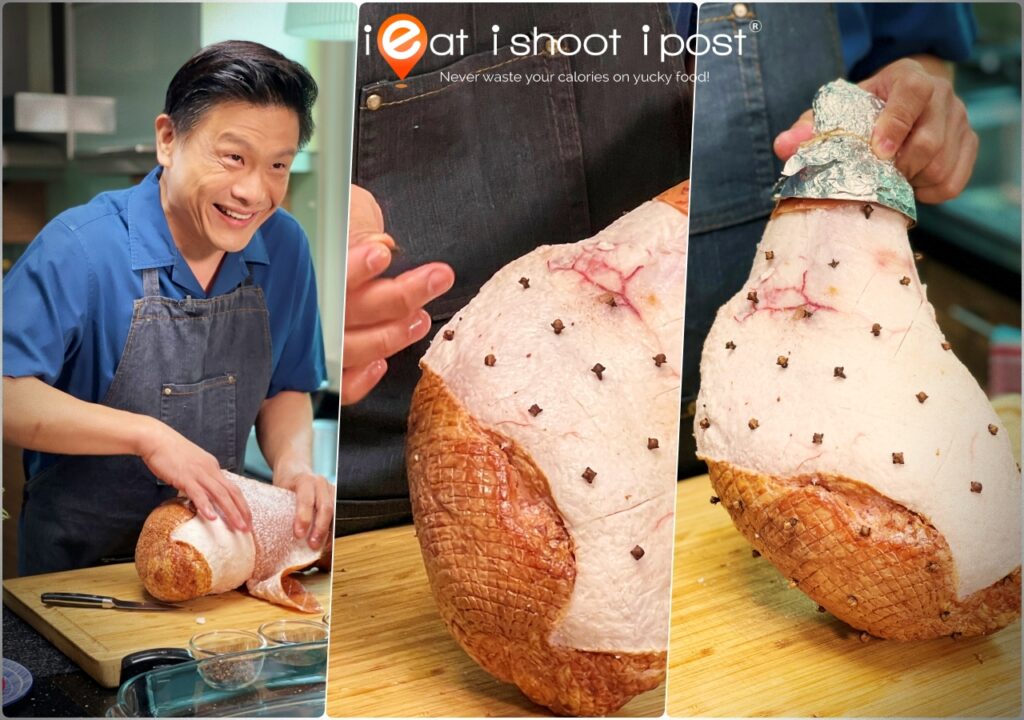 Prepare ham by carefully removing the skin, preserving as much fat as possible
Score the fat in a cross-hatch pattern about 1 mm deep only. Be careful not to cut too deep otherwise the piece of meat will fall off while cooking. (Don't ask how I know this.)
Stick cloves into the ham. This step is more for aesthetics so it's optional. But don't you think the leg of ham now looks like a pineapple?
2. Glazing the Ham
To make glaze, add all the ingredients to a food processor and blend till smooth.
Dice the rest of the pineapple and lay them at the bottom of a baking tray.
Add 100g of butter and 1 cup of water to bottom of the baking tray.
(note: the butter helps to prevent the glaze from sticking and adds flavour to the sauce later too)
Place rack over pineapple cube and place ham on rack
Apply a layer of glaze over the ham
Cover with lid or aluminum foil to allow the ham to steam as it heats up.
3. Cooking the Ham
Bake in the oven at 160oC for an hour and a half to warm up ham.
Once the internal temperature of the ham has hit 70oC, remove lid or foil.
Brush glaze on the ham
Repeat glaze every 10mins till the ham is nicely bronzed. Takes 3 applications.
4. Making the Soy Pineapple Sauce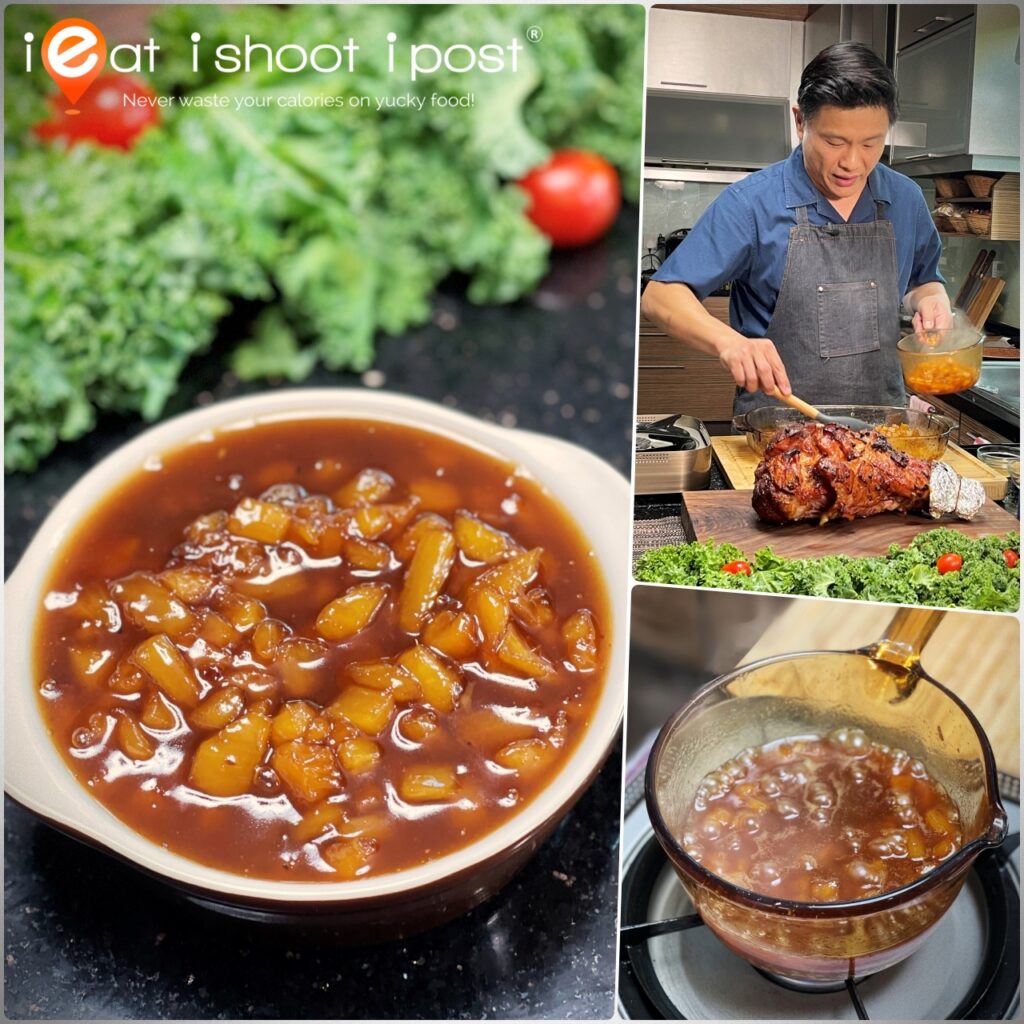 Remove the roasted pineapples from the baking tray into a pot
Bring to a simmer and reduce
Add Apple Cider Vinegar and Brown Sugar to taste
Thicken with potato starch slurry if required
5. Carve and Serve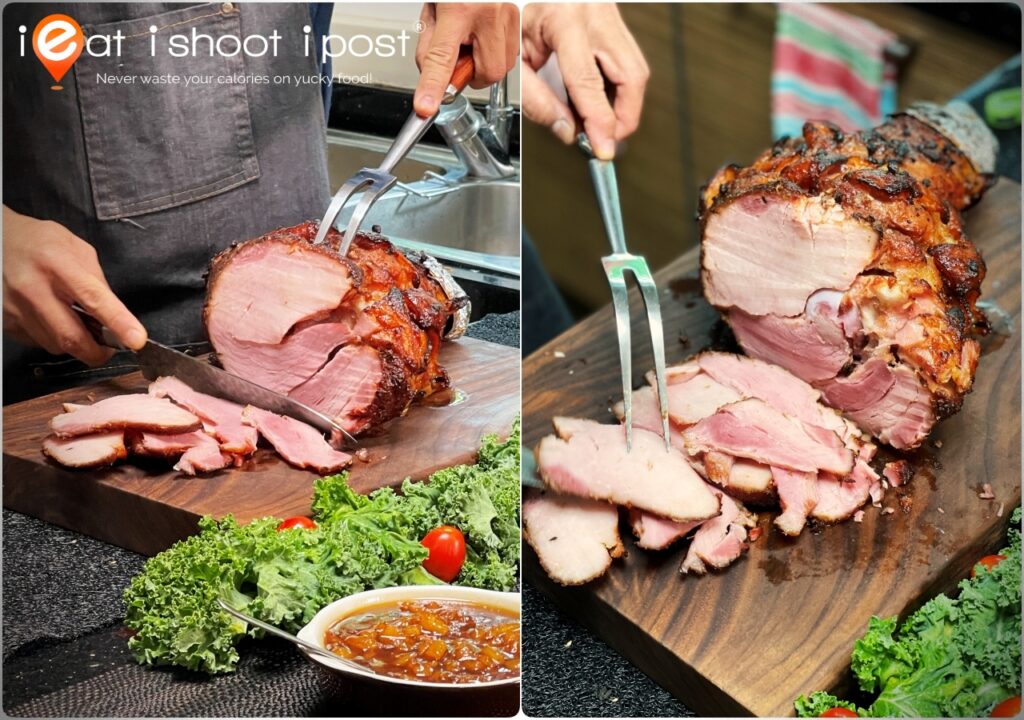 Conclusion
Do give my recipe a try this festive season! Happy Holidays!
You may also like to try my other recipes using Kikkoman Sauces:
Honey Soy Pork Ribs
BBQ Soy Sauce Prawns
Japanese Beef Stew
Sukiyaki Potatoes and Mock Pork
Dong Po Rou (Braised Pork Belly)
Thai Prawn Vermicelli
Cantonese style Steamed Fish
Click here for the Youtube playlist of the all the recipes.
Disclosure: This post is written in partnership with Kikkoman.