I have a confession to make. I never liked the cuttlefish porridge that my grandma, God bless her soul, used to make. Not only didn't I like it, I think I absolutely refused to eat it. But, that was a long time ago when I was just a little kid. I don't think I have ever eaten cuttlefish porridge again since my grandma's passing. It goes to show how much of a home-cooked dish it really is.
When I heard about this particular stall selling cuttlefish porridge, I was hesitant at first. But, it's been a while since I had eaten grandma's cuttlefish porridge, so, being proudly Teochew, I thought I should at least give cuttlefish porridge a second chance.
It turns out that different grandmas make different cuttlefish porridge, and I actually enjoyed Tan Ziying's grandma's version! Then again, perhaps it's just that I am getting older. You know how palates change as you age, right? Stuff that I used to eschew as a kid start becoming more attractive, like rosewood furniture… not.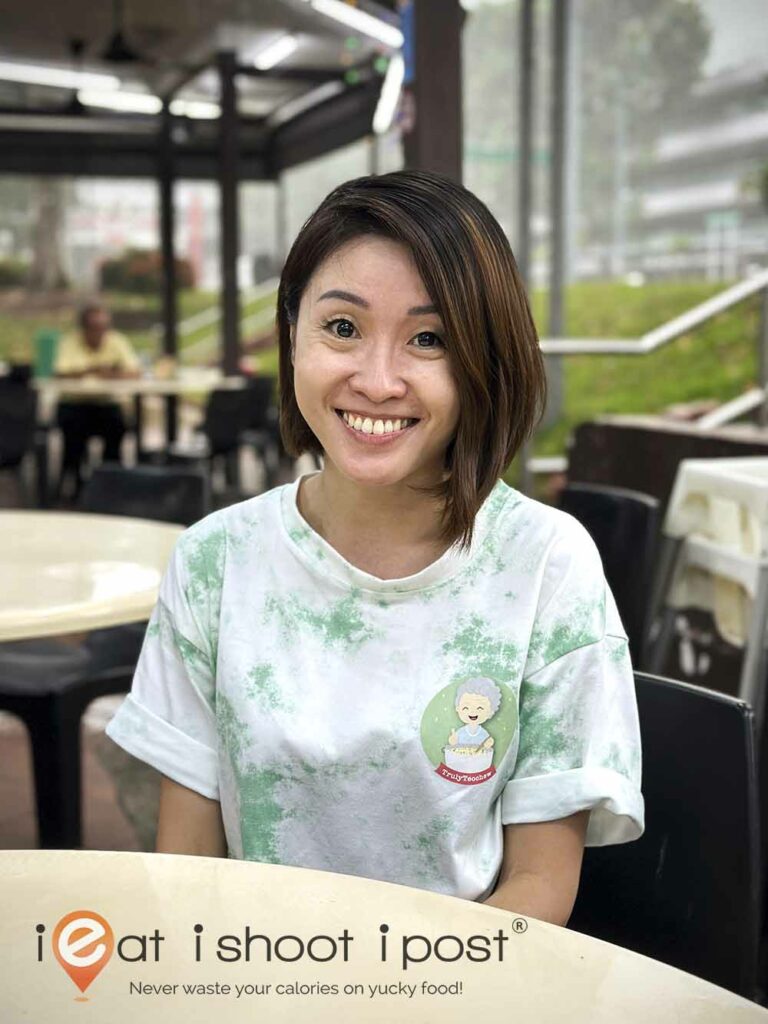 The Teochew style porridge is more like a Pao Fan than a congee where rice is served submerged in a flavourful broth. Ziying had eaten the dish almost weekly as a kid and inherited the recipe from her grandma. During the pandemic, she decided to quit her taxing job in the insurance industry and started a home-based business selling porridge. It took her months of tweaking in order to reproduce the taste of her childhood. But she eventually managed to perfect it and even made it healthier by using Chinese herbs to replace rock sugar which her grandma used to do.
Her home business did well when restaurants were still shut and everyone had to buy food online. But once the restrictions were eased, the online orders began to drop as potential customers return to the restaurants. That prompted her to open a brick-and-mortar stall at this coffee shop in Bukit Merah.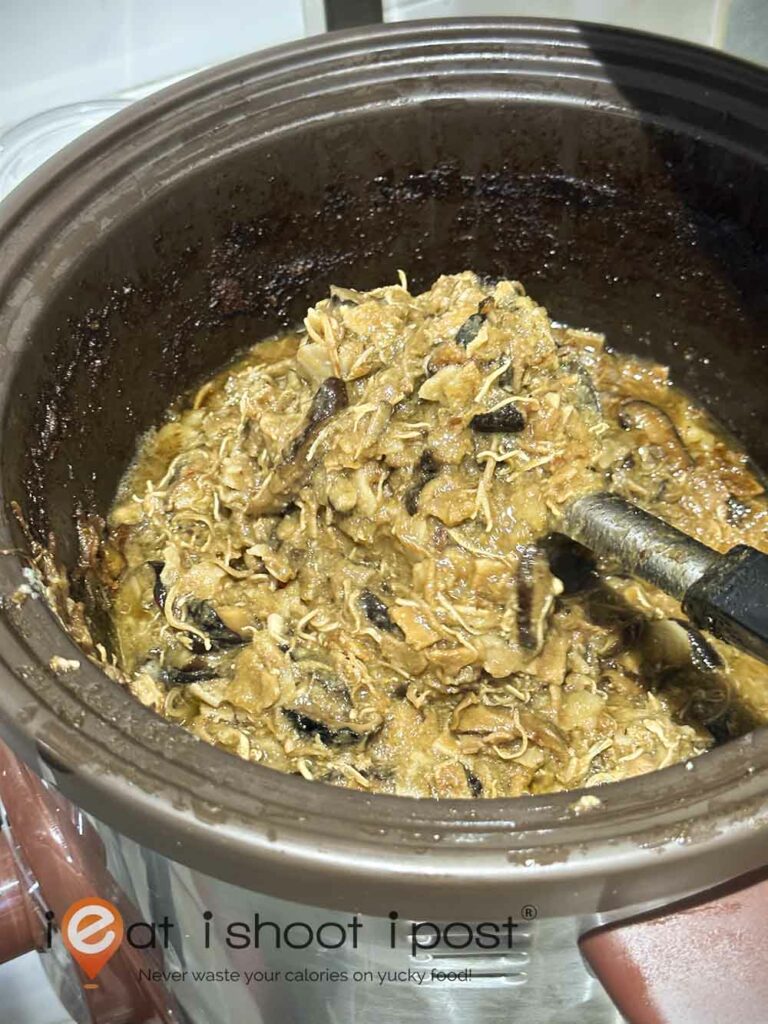 The porridge is constructed from three different components. The first is the white rice, to which a clear broth, made from boiling pork belly, the soaking liquid of the cuttlefish, dried shitake mushrooms and secret herbs is added. The third component is where the bulk of the work is. Pork belly, shitake mushrooms, and cuttlefish have to be thinly sliced and braised with special seasoning till they are reduced into an intensely tasty stew. You can just imagine the amount of umami that this adds to the bowl of rice!
The porridge is the ultimate comfort food. For a person who used to eschew cuttlefish porridge, I must admit that I am its latest convert. I finished the bowl easily and my palate was aptly satisfied and so was my tummy. It's really too bad my grandma didn't cook cuttlefish porridge this way! 4.5/5
There are also some side dishes like chicken wings and spring rolls that you can order to accompany your porridge. These are procured commercially and are a nice accompaniment but not something special. It's early days yet, and Ziying is still experimenting with making her own side dishes which may appear later at the stall.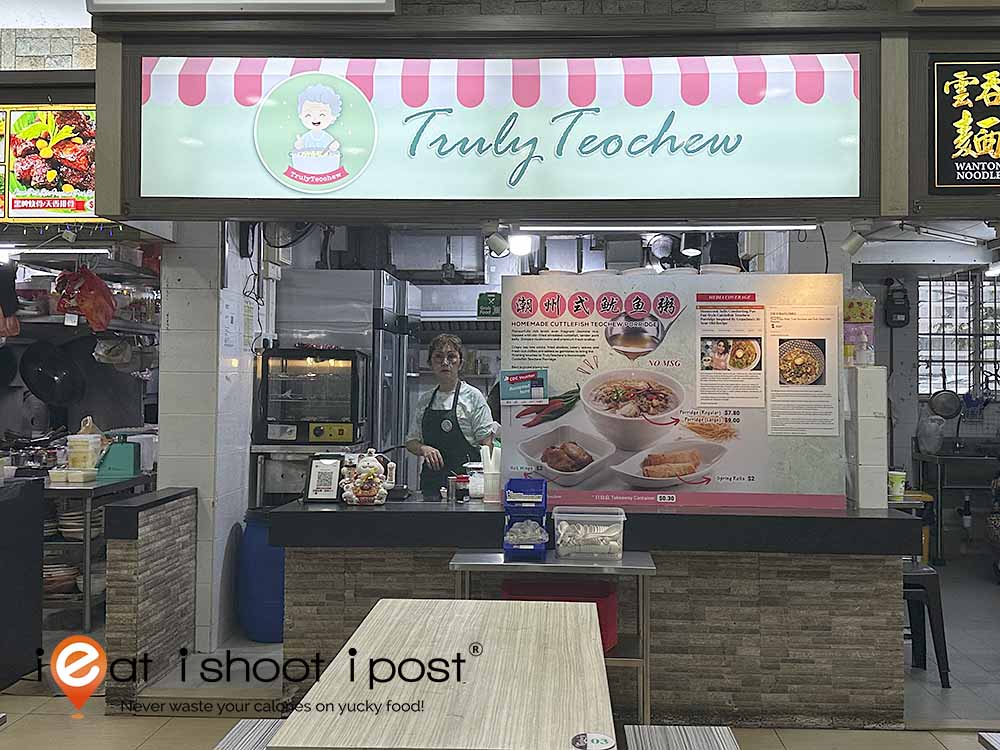 Conclusion
A hearty, tasty bowl of porridge that is worth the trip. This traditional home-cooked porridge is not easily available unless you happen to have a Teochew mum or grandma who would cook it at home, so it's really good that it is now available for everyone to enjoy!