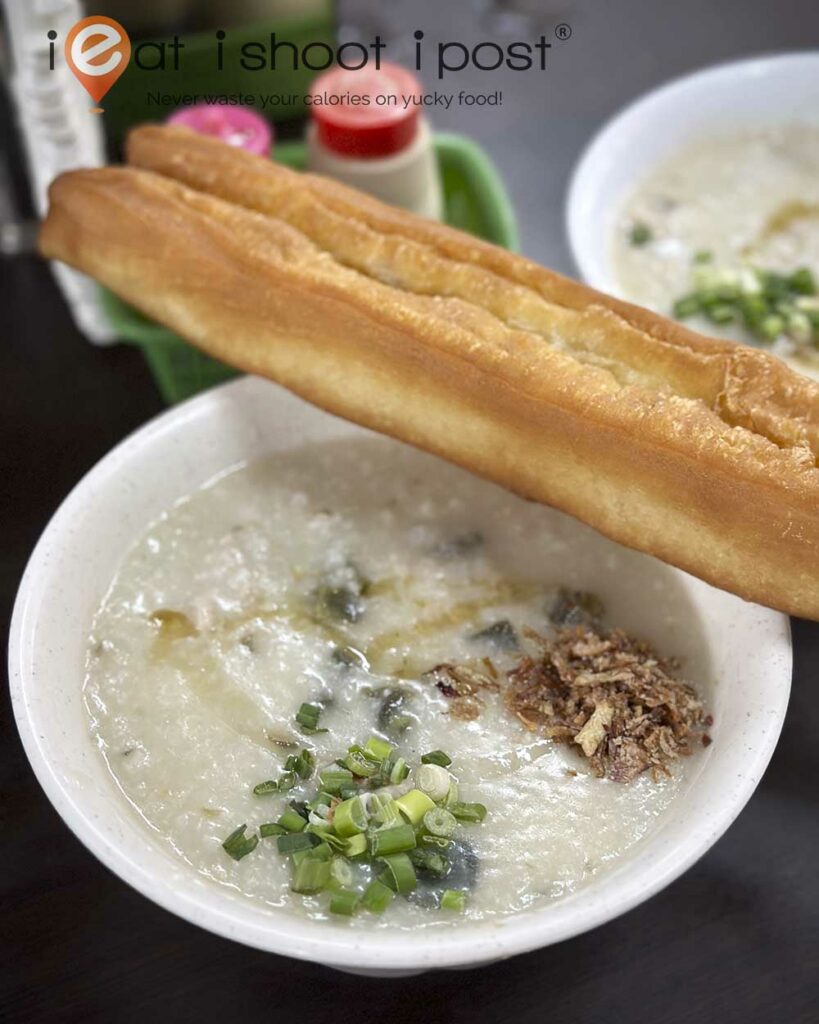 In my previous musings on Hainanese Porridge, I questioned the fate of this traditional dish as it is mainly enjoyed by the silver generation whilest the young only sought solace in its comforting embrace during bouts of illness. Some readers agreed with my sentiments while others enthusiastically thrust Sin Heng Kee's resounding success into the spotlight as living proof of Hainanese Porridge's resilience.
Sin Heng Kee had been around for over a decade and I was surprised that it could have escaped my foodie radar for so long! According to the manager, they started as a stall in the coffee shop across the road and were attracting such long queues that they finally took over the present coffee shop a few years back.
The Dine-in Experience
Dining at Sin Heng Kee was quite an experience! As we approached the bustling eatery, my attention was immediately drawn to the rows of chairs lining one side. They were reserved for those eagerly awaiting their takeaway orders. On the other side were several communal tables where you can find sit down and satiate your hunger.
First-timers might be befuddled by the whole ordering system. At Sin Heng Kee, you just join the queue and a lady will come by with a cardboard notepad to advise you on seat availability. Then you'll be assigned a number which you must show the lady at the counter when ordering your food. Once a seat is available, the lady (managing the queue) will direct you to it.
But it was the formidable lady at the ordering counter who truly stole the show. She kept the queue moving with unwavering efficiency. There was no room for dawdling or pondering menu options. My advice is to make full use of your time while in the queue to finalize your order. As once it is your turn, you will feel as if the doors of the train were just about to close. And you have to quickly make a decision whether to hop on board or not. Oh, her demeanor bore no hostility, but the urgency to blurt out our orders was undeniably palpable. It reminded me of the "Zai Lai" uncle at Serangoon Bakery, where you always end up with more buns than you intended to buy!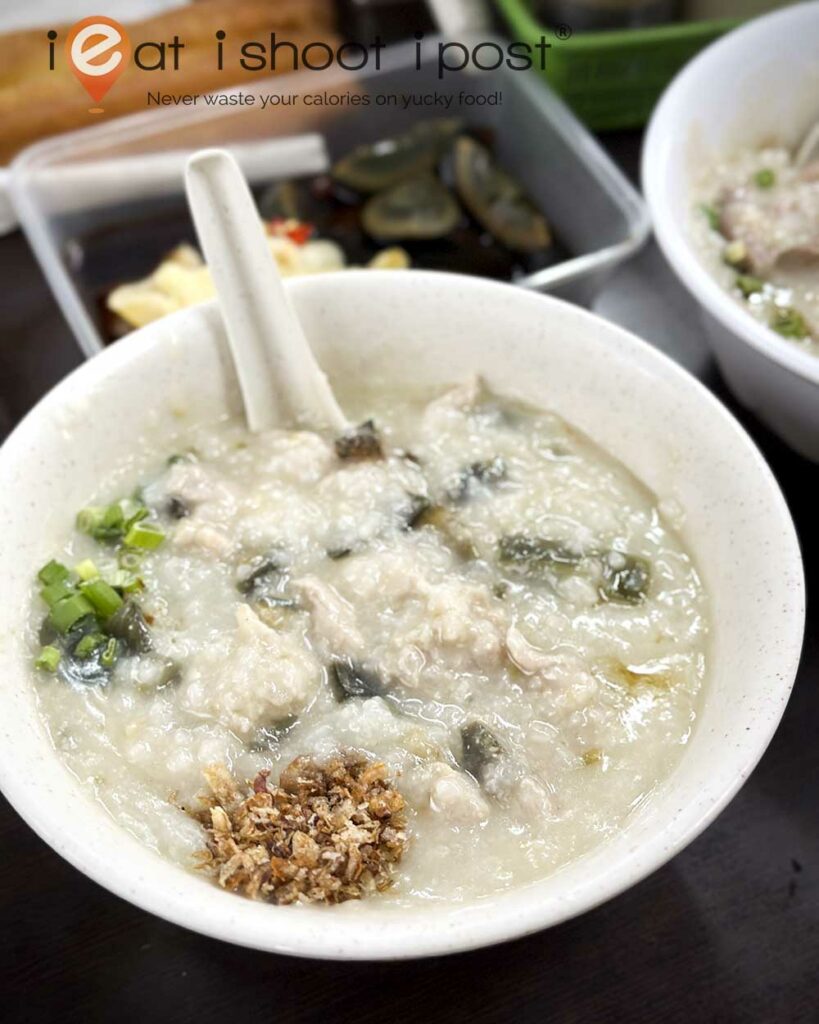 The seat assignment process is not very consistent. On my first visit, I wasn't assigned a number plate. So after placing my order, my next task was to find an empty seat. The tables were still pretty full at 1.30pm, but we managed to find two seats next to each other. There must have been five or six groups of patrons on the same table, and a few of whom were lone diners.
Hearty Porridge
It didn't take too long for our porridge to arrive and we soon found out why they are so popular. The porridge was flavourful and chock full of ingredients. They use fresh pork and the marinade was delicious. If there were one fault, it was that the porridge turned slightly watery at the end. Still, it is a very good bowl of porridge which is well worth going back for. 4.25/5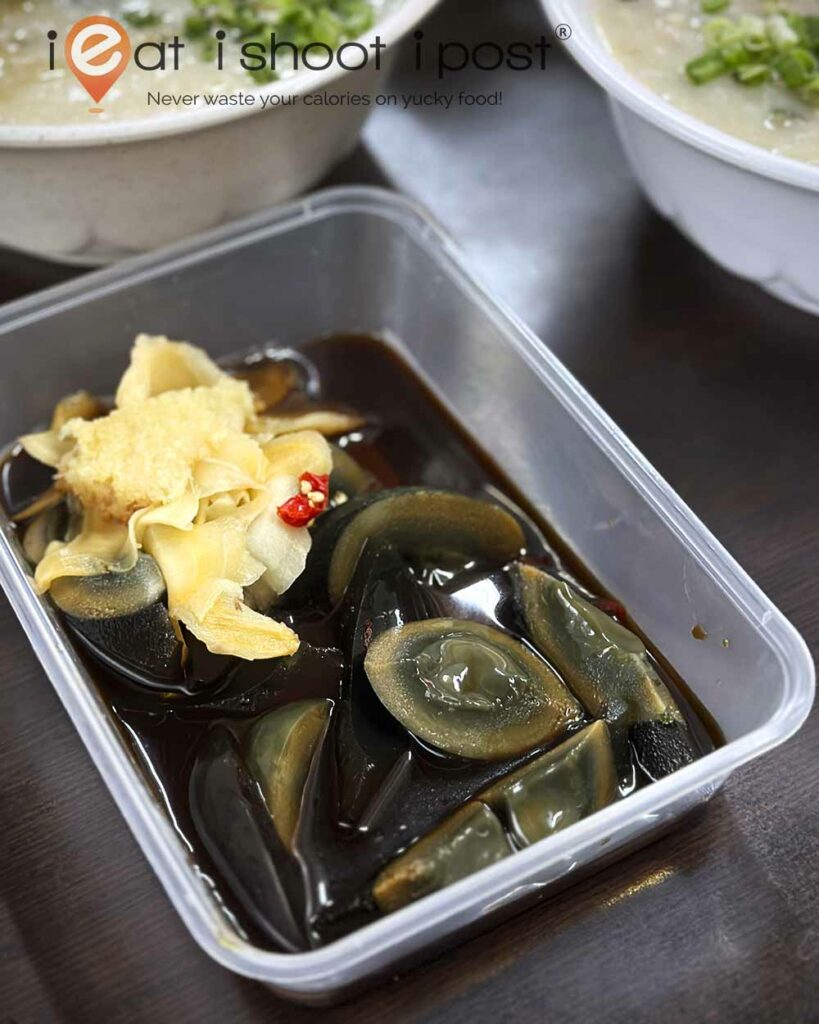 Aside from the porridge, you can also order century eggs and youtiao ($1.20 each) as side dishes. They also have frog porridge, which we didn't try. The century eggs and you tiao are very nice add-ons to the porridge. It would have been great if they had more side dishes that you can eat with the porridge, like some steamed and deep-fried dim sum dishes.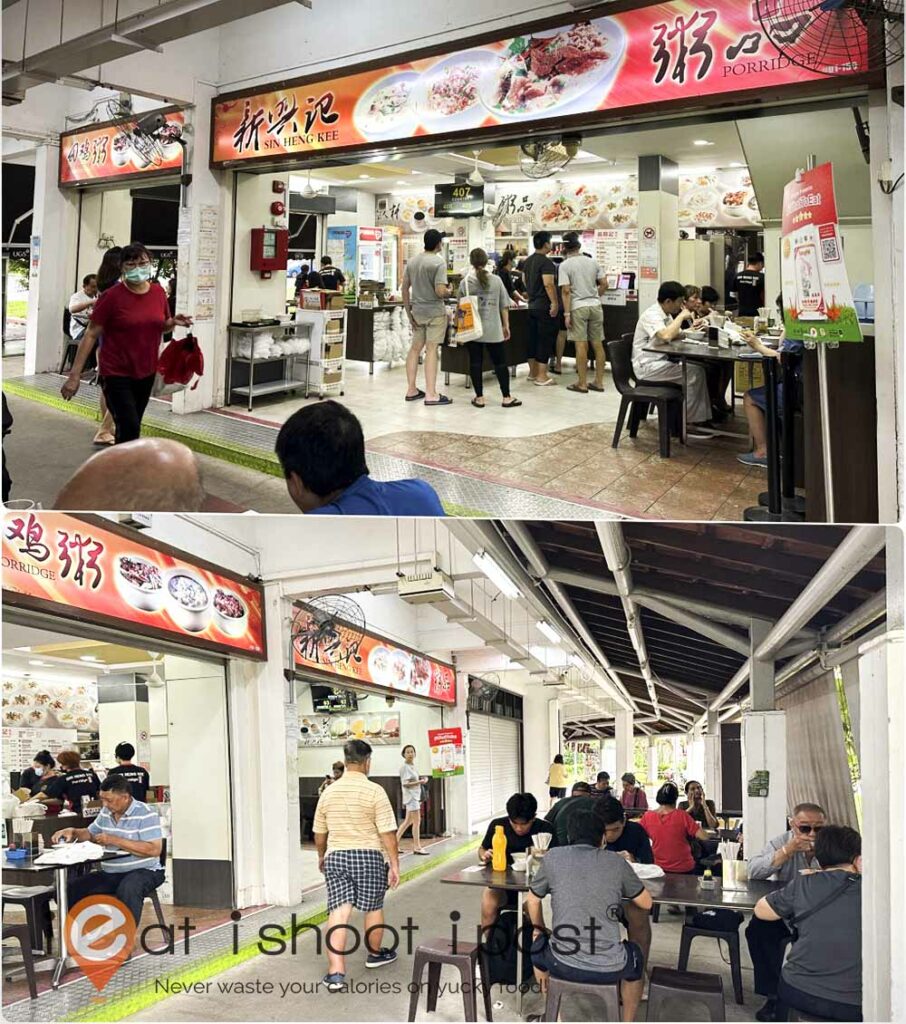 Conclusion
It looks like our humble porridge is here to stay! Seeing the success of Sin Hing Kee, I am just wondering why there aren't more similar eateries around. There certainly is a market for a hearty bowl of porridge!