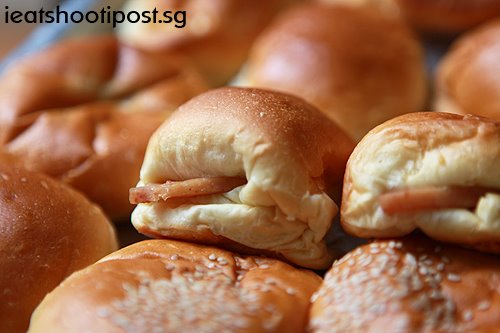 Luncheon Meat Buns
As with many things in life, the simple things are often the best. When it comes to soft buns, we Singaporeans have been spoilt for choice since Breadtalk started the trend of the fancy soft buns years ago. Before that, we were all quite happy with our curry buns, hot dog buns, coconut buns and luncheon meat buns. Since then, we now have buns with seaweed, pork floss, walnuts and all sorts of exotic ingredients, a lot of which you will never come across in your friendly neighbourhood Aunty Lucy supermarket.(NTUC)

But you know, often I buy these fancy buns only to find that it looked better than it actually tastes. Just last week I discovered that my favourite Japanese Bakery chain, Yamazaki has now opened a store in Tampines One. I used to buy my breads from Yamazaki when I was living in Thailand and they have a big round soft bun which they slice up which was fantastic. Unfortunately they don't have this in Singapore. So I ended up buying some fancy apple and custard bun that cost $2. I brought it home and prepared my Teh Si Siu Dai with much anticipation only to find that the out of the $2 spent, $1.50 accounted for visual appeal. After discounting 30 cents for satiety, I think I only derived 20 cents of gustatory satisfaction. Aiyah, KFC — Thailand better, Yamazaki — Thailand also better. What is wrong with our franchise managers here?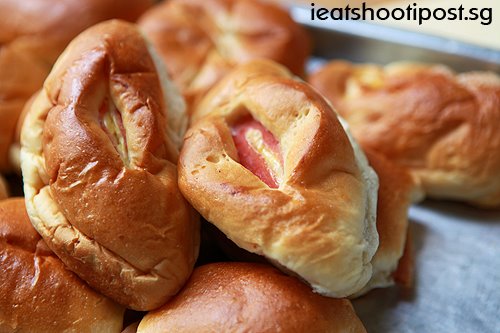 Ham and Cheese Buns
Anyway, back to the simple soft bun. There is no secret to a satisfying soft bun experience. The buns have to be warm, velvety soft and sweet. When that is the case, a simple slice of Luncheon meat is all you need to put you into bread heaven. OK, that is a little too simple. You also need a cup of hot Teh Si or Kopi Si depending on your preference.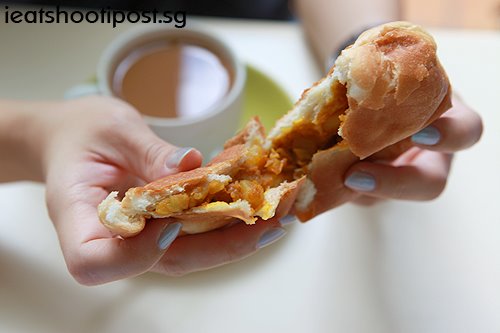 Curry Buns
There is no fancy stuff here at this traditional bakery which has been around for the last 30 years. You are still going to find your classic curry buns, red bean buns and sausage buns, not to mention custard puffs. Of special mention are the curry buns which are really quite generously packed with potato curry. They are all satisfyingly good and the continuous queue of people ensures that the buns are always fresh out of the oven and warm! The ham and cheese is another hot favourite here, but for me I can just buy a couple of luncheon meat buns and be really happy. Best of all they are all less than a dollar each. 4.25/5
Conclusion
At the end of the day, you don't really need some fancy name and ingredients to have a great bun experience. Give me a luncheon meat bun anyday but make sure its hot out of the oven! Agree?

Video added 14 Nov 2016