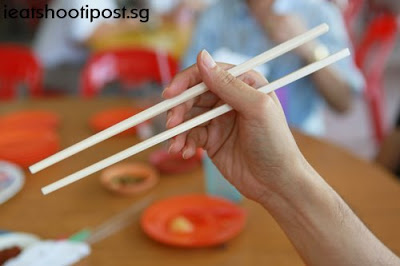 My last post on the correct chopsticks holding technique drew some criticism that even the second picture did not show the perfect chopstick holding pose. So I finally managed to hunt down someone who was trained to hold chopsticks since he was just a toddler to demonstrate the penultimate chopstick holding technique. It cannot get any better than this. However, do not be disheartened. A beautifully manicured androgenous looking hand is not a requirement for the perfect chopstick pose, but it does make the photo look more pleasing, no?
If you have not yet done so, let us know what is happening in your chopstick life by taking part in the poll.
Click here for the previous post
Click here to poll
And remember, holding your chopsticks crossed will lead to chronic arthritis when you get older, due to the increased strain on joints which were not designed to take the additional mechanical stress of the increased leverage pivoting upon the fulcrum where the chopsticks cross…….. Just kidding lah.