Freshly made Bean Curd. 50 cents
This was such an unexpected find.
I could tell you about how the stall is three generations old, founded by the grandpa in 1966. I could tell you about how they remove the skin from the soy beans to make sure you don't get that waxy taste in your mouth. I could tell you about how they use four ingredients to make the sugar syrup.

But I don't need to. All I have to say is that this is the BEST bowl of Bean Curd I have eaten for a long while and it is only half the price of the other famous ones which I have blogged. The bean taste is evident and the texture is sublime. It's excellent and it is ironically one of the cheapest bowls of bean curd around! 4.25/5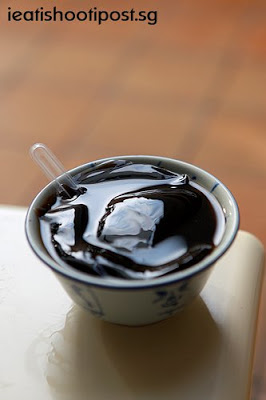 Chin Chow $1
Those of you who have heard of Tan Soon Mei before will probably know them as a manufacturer of Chin Chow. In fact, they have a factory which produces Chin Chow for sale to hawkers. However, if you want to eat some of their special Chin Chow, it is only available for sale at their very own stall here.
The special characteristic of this Chin Chow is the texture and the way it is served. It is served like a bean curd and the texture is somewhere in between the common Chin Chow and Bean Curd. I really enjoyed the texture, but I thought it was lacking in any special Chin Chow taste. Still, it is quite a refreshing bowl of dessert for a hot Singapore day. (Which is really everyday) 4/5.
Conclusion
I am quite sure it is the best bowl of bean curd for 50 cents or even for $1 for that matter. The texture of the Chin Chow is unique but I would like it better if it had a more herbal taste.



Update: Sep 2011
Last few times I have been there, the Bean Curd has been less than exceptional, so the ratings have been revised to 4.25/5