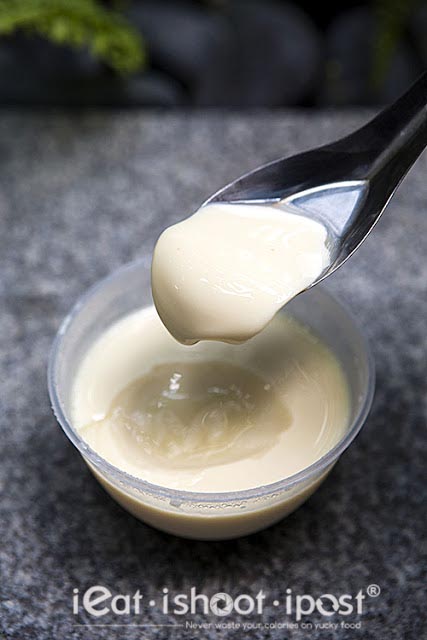 You may have noticed that I have been very resistant to blogging about Cold Soya Bean Curd. The reason is because I feel that compared with traditional Soya Bean Curd, this cold version is a product of 21st century food technology which require little skill to make, unlike the the traditional Soya Bean Curd which is an art that requires years of practice to develop mastery. That is the same reason why I don't blog about who makes the best Milo in Singapore because it really is something that anyone can make at home.
So why this post? Well, I just wanted to let everyone know what actually goes into Cold Soya Bean and how easy it is to make this yourself. Do have a read of this recipe which I managed to do in one day and compare it to my traditional Tau Huay recipe which I took months to master. I hope you will appreciate the traditional Tau Huay a bit more and ask yourself this question:
"Now why am I paying $1.80 for a tub of processed chemicals and only $1 for an artisanal Tau Huay which takes years to master?"
Now you understand why there are so many new hawkers jumping on this cold Bean Curd bandwagon and hardly any who are making traditional Tau Huay using gypsum powder.
Anyway, a friend of mine whom I met at Cell Group brought a few tubs of this cold bean curd for supper after bible study. She had learnt it in a cooking class and it tasted exactly like those Bean Curd that you can buy from the hawker stalls, so I asked for her recipe. The most difficult part of this recipe is having to buy the ingredients. You will need to visit Phoon Huat for the instant jelly powder. The rest of the ingredients are available from the supermarkets. It will only take you 20 mins to make and one time to master this very simple recipe.
Ingredients
Unisoy Soya Milk Powder 60g
Polleney Soyabean powder 120g
Coffee Mate 60g
Sugar 60g
Poon Huat Instant Jelly Powder 28g
Water 1.4L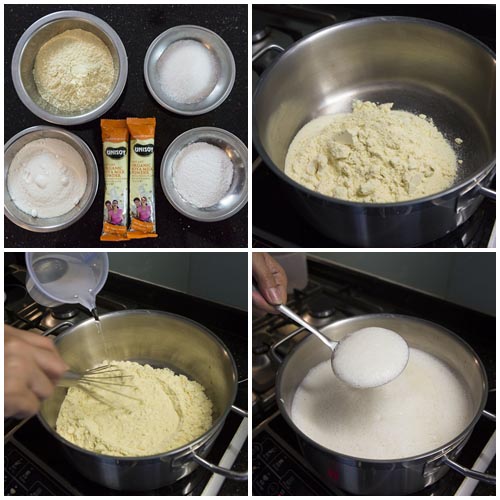 Method
1. Measure the ingredients
2. Put the soya bean powder (both Unisoy and Polleney) in the saucepan and slowly pour in 400ml of water. Use a whisk to mix until it becomes a smooth paste.
3. Turn on the heat and add the rest of the water and sugar.
4. As the soya milk heats up, skim the foam off the surface and whisk the mixture to prevent it from burning.
5. Once steam starts to appear, stir in the Coffee Mate.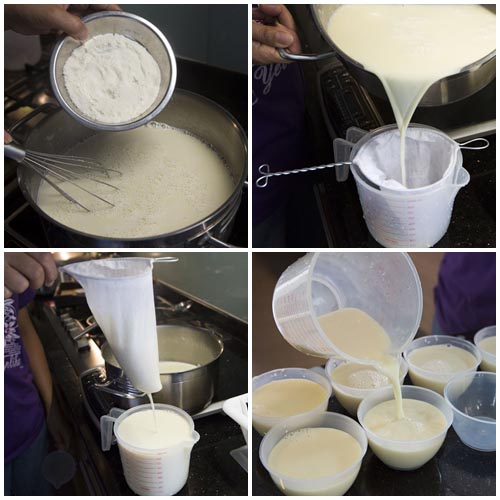 6. Turn off the heat (It should be about 85 to 90 degrees celcius at this point) and stir in the jelly powder
7. Mix well and then pour through a coffee sock or sieve
8. Pour into dessert bowls
9. Once cooled put into the fridge to chill
It should set in about 1 hour and be nice and cold in about 2 hours.
Notes:
1. Soybean powder dissolves in cold water while Coffee mate dissolves in hot water.
2. Don't add all the water at the same time as it will make it difficult to dissolve. Much easier to add small amount of water first and mixing it into a paste before adding the rest of the water.
3. Using a coffee sock will ensure that your pudding is silky smooth
4. You can reduce the sugar to suit your own taste.
5. Try some other variations but using Vanilla, lavender, almond essence etc
Disclosure: Some links above are affiliate links, meaning, at no additional cost to you, we will earn a small commission if you click through and make a purchase.