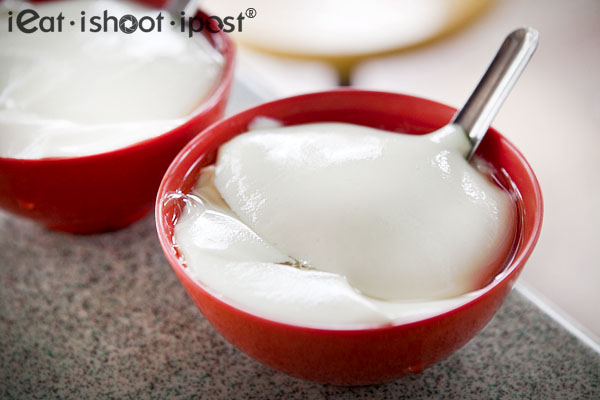 Traditional Tau Huay 60 cents
When I was a kid, our version of the Boogeyman was this mysterious character called the "Ti Gu". I never knew who or what the "Ti Gu" was. All I know was that the Ti Gu's job was to catch people and you don't want to be caught by the Ti Gu. I later found out the the dreaded Ti Gu was none other than the Public Health Inspector, whose job was to clean the streets of hawkers. In the good old days, our hawkers ply the streets just like how they still do in some of our neighbouring countries. These hawkers would "hawk" their food from pushcarts along the main roads which meant that the our streets were often full of the rubbish the next morning. In 1969, in an effort to create a clean and green Singapore, the NEA was tasked to rid the streets of hawkers. Thus was born the Ti Gu, Public Health Inspectors, who like the Tax Collectors in Biblical Times or the Cisco Parking Inspectors of today, are often treated as the traitors of society.
When this Tua Huay Uncle was 13 years old. He met the Ti Gu. In fact, he met the Ti Gu many times. Being a scrawny 13 year old, they would ask him if he really was the hawker pushing the cart.  At the time, he was helping his parents earn a living.  He recalls that each fine was $10 and he had a whole stack of it. A bowl of Tau Huay was 10 cents then, so $10 meant he had to sell 100 bowls of Tau Huay plus a bit more to pay off the fine. After paying the fine, pleading guilty and promising to get off the streets, he would relocate the pushcart to somewhere else. How else where they going to find money to feed the family?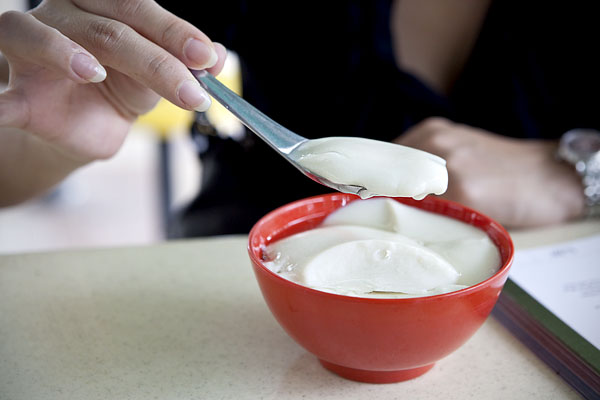 Like some Bean Curd or Tau Huay?
By the 70's the stall eventually found a home at the then Jalan Besar Stadium hawker centre where they stayed 10 years before being relocated to Whampoa where they have been ever since.
I admire this Uncle for his tenacity for holding on to tradition. His bean curd is still made with "Shi Gao" (Gypsum) rather than Lactone which is what is used in many places, especially the franchised stalls in Shopping Centres. Unlike Shi Gao, Lactone is very forgiving and gives consistent results. Making Tau Huay using Shi Gao on the other hand, is an artform that still requires the skills of an experienced Tau Huay maker. After making Tau Huay for more than 40 years, this Uncle still has days when the Tau Huay doesn't set properly. However, when it does, Traditional, or should I say, artisanal Tau Huay that is made with Shi Gao is softer and silkier than the modern lactone variety.
His Tau Huay today is perfect. The last time I ate there, it was slightly off, but today it has the most perfect texture. Unlike the Lactone version that often chisels like jelly, the Tau Huay here disintegrates in your mouth with the slightest pressure. This is the best Tau Huay I have had for a while.4.6/5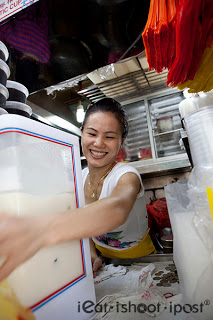 We often don't expect good service at hawker stalls, but this particular stall is manned by his young China born wife who is the most hardworking and cheerful hawker that I have ever met. Every time I see her, she is as busy as a humming bird with her hands flying all over the place, but always with a perpetual smile on her face! If you are down and depressed, get a bowl of Tau Huay and just soak in her energy.
Conclusion
If you want taste what Tau Huay used to taste like before they started using lactone to make Tau Huay, then you have to seek out the stalls that still persist in using Shi Gao. Tau Huay that is procured from factories are all made with lactone and they are never as smooth and silky as the ones made on the premises. If you spot a machine for making soy milk at the stall, then it is a good chance that you are going to find Traditional Tau Huay.
If you want to try making your own Tau Huay, do have a read of my Tau Huay recipe post. Learning to make my own Tau Huay has made me really respect those hawkers who persist in making Tau Huay the traditional way.
Update: 20 Dec 2011
William just wrote in to say that their name is now Whampoa Soya Bean and Grass Jelly!