Char Kway Teow $2.50
There still exist a generation of Singaporeans who continue to exemplify the spirit of our founding fathers of hard work and dedication to even the most menial of tasks. Just take the Char Kway Teow Uncle at Guan Kee for example. I was at Ghim Moh Food Centre for a good two hours that day and during that time, there was a perpetual queue of at least 15 people waiting in line for their plate of Char Kway Teow. This uncle is totally focused on frying the Kway Teow. His forehand and backhand strokes for which he has perfected over the last 41 years have become so ingrained that I believe each new plate of Char Kway Teow gets exactly the same number of swirls as the one before.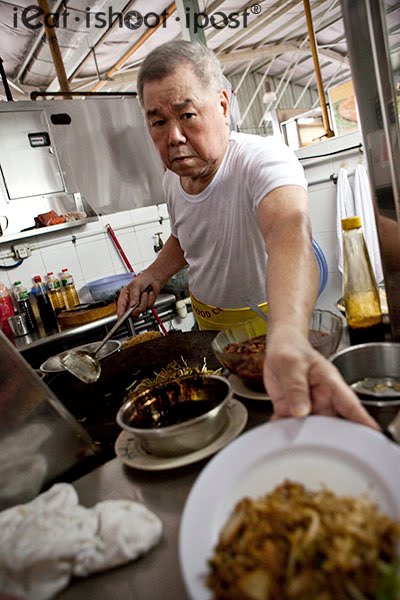 Uncle doesn't talk much. He leaves that to his wife. (Reminds me of the Grandpa in UP!) In the half and hour that I was there waiting for my plate of Char Kway Teow, all the talking was done by his wife. He doesn't even waste any energy smiling. This Char Kway Teow uncle has just one goal in mind and that is to fry a plate of Char Kway Teow.
Such is his dedication to his craft that his wife proudly proclaimed that the plate of Char Kway Teow that I was about to enjoy is exactly the same as what he was serving 41 years ago. I observe the tag team tactics of this elderly couple as they go about their business. At a certain stage in the frying process he would sit down on a stool behind the wok, while his wife takes over some of the swirling work. But he would always do the final phase of frying where the egg, lup cheong and fish cake are added to the Char Kway Teow and hastily scooped up with the edge of the plate.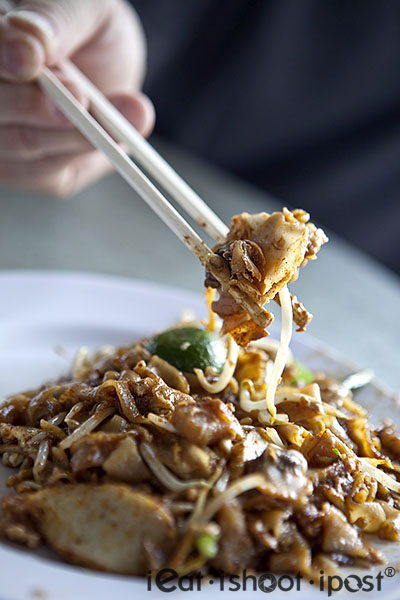 After all that, I wish I could honestly tell you that this was the best plate of Char Kway Teow in the world, but I can't. All I can say is that my tastebuds might be different from the thousands of people who frequent his shop weekly. I thought that the texture of the Kway Teow was excellent. It was slippery and lively, something that is made possible (I am told) by the generous use of freshly prepared Pork Lard. Aunty tells me that the rest of the condiments, from the soy sauce, to the chilli to the sweet sauce all come straight from the bottle. To me the Char Kway Teow lacks the smoky flavour of caramelised soy sauce which is what makes Char Kway Teow so unutterably tasty.
4/5
(please read update)
Conclusion
I am sure there are lots of fans out there who love this Char Kway Teow here. In fact, in 2002, this uncle was actually crowned the Champion Char Kway Teow man in a Mediacorp series. So, what am I missing? Whatever it may be, I think this is a stall you still have to try one day. Perhaps its because I am not used to the "original" Char Kway Teow flavour? Or maybe it was just his occasional off day.
Update: 11 Sep 2011
Finally realised why there is a perpetual queue for this Uncle's Char Kway Teow! This morning's Kway Teow was what I expected! Lively, savoury Kway Teow that leaps into your mouth with a nice wok flavour! As a result my revised rating is 4.5/5!