If you visit Tiong Bahru food centre in the mornings, you will notice a few stalls with  long snaking queues.  One of them would be a stall selling beancurd.  On the face of it, this looks like a typical beancurd stall that you can find at any market.  So, what makes this stall so special that people are willing to queue up for half and hour for a bowl of bean curd?
If you ask the people lining up, (which I did) they will simply tell you that the bean curd here is just "very good lor!". But of course, as an informed foodie, one wants needs to be able to explain WHY it is so, right?
In order to assess the quality of a bean curd, we need to understand the basics of how beancurd is made.  Back in 2009, I spent a few months trying to make beancurd at home.  Through many trials and errors, I eventually published a recipe which produces super smooth bean curd. Knowing how difficult it is to make the perfect bean curd has increased my respect for hardworking hawkers like Mr Low Teck Seng who would arrive at his stall just before midnight in order to have the beancurd ready by 5am in the morning for his customers!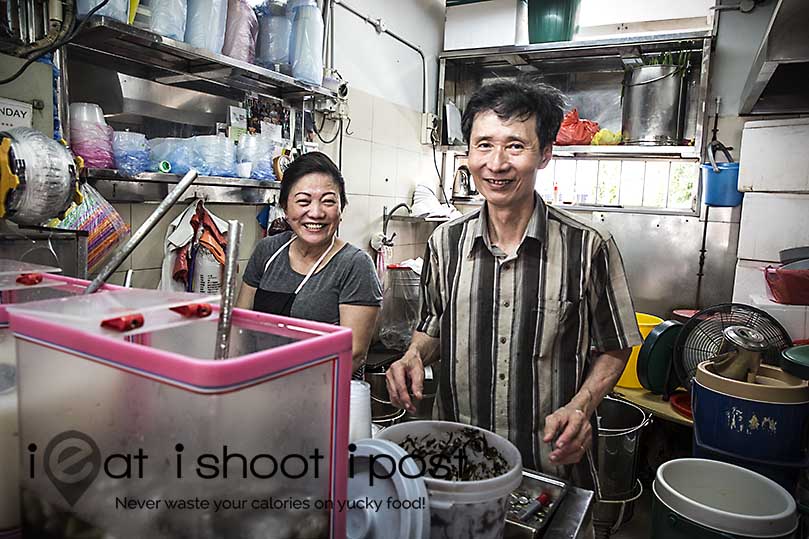 Broadly speaking, there are two types of beancurd stall at the hawker centres.  One is the bean curd trader who buys the bean curd from the factory and serves it at the stall.  You can recognise them by the beat up metal containers from which they scoop the bean curd.  These beancurd are made firmer in order to withstand the transportation from the factory to the market.
The other type of stall actually makes their beancurd on site.  Since the beancurd doesn't need to be moved too much, they are likely to be more tender and silky.   You can spot these stalls by the machines sitting at the back of the stall and the beancurd is usually served out of plastic thermal containers.
There are many modern beancurd stalls at the market nowadays that have fancy names all revolving around the word "bean". Technology has enabled anyone to be able to make fresh beancurd with little training unlike the old days when the disciple has to hone his skills over a long period of time.  With these machines, the process of grinding, straining and cooking the soya bean milk are all automated, so the hawker only needs to learn how to measure out the beans and turn on the machine.
These modern stalls are also likely to use glucono delta lactone (GDL) as the setting agent for the bean curd instead of the more traditional gypsum which has been used for thousands of years.  GDL is a standard product which makes it easier to use than gypsum whose quality is not as well controlled.  The end product is almost the same but GDL made beancurd does have a slight sourish aftertaste.  Bean curd artisans like Whampoa Bean Curd and Teck Seng will insist on using gypsum as it produces beancurd with a superior texture and flavour.
Not only does Mr Loh make his beancurd on site, he still insists on cooking the soya milk by hand.  After the beans have been ground, they are transferred to a big pot, brought to a boil and slowly cooked to bring out the aroma of the beans.  Through years of experience, an artisan like Mr Low is able to tell exactly when the soya bean milk is at its most flavourful.  According to Mr Loh, machines do not cook the soya bean milk long enough for it to develop that rich soya bean aroma!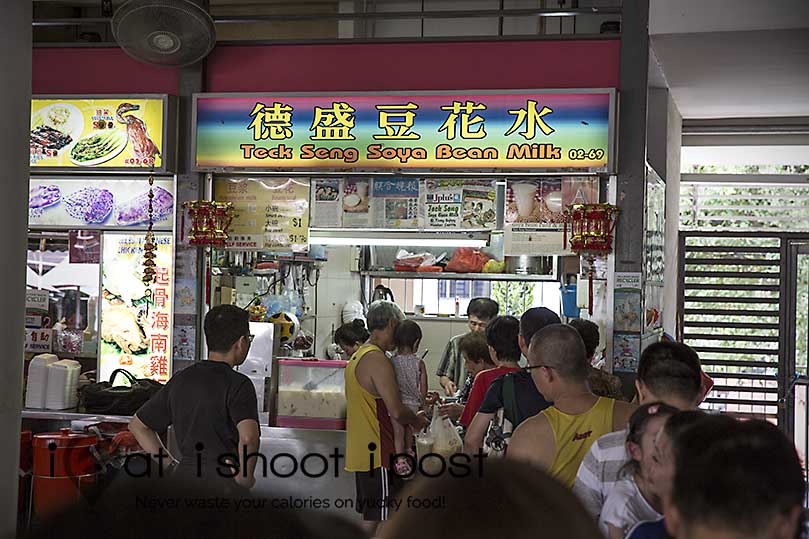 Conclusion
Artisanal beancurd stalls like Teck Seng which are still making bean curd the traditional way are fast disappearing.  It is good to see the stall still attracting long queues.  It just goes to show that customers know a good thing when they eat one, even if they can't really explain why!  4.5/5