This is Part 3 of my Hokkaido travelog.
Here are Part 1: Kamifurano and Part 2: Furano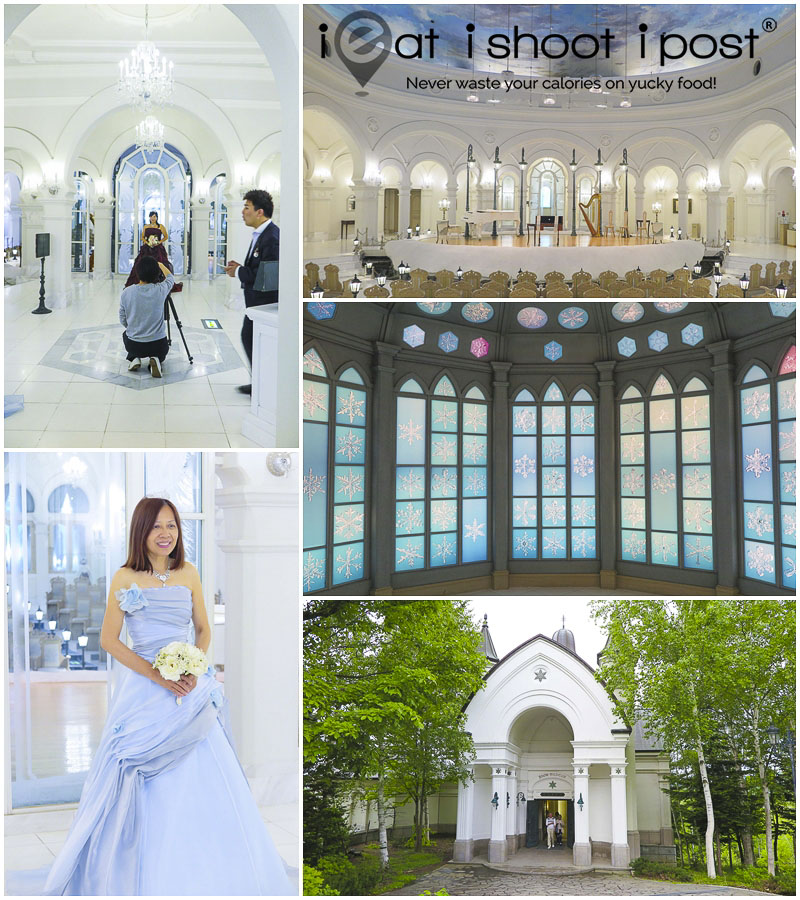 Asahikawa is the 2nd largest city in Hokkaido after Sapporo and the gateway to the central region of the island.  It also has the distinction of being the coldest place in Hokkaido with a temperature of −41 °C in 1902, the lowest ever recorded in Japan. So if it is snow you are after, this is certainly the place to find it.
The snow crystal museum is one of those places that little girls (and big ones) who have watched the movie "Frozen" would love. The museum is a popular place for Fairy Tale weddings and for a fee, you get to dress up as a princess and get your photos taken.  For my son and myself, it was a good place to chill out (pun intended) while waiting for the ladies to get dressed, get their hair done, put on make up……..yawwwnnnn…..zzzzzzz.
The museum is built over some natural ice formations which have been preserved behind glass for viewing and as the name suggests, you get to learn all about how snow flakes are formed and how every snow flake is unique.
Snow Crystal Museum: Map and Details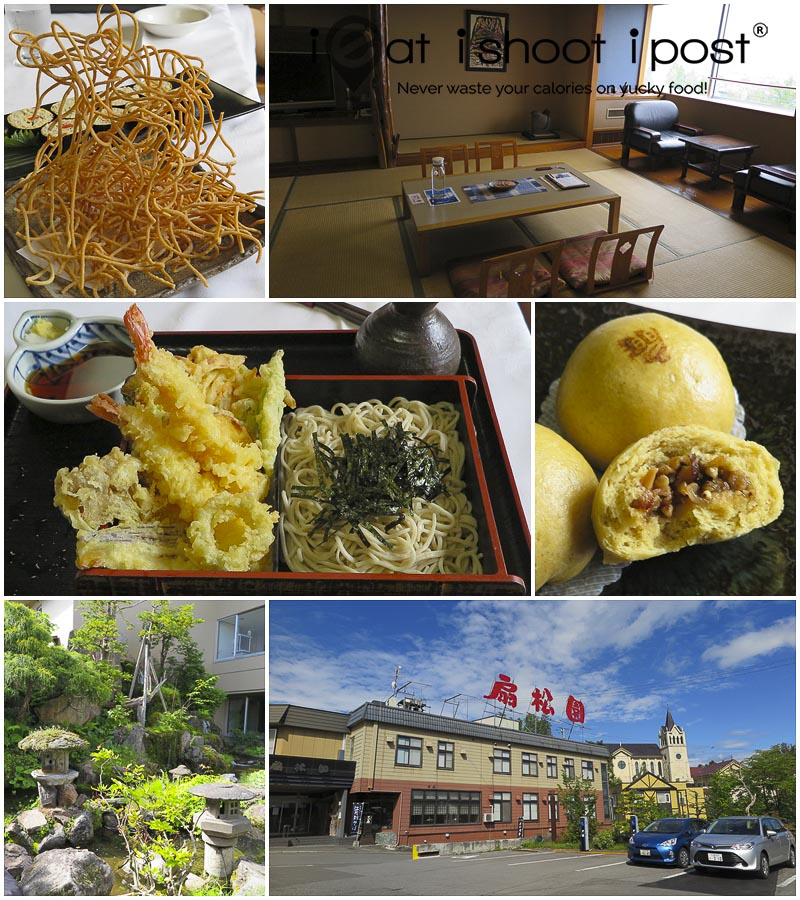 While in Asahikawa, we stayed at Ryokan Sensyoen which was just a short distance away from the snow crystal museum.  This is a lovely family run, traditional Japanese inn. We have been to a number of Ryokans on this trip and this was the most modern and well furnished.   The rooms are quite new and come with attached toilets, TV and kettle. These are things which I think most Singaporeans would expect in a hotel, but may not always be available in a Ryokan. The hotel is located about 10 min by taxi from the city centre.
Ryokan Sensyoen:  Map and Details
Ryokan Sensyoen actually grew out the popular soba restaurant, Sobasen next to it.  So a meal at the restaurant is a must.   They make their own soba noodles fresh everyday in the kitchen and aside from the noodles, they also have other items made from buckwheat flour such as their steamed buckwheat buns with pork filling which was very nice and deep fried soba noodles.  Their tempura and pumpkin gratin were also very good.
Disclosure:  We were hosted by Ryokan Sensyoen.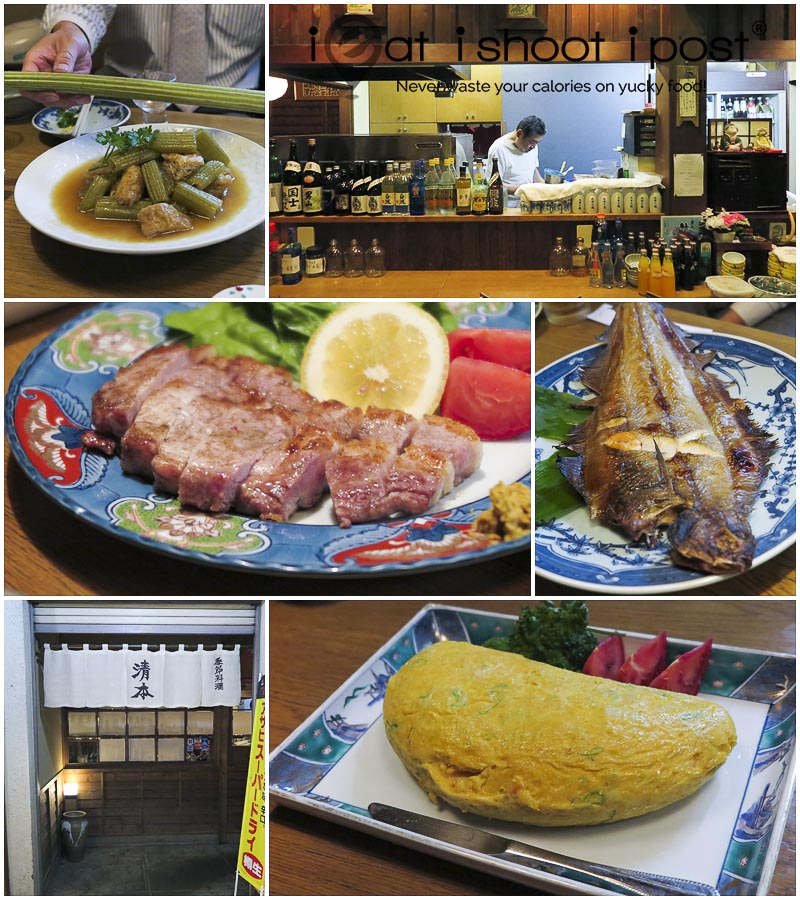 For dinner we met up with Junji Hirashima who is a local foodie with vast knowledge of the best restaurants and produce in Asahikawa. We met at what he considered to be the best Izakaya in the city.   It is located at the basement of a commercial building and is a casual place where the typical salarymen go for food and a drink after work.   They have the distinction of being listed in the Michelin Guide and are famous for their crab omelette and miso marinated pork chop.  The crab omelette is huge and must have contained a dozen eggs and loads of crab meat! They make their own salty miso paste which is super delicious, so do for some to accompany the Hokkaido rice. The local Asahikawa pork is uber delicious, so make sure you eat your fill before returning home!
Kiyomoto Izakaya: Map and Details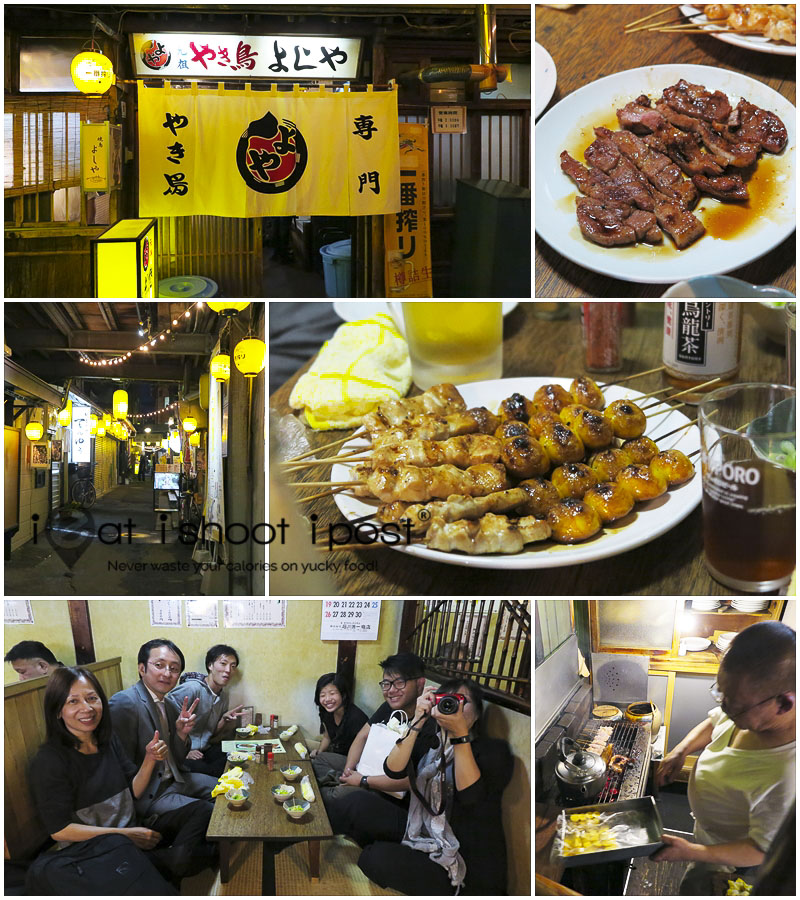 Like most major Japanese cities, Asahikawa also has its own yakitori street. The one which Junji wanted to bring us to just happened to be closed, so we visited his 2nd choice which was located just next door.  (His first choice would have been this one which is facing the main road)   The sauce was just a tad salty for me. but the grilled pork is very good and we really enjoyed the company and atmosphere of the quaint eatery.
Yoshiya Yakitori: Map and Details
Conclusion
We only had a brief stopover in Asahikawa so I didn't managed to explore the place.  There is a local zoo which would be great for the kids as well as a soy sauce museum which I would have liked to have visited.  There are the many eateries which I would have loved to spend a few days exploring.  Junji tells me that the white corn of Asahikawa is the sweetest in all of Japan, so if you visiting during summer, make sure you eat lots of it!
Acknowledgement
Our friend Adrienne Neo, an ex-journalist at Lian He Zhao Bao,  is now based in Hokkaido and running her free-lance own tour agency together with Junji.   Planning your own itinerary is pretty easy, but if you want to really behind the scenes and off the beaten track then Adrienne would be able to help you. You can contact her at [email protected]  (She's the one in the blue dress pretending to be Elsa).  Here is her facebook page.