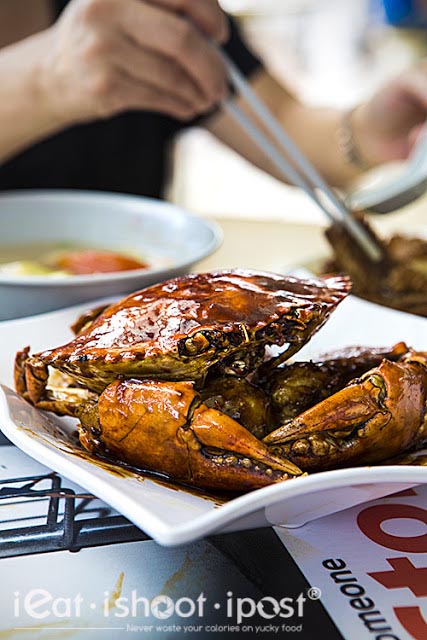 I have been a huge fan of Siang Hee Seafood since I first blogged about them in 2008. Ah Yoke is one of those hawkers who are really passionate about cooking and she is always experimenting with new recipes. She came up with a few of her own creations over the years, like her Luo Han Pork Ribs, Pumpkin Prawns and Pig Trotters. Early last year, she moved from the coffeeshop at Zion Road to Serangoon Gardens Way Food Centre where she now runs a single hawker stall. Business has been brisk since her move and she took some time to settle into her smaller kitchen. Now that she is settled, she has started experimenting with some new recipes again!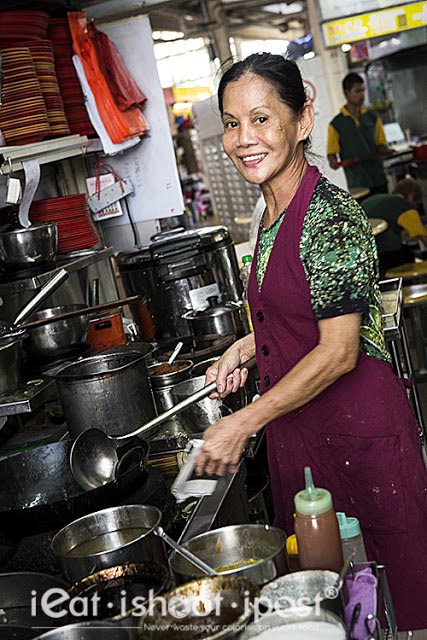 When I met her again a few weeks back, I mentioned to her about the Coffee Crabs that I had at Majestic Bay Seafood. Before I knew it, she had gone to the restaurant to try out the new crab dish and after a few days of experimentation, managed to come up with her own Coffee Crab recipe! So now, Coffee Crabs has hit the heartlands and is accessible to more Singaporeans who might otherwise have to pay $70 just to eat Coffee Crabs at Majestic Bay. She might have just started the ball rolling for Coffee Crabs to be our next crab fad!
Her sauce is very good and Rockettgirl, who is quite a fan of Majestic Bay's Coffee Crabs has given her thumbs up for Ah Yoke's version. Her coffee sauce is quite similar to that of Majestic Bay's but her version has a little more gravy as she feels that her customers would like to have a bit more sauce to enjoy with the crab. The crabs are solid but she only uses medium sized crabs to keep the cost down. Each crab weighs around 700g to 800g and she is selling them for $30. She can of course procure larger crabs if you order ahead.
As with my experience at Majestic Bay, I find the sauce to be reminiscent of eating caramel popcorn but I am still not sure if it complements the crustacean flavour of the crab as well as Chilli or Black Pepper. Rocketgirl on the other hand loves it. Whatever it is, I think that most crab lovers would want to give it a try to decide for themselves. 4.25/5
Conclusion
Coffee Crabs has hit the heartlands! Only time will tell if this dish is destined to put Singapore on the culinary world map yet again!
Note:
If you are going for the coffee crabs, it is best to order ahead. At this point in time, they are only starting to sell this dish, so they don't have plenty of crabs in stock.