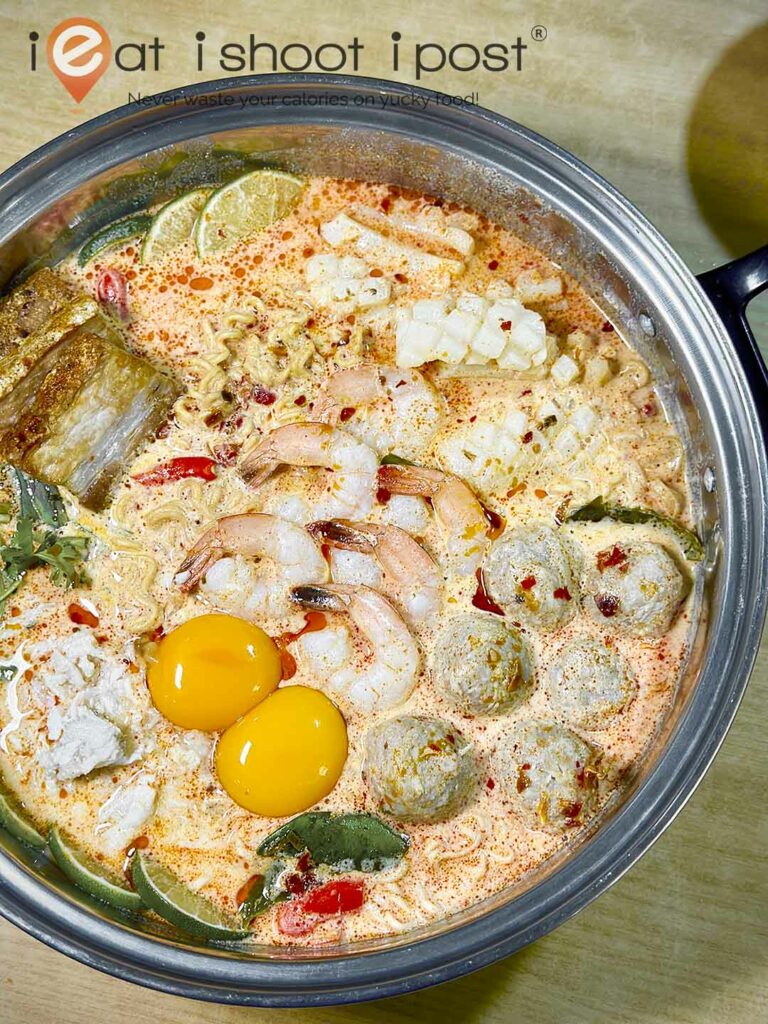 I would have never entertained the thought of heading to Orchard Towers for a meal. I shudder to think what would happen if a photo of me should appear on someone's social media page! But that was so last month! The good news is that the authorities have started the process of transforming Orchard Towers and all entertainment licenses have been revoked effective from 31 July 2023. So, all the nightclubs and pubs are now gone and new restaurants and other businesses are starting to move in! The place still has reeks of stale cigarette smoke and cheap cologne but there has been a dramatic shift in the demographics of people visiting the mall.
With that out of the way, I can now tell you about this unassuming little Thai Restaurant on level 3 that really deserves a shout-out for its authentic Thai food. The food was so good and the place is so rustic that it can best be described as a hidden hole-in-the-mall! Little wonder that the place was packed with young people when we visited on a Saturday evening!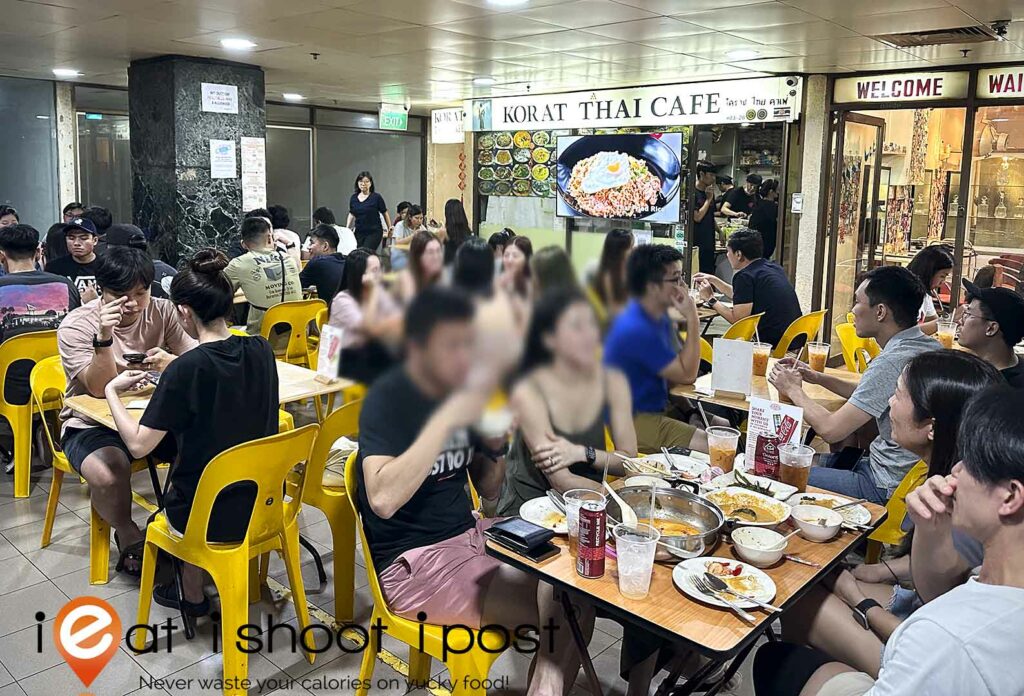 Korat Thai Cafe has been in business for decades but has recently changed hands. One of the owners, who also owns Fook Kin, told me about the place and after much persuasion, I decided to check it out, to see what the fuss is all about.
Must-Order Dishes
The must-try signature dish at the restaurant is the Tom Yum Mama. If you're not familiar with the term "Mama," it refers to Thailand's most popular brand of instant noodles, which has become synonymous with instant noodles, just like "Maggie" in Singapore.

Tom Yum Mama is basically instant noodles served in a rich Tom Yum soup with a dizzying array of seafood, meatballs, roast pork belly and two raw egg yolks which stare menacingly at you. The version at Korat Thai Cafe is very good. The soup base is well-balanced and the ingredients are generous. The soup was delicious and rich which can get a little jelak as you are tempted to keep savouring it! 4.5/5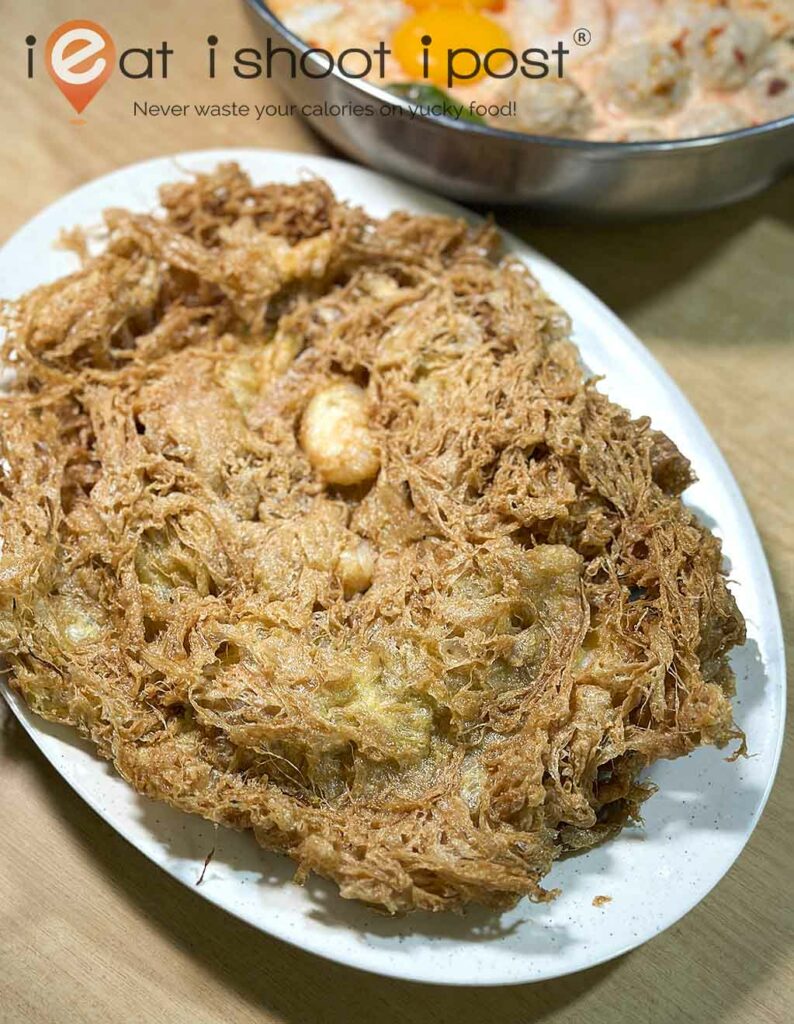 I was really impressed with the crispy seafood omelette. This is probably the crispiest omelette I have ever come across. Chef adds some crispy flour to the beaten eggs and deep fries the egg batter in plenty of oil to create a crunchy egg fritter. Again, this can be a tad oily so it is best shared! 4.25/5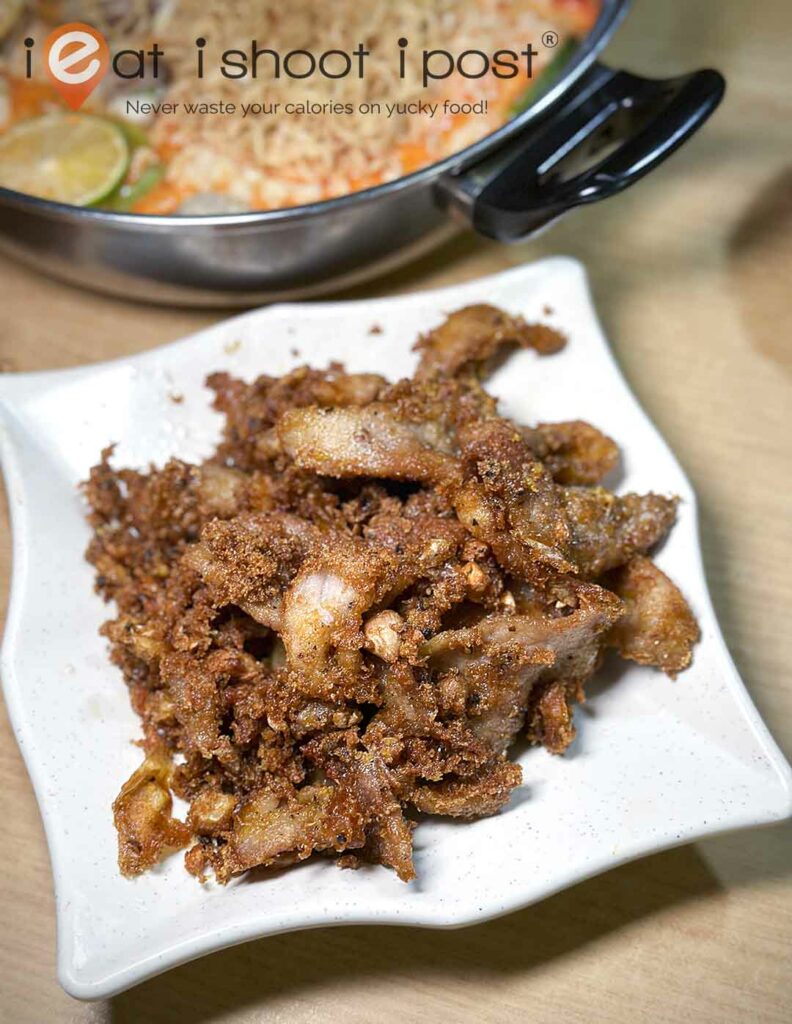 I have eaten Thai crispy fried garlic pork in many places, and this is one of the best that I have come across. There is no doubt the chef is an expert in the art of the deep fry. The use of special small-sized Thai garlic tells me that they are quite serious about the food here. I was told they make it a point not to pre-fry any of the items so that you only get them fresh. That means that you might have to wait a little longer for the food but the waiting time is well worth it! 4.5/5
Dishes you can try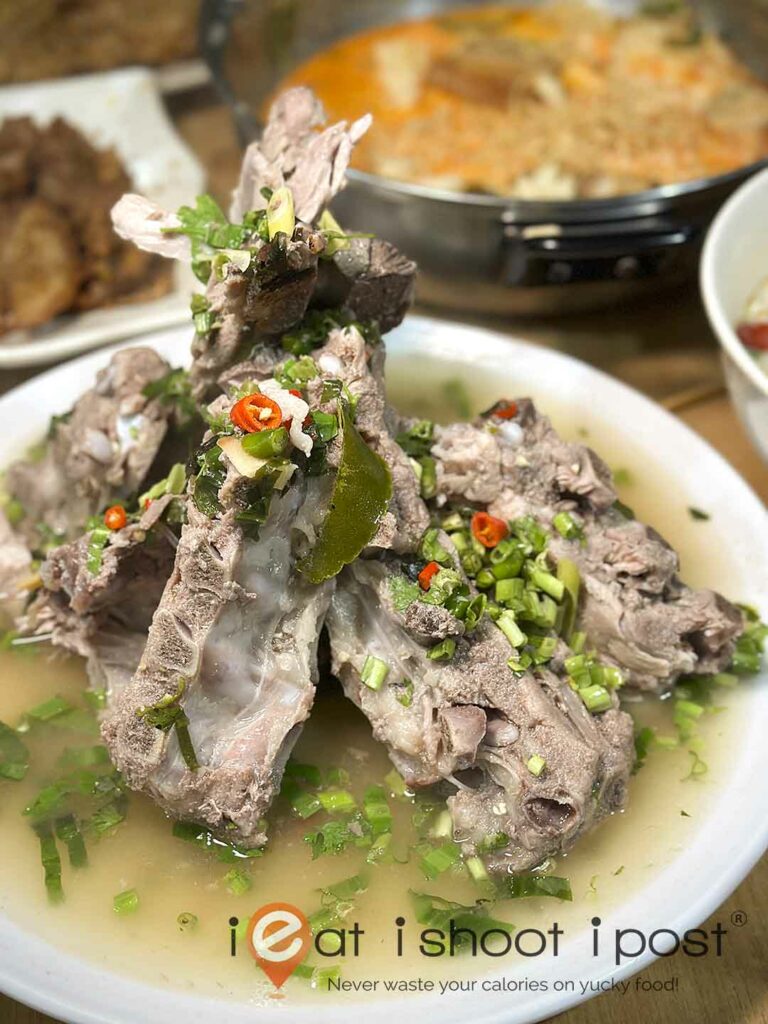 I have come across this Volcano pork spine (Leng Saap) in Thailand before but have never thought of trying it. It is made of pork backbones which have been simmered till the meat is soft and tender and served in a tangy Thai-style soup. It is almost like having bak kut teh in a clear tom yum soup. They present it by piling up the pork bones so that it resembles a volcano, hence its name.
To enjoy the dish, you really need to roll up your sleeves, pick up the bones with your hands, throw all decorum to the wind and gnaw with reckless abandonment! I must admit that the meat around the (vertebral) bones is really tender! (they are from fresh pork) Even though it takes some effort to pick at the meat, it can be quite a delectable activity if you eating for pleasure rather than trying to quell your hunger pangs. 4.25/5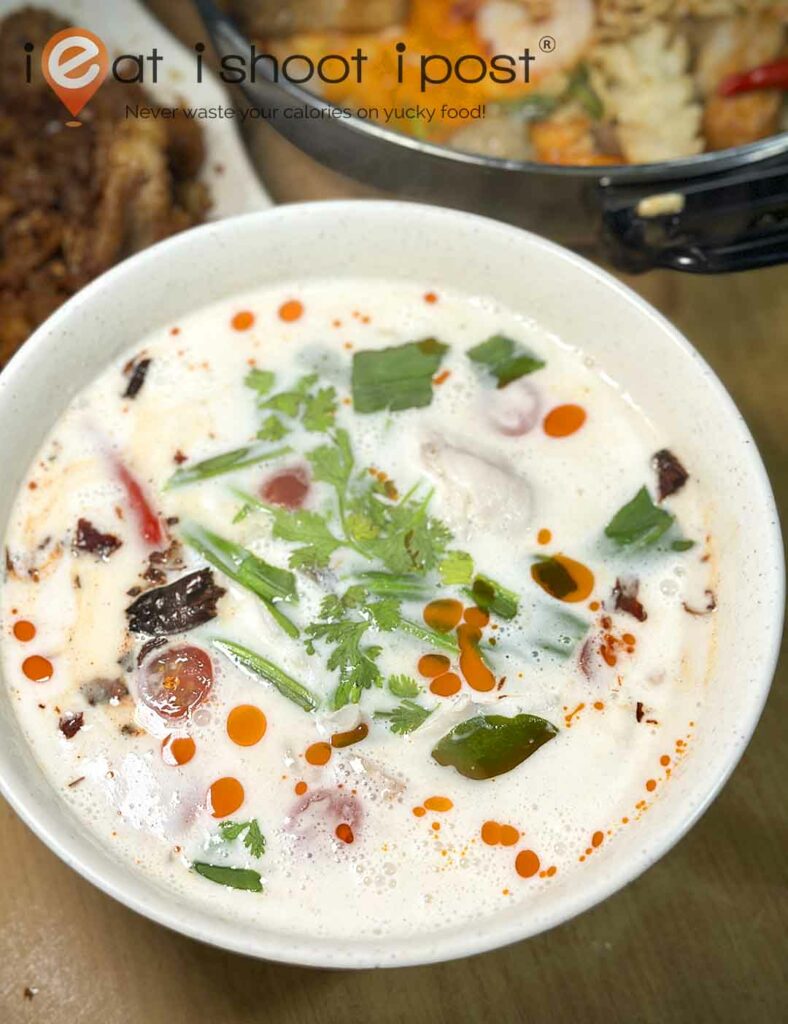 A new dish that they are introducing that would be good for a one-dish meal is the Tom Kha Pla with thick bee hoon. This is like a fish head bee hoon but with a spicy sour and creamy soup. The combination works really well. But as with the Tom Yum Mama, the coconut cream can be a little rich. 4/5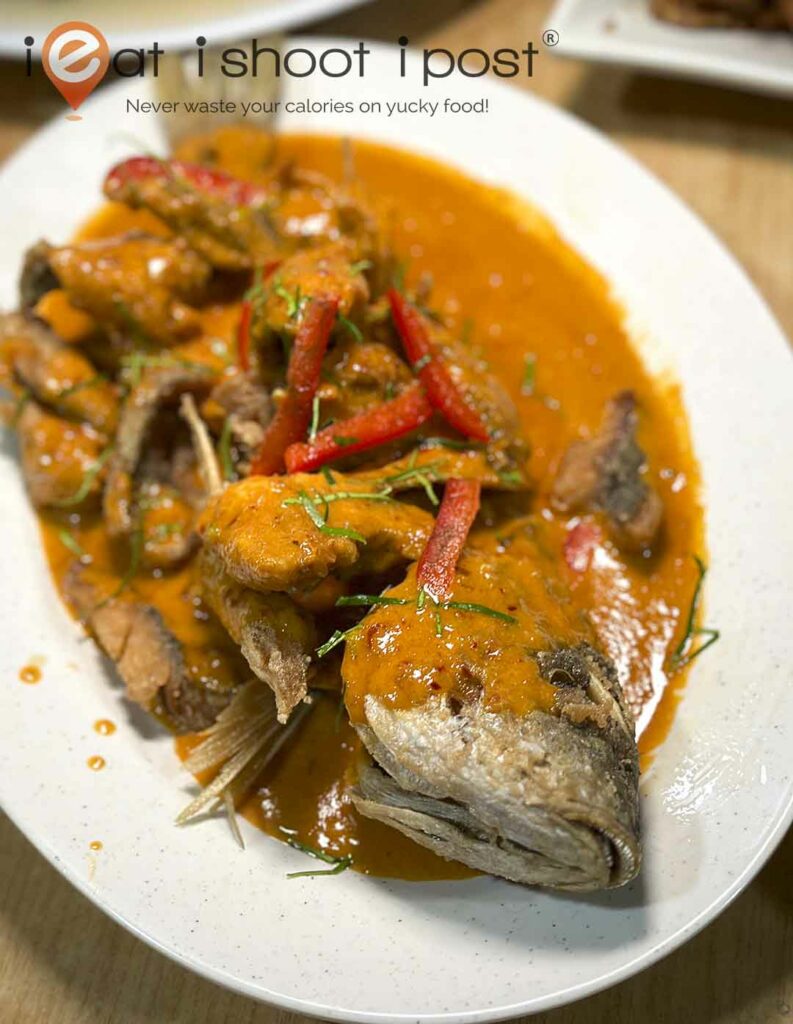 We also had the Chu Chee, which is a crispy fried seabass drenched in a thick red curry sauce. No doubt the chef did a good job frying the fish so the skin is crispy and the flesh is still tender and juicy. We weren't particularly thrilled with the Chu Chee sauce though. It was nice but tasted flat and lacked the complexity of flavours. 3.5/5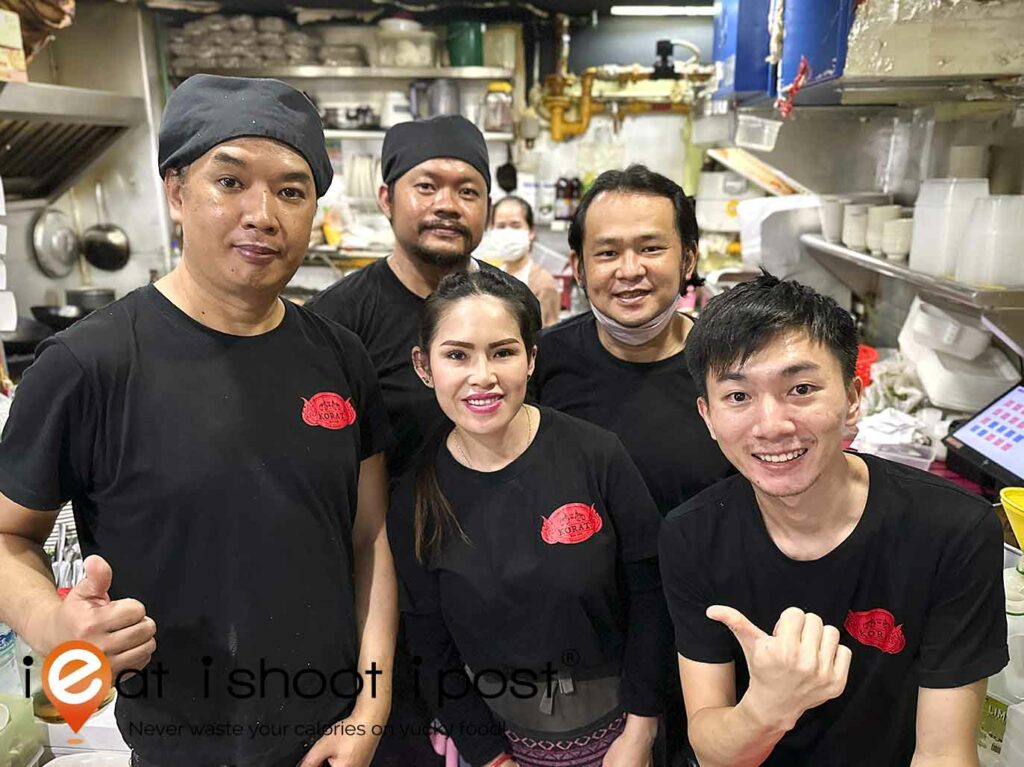 Conclusion
Now that Orchard Towers is shedding its shady image, you can confidently go and enjoy a delicious Thai meal without having to explain to your wife or girlfriend why you have to be at the mall in the first place! This unassuming little Thai eatery has successfully pivoted and is now attracting the young and hip crowd with its authentic and delicious Thai dishes.