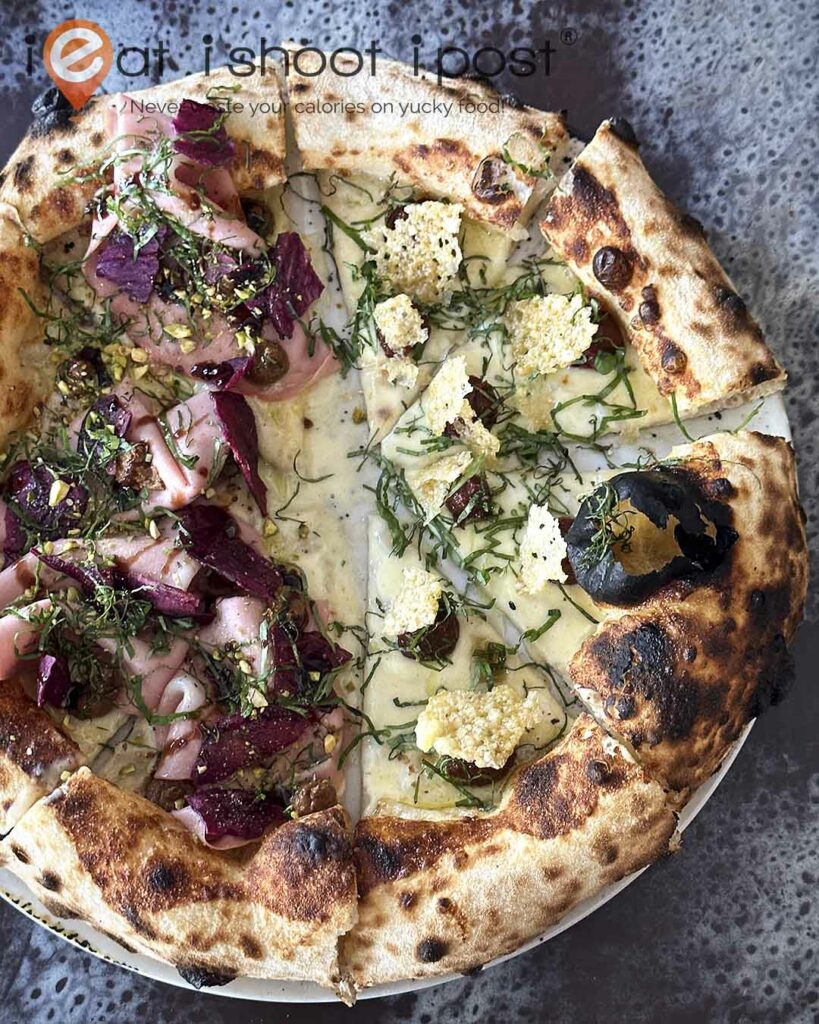 My Affair with the Napoletana Pizza
I haven't felt this much excitement about pizza since my 2011 write-up on L' Opretta. At that time, they made history as the first pizzeria in Singapore to achieve the coveted Vera Pizza Napoletana certification. Fast forward to today, and the pizza scene in Singapore has undergone a remarkable transformation!
In 2011, the majority of Singaporeans were still favoring the classic thin and crispy pizza. However, over the years, Napoletana-style pizza has risen to prominence. Back in those days, owning a wood-fired Italian oven was a true game-changer, and you even had to import the wood yourself. Nowadays, it's almost a prerequisite for any serious pizzeria in Singapore.
The Napoletana Pizza craze soon found its way into homes, and I was one of its early devotees who became enchanted by the challenge of baking a Neopolitan pizza at home. It wasn't easy, as there wasn't as much information available in those days, and acquiring Italian pizza flour was a challenge.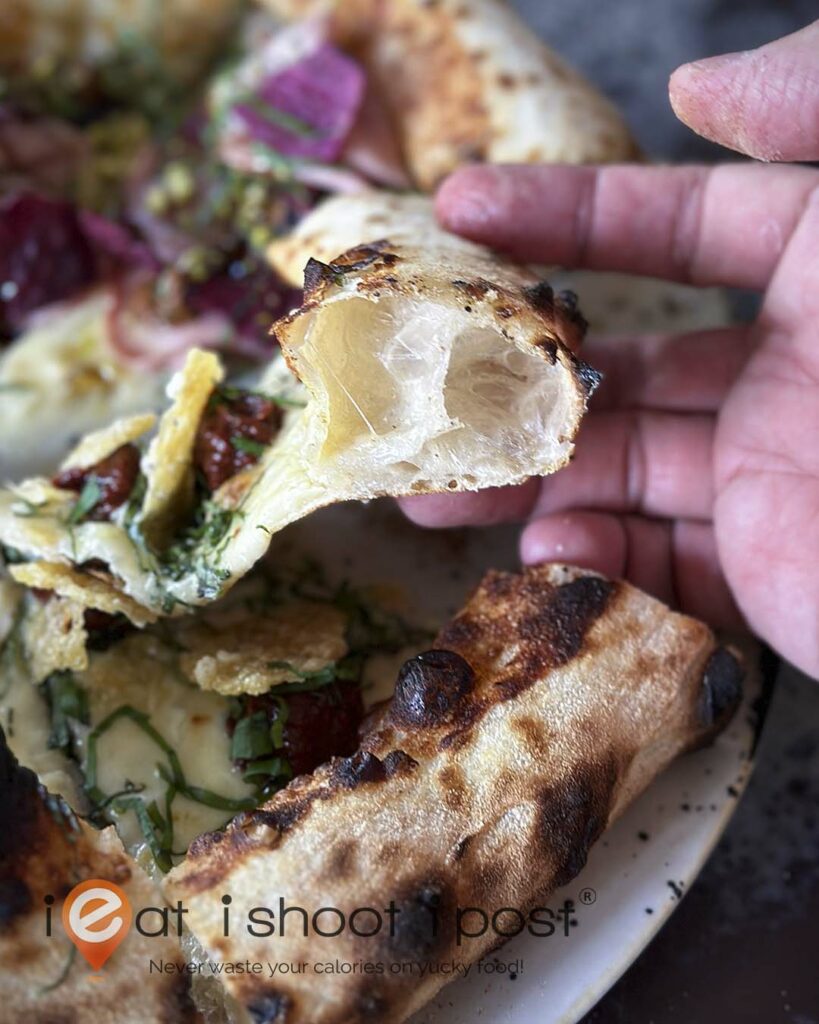 One of the keys to a great Napoletana-style pizza is the oven because you need one that can provide both top and bottom heat at 400°C in order to cook the pie in 90 seconds to produce that puffy cornicione and distinctive leopard spotting. My breakthrough came in 2016 when I got hold of a Uuni Pizza oven. That marked the beginning of the era of home pizza ovens and now there are many home bakers crafting beautiful Napoletana-style pizza In their home kitchens.
Nowadays, you can find a decent Napoletana-style pizza anywhere, and since I got hold of the Breville Pizzaiolo oven, I have been churning out beautiful leopard-spotted pizzas at home easily, so much so that it is really hard to get excited about eating pizzas outside! I was in the pizza doldrums, dreaming of the kind of pizzas I saw on Chef Table: Pizza, but not being able to find anyone doing pizzas here at the same level.
Enter Antonio Miscellaneo – Chef or Culinary Scientist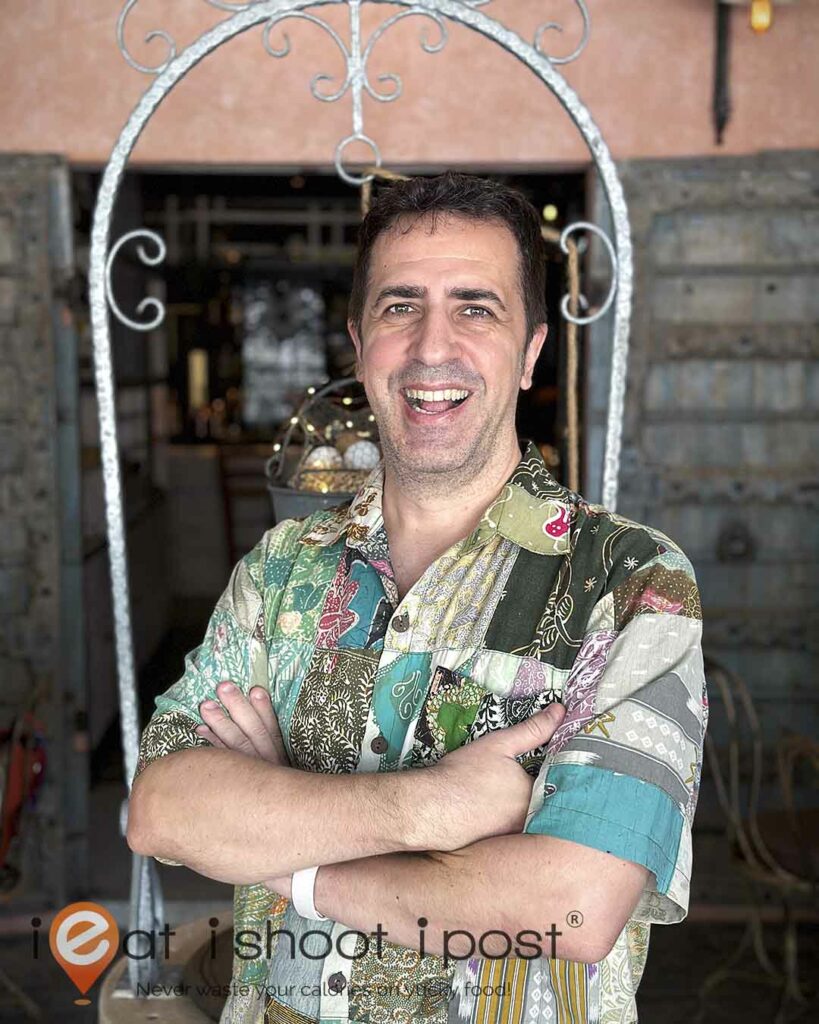 Then I met Antonio Miscellaneo, whose "Newpolitan" Pizza triggered a relapse of "pizzamania". I hesitate to simply label him as a chef, for Antonio is more akin to a culinary scientist. Originally a software engineer who relocated to Singapore for work 16 years ago, Antonio was smitten by a Singaporean lady and established his roots here.
Initially, he started cooking for his friends at home, but they soon persuaded him to open his home for private dining. Such was the demand that it became renowned for having a one-year waiting list to secure a seat at his table! When the COVID-19 pandemic struck, Antonio relocated his family to Italy for a nine-month sojourn. That brief time in Italy served as the inspiration for opening La Bottega Enoteca upon his return to Singapore.
Asia's Top 50 Pizzeria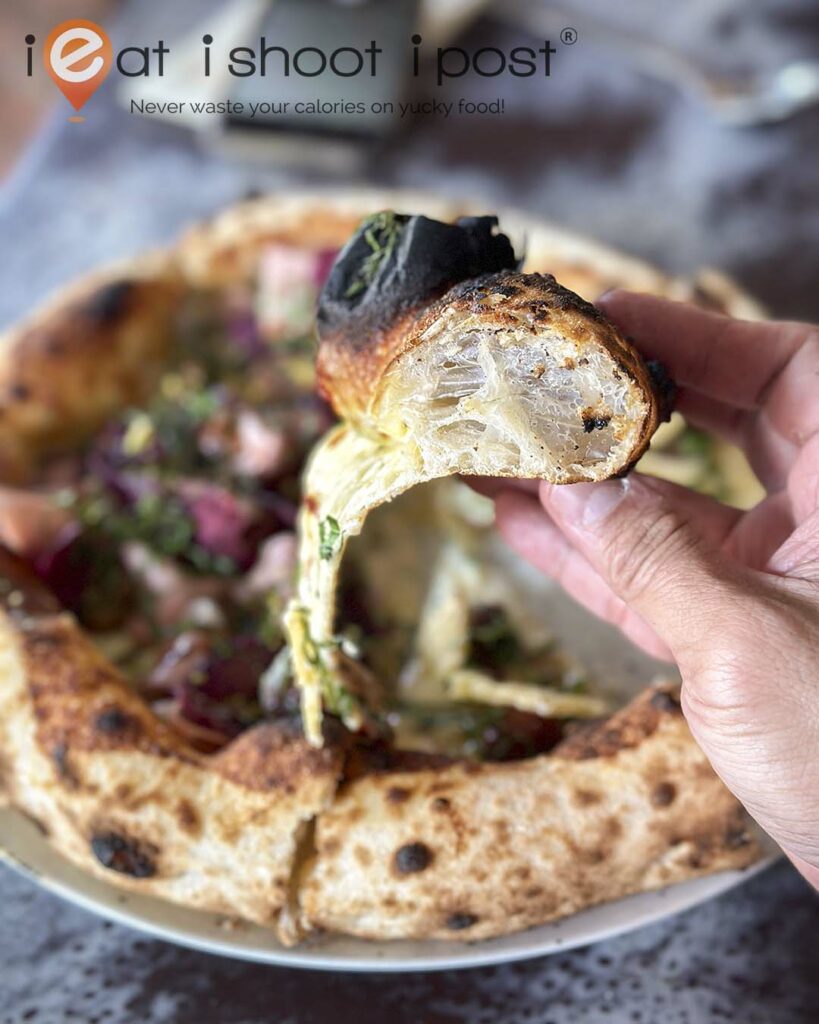 The pizzas were a culinary epiphany. The crust is ethereally light and puffy but crunchy at the same time. The toppings are creative and use many regional ingredients sourced from Italy. It comes as no surprise that they stand alone as the only pizzeria in Singapore to grace the esteemed ranks of Asia's top 50 pizzerias 2023. This, my friends, is a pizza that'll rouse even the most jaded pizza aficionado from their stupor!
That Audacious Cornicione
What is most impressive at first sight is undoubtedly that audacious cornicione. In Italy, they call this modern style of pizza the "canotto," which whimsically translates to "dinghy" in the Roman tongue. Antonio was quick to insist that it isn't quite a pizza canotto, though it bears a resemblance.
At La Bottega, it is known as "Newpolitan" pizza. The extravagant cornicione is achieved with a high hydration dough made from a precise mix of different Italian flours and a 72-hour fermentation process. He also employs an arduous two-step baking process where the pizza is first placed in a 450°C oven and then finished in a 260°C oven. What results is not only a pillowy light crust but one with a solid crunch! 4.6/5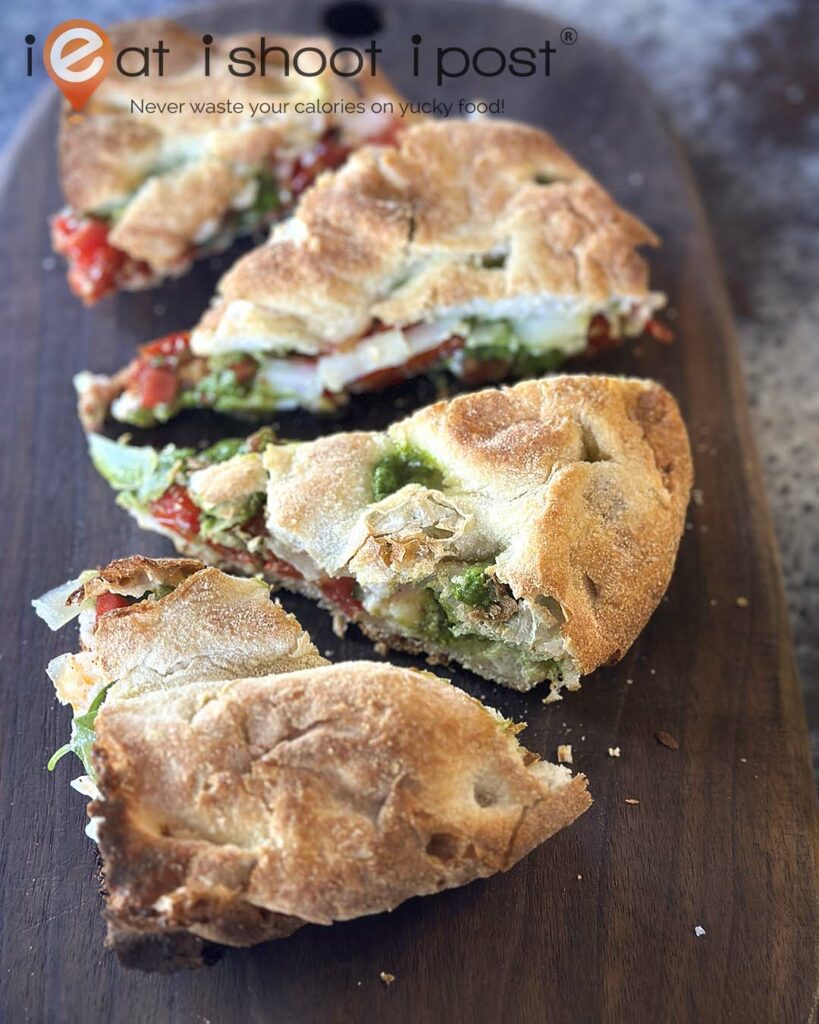 Compared to the flamboyant Newpolitan pizza, the Double Crunch is rather understated. This is Antonio's homage to the Pizza Pala Romana, and it is no less a revelation.
It appears unassuming until you experience that incredible crunch with your first bite! It completely blindsided me. It's one of those moments that marked another milestone in my culinary journey. Describing its texture is challenging—it's not quite like a baguette or shortcrust but rather unique, almost reminiscent of keropok. I was so captivated by it that I started experimenting with the dough at home in earnest. You have to taste it for yourself to truly understand what I mean. 4.6/5
Cured Meats and Homemade Gelatos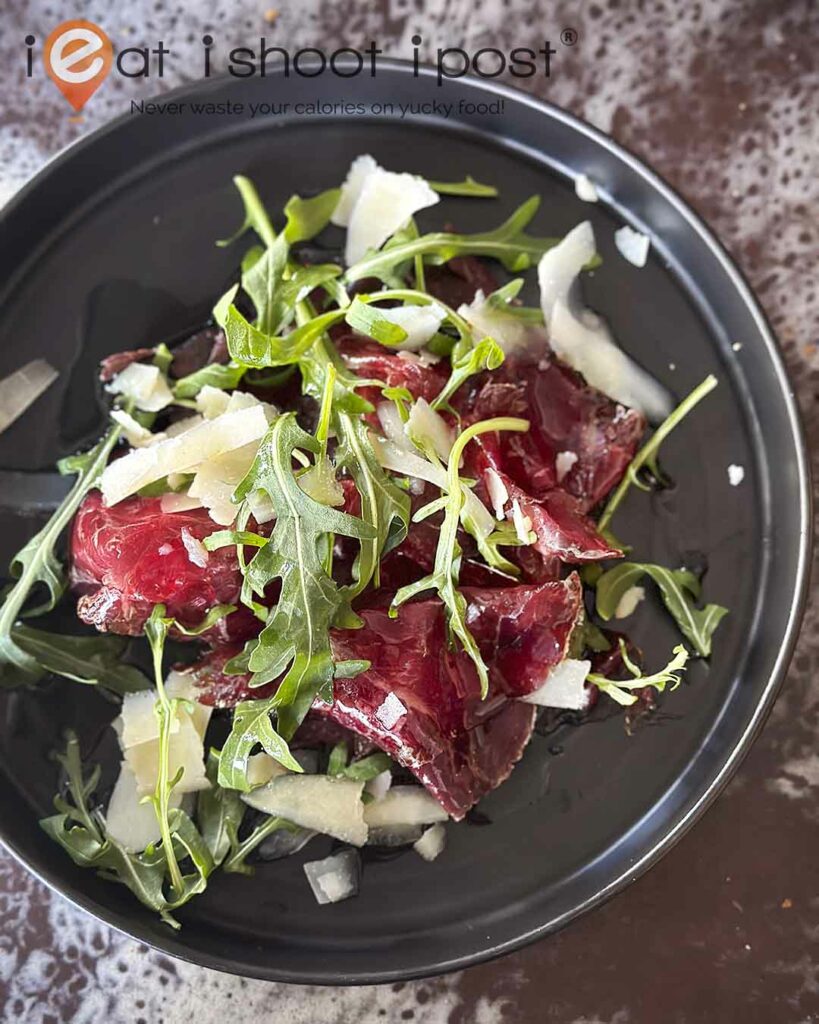 Beyond his pizzas, Antonio also takes pleasure in curing his own meats and crafting his gelato. He confides in me that he's drawn to pursuits demanding extensive research and expertise. I had the chance to sample his cured wagyu, and while it was undeniably delicious, it didn't quite attain the same revelatory status as his pizzas. 4.25/5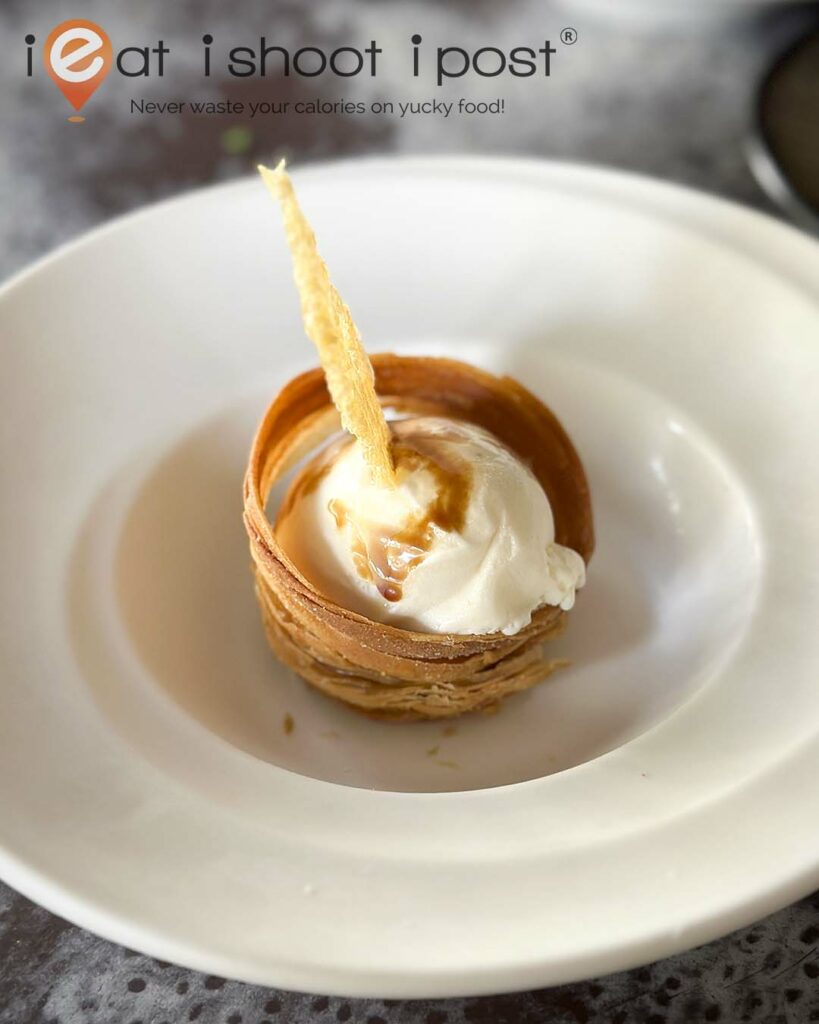 We sampled some of the sorbets and were absolutely amazed to discover that they were crafted entirely without cream! In contrast to the sorbets we were accustomed to, which occasionally exhibit an icy texture, Antonio's sorbets possessed the velvety smoothness of gelato, all without the inclusion of any fats.
You should try his chocolate sorbet which is made with 72% Tanzania and Ecuador cocoa. You will be able to taste the unadulterated flavor of the chocolate without the dairy, while still enjoying the velvety smoothness of ice cream. 4/5
New Additions to the Menu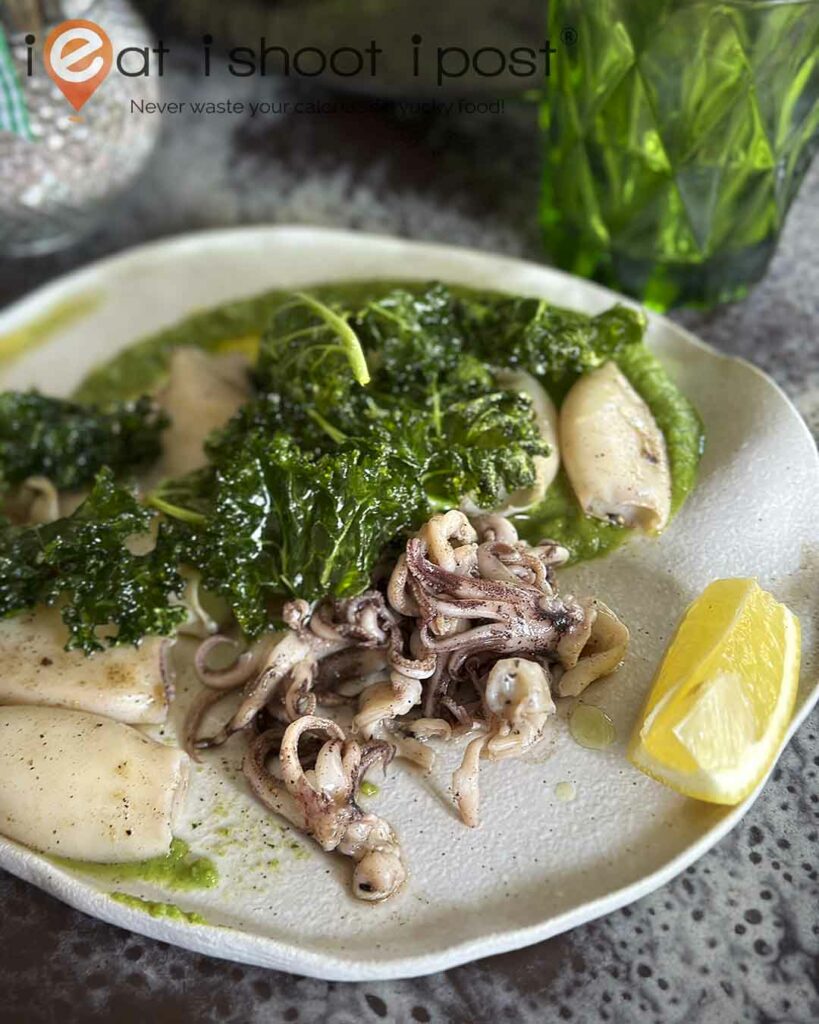 Among the latest additions to the menu, a standout was the squid accompanied by a delectable pea and mint sauce. To achieve the desired flavor profile, they went the extra mile, importing squid from the Mediterranean since the local variety failed to capture the distinctive taste found in Italy. The resulting dish featured tender squid that was light and delicious. 4.25/5
We really enjoyed the pork shoulder, which was served with deep-fried Sicilian capers and red capsicum. The pork was grilled to perfection, and the inherent saltiness of the capers harmonized splendidly with the pork. This is another dish I'd definitely order again. 4.5/5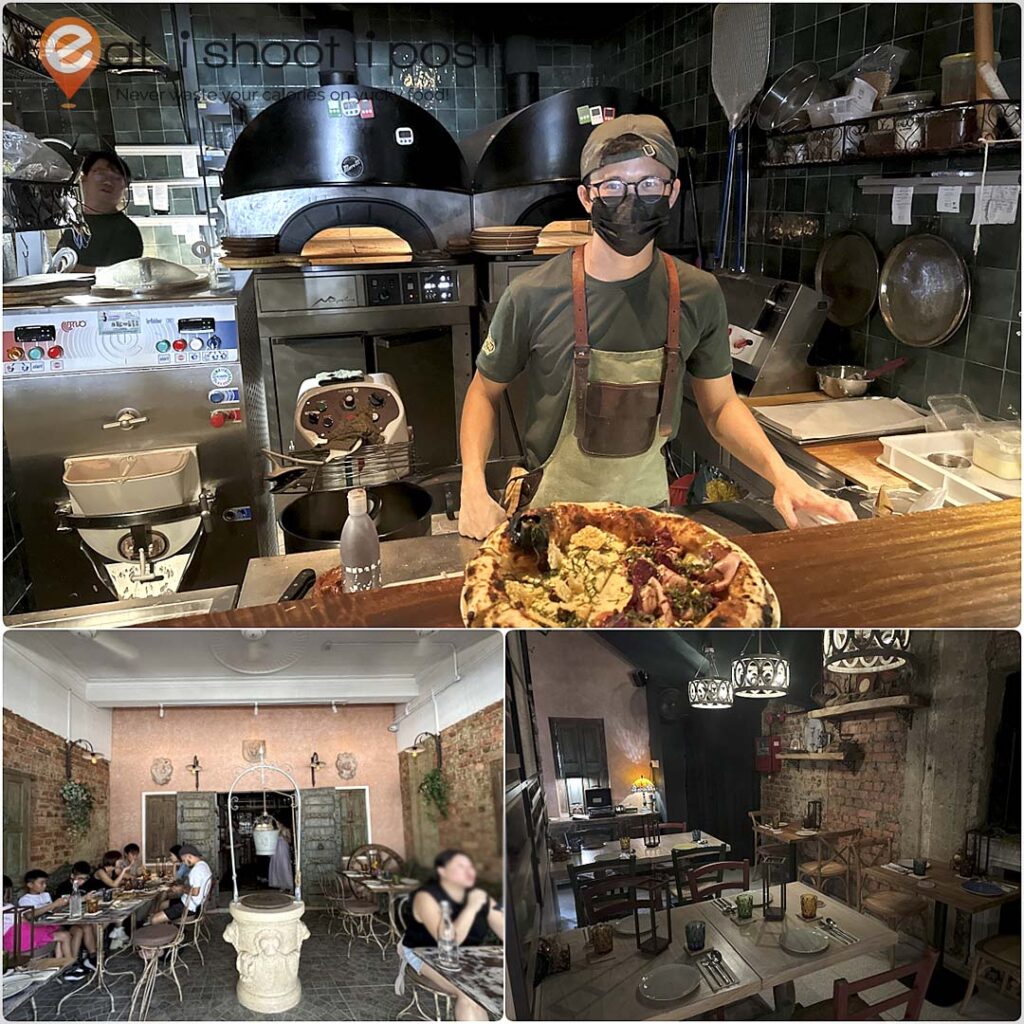 Conclusion
A visit to La Bottega Enoteca should come with a bold disclaimer—proceed at your own culinary peril. Once you've had a taste of their extraordinary pizza crust, the rest of the pizza world is destined to pale in comparison. It's the kind of gustatory experience that, once savored, forever shatters your pizza paradigm.
Disclaimer: This was a media tasting. That means the meal was hosted with no obligation to write a review.