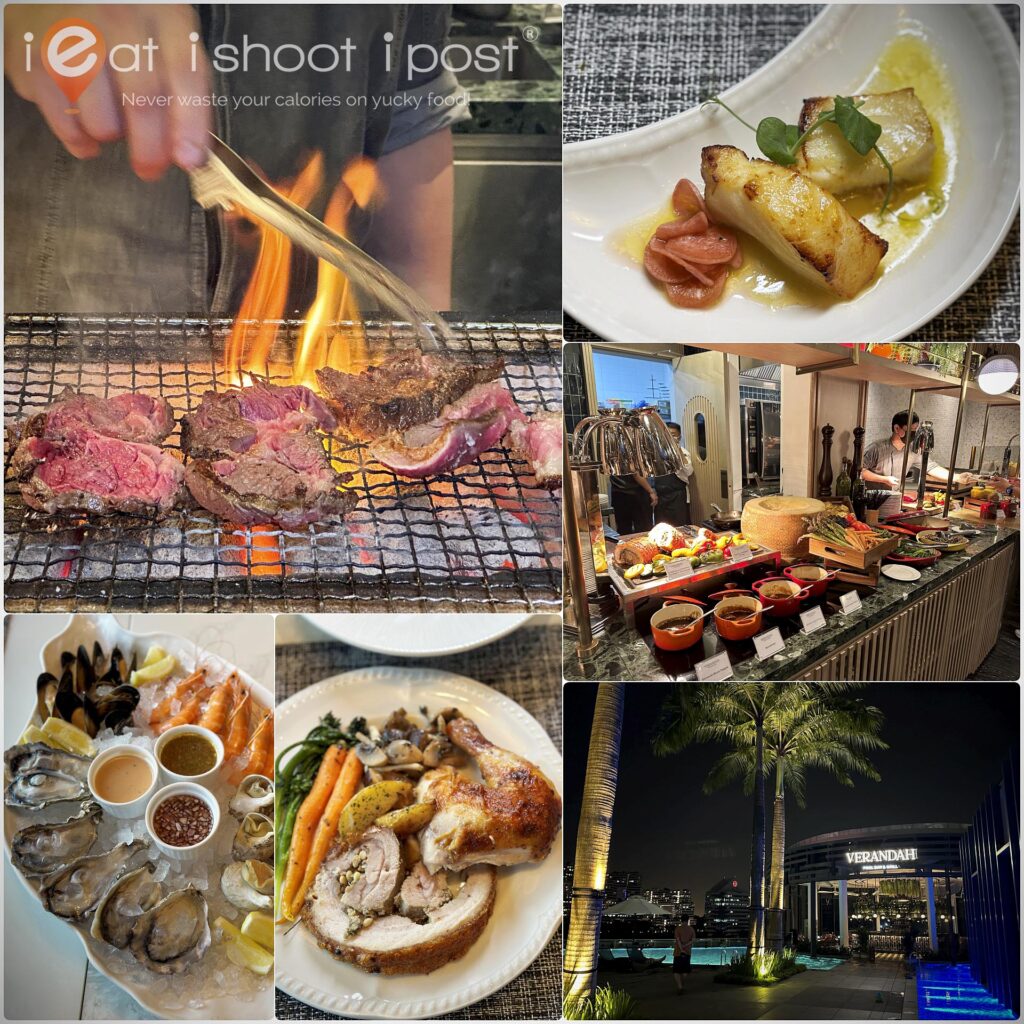 In a Nutshell….
There are buffets aplenty, so why would you choose to visit Verandah Rooftop Rotisserie which is located outside of the CBD at the newly opened Momentus Hotel Alexandra?
In a nutshell, I'd say this brand-new buffet spread is for you if you are looking for a buffet where the emphasis is on:

1. Quality over variety
2. Western-style rotisserie meats with some Asian influence
3. Selection of ala carte dishes which you can order at no extra cost
4. Handstretched pizzas made ala carte in a wood-fired oven
5. Live oysters in the seafood section
6. Quiet location outside of CBD
While most buffet spreads aim to attract potential customers with an overwhelming variety of dishes, I often find myself seeking only a few specific things in a buffet. Verandah managed to include most of these elements. The standout feature for me was their meat carving station. I've visited numerous hotel buffets that serve mediocre roast beef, often left under the heat lamps, resulting in a rather dry texture upon serving. The rotisserie section at Verandah, on the other hand, is exceptional. I appreciate the fact that they char-grill the beef just before serving, ensuring a succulent and flavorful experience.
At Verandah, I can curate a remarkably satisfying multi-course degustation-style meal that resembles a formal sit-down dining experience more than a typical buffet. I will delve into this strategy in greater detail below.
This weekend buffet is available at $88++ per adult, $42++ for children aged 6-11 years old. Until 30 November 2023, one dines free with every three paying adults!
Meat, Glorious Meat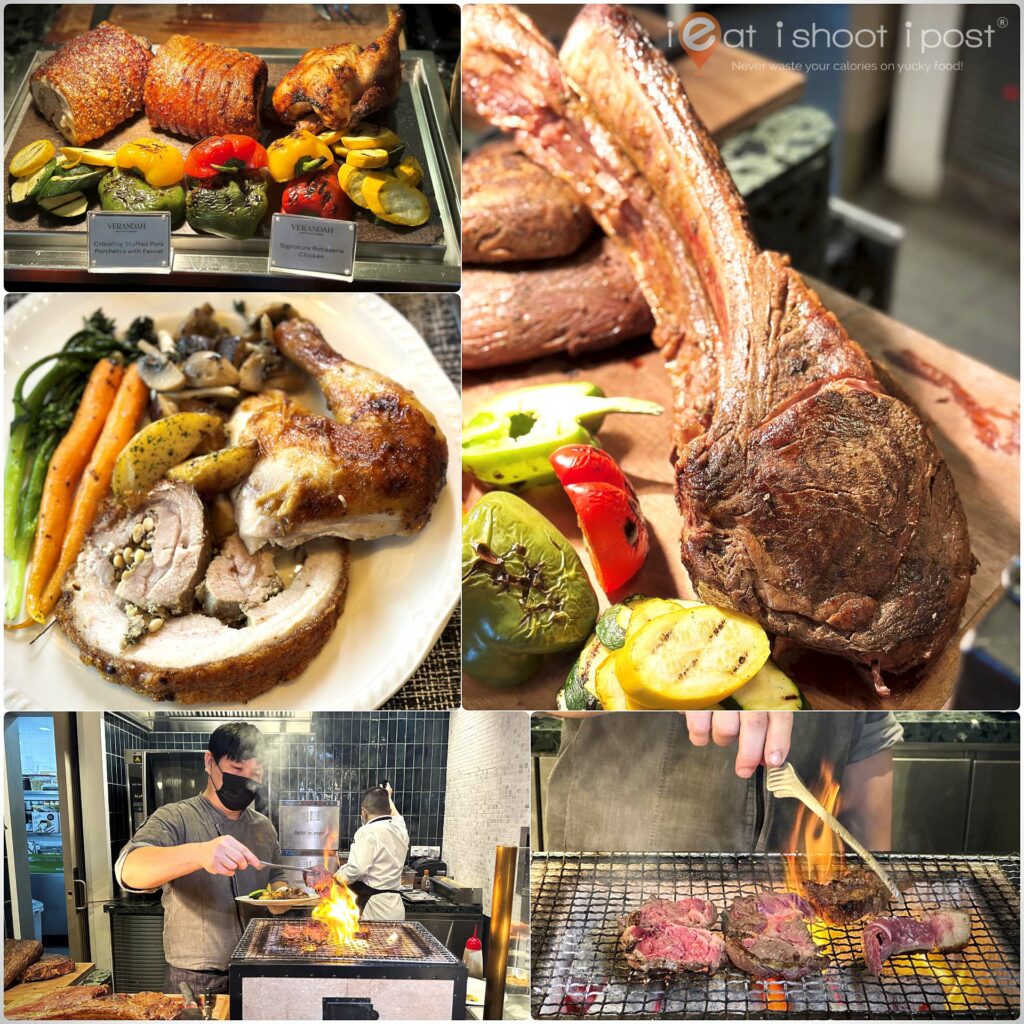 The highlight of the buffet is undoubtedly the Rotisserie. What really caught my attention is that they have an Australian Wagyu Tomahawk on the menu! If you are planning a steak dinner for a family of four, that Wagyu Tomahawk would already cost around $200, it is well worth considering if you are after a beef dinner. The tomahawk is slow roasted such that it is rare. When you order it from the chef, you can specify your thickness and doneness and it is finished over the charcoal grill to your requirement. My suggestion is to get the chef to slice to 4mm thickness and have them sear it over high heat so that it is charred on one side and still rare on the other, just like how you would grill yakiniku.
Strangely, they also offer an Argentinian grass-fed Ribeye which is essentially the same cut of beef. It is also good, but I would have thought something like beef ribs or lamb would have been a more fitting alternative.
For those who aren't keen on beef, there's a choice of their 48-hour Citrus Brined Signature Rotisserie Chicken or the Crackling Stuffed Porchetta. Both options are excellent and boast a quality that one would expect from a sit-down restaurant. The chicken is succulent and tender, thanks to the meticulous brining process. Meanwhile, the porchetta features the essential crispy crackling while maintaining moist and tender meat.
Ala Carte Dishes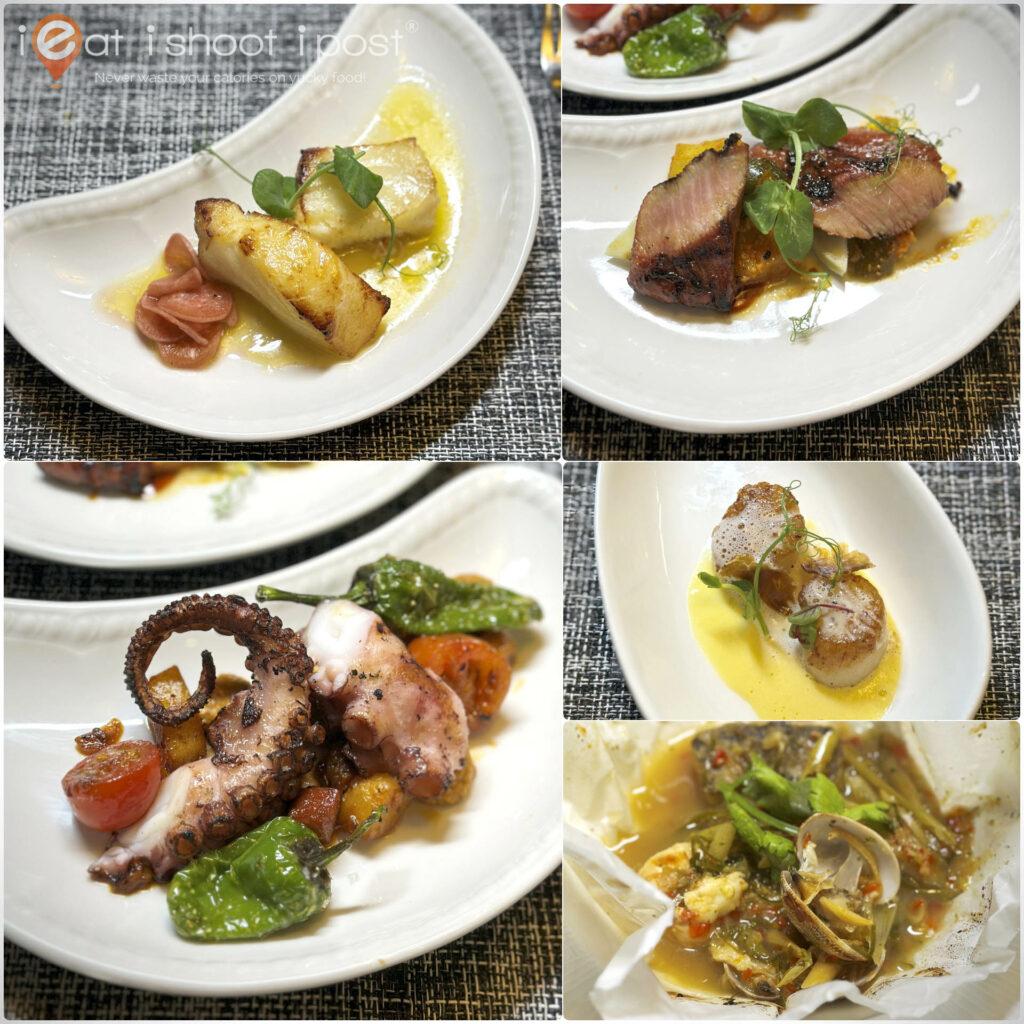 I wanted to highlight their ala carte dishes which you could easily have overlooked. Rather than being paraded on their buffet spread, these little tasting gems are only available when you order via a QR code.
What they are offering could easily be served as part of a degustation course! They are not overly fancy but well executed. I would order them right after the cold starters, so you can have a few tasting dishes before hitting the rotisserie.
Except for the Fish en Papillote which was too little spicy for me, I found all their other proteins very good and well worth ordering. The Cod fish with Miso, Seared Scallops with lemon butter, and Grilled Octopus are classic. For something a little more interesting, try their Burnt Iberico Pork Secreto which has a sweet glaze, which is reminiscent of charsiu. Do note that they will take some time to arrive since they are made to order.
Cheese Wheel Pasta and Wood-fired Pizzas made to order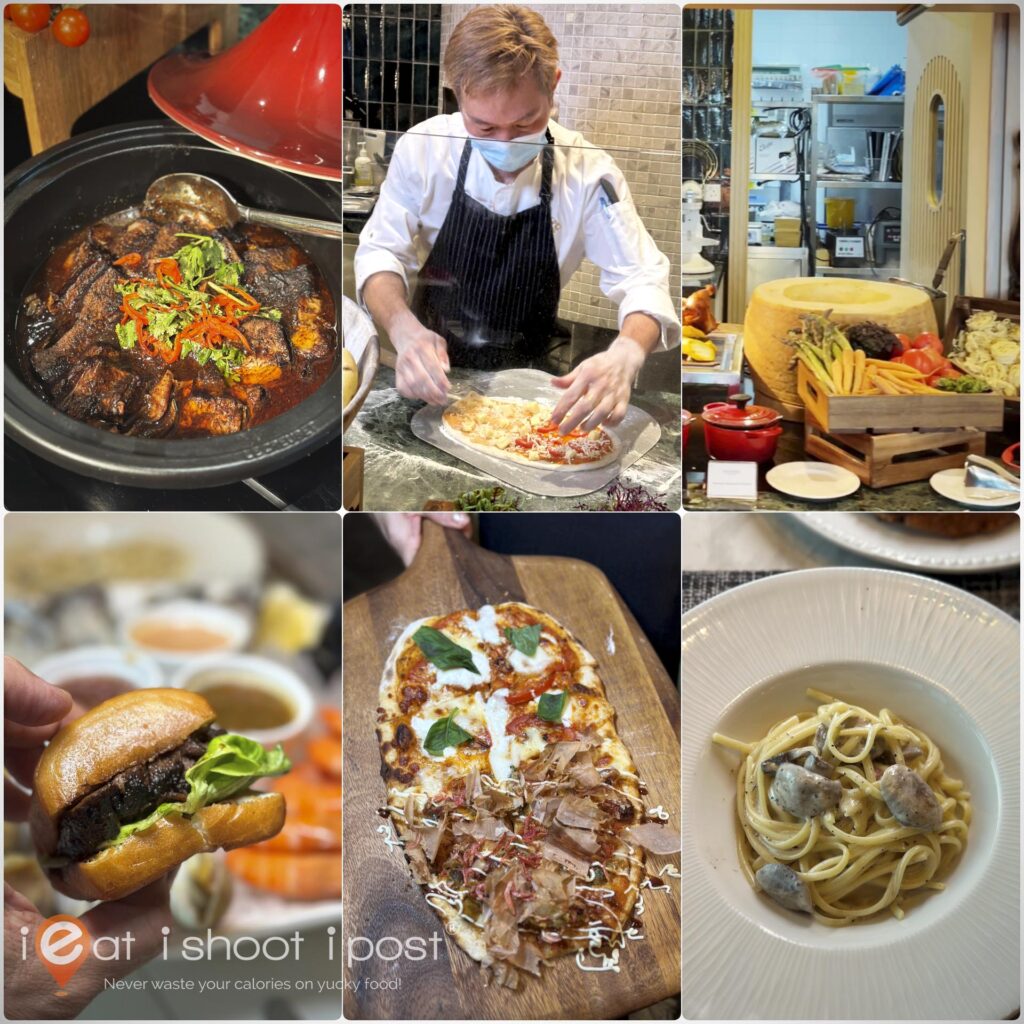 There is one culinary gem on their buffet line you don't want to miss — Braised Beef Shortribs in Buah Keluak gravy. It is served with fried mantou and it is super good. The beef short ribs are superbly melt-in-your-mouth and the buah keluak sauce complements it so well. If they had this on the ala carte menu, I'd just order this if I am not in the mood for a full buffet meal.
Real buffet experts would eschew carbs in order to have room for more proteins. But if you are constructing an Italian-style steak dinner course, then their Truffle Cream Pasta which is cooked ala minute and then tossed in a Parmigiano wheel, would make for a great "secondi" before the "carne". It's also great for the kids.
What's also good for the kids is their Hand-stretched Sourdough Pizza which you order via the QR code at your table. Being a pizza enthusiast, I am afraid the style of pizza was a little passé. I felt the dough was little too dense and they have not fully utilised the wood fired oven which is a shame. The oven could have easily produced some amazing Neapolitan style pizza with beautiful leopard spots. They do have interesting flavours and still worth ordering if you just want to try a small slice.
The Cold Larder – Oysters and Chacuterie Board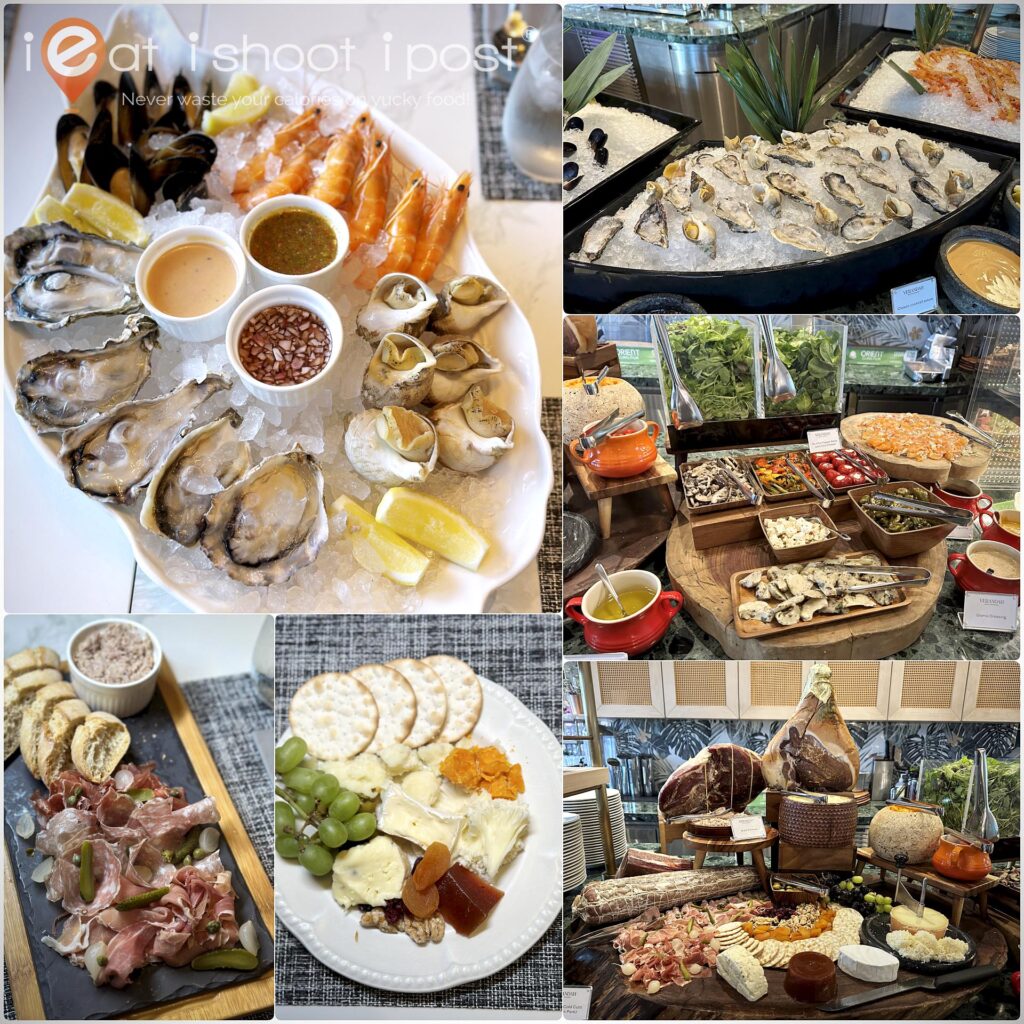 The cold seafood station is pretty much expected at any buffet line nowadays but not everyone will include live Pacific oysters. If you are the type who will down a dozen oysters at a time, then you'd realise half the price of the buffet with just that.
They have a pretty decent Chacuterie and Cheese board. I would organize the chacuterie as a starter and leave the selection of cheeses for after dinner. The selection is not extensive, but they do have around five or six different cheeses which would make for a decent cheese platter.
Dessert Station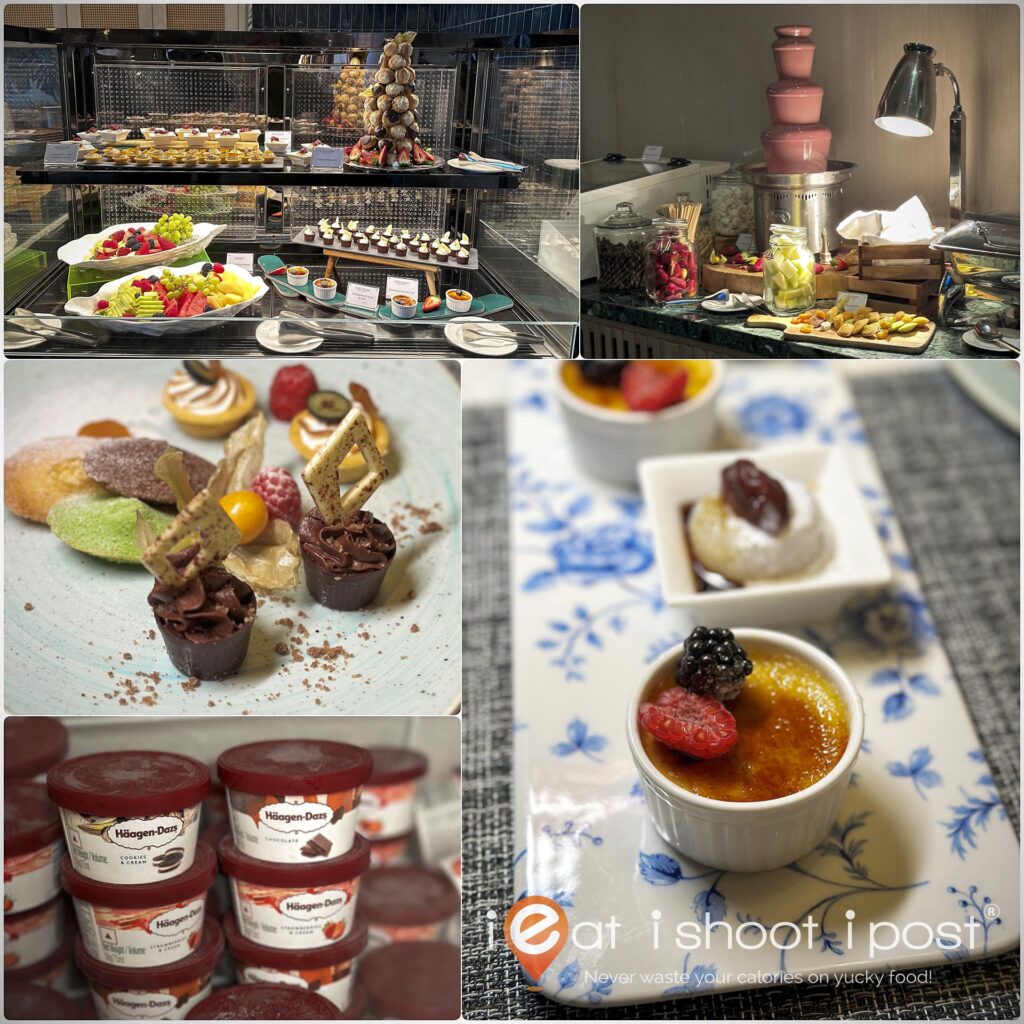 Admittedly, their dessert station is not their strongest point. You get your selection of little cakes and tarts which you'd find in most buffet lines. They do have a Cempedak Creme Brulee which is quite unique and I like the fact that they have little tubs of Haagen Dazs ice-cream.
The kids may enjoy icing madeleines, wafers, marshmallow and fruits at the Pink Chocolate Fondue. The Croquembouche is also a pretty sight. So pretty, we didn't bear to take a piece from the perfect tower of choux ala creme.
Dine indoors or by the pool overlooking the Southern Ridges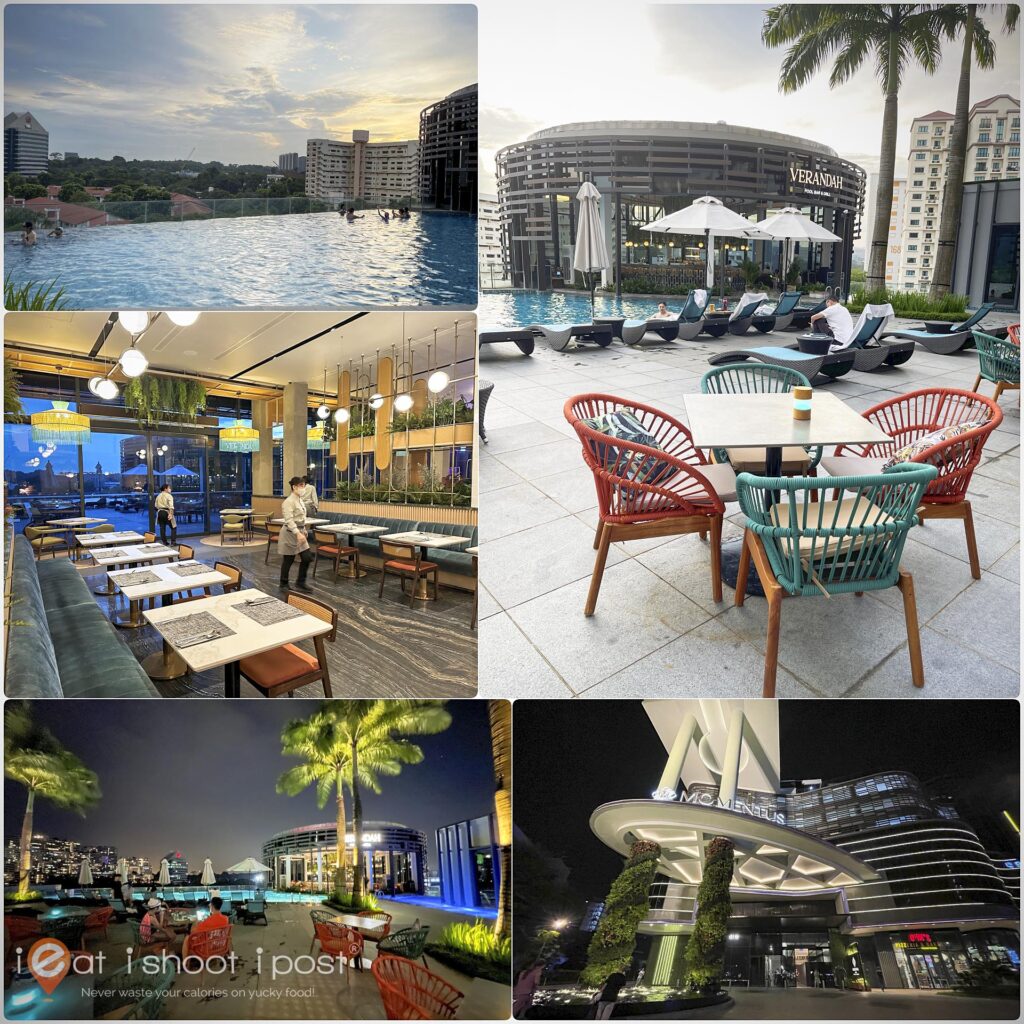 This rooftop oasis of the Momentus Hotel Alexandra is quite a hidden gem. The view was quite unexpected as we are literally at the spot right next to IKEA Alexandra where SAFRA used to be, so we never expected to be able to catch such a lovely sunset over the Southern Ridges from where we were. A very pleasant surprise indeed!
Conclusion
The buffet at the Verandah Rooftop Rotisserie is worth checking out if you are after a contemporary European buffet with some Asian flavours. What sets them apart is their focus on quality over variety, the meats from their rotisserie and choice of ala carte dishes with which you can easily build a multi-course all-you-can-eat degustation menu.
Disclosure: This post is written in partnership with Momentus Hotel Alexandra. The opinions expressed are entirely our own.