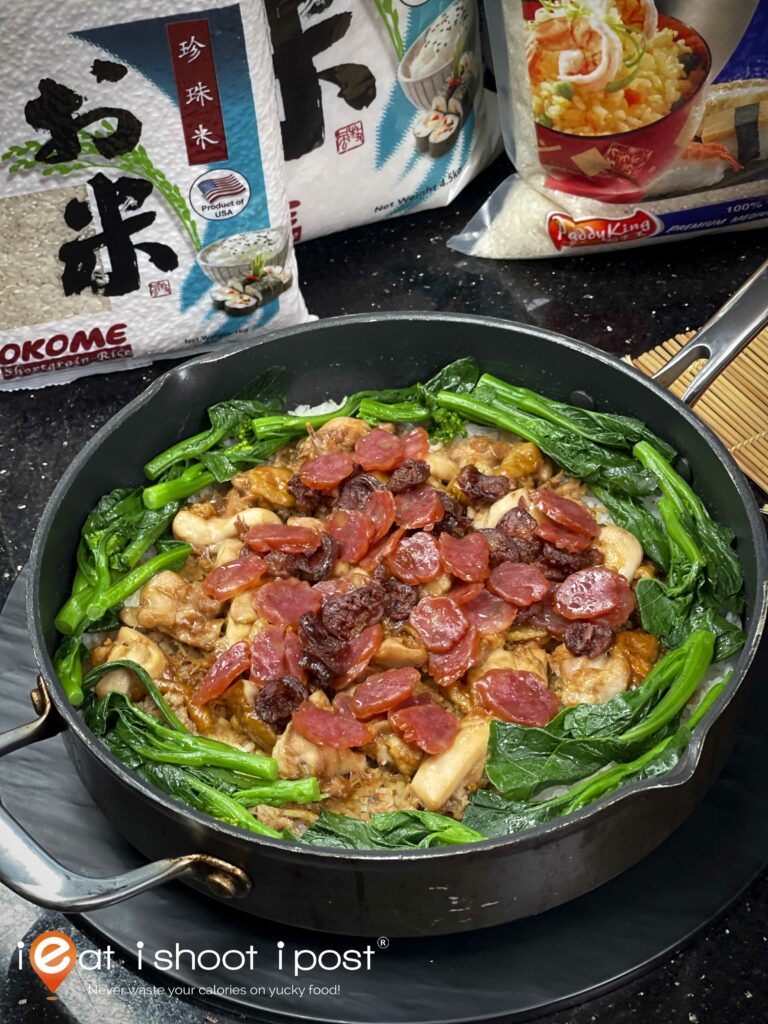 The lure of a good claypot rice is irresistible. The combination of tender chicken, salted fish, and Chinese sausage mixed with fluffy steamed rice contrasted with crunchy rice crust is the ultimate comfort food! However, the lack of a claypot probably prevents most of us from preparing this at home!
But what if I told you that you don't really need a claypot to enjoy claypot rice? In this recipe, I will show you how you can easily make claypot rice in an ordinary saucepan that most of us would have in the kitchen!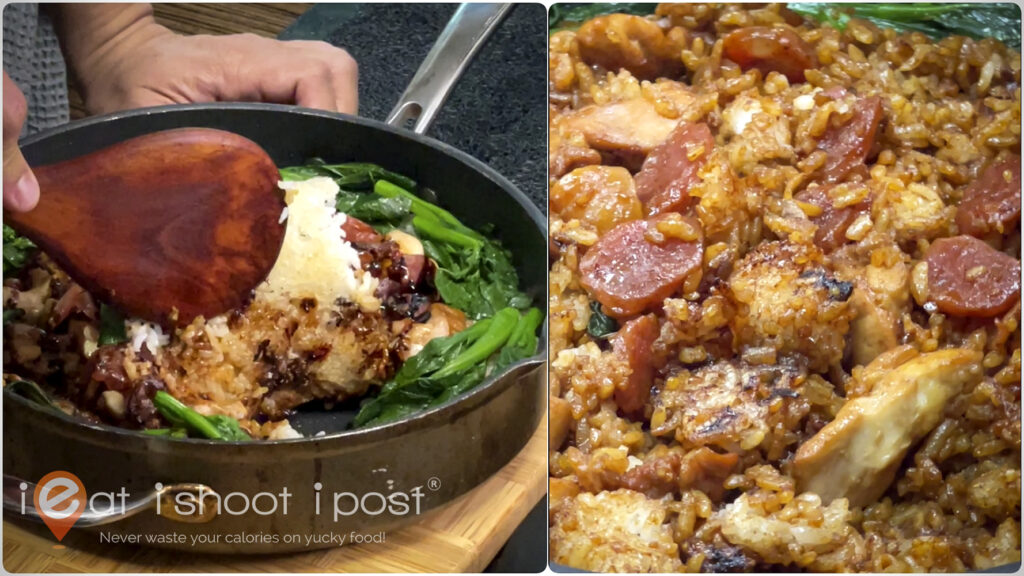 The key to a great claypot rice is that soccarat ie the charred crusty bits of rice that are stuck at the bottom of the claypot! To produce the soccarat, it is important to cook the rice in the saucepan itself instead of using pre-cooked rice. The reason is that when you cook the rice in the saucepan, the rice lies flat on the pan as it cooks, so you have a larger area of contact between the rice and the pan.
USA Calrose Rice
Although jasmine rice is classically used for this dish, we found that USA Calrose Rice works very well too! This results in a rice which is a more plump and moist. Calrose Rice is a short to medium-grain rice that is very versatile and can be used also to make other rice dishes like wok hei prawn fried rice, seafood pao fan, and fan choy!
Recipe Card
Serves: 2 – 3 persons
Preparation Time: 30 mins
Cooking Time: 35 mins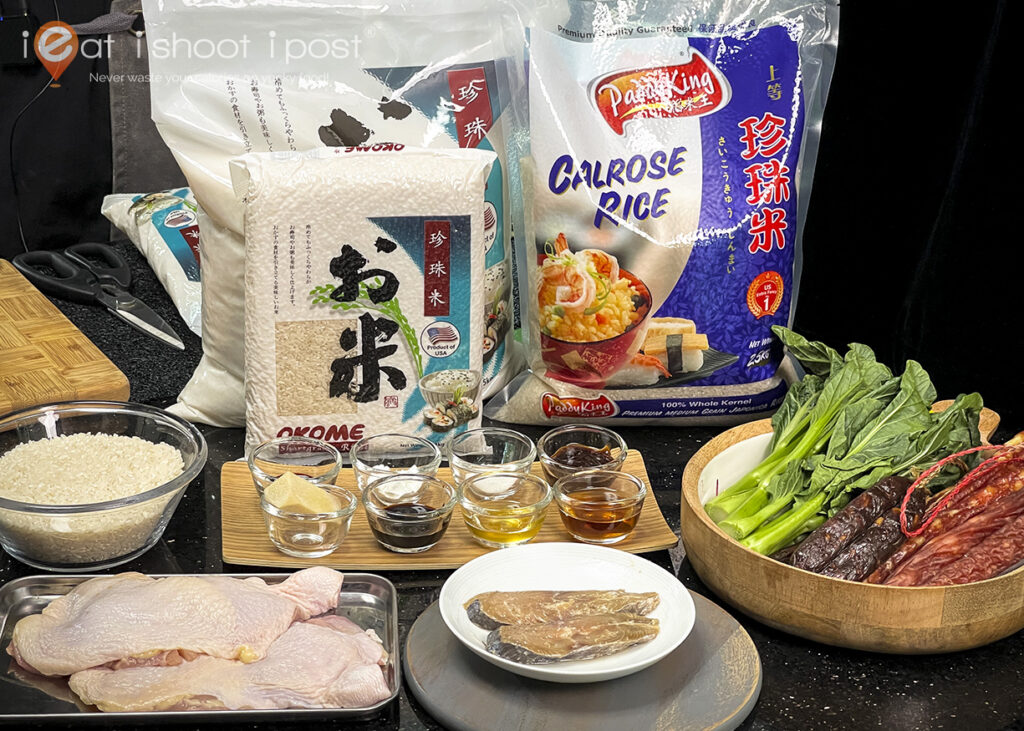 Ingredients
USA Calrose Rice 2 cups
Water 2.5 cups
Cooking Oil
Chicken Meat 350g
(marinade for the chicken)
Oyster Sauce 1 Tbsp
Light Soy sauce 1.5 tsp
Dark Soy sauce 1/2 tsp
Sugar 1 tsp
Cornflour 1 tsp
Sesame oil 2 tsp
Chinese Wine 1 Tbsp
Salted fish 2 slices (Salted Mackerel)
Ginger 1 knob
Chinese Sausages 2 pieces
Kai Lan
Thick Caramel Sauce (or Dark Soy Sauce)
Method
Wash USA Calrose rice until the water turns clear. (2-3 times) Drain and set aside.
Chop chicken into 2-3 cm pieces.
Marinade chicken pieces with all the marinade and set aside
Fry salted fish with julienned ginger until fragrant. Remove any bones, mash, and set aside.
Slice Chinese sausages thinly and set aside
Add water and rice in a saucepan and bring to boil.
Set timer for 20 mins once water starts simmering
After 5 mins or when the water has been absorbed, top rice with salted fish, then layer with marinated chicken and finally top with lup cheong.
Cover and lower flame to medium and cook for the rest of the time.
10. During this time shift the pan around the fire so you get a consistent crust at the bottom of the pan. 11. After 15 mins, drizzle oil over the sides of the pan and continue to move shift the pan around for another 5 mins.
12. At the end of 20mins, turn off the heat and add blanched Kai Lan, cover and allow to rest for 10mins
13. When ready to serve, drizzle dark cooking caramel over the rice, stir to mix, and serve!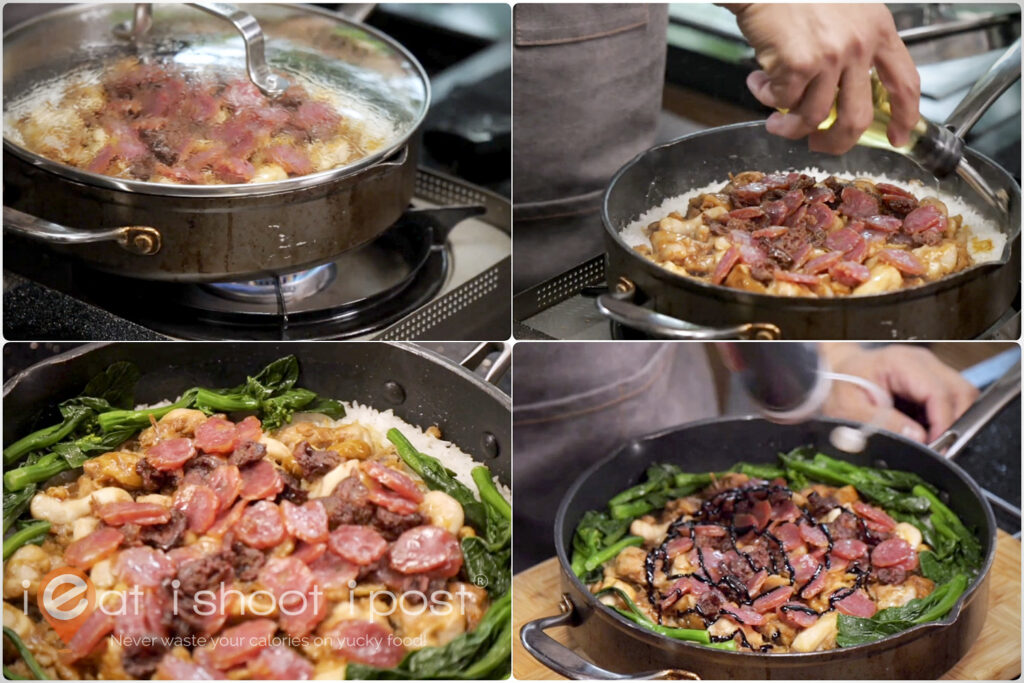 Notes on prepping the Ingredients
Cooking the Rice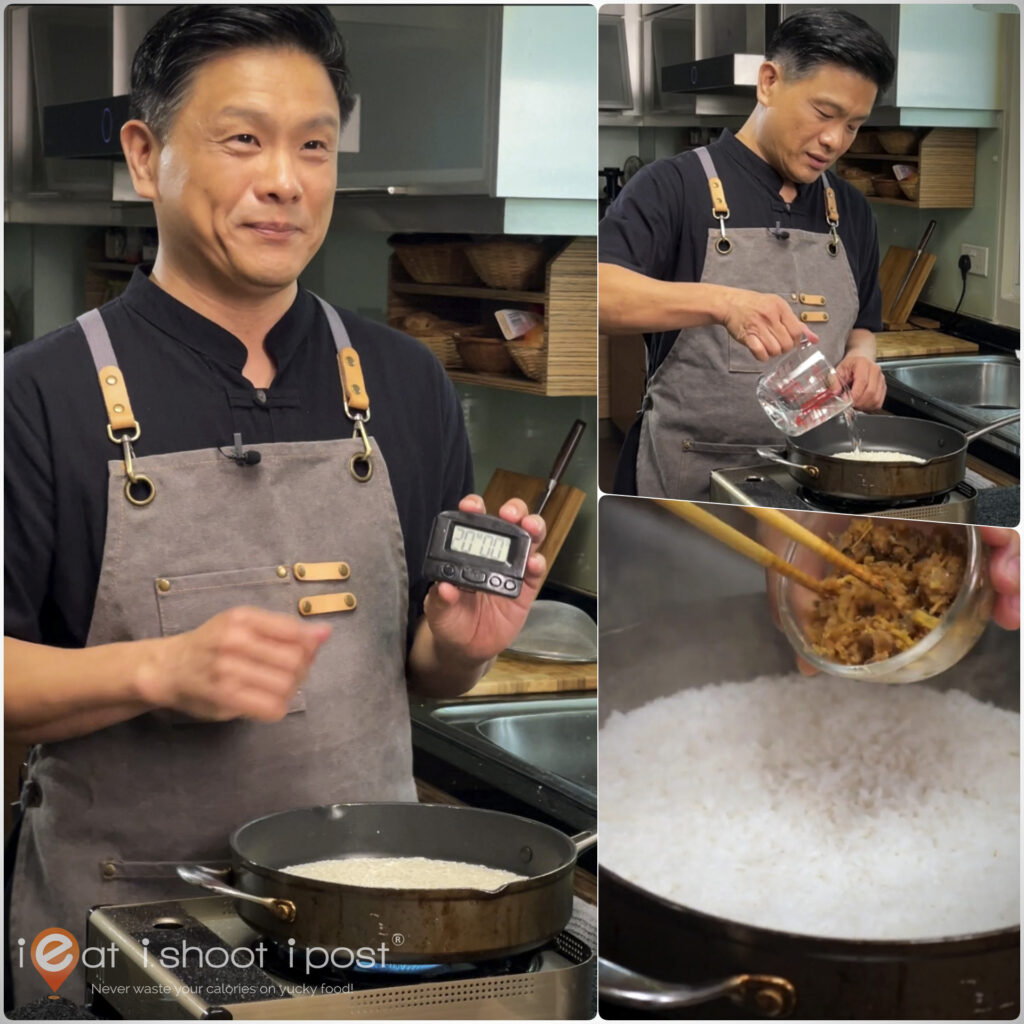 For short grain rice like USA calrose, the rice to water ratio is about 1:1.25 cups. So for 2 cups of rice, you want to add 2.5 cups of water. This will result in perfectly cooked, plump grains ready to absorb the juices from the chicken and lup cheong.
You want to start the timer for 20 minutes only when the water starts simmering. Cover the saucepan and let it cook on high heat for 5 mins. By this time rice should have absorbed all the water. If it is still watery, let it cook for another minute or two. Once the water has been absorbed, lower the heat to medium and top the rice with the ingredients.
Marinating the Chicken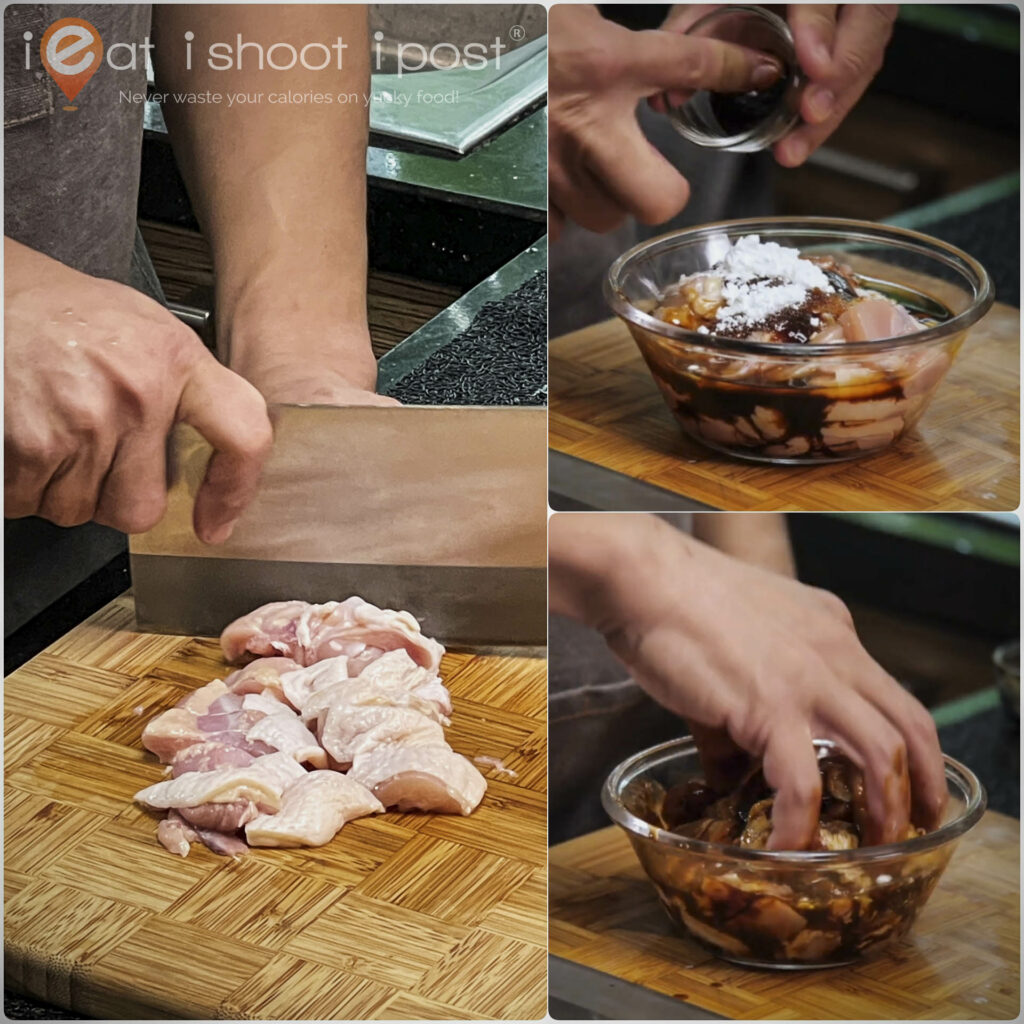 I like to use chicken thigh meat, but you can use chicken breast meat as well. Add all the seasoning to the chicken and use your fingers to massage the marinade into the chicken. This will help it absorb the flavours quickly.
Preparing the Salted Fish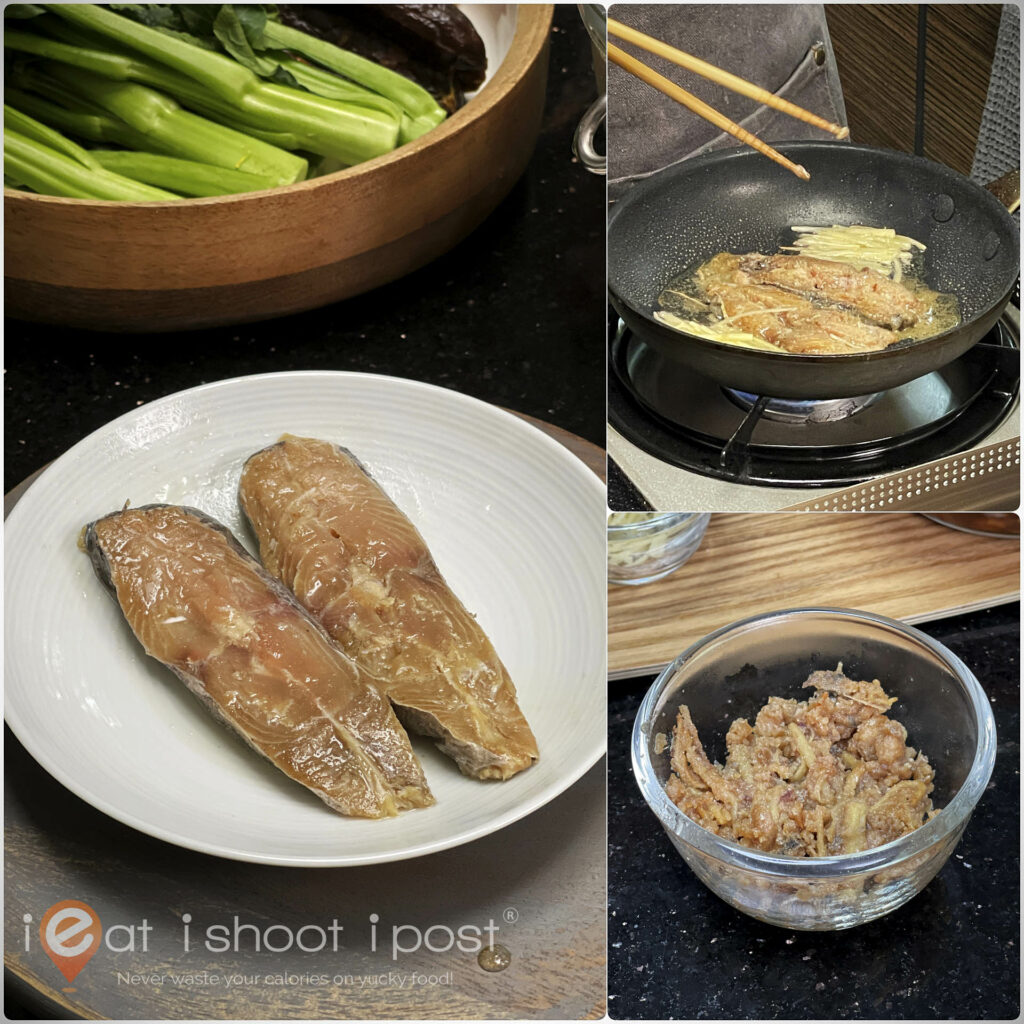 Salted fish adds a load of umami to the dish. Most claypot rice places use the dried snapper salted fish which is cut into cubes and deep fried. The problem with this is that you don't get to taste the salted fish in every mouthful of rice!
By using salted mackerel which is mashable, you can easily turn it into a fragrant paste. When you fry it, the pungent aroma turns into a more pleasing aroma of fried fish. This is a technique I thought up myself but I am sure it has been done by others before! This salted fish paste is useful to make in bulk to keep in the fridge. It can be used to fry vegetables and meats to add irresistible flavour!
Chinese Sausages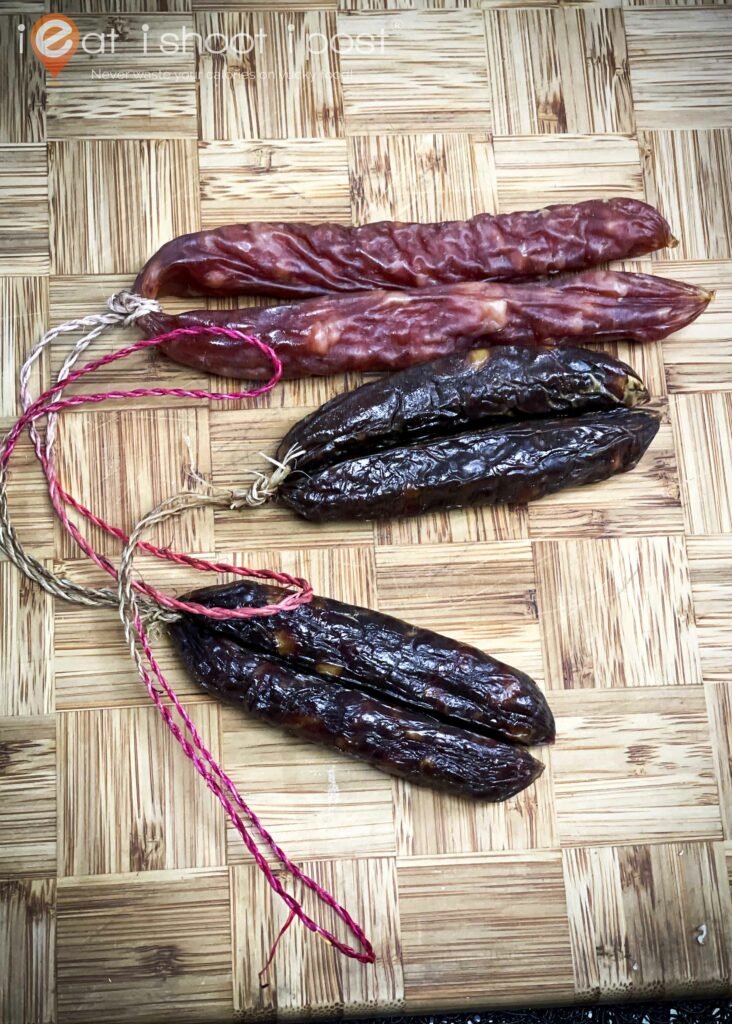 There are many different types of Chinese sausages aka lup cheong in the market. Try to buy the more expensive ones that have a strong fragrance of rose wine. I used both pork and duck liver sausages in my recipe. When you place it on top of the chicken, the fragrant oil slowly renders and flows down to the chicken and the rice!
Conclusion
As you can see, you don't need a claypot to enjoy claypot rice at home! With this recipe, you can still achieve the crispy rice crust and flavourful umami-rich rice! Once you have cooked this successfully, you can start thinking of other toppings like pork and seafood to create many different renditions of claypot rice at home!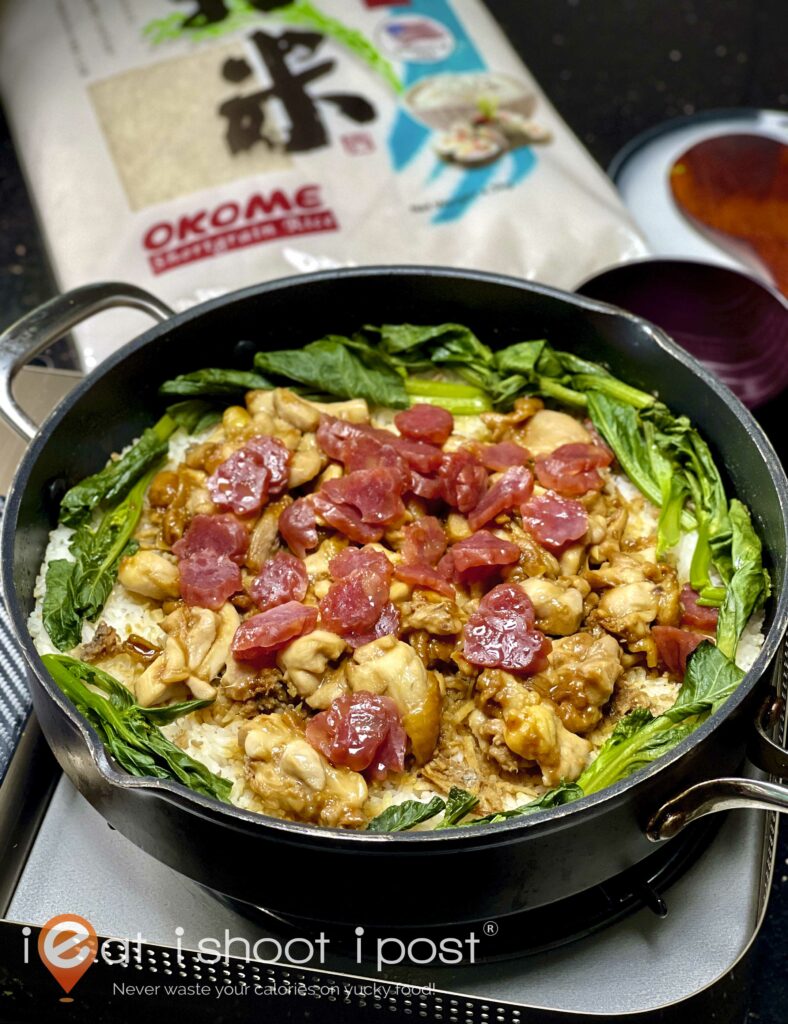 Check out other recipes that are perfect with USA Calrose Rice:
Disclosure: This post is made in collaboration with USA Rice Federation and using Okome Shortgrain rice by Topseller Pte Ltd.
https://www.facebook.com/USARice.SG/
https://www.facebook.com/okomeshortgrain
https://www.instagram.com/usarice.sg/