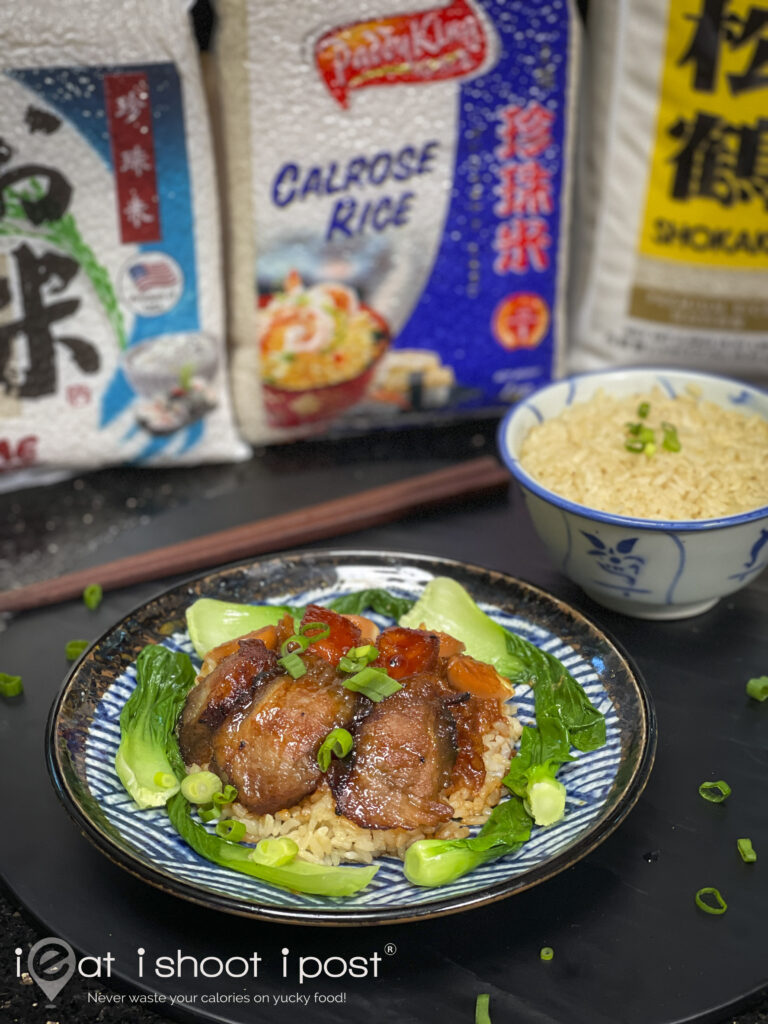 Fan Choy has become somewhat of a commodity in Singapore.  I can't think of one truly great Fan Choy which I can recommend.  I can't even remember the last time I ate one which I was truly enamored with.  But, I do enjoy a good Fan Choy. It is the ultimate comfort food!
So, in this recipe, I create what I imagine a great Fan Choy to be.  Great rice, great sauce and great charsiu!
Rice
Unlike lor mai gai, Fan Choy is not made with glutinous rice, but  normal rice. However, in this recipe, I wanted my Fan Choy to have a nice toothy bite, like sushi rice, so I am using USA Calrose Rice which is medium-grain rice that is plump and slightly sticky.  There are many brands of USA Calrose rice in the market of which I am using Paddy King today.
Commercial Fan Choy uses plain white rice, but for a truly great Fan Choy, I am flavouring the rice with butter, garlic, ginger, shallots, lemongrass, chicken stock and pandan leaves!  ie Chicken Rice!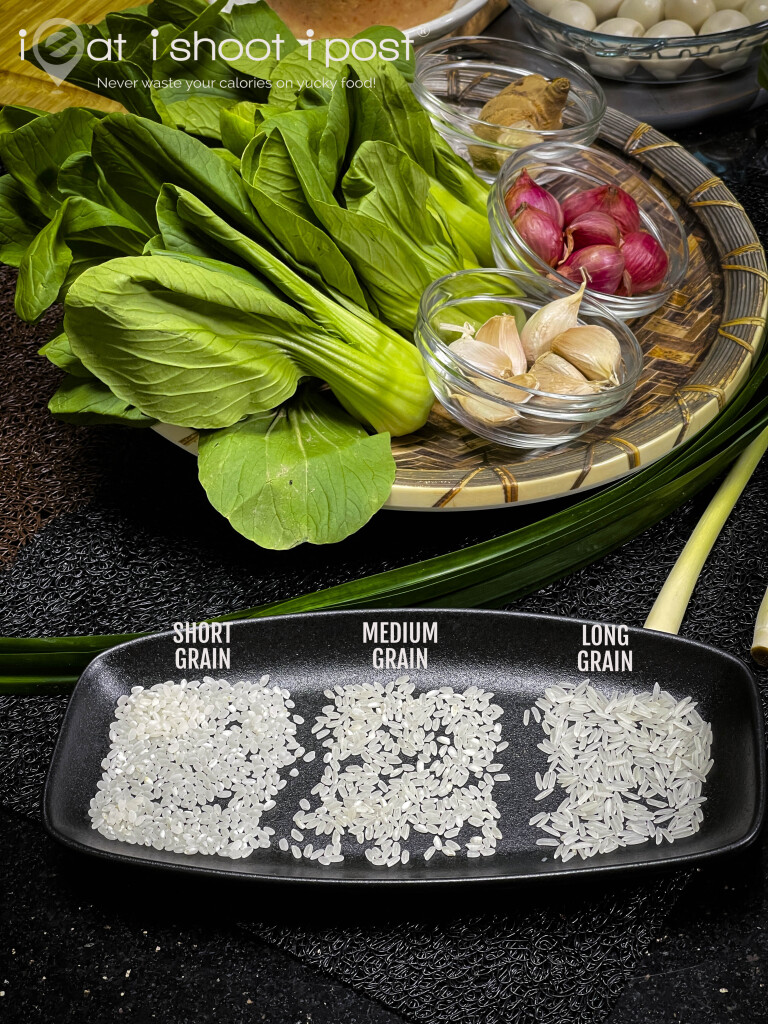 Charsiu
One of the key components of a good Fan Choy is, of course, the Charsiu.  If you are too lazy to make your own Charsiu, you can buy ready-made ones from outside.  Here is a list of stalls you might want to consider.
However, if you want to make that extra special Fan Choy, then you will have to make your own.  The one thing that makes a big difference is the cut of pork used.  Over the years, I've discovered that Pork Jowl makes the best Charsiu. This is a cut that has a generous amount of intramuscular fat, and the Charsiu will turn out super bouncy and juicy! Try to source for Kurobuta or Iberico pork jowl as local pork jowl tends to be too thin. Here is my technique.
Charsiu Sauce
The other key component is the Charsiu sauce. Actually, this is the one component that really makes or breaks the Fan Choy.  The good news is that you can easily make the Charsiu sauce yourself!  In this recipe, I share 3 levels of charsiu sauce.  The basic one is good enough, but if you really want something special, go all the way to level 3!
Recipe
Chicken Rice
1.  USA Calrose Rice – 3 cups
2.  Garlic 6 cloves
3.  Shallots 8 bulbs
4.  Ginger 2 inch knob
5.  Chicken stock powder 1 Tbsp
6.  Water 3.75 cups
7.  Lemon grass 2 (smashed)
8.  Pandan leaves 6 knotted
9.  Butter 50g
Method
1.  Wash rice till water runs clear and drain
2.  Peel and chop garlic, shallots and ginger
3.  Add oil to the pan and fry chopped ingredients and lemongrass  till fragrant
4.  Add butter and rice and mix till evenly coated
5.  Add chicken stock and pandan leaves and cook for 20mins.  Turn off heat, fluff the rice and rest, covered, for another 20mins.
6.  Leave the rice to cool, uncovered.
Note: After Step four, you can also cook the rice in the rice cooker.
Charsiu Sauce
Ingredients:
Level 1
1.  Sugar 200g
2.  Mirin 50ml
3.  Water 100ml
4.  Fermented bean curd 3 cubes
5.  Oyster sauce 3 Tbsp
6.  Light Soy Sauce 1 Tbsp
7.  Dark soy sauce 2 Tbsp
8.  Red/Orange coloring 1/4 tsp
9.  Corn starch 2 Tbsp dissolved in water
Level 2
9.  Garlic powder 3 Tbsp
10.  Rose Wine 1 Tbsp
11.  Five Spice powder 1 tsp
Level 3
12.  Charcoal Oil 2 Tbsp (For technique see this post)
Method
1.  Add all ingredients (based on the level you're after) into a pot and bring to a boil.
2.  Simmer for a few minutes till the sugar caramelizes.  The sauce will become slightly thicker like thicken cream.
3.  Add starch slurry to thicken and allow to cool
Charsiu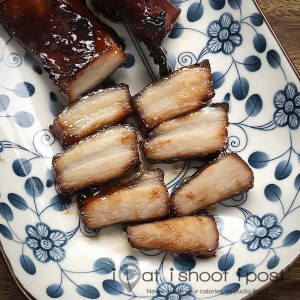 Refer to my recipe which I took 9 years to perfect here.
 Fan Choy Recipe
Components
1.  Chicken Rice
2.  Charsiu
3.  Charsiu sauce
4.  Luncheon meat (optional) Cubed and fried
5.  Quail eggs or hard-boiled eggs
Method
1.  Arrange charsiu, luncheon meat and eggs at the bottom of the bowl
2.  Add 2 Tbsp charsiu sauce
3.  Top with rice
4.  Steam for 20mins
Serving and Storage
The good thing about making Fan Choy is that you can make a whole batch in individual portions, freeze them and reheat them for a lazy "I-don't-feel-like-cooking" day.
Conclusion
Do give this Fan Choy recipe a try and why not add some of your own favorite ingredients and make your own incredible version of Fan Choy! Happy cooking!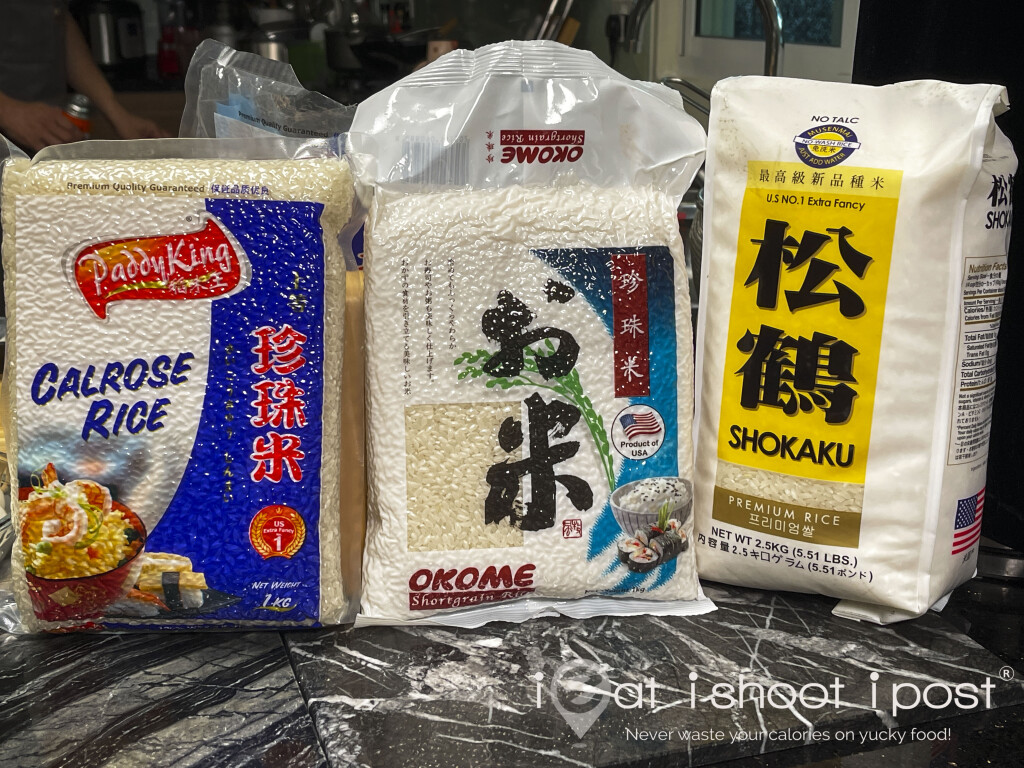 You can buy USA Calrose Rice here:
Okome Rice
PaddyKing Rice
Shokaku Rice (2.5kg pack)
Other USA Calrose Rice recipes:
Wok Hei Prawn Egg Fried Rice
Seafood Pao Fan
Disclosure: This post is made in collaboration with USA Rice Federation and using PaddyKing USA Calrose rice by Hong Lian Gim Kee.
https://www.facebook.com/USARice.SG/
https://www.instagram.com/usarice.sg/
Disclosure: Some links above are affiliate links, meaning, at no additional cost to you, we will earn a small commission if you click through and make a purchase.