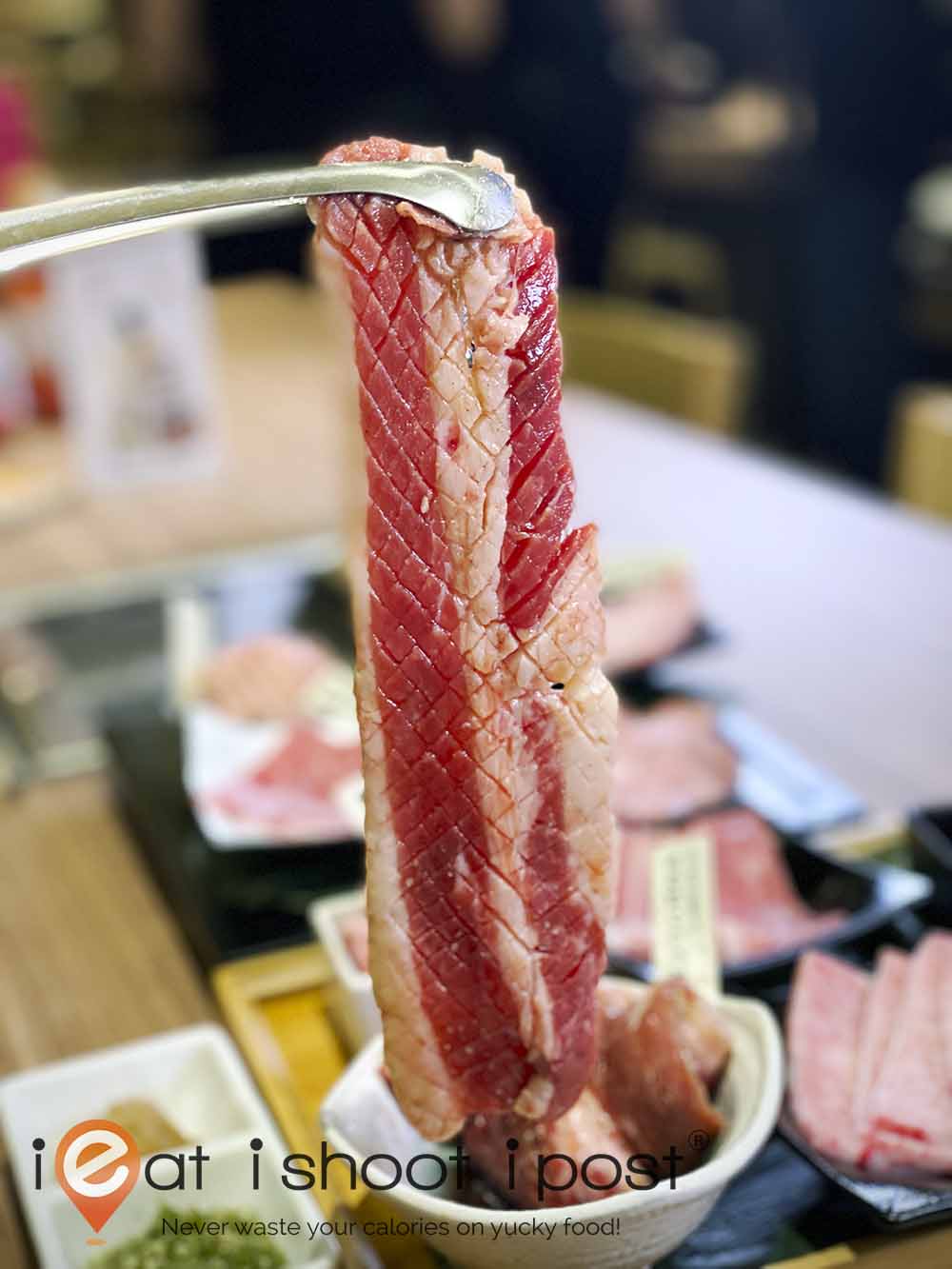 A piece of grilled Wagyu on a nugget of steamy Japanese rice is one of those things we really enjoy. So, the recent appearance of casual Yakiniku restaurants like Yakiniku-GO is a most welcomed addition to the ever-growing local Japanese food scene.
Just last month we featured Yakiniku-GO in our food trail of &JOY Japanese Food Street at NEX.  We had a good Yakiniku experience there but couldn't help but wish they had a more extensive Wagyu selection.
Well, the good news is that they have just launched Yakiniku-GO Plus which brings premium beef cuts to the same personal grilling concept where you get to enjoy with some alcohol as well. Lisa and I checked out the new restaurant at Suntec City and we were very impressed with the quality of the beef.  Most importantly, you can get to eat A5 Miyazaki beef here for less than $20!  (Wagyu A5 Miyazaki Sukiyaki $18.80++)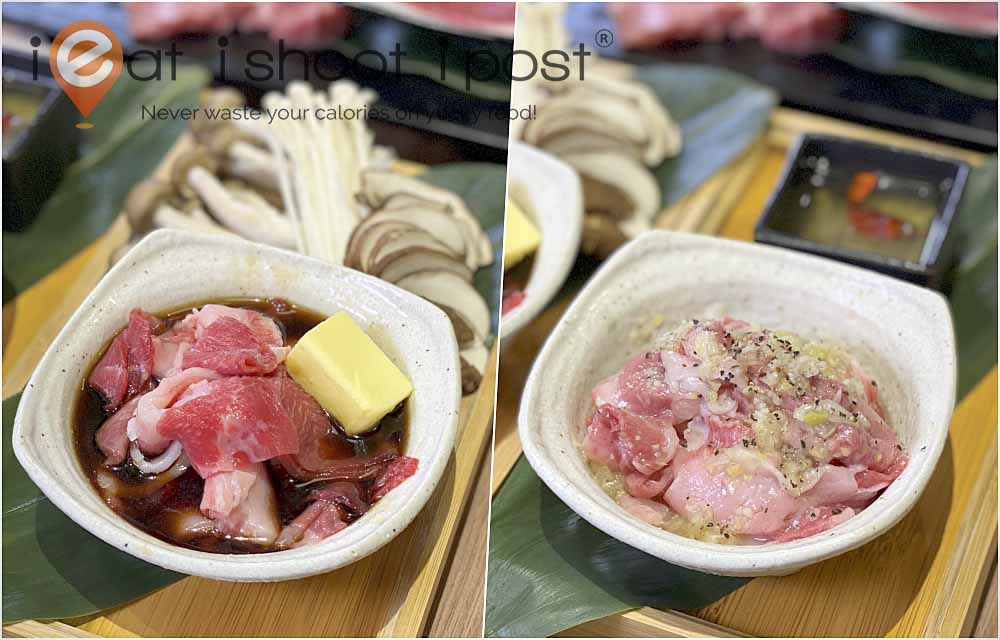 They have a good selection of beef cuts which includes both Wagyu as well as normal beef.  Although the Wagyu selection is not as extensive as a top-notch Yakiniku restaurant, but it has a wide enough selection which should satisfy most yakiniku lovers except for connoisseurs who are really going for the rare cuts.
The GO+ Premium Platters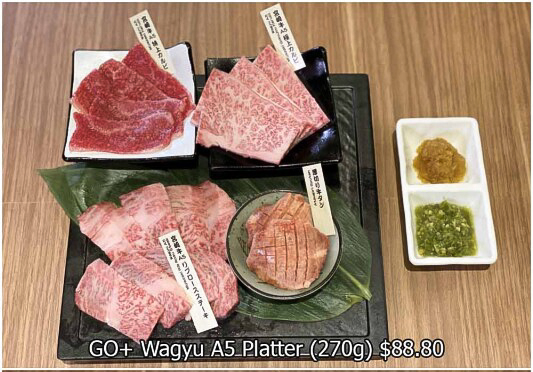 We highlight three of the most popular platters here.  If you are after the best of the best, then the GO+ Wagyu A5 Platter (270g, $88.80) is the one to go for.  This set features two of the most marbled wagyu cuts – A5 Gokojou Karubi (Chuck Short Rib) and a generous slab of A5 Rib Rosu Steak (Ribeye). This platter should satisfy most big eaters but can be a little rich for some.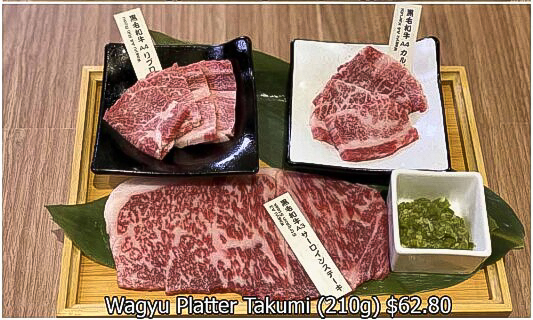 If you are dining with a partner, you might like to pair the GO+ platter with a Wagyu Platter Takumi (210g, $62.80) which features the A3 Striploin and A4 Karubi so that you get a nice mix of lean and marbled Wagyu meats.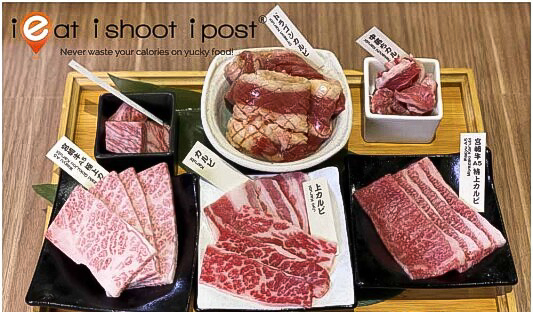 The 7 Kinds Karubi Tasting Set (350g, $65.80) features Wagyu and normal beef rib fingers (naka ochi).  The contrast between the two is quite stark.  The normal rib fingers were chewy and beefy while the Wagyu quite literally melts in your mouth with a few chews.  I actually enjoyed both, but the wagyu was sublime. This set also has the Dragon Karubi which is thick cut beef short plate that has been diamond cut to tenderize the beef. The beef has good flavour but can be slightly chewy.  It is one of those "fillers" if you are going for volume as it is an inexpensive cut.
Wagyu for under $30++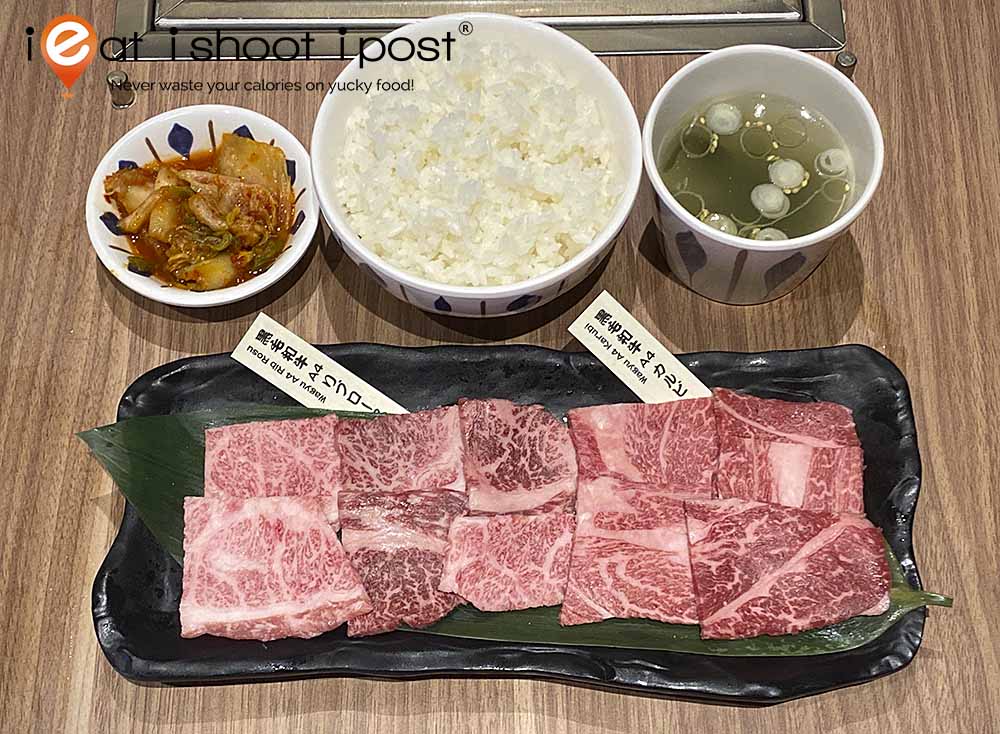 What we like about this place is that you can have a well marbled Wagyu meal for under $30 like the Wagyu A4 Duo (100g, $26.80++) and the Supreme Beef Platter (160g, $29.80++) that gives you a few beautiful slices of Wagyu A5 Miyazaki Karubi along with your Thick Cut Beef Tongue and Dragon Karubi.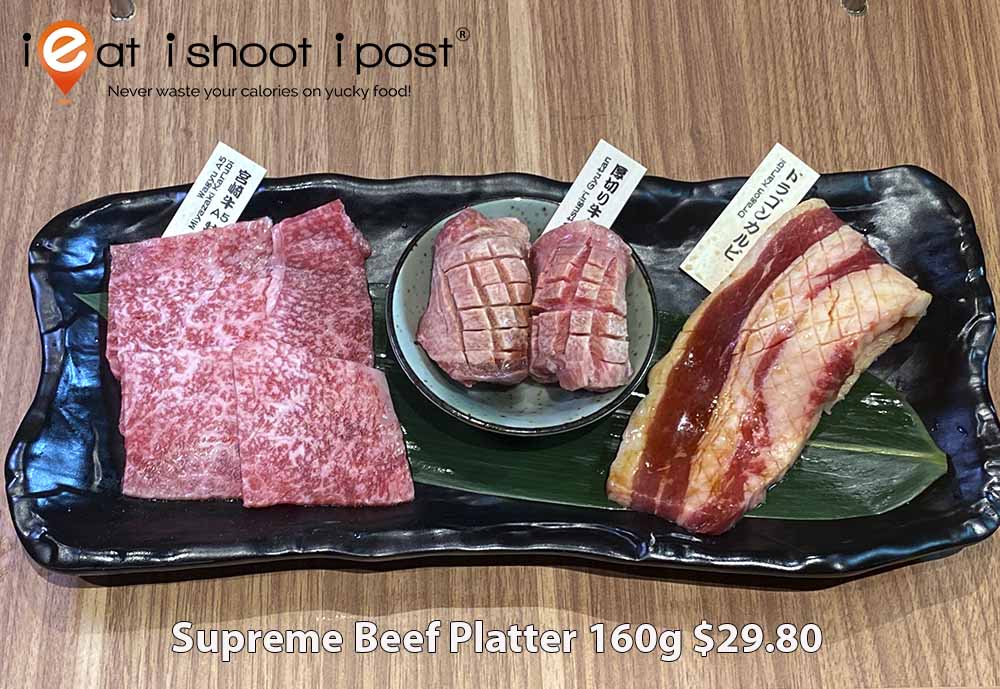 Atsugiri Gyutan – Thick Cut Beef Tongue
This may be a little too much information for some people but they actually use the best parts of the tongue, ie the base to the middle section, to create this yakiniku delicacy.  This part of the tongue is less mobile and as such it is more tender than the tip which is probably one of the most active muscles in the cow.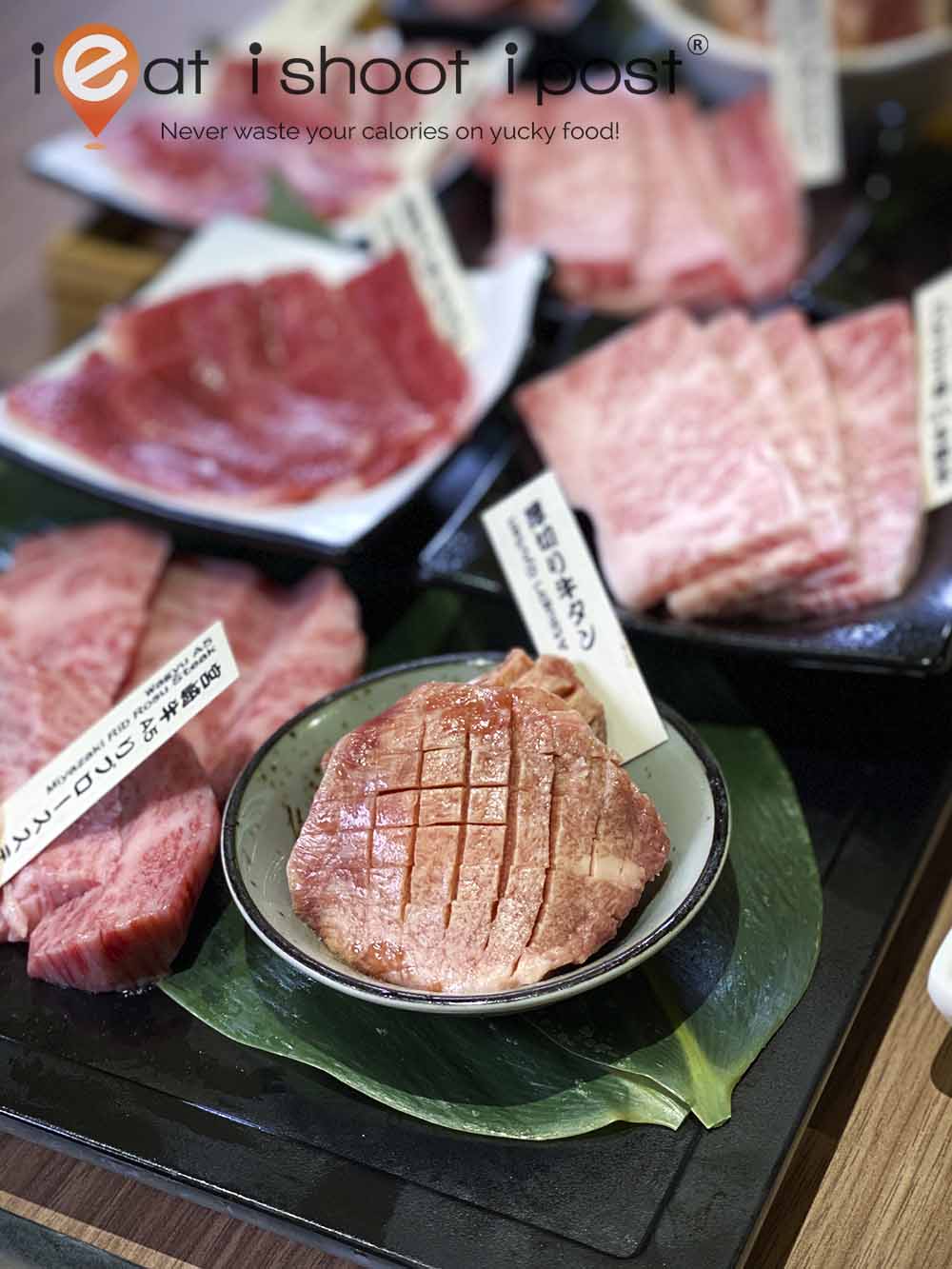 The tongue is done so well that it even appealed to Lisa who is usually averse to gyutan.  Beef tongue can sometimes be a little gamey, but the gyutan here didn't have any off-putting flavour.  It isn't wagyu but is definitely worth a try.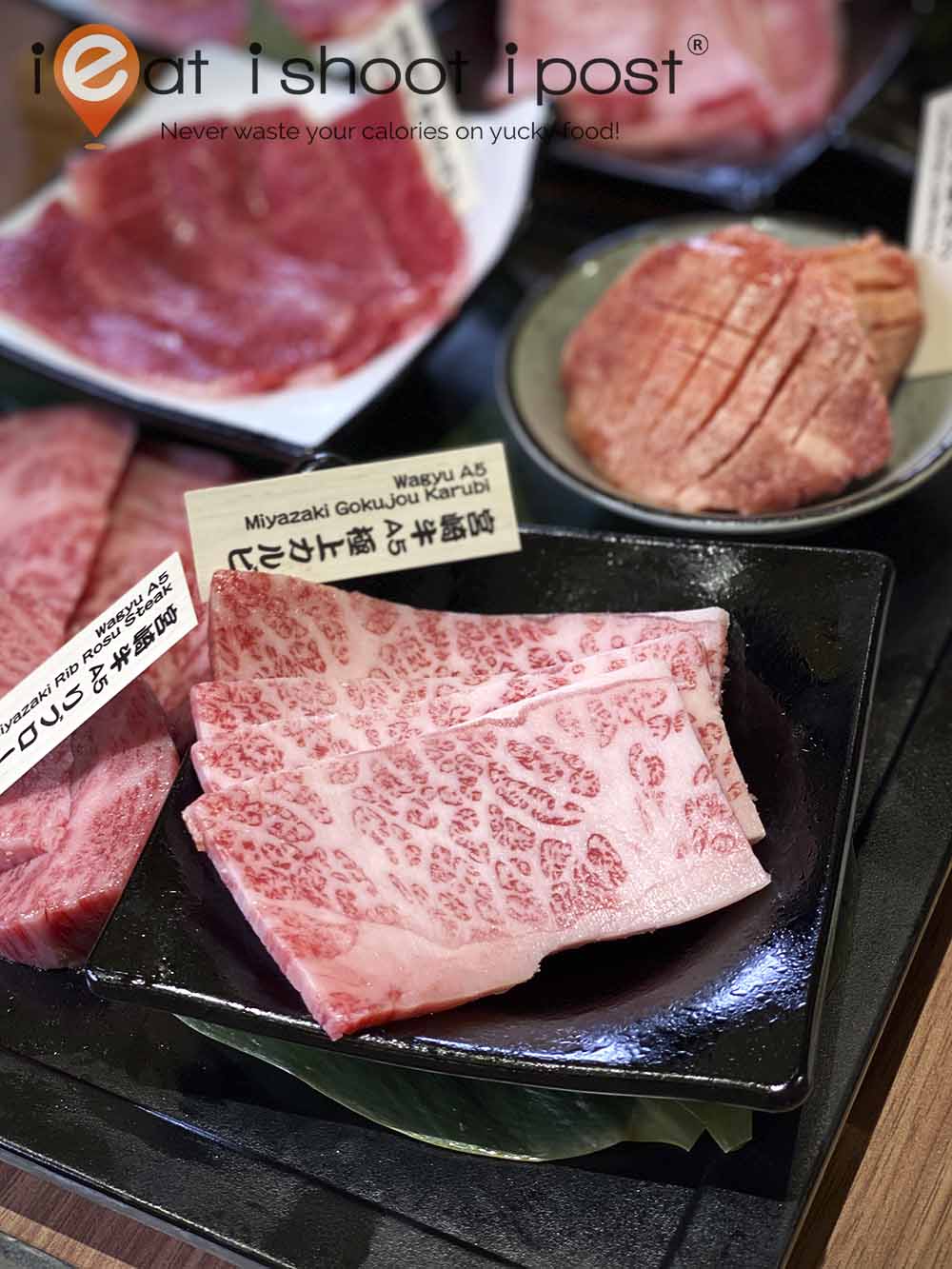 As you can see from the photo, the Miyazaki A5 Goku Jou Karubi is probably the most beautifully marbled piece of meat on the menu (it usually is on any yakiniku menu).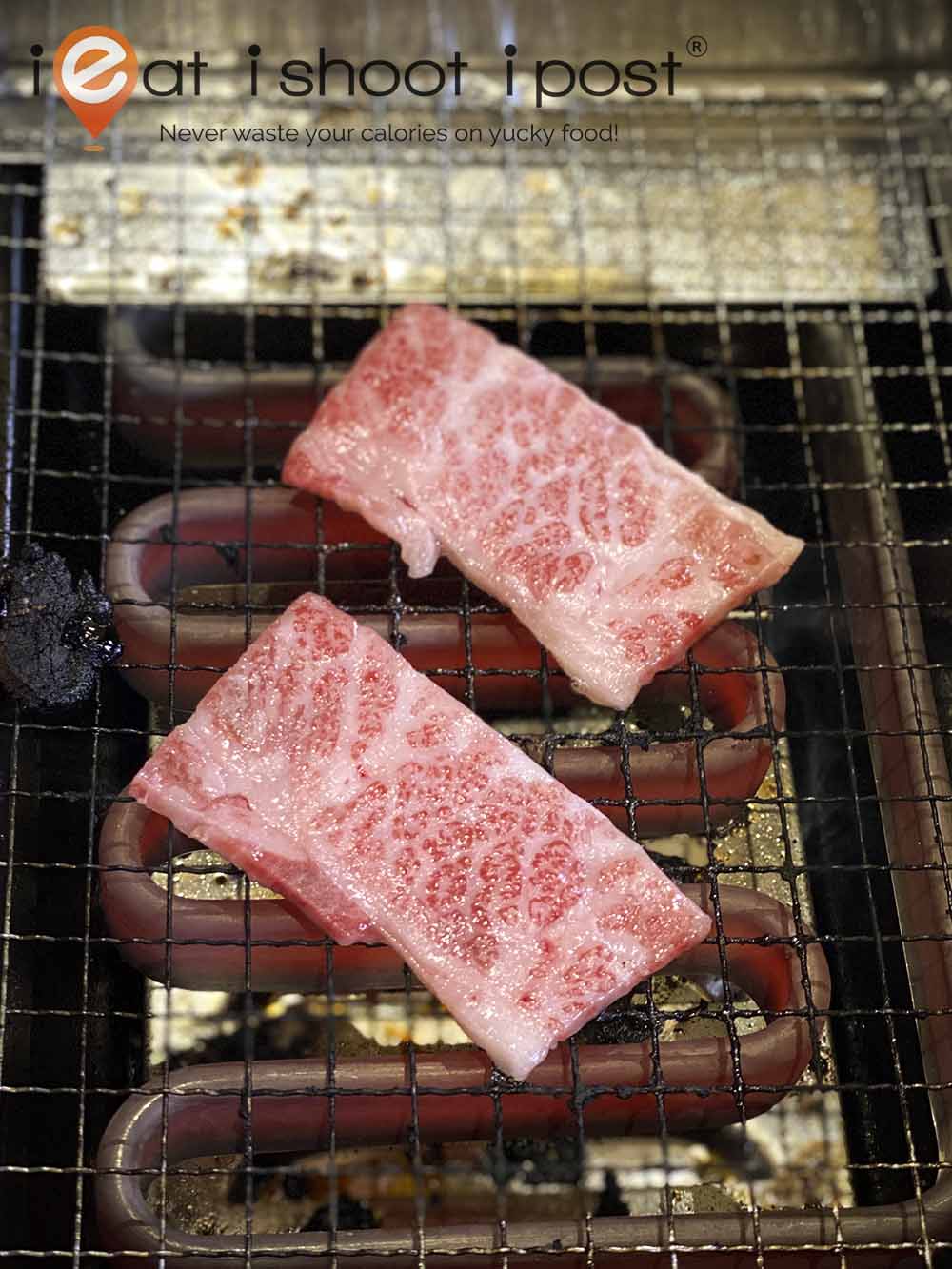 It is a slice of heaven for beef lovers. Just make sure you don't over grill it as all that fat will just drip onto the grill element and ignite a small fire!
GO+ Ala Carte Menu
The GO+ Ala Carte Menu also features Wagyu A5 Miyazaki in Sukiyaki and Ajillo style ($18.80++ each).  Each item comes with 100g thinly sliced A5 meat which has been pre-marinated.  They are cooked in a small aluminium foil box together with mushrooms and make a meal if you are going for something small.  The sukiyaki is excellent and the sauce is guaranteed to make you finish your bowl of rice.  Lisa liked the Ajillo which is the Japanese take on a Spanish sauce.  It is made of minced garlic, leek, yuzu, chilli, black pepper and oil and can be something different to try.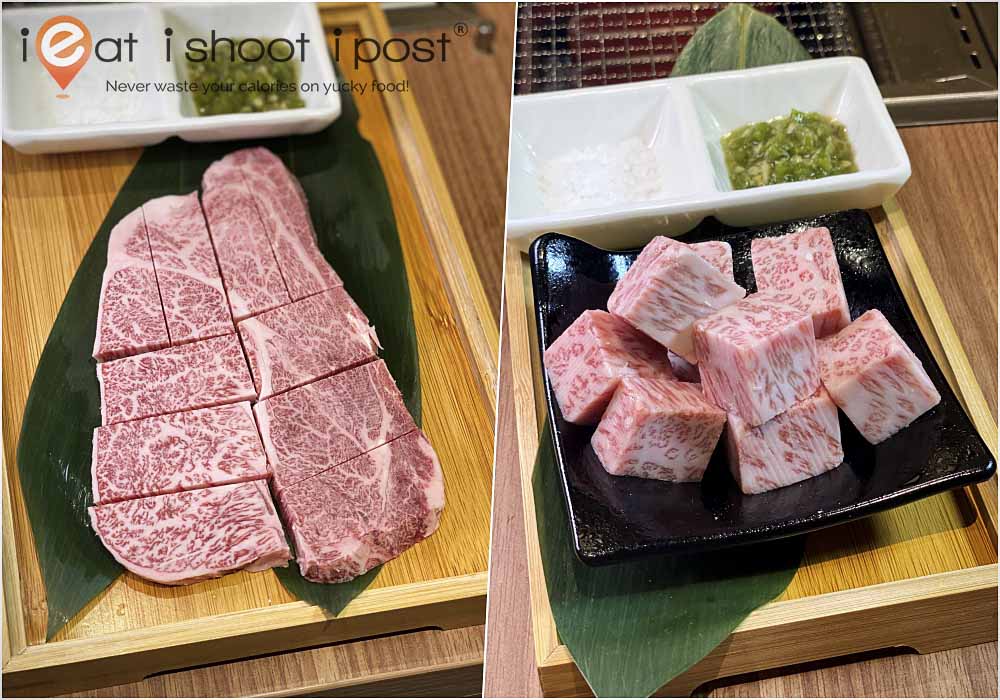 After sampling the different cuts from the platters, you may wish to home in on your favourites on your next visit. For us it would be the Wagyu A5 Miyazaki Rib Rosu Steak, Wagyu A5 Gokujou Karubi and Nakaochi Karubi.
Opening Specials (17-19 Nov)
For the opening, they are having 50% off everything on the GO+ Ala Carte Menu!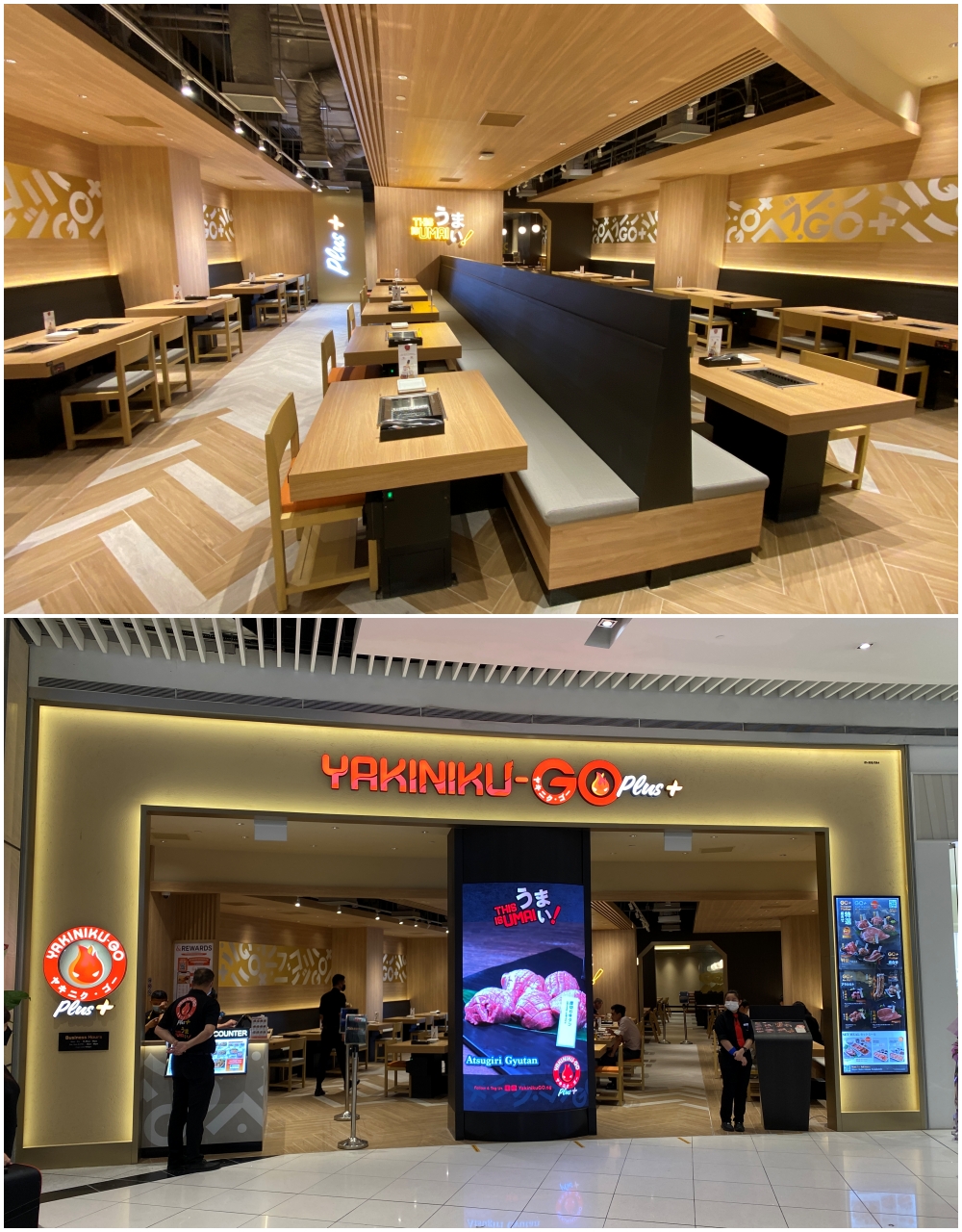 Conclusion
I am quite excited about this new concept because it fills a gap in the market for customers like myself who are looking for a yakinku restaurant where you can bring the whole family to enjoy quality Wagyu without burning too big of a hole in the pocket!
Disclosure
This post was done in partnership with RE&S